No doubts that wireless microphones are comfortable in usage. Seriously, who wants to deal with all these long cables and wires while you can just buy a wireless mic and move freely without any hassle?
You might be looking for fresh reviews: Best Wireless Microphones in 2023
The first wireless microphone ever was created in 1947 and it was a radio microphone made by a flight engineer Reg Moores. Since then mic like these started evolving, and finally, today we have an abundance from which we can choose from.
While choosing a wireless microphone, it is not only important to pay attention to its sound characteristics, but also to its compatibility with the receivers and computers that you have. The price of wireless microphones varies and depends mainly on the signal range that an item is capable to cover.
You have probably noticed before than professional artists have the best wireless microphones with a huge range of signals when they perform. You don't have to pay lots of money to get the exact same one, but you can always find something similar that will suit your needs perfectly.
Moreover, not only artists need wireless microphones. Lavalier microphones can be wireless as well and they are irreplaceable when it comes to public speaking. Their range of the signal is more narrow, but they should possess other specific features for good work, such as sensibility and convenience.
And if you want to find a wireless microphone which is suitable for choir you should check out this article.
Check out this list and find out, which wireless microphones are going to be on fire in 2020.
Product
Details


Shure SLX2/SM58

reliable, heavy duty and high quality sound;

 great wireless reception;

able to extremely subtly emphasize the warmth and clarity of the main vocals and backing vocals;
well suppresses outside noise.


Sennheiser Pro Audio Ew 100 

very high-quality aluminum case;

provides excellent sound quality;

convenient to use and quick setup;


powerful and reliable wireless transmission.


Audio-Technica System 10 ATW-1102

the audio quality is crystal clear;

great sounds, perfect reception and zero issues so far;

no interference;

signal range is superior.
1. Shure SLX2/SM58
If you ever get a chance to hold this microphone in your hand, you will feel how heavy and powerful it feels (experienced users will understand). Shure maintains its positions on the market of audio appliances and keeps producing the best mics in the world. Well, this particular model has actually been here for some time, but still the best.
It has an excellent response, engineered specifically for live vocals. So the first people who should pay attention to this item are vocalists. It is a cardioid mic which means it picks up noise uni-directionally, this pickup pattern means directional vocals are easy to isolate from background noise.
The reason why it is quite heavy is it has a steel mesh grille to protect it from the hard knocks it could be exposed to during transit. Shure SLX2/SM58 has a more advanced transmitter version of another Shure's mic, SM58, and it's one of the most innovative SLX Wireless systems.
It has a pneumatic shock mount system to reduce handling noise and a great frequency response of between 50-15 000 Hz. The price is middle-range, but if you are a professional it is going to be more than a generous offer. This microphone is great for concerts.
You may also like: Best voice-over microphones
2.
Sennheiser Pro Audio Ew 100
A great sound quality, sturdy signal, the widest range of signal recognition, excellent transmission – this microphone by Sennheiser is simply excellent. It was originally developed for the TV live broadcasts and that's why it has all the features of a professional microphone.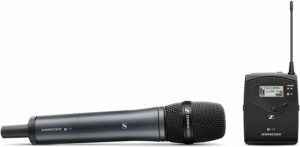 The range of its work is 330 feet which are quite impressive. By the way, battery life is another essential point in wireless microphones. Here is it no problem at all – it can live up to 8 hours. The construction of an item also causes no questions. The metal body here feels heavy and protects the mic from any external damages.
By the way, did you know that sometimes operating a professional wireless microphone like this requires a special license? Well, in this case, you don't need it, which is another advantage of this model. The distinctive feature of this microphone is that is it suitable not only for vocals but for interviews and reporting as well.
It has 1680 tuneable ultra-high frequencies as well as a bank of a dozen compatible frequencies which can be auto-scanned between for increased ease of use. The menus are user-friendly too and they have slightly more on-board controls than less expensive models.
Moreover, Sennheiser is a brand that has more than a 70-year-old history. The price of this microphone is much higher than regular, but taking into consideration the quality it provides, it can be justified. Or, if you feel like you're not ready to pay that much for a mic, look for something more affordable.
3.
Audio-Technica System 10 ATW-1102
A wireless system with a microphone which was originally created for vocalists. It is a digital high-fidelity wireless system designed to provide performing musicians and presenters with the advanced 24-bit operation, easy setup and clear, natural sound quality.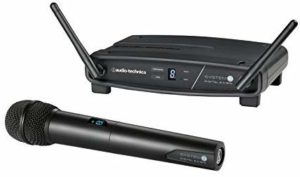 The mic has a digital 24-bit/48 kHz wireless operation for ultimate sound quality and great performance. Moreover, it is completely free from TV interference with its 2.4 GHz range. Another feature of Audio-Technica System 10 ATW-1102 is that it chooses the frequency of operating automatically for seamless work.
The system includes ATW-R1100 receiver and ATW-T1002 handheld dynamic unidirectional transmitter. System 10 wireless ensures clear communications by providing three levels of diversity assurance: frequency, time, and space.
Moreover, system 10 is available in multiple system configurations, with handheld vocal microphone/transmitters and UniPak body-pack transmitters designed for use with lavalier, and instrument microphones as well as electric guitars.
In this case, the price of a microphone is significantly lower, but it also provides a great quality of work – you can see it form the reviews on Amazon, which are almost all have a 5-star ranking.
4. Shure BLX24/PG58
This model is truly legendary. This microphone was released to the market decades ago and served as a prototype for many future models, including those by other manufacturers. Its revolutionary sound remains the statement even today and other mics are just compared to it to determine whether they are bad or good.

The handheld system features one of their most current cutting edge 24 bit/48KHz receivers with a clean RF signal, it capably receives transmissions within an 80-meter field range and provides 5 channels per frequency band to choose from.
Since this is a dynamic microphone with a cardioid pattern, it is a perfect fit for vocalists. Of course, the mic can be used for public speaking as well. An interesting feature of it is that there is a built-in pop filter that helps to eliminate plausive sounds and make your voice more clear and deep.
Shure BLX24/PG58 requires the AA type of batteries which is very convenient since it's the most popular type of batteries in total. It works flawlessly without any disruptions in the signal transmission. The price is a little higher than of a previous model, but since this microphone is so legendary, there are no doubts the investment is going to pay itself back.
5. Shure BLX288/PG58
Here we have another microphone by Shure, well, to be more precise, two microphones. It is a set that is great to use in different mass events and karaoke bars. It is a dual-channel handheld wireless BLX288 system with an integrated PG58 Mic cartridge.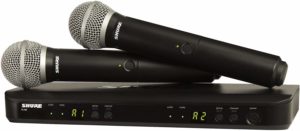 These are the latest versions of models that have been updated to more industrial design with rugged metallic finished grilles. Another aspect that makes them more versatile is that they come with an XLR and quarter-inch jack outputs. They are engineered in such a way to deliver the best warm sound with precision and high-quality.
Their operating range is about 91 meters which is quite impressive. It benefits from one-touch QuickScan frequency selection, which locates and allocates optimally available channels to prevent interference. It features two-color audio status indicators that serve as a good visual during live performances and the batteries last for around 14 hours.
Another distinctive feature of this microphone (or these microphones) is that it feels much more robust than the previous items. Moreover, here you can extend the range of broadcast by simply turning the button.
6.
Sony ECMAW4
You definitely do not expect to see a wireless microphone like this. And that's why this wireless system catches the eye – it definitely stands out from all the items listed above and Sony did surprise consumers in this case.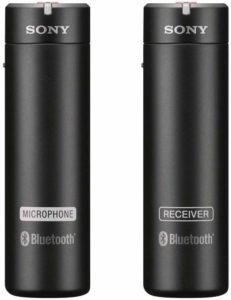 It is a wireless set, where you can just clip the microphone on your clothes and the receiver in the back. So it works similar to lavalier microphones. This set is perfect to use together with your camera – thus you will get a great sound for your videos.
It can provide interference-free high quality, interactive two-way communication. I can be used up to 150 feet away from the camcorder. There is a function of a noise reduction so your voice is going to sound clear at any condition.
By the way, vocalists shouldn't think that this model isn't suitable for them – it can record vocals and music in high quality as well. It comes with a range of attachment options including an armband and over-ear hangers for the earphone parts, all cables, and a hand-carry a purse for storage.
One more advantage of this microphone is definitely its affordable price. You can get such a versatile and powerful microphone without paying tons of money for it. The monaural electret condenser capsule provides a clear and crisp sound. The only disadvantage is this mic can be much quieter than other models.
7. Shure BLX14/CVL Wireless Microphone System with CVL Lavalier Microphone
And at last, in order to add diversity to our list and not to discriminate lavalier microphone, we are going to observe one remarkable model by the famous Shure company. The microphone works via BLX wireless systems, which offers professional-quality sound with simple setup and an intuitive interface for performance you can trust right out of the box.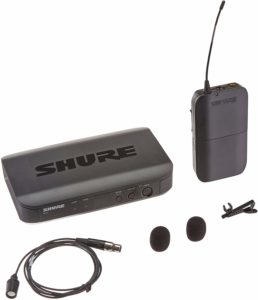 In this set, you will find a transmitter, handheld, bodypack, headworn, instrument clip-on, and the lavalier microphone itself. In this mic by Shure, a single-channel, dual-channel, and rack mount receiver options available. For the wireless operating, the item requires an AA type of batteries and it's going to work up to 14 hours.
Moreover, it offers a 24 MHz tuning bandwidth and up to 12 compatible systems per frequency band. An interesting function of this lavalier microphone called QuickScan and what it does is basically it scans the frequency in one touch and locates the best open frequency in case of interference.
The range of the signal is around 300 feet. The microphone was developed mainly for public speaking and performances on stage (yes, it is that type of microphone that pop stars use while doing their choreography performances).
The unidirectional cardioid polar pattern rejects unwanted sound for superior audio quality and vocal reproduction. Just like the other microphones by Shure, this one guarantees the long life and service without any technical issues. That's why it has so many great reviews from consumers all around the world. So yes, a lavalier microphone can actually compete with a traditional dynamic microphone on stage.
FAQ for wireless microphones buyers
1. How does the wireless microphone work?
The microphone body has a chip that sends a signal to a receiver. Thus, the magnetic signal get converted into the sound which you can hear from speakers.
2. Can I buy a wireless microphone without a receiver? 
You can, but there is no guarantee your microphone is going to be 100% compatible with some foreign receiver.
3. Which batteries are required for a wireless microphone?
The regular batteries of AA type. Tip: better buy rechargeable batteries because they are going to be powerless quite often.
4. How do I connect a microphone with a receiver? 
There should be an instruction, but usually, you just set the button on the receiver to the working signal mode and switch the mic on. They should connect automatically.
You may also like: 7 Best microphones compatible with XBOX