If you use Play Station quite often, you might want to upgrade your gear. With a better sound, your streams can become more popular and you can get more fans throughout your gaming experience.
The first thing you need to know about choosing a microphone for PS4 is that any USB mic will do. Of course, there are special offers and microphones created especially for playing, Consider your budget, your interests, and your preferences to make the most rational and thoughtful choice!
Product
Details


KLIM Voice Gaming USB Desk Microphone

 

crystal clear sound with virtually no interference from the environment;

has

a small scroll gear adjustor at the base;

very good sensitivity, it's sturdy, it's heavy enough;

doesn't take up a lot of desk space;

 



Beach USB Stream Mic 

 

easy plug in and use;

extremely compact and portable;
simple yet stylish design;
compatible with Windows, MAC, and consoles;
ability to personalize your audio output;


CMTECK USB Computer Microphone

easy installation and decent vocal quality;

does a good job of background noise cancellation;

no muffles no cracking sounds of any kind;

doesn't have to be super close to your face to work;
---
1. Klim Voice – Gaming USB Desk Microphone
Price: $
Klim Voice is a cheap microphone designed for gamers and streamers. It can be used both with PS4 and any personal computer.
It doesn't matter whether you have Mac or Windows – as long as your device features a USB input, the microphone can be connected to it.
There is not much to say about sound quality. It is rather decent but considerably worse than the one produced by pro equipment.
However, we're not discussing the pro equipment here – for a gaming microphone, the quality is great. The body of the mic features volume controls and a mute button. There is a pop filter embedded in the mic which eliminates humming and other noises. There are also LED lights which look pretty cool.
All in all, this is a great microphone for those who seek a simple and cheap solution. It may look a bit plastic-y but it will serve you for a long time. If you like the looks, check the price on Amazon!
You may also like: Best Rode microphones
2. CMTECK
USB Computer Microphone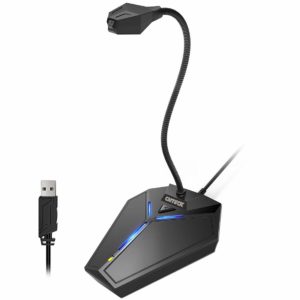 Price: $
CMTeck USB computer microphone is in many ways similar to the microphone above. It is also a gooseneck microphone – you can position its flexible neck in any way you want to.
There is a mute button on its stand so you can easily turn the sound off in case your streams are interrupted by relatives or friends.
The design of the mic is gorgeous. There are LED lights that can change colors.
There are also useful LED lights that can show you the status of the mic – whether it is ready to work or not. The body of the mic looks fairly cheap but since this is a gaming microphone, that's alright. After all, the price is also not so expensive.
The polar pattern of the microphone is omnidirectional which means that the mic captures sounds from all sides. This polar pattern is attributable to many gooseneck microphones so this shouldn't come as a surprise.
As for the connection, it is obviously USB. If you want to, you can use this mic with your computer or laptop. In sum, this is another cool cheap microphone that will boost the quality of your playing and streaming.
3. TPFOON 4M 13FT Wired USB Microphone
Price: $
This is probably the cheapest mic for playing games you can find. The microphone is great for PS4, Xbox, Nintendo Switch, Wii, and others.
Originally it was developed for playing karaoke games or the games that require singing.
However, you can use it for many other purposes. Just remember that you need to hold this mic in your hands which can be troublesome sometimes. So, let's say that this microphone is for vocals.
The frequency response of the mic is rather wide. The sound quality is good enough for a gaming microphone.
Many customers seem to be satisfied with it. All in all, this is a great cheap microphone that can be used with many different playing consoles. If you are looking for a rock band microphone, don't miss this option!
4. Blue Snowball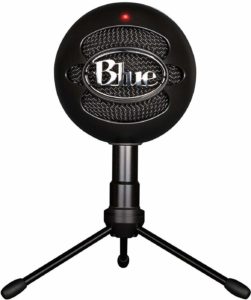 Price: $
Blue Snowball is a perfect microphone for broadcasting, podcasting, gaming, streaming, skyping, and many other activities.
The microphone can be easily connected to any device you have. If there is a possibility to use a USB cable, then there should be no doubts about the mic's compatibility.
The mic features two polar patterns – cardioid and omnidirectional. If you play alone, it is preferable to use the cardioid polar pattern. The omnidirectional polar pattern is used when there is a need to capture many different sound sources.
Just like any USB microphone, the Blue Snowball is easy to set up. All you need to do is plug the mic in and it will work. As simple as that. Most of the time this is called the 'plug-and-play principle.
Once the mic is plugged in, the LED light will show you that it is ready to work. If the mic doesn't work though, you might want to check the settings to see if the right microphone is chosen for the sound reproduction. If not, select Blue Snowball and the problem will be solved.
The Blue microphones usually come in several colors. This model is not an exception. You can order it in silver, white, blue, or green to make playing more fun.
With the mic come a cable and a tripod stand – all that is needed for a basic setup. In sum, this is a very nice option worthy of your attention.
You may also like: Best microphone compatible with PS4
5. Turtle Beach – Universal digital USB Stream Mic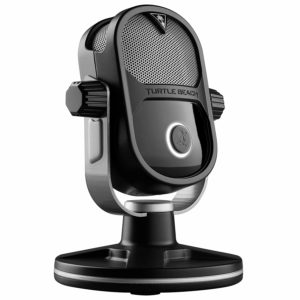 Price: $$
Turtle Beach is a mic created for streaming. You can also use it for chatting with your friends or other players.
Whatever your purpose is, the mic will be great at accomplishing it.
USB connectivity allows the mic to be used with PS4, Xbox, Mac and Windows computers, and so on.
Just like the rest of the mics on this list, it is easy to set up. There are at least two ways how you can set this mic up – using a tabletop stand and using a boom arm.
The sound quality is alright however for the money you pay for the mic it could be better. Also, there might arise some echoes and background noises that can bother you. If this is the case, then you'll probably need a windshield.
There is a big mute button on the mic's body so you can turn the mic on and off whenever you need to. The body, by the way, looks quite stylish.
In sum, this is a decent gaming microphone, however, it is a bit overpriced. You can find other options that are cheaper and can produce better-quality audio.
Of course, we can have different opinions about this. Who knows, maybe, you'll appreciate the sound produced by Turtle Beach.
6.
Blue Yeti USB Microphone
Price: $$
Blue Yeti microphone is one of the most popular microphones on the market. Since it features a USB connection, it can be used with PS4.
The rumor has it that it is not all that simple and USB connectivity sometimes doesn't mean compatibility with playing consoles. With this one though, you can be sure.
There is even a Blue video on YouTube on how to use the mic with the Play Station.
The microphone has four polar patterns. Yes, four! Why would you need so many? Well, for different purposes. Cardioid is the most basic one – it can be used for streaming.
The omnidirectional polar pattern can help you embrace the atmosphere of your place. Figure eight and stereo polar patterns can be used by two people simultaneously. You can play with your friend and produce decent-quality audio.
Without doubts, this microphone is not just for streaming and playing games. The areas of its application are numerous.
You can use the mic for recording podcasts, voice-overs, vocals, and even musical instruments. So if you are looking for versatility, this is a great option to explore.
The tabletop stand that comes with this mic is rather convenient. However, you can also use a boom arm to set the microphone up.
On Amazon, there can be found a special Yeticaster package that has everything you need to make the mic hang right in front of you. The Yeti's interface features a headphone jack, a mute button, and volume controls.
So, as we can see, this is quite an advanced microphone. Its price, nevertheless, is more than acceptable. So if you are searching for an all-around great piece of gear, you've found something precious right now.
7. Audio-Technica AT2020USB PLUS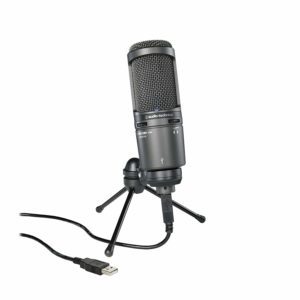 Price: $$
This is another great USB microphone that can be used for many different purposes.
The mic is great at recording vocals, musical instruments, podcasts, and many more. It features a condenser capsule with a cardioid polar pattern.
It doesn't have many polar patterns but sometimes one is all you need in order to do well and feel great.
If you've been reading my other articles lately, you might have noticed that I can get philosophical at the end. Well, this is one of those moments. One is all you need.
Back to the point. The microphone can produce clear and smooth sound due to its wide frequency response and excellent noise reduction.
On the body of the mic, there is a headphone jack, volume controls, and mix controls. Everything is made of high-quality materials so that the mic could last for a long time.
The shipping package includes a tripod stand, a cable, a shock mount, and a pouch for storing. So, there is no need to buy additional gear. If you want a pro-like microphone for playing games and streaming, this is one of the best options you can find.
And if you doubt the compatibility, you can contact the seller to find out this info for sure. From what I can see, this plug-and-play microphone is able to connect with any device that features a USB input. Be free to explore more facts about this model.
8. Samson Meteor Mic USB Studio Microphone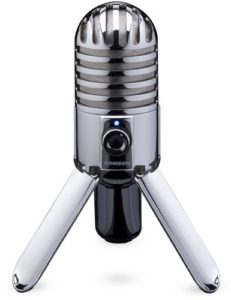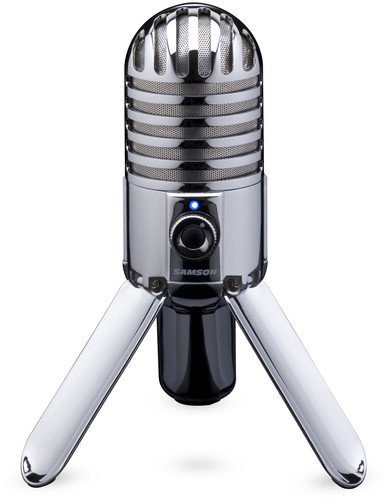 Price: $
Some of the microphones described above are rather huge. This can be a problem for a player because you don't really want to have lots of massive items in front of you that can distract your attention.
If you are looking for a compact solution, may I present to you the Samson Meteor microphone.
This mic is very convenient in that it has folding legs so you don't need to put it on a shock mount or a stand.
That is not to say that it connects through a USB cable. So just like other microphones on this list, it works on the familiar plug-and-play principle. Basically, all you need to do to start using the mic is unfold the legs and plug it in. Now that was not philosophical!
The polar pattern of the microphone is cardioid. The frequency response is suitable for voice recording. In general, the sound quality that this mic is capable of producing is great.
The microphone can record your acoustic guitar (if you have one), vocals, maybe some narration. Undoubtedly, it will be equally good for streaming and communicating with your teammates.
What's also worth saying about the mic is that it has a sturdy stable construction. Despite the fact that it is rather small, there is a headphone jack for real-time monitoring. All of the mentioned features you can get for a ridiculous price. In a nutshell, it would be a pity if you missed this wonderful option!
What's the difference between microphones for ps4 and mics for ps5?
To start with, we need to say that you don't need any special microphone for PS5. You can still use all the same models both for PS4 and PS5. All you have to do is to adjust the sound of the microphone on your PS before you start using it. The settings for each device can be a little bit different but they are not significant. At the end, the sound quality depends on a microphone, not on the version of the Play Station.
---
Conclusion
To wrap up, we've covered the most popular models that can go well with PS4. There are many other microphones for playing and steaming out there that are worth exploring. For now, let's say these are the models you can pay special attention to.
How to choose the microphone you'll be 100% satisfied with?
First, you need to decide what kind of microphone you need. If you want a simple cheap gaming microphone, take a look at the colorful bright options that are just screaming 'game time!'. If you want something more serious that you can apply in many different situations, look for the universal USB microphones.
The second thing you need to keep in mind while choosing a microphone is your surroundings. If you live in a noisy place, make sure you choose the mic with a cardioid polar pattern – most microphones come with such polar pattern, so this shouldn't be a problem.
Lastly, think about durability. It is just as silly to pay lots of money for junk as it is to be stingy. Find your middle way and go with it!