If you want to mic a choir, you want to work really hard. Let it not scare you off, but recording a choir properly can be a drag.
Sometimes you just can't get it right. If you want to be able to get it right, the first thing you need to do is to choose the right microphones.
The list below offers the best models used for recording a choir.
Most of the mics are hanging ones since they are more suitable for choir recordings. And also check wireless microphones for events.
There is also a couple of paired cardioid mics that can be put in front of a choir. Without further ado, let's dive right into the reviews.
Product
Details


Rode M5-MP

the

sound is very neutral, slightly warm, without the shrill high end;

don't require too much mic preamp gain;

give a very honest and articulate representation of the source;

ensitive, durable and portable;


Samson C02

 

well built and sturdy;

nice wide pickup pattern and crisp high range;

work equally good for any vocal range;

sound better with fairly inexpensive 2-channel pre-amp;

Audio-Technica PRO 45W

 

good pickup;

perfect for recording a group of about 30 people;

with the right eq on this mic it makes for a great rich, clear mix;

phantom powered;
1. Rode M5-MP Matched Pair Cardioid Condenser Microphones

Price: $$
Rode MP5-MP is a matched pair of condenser microphones. The cool thing about them is that you can move them in different directions in order to capture that exact area you want to capture. The pair is suitable both for studios and live performances. It is used for recording a choir but also for recording musical instruments. Having a couple of condenser microphones provides you with crisp and clear stereo sound.
The mics are quite sensitive, however, at the same time, they don't capture noise much which is exactly what you need while recording a choir. The sound recorded by the mics is quite smooth, without sharp high-frequency endings.
Rode quality is known all around the world. The company offers a 10-year warranty which tells a lot about the durability of the mics. The materials used for making the microphones are quite tough. The mics are coated with ceramic that has a matt black finish. The shipping package also includes clips and windscreens. If you want to get a clear stereo sound without too many efforts, choose this Rode pair!
You may also like: 11 Best Microphones Compatible with XBOX
2. Two Samson C02 Pencil Condenser Microphones
Price: $$
Samson condenser microphones are also sold as a couple, however, this couple is different. The stereo pair must be placed on the stands that, by the way, come together with the shipping package.
Actually, in this case, the shipping package includes everything you might possibly need for setting microphones, perhaps except for an audio interface.
Tripod steel stands, XLR cables, clips, a carrying case all come together with the mic. It is no wonder that the price is slightly above the average. You won't find such a good deal in any other place!
The microphones have a super-cardioid polar pattern. It is a little bit narrower than cardioid so be aware of that. The frequency response also differs from the standard 20 Hz – 20 000 Hz. Here it is 40 – 20 000 Hz, which is not so much different.
Our suggestion is that these mics will be good at handling high-frequency sounds. The recorded sound won't be as smooth as in the case above though, but you never know – it depends on many factors.
In terms of quality, the Rode mics are a little bit better, but this pair is also great. If you want to buy everything you need at one time, take a closer look at these microphones.
3. Peavey VCM 3 Choir Microphone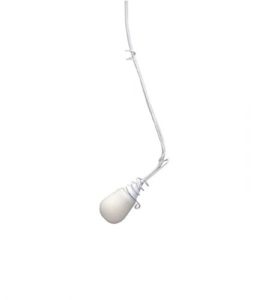 Price: $
Peavey VCM 3 is a small condenser microphone for choirs. It has a cardioid polar pattern which picks up the sound just from the front.
By the way, it is preferable to choose a cardioid or a super-cardioid polar pattern over anything else in order to avoid capturing background noise from the audience.
The microphone connects through XLR. Its output module adapts to standard XLR so there shouldn't be problems with that. Just as any condenser microphone, the mic requires phantom power which can range from 9 V to 52 V.
The shipping package includes a windscreen, a 10-meter cable, and a wire-form hanging adapter. A wire-form hanging adapter is needed for regulating the direction of the microphone. You don't want it to just hang around from above – giving some direction is necessary.
There's just one problem with this mic – it has rather short wiring. If you have a big venue, you might want to buy additional wiring.
However, having too much wiring is bad for sound quality, so be mindful of that. As for the rest, this is a great model for a great price. Definitely check it out!
4. Audio-Technica PRO 45W
ProPoint Cardioid Condenser Hanging Microphone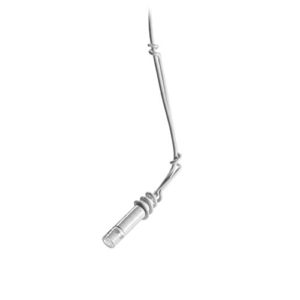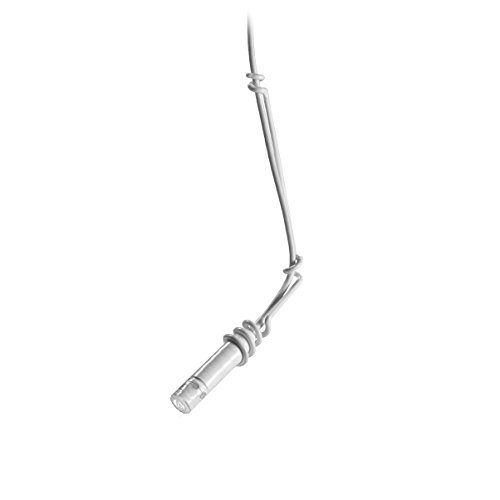 Price: $
Audio-Technica ProPoint is a cardioid condenser microphone that you also must hang above the choir.
The microphone looks as stylish as the previous model. It is also white which makes it unnoticeable, although you can choose the black option here as well.
The mic has a flat frequency response which is perfect for vocals. The frequency response here is 70 Hz – 16 000 Hz. The mic can also boast with high sound pressure level. The capability of handling high pressure is quite important in recording a choir.
As for the cable, here it is even shorter – just 7.6 meters long. If you want a longer one, you can order it separately. All in all, this microphone is great for recording a choir. Haning it can be difficult, but the result is totally worth it!
5. Audio-Technica U853RU UniPoint UniLine Condenser Hanging Microphone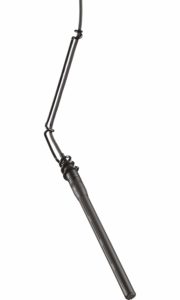 Price: $$
Audio-Technica UniPoint microphone is not so popular, however, there are no clear reasons why it is so. The microphone is a condenser one designed for suspension over choirs. It looks more like a shotgun microphone.
Its polar pattern is also like the one shotgun microphones usually have – UniLine. As explained in the description, such polar pattern captures the sound that comes from a narrow 90′ angle. It ensures low feedback and better clarity.
There is also a special technology embedded in this mic that rejects radio frequency interference. It is great since you can be less worried about sound cancellation and other things like that.
There is also low-frequency attenuation in this mic which provides a better sound quality. In sum, this is a semi-professional mic with great characteristics. If you aim for background noize cancellation, this is a perfect choice.
6. 2 PACK Pendomax Pm-cm1 Hanging Choir Microphone
Price: $
This mic is very similar to the models described before the last Audio-Technica mic. This is a condenser cardioid microphone for suspension over choirs, orchestras, and other musical groups.
The microphone stands out with in-line circuity phantom power.
The cable of the mic is also 7.6 meters long, which is an average length.
The connection is through an XLR cable. You can regard it as a great alternative! Besides, the price is a bit lower than the one other mics have. Although not so much. If you like the way this mic look, consider it as an option!
You may also like: 9 Best Boundary Microphones
7. Shure CVO-B/C Overhead Condenser Microphone

Price: $
Shure CVO is an overhead condenser mic that has a cardioid polar pattern. All that we need in order to successfully record a choir. The mic has a tailored frequency response for speech.
Many people prefer having a flat frequency response for vocals, however, a tailored one is also fine. Besides, here it doesn't differ much from the flat one. The frequency response, by the way, is 70 – 16 000 Hz.
The mic is often used for recording musical ensembles and choirs. Many customers praise the clarity of this mic. There is also a system that gets rid of radio frequency interferences that come from WiFi, smartphones, and so on.
The mic connects through an XLR cable. The length of the cable is the average one – 7.6 meters or 25 feet. All in all, this is a great microphone! Its price will be a pleasant surprise for you, so you should definitely check this option out.
8. Shure MX202B/C Condenser Microphone

Price: $$
Shure MX202 comes in two colors – black and white. The microphone has a cardioid polar pattern, however, since you can change cartridges in this mic, it is possible to broaden the choice of polar patterns.
The cable of this microphone is rather long. With that, however, all the necessary details were taken into consideration in order to increase noize immunity that is often the result of long cables.
The microphone goes together with an in-line preamp. There is also a stand adapter that you can use. The microphone itself has a gooseneck that's very flexible so you can direct it in any way you like.
What's more, there is protection against radio frequency interference and electromagnetic hum.
In general, the microphone is quite sensitive. It can be used in various kinds of situations. The price of the mic differs from the average $130 – it is considerably higher.
However, there are some details (like a gooseneck, for example) that make this mic different from the rest. In sum, if you are looking for a good choir mic, this is another good option for you.
9. Samson CM12C Hanging Choir Microphone or Orchestra Mic+2) Handheld Wireless Mics
Price: $
Last but not least in our list is a combination of a hanging microphone and two handheld microphones. In a choir, you usually need to highlight the voices of leading vocalists.
Hence, the need for a couple of handheld mics. This combo has everything you need in order to record a choir.
Apart from microphones, the shipping package includes a wireless system, a mini XLR connector, positioning bracket, windscreen. So, Samson once again decided to include all that's needed.
The polar pattern of all the mics is cardioid. The hanging mic has a condenser capsule. All in all, this combo is great. You can receive a decent sound with it. The most amazing part is probably that there's no need to buy mics for leading vocals separately.
Of course, if you don't need them at all, it is better to just buy a hanging microphone separately. From what we saw earlier, there is a wide choice of those. This model, however, is still worth checking out!
10. Phenyx Pro PTU-4000A 8-Channel UHF Wireless Microphone System
Price: $$
Buying good microphones is an important part of any choir performance. Because if you do not take care of this important detail, listeners will not be able to enjoy a beautiful chorus song.
Each singer will be perfectly heard. This microphone system allows you to receive high-quality sound without noise and delays because it uses a cardioid pickup.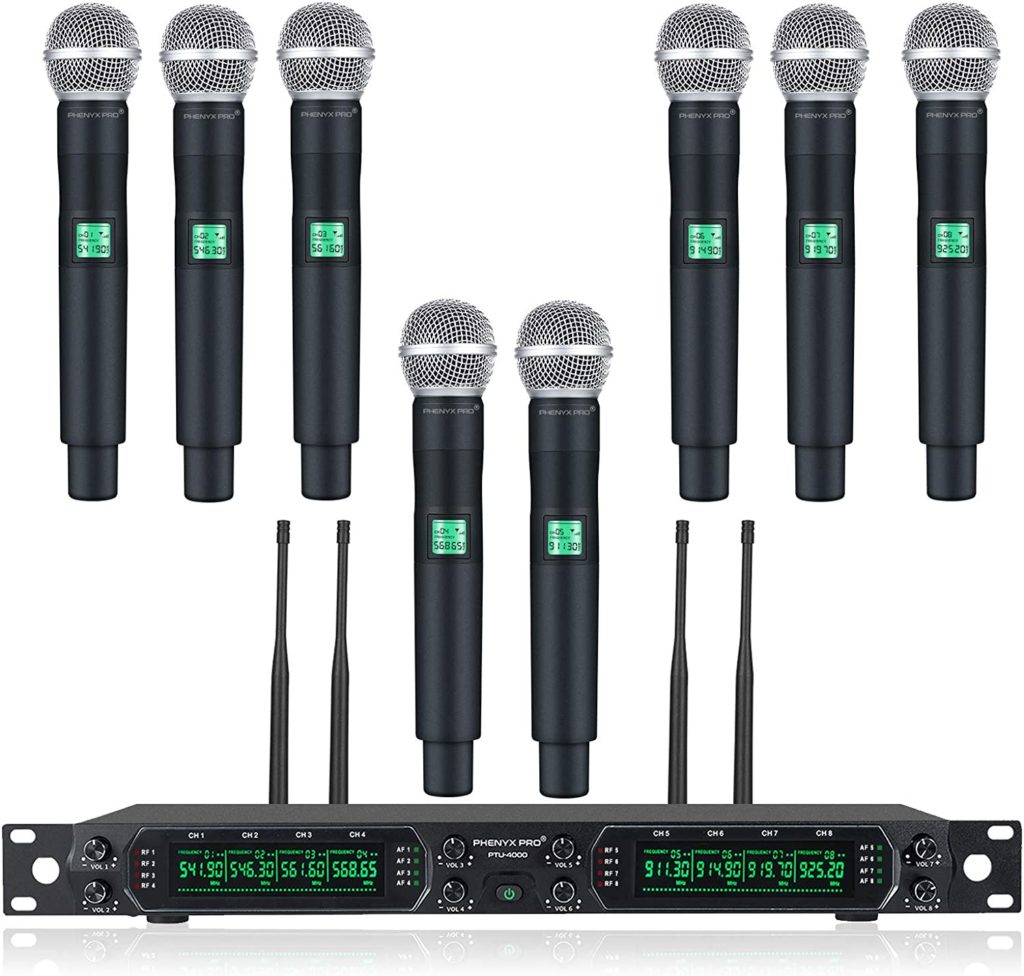 Microphones are made of solid metal, which is why you cannot be afraid to let them fall. They are strong enough not to break.
It is possible to use microphones at a distance of up to 260 feet. That is great for a concert hall.
In addition, the microphones keep a charge for 8 hours. This is the ideal amount of time for rehearsal and choir performance. There is an indicator on each microphone that shows how much charge is still left.
Advantages:
Excellent sound quality.
There are 8 microphones in the set.
The devices can work for a long time.
Drawbacks:
The display showing the battery level can give false information.
You may also like: 8 Best Microphones Compatible with PS4/PS5
11. GTD Audio 4 Handheld Wireless Microphone Cordless mics System
Price: $$
This is a set of 4 microphones that will be convenient for use in choir performances.
The microphones are wireless and can take a signal found within a radius of 300 feet. This is perfect for concert halls and large spaces.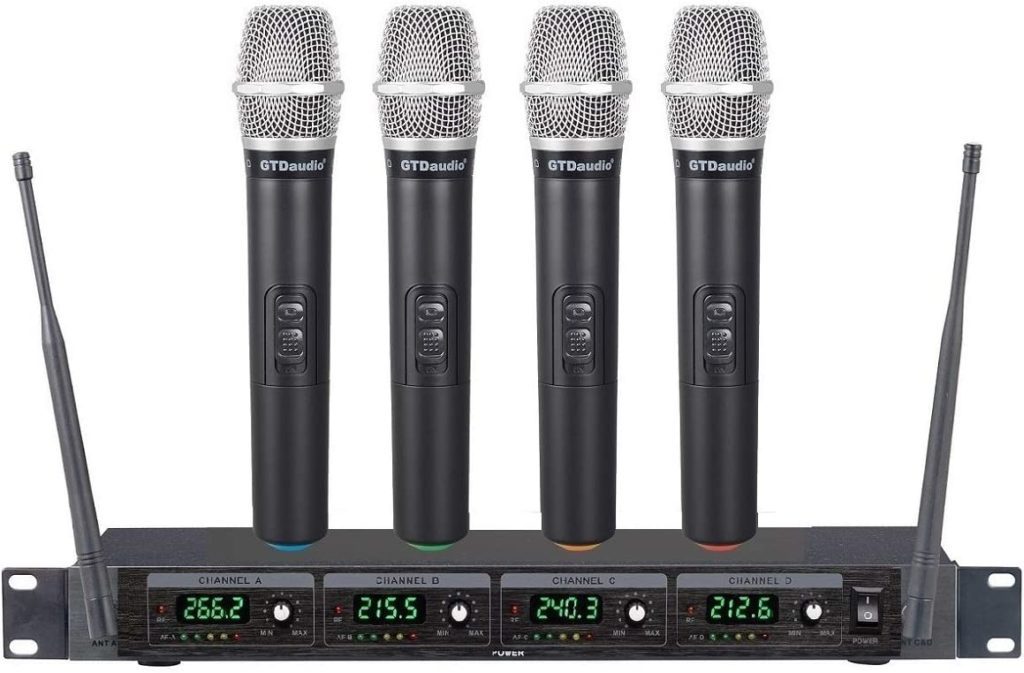 Each microphone has its output, and the producers have also added one 1/4 output.
This set of microphones provides excellent sound quality. You can be sure that the choir will be perfectly audible. Moreover, singers can manage the sound power themselves because the microphones have built-in volume controllers.
The microphones can perceive a fairly large number of frequencies: 266.2Mhz, 215.5Mhz, 240.3Mhz, and 212.6Mhz.
There are no extra elements and a lot of wires in the set. That is why you can quickly install microphones and start using them.
Advantages:
Good value for money.
Microphones can operate up to 300 feet away.
Each microphone has a volume control feature.
The microphones can work for quite a long time.
Drawbacks:
There can be noise in the sound when using 4 microphones at the same time.
---
F.A.Q. about choir microphones
Q: How do I place the mics before the choir?
Placing mics before the choir is half of the job actually. If you use standing microphones, you got to place them not too close to each other but also not too far away.
Also, it is worthwhile to mind the distance between the mics and the choir. It should be about one meter (two or three feet).
Besides, if you have several microphones, make sure to place the ones that are close to each other at a different distance.
This way, you won't get unnecessary sound cancellation.
Q: Why would I prefer hanging microphones over standing ones?
Since a choir is usually several rows of people, standing microphones can't capture all of them in the same manner – people who stand closer to the stage will be louder while people who stand behind will be hardly heard.
In order to avoid this and make the sound as harmonious as possible, it is recommended to use hanging microphones.
They are better at capturing all the voices of the choir, how they merge together in harmony.
Q: How do I highlight the leading voices?
If you have vocalists in your choir who are responsible for singing some parts that others don't sing, you need separate microphones for them.
These can be simple dynamic or condenser microphones. Most of the time people use dynamic microphones but there's always a place for experiments.
Q: How many microphones do I need to mic a choir?
If you have a small choir that includes 10-20 voices, you can use just one microphone. However, if you have a bigger choir, let's say, 30-40 people, you will need two or more microphones.
Don't use too many microphones though because it can create unwanted feedback.
---
Conclusion
Choosing choir microphones is no simple task, however, with the right help, it is not that hard to make a good purchase.
We wish you to have many beautiful choir sessions. Stay tuned for more reviews like this one & choose microphones' gear wisely!