Conferences, meetings, presentations – sometimes it becomes overwhelming how many of them some of us got to attend.
There are gooseneck microphones that are placed in front of every participant involved in the discussion; boundary microphones that are placed on the table to improve the acoustics of the whole room; and, finally, wall-mounted and ceiling-mounted microphones. Look through the options and see if anything suits you!
Moreover, you can discover more interesting microphones for public speaking on big audience in this article!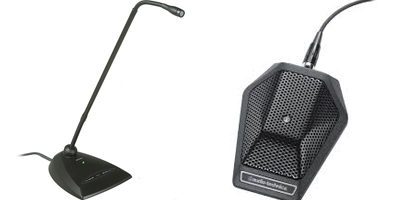 ---
Gooseneck microphones
Product
Details


Shure CVG18-B/C 

very crisp amd clear sound;

the pickup sensitivity is very nice;

easy to adjust for different speakers;

has great headroom;

needs phantom power;


MXL AC404

 

don't slide around under the weight of the cable;

picks up sound easily;

plug and play, no software included or required;

powered via the USB port, no external power source required;


MXL AC-400

the amplitude is better than most of the other goosenecks;

works well for dictation in a relatively quiet environment;

the goose neck is stiff and holds position;

 
1. Shure CVG18-B/C Gooseneck Condenser Microphone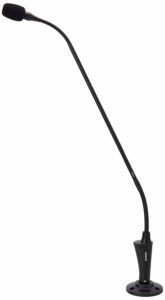 Price: $$
Let's start with gooseneck microphones. These mics can ensure excellent sound quality without too much noise. The only drawback is that you have to buy several of them in order to provide each speaker with the ability to express oneself.
This can result in bigger spending even compared to the most expensive boundary mics. However, if the company you are working for is rather wealthy, then money shouldn't be a problem.
Shure CVG18-B/C is a popular model. It can be bought in two lengths – 12 inches and 18 inches. It is a good idea to assess your conference room first and then decide what size you need.
The mic has a cardioid polar pattern which ensures that the sound is captured only from the front. A special technology blocks RF interference, allowing you to work with WiFi, smartphones, laptops, etc. while using the microphone.
Upon the whole, this mic is amazing in terms of quality. Its rugged construction will surely outlive many incidents. A really good choice!
You may also like: 7 Top Microphones for Public Speaking (small audience)
2. MXL AC-400 Gooseneck Condenser Microphone


Price: $
MXL AC-400 is one more gooseneck microphone on our list. Its most significant peculiarity is that it has a USB connection.
All it takes to make it work is plugging a USB cable into a computer. There is no need to install drivers or go through tedious setups – just plug & play.
The microphone has a cardioid polar pattern which means that it also rejects side noises, making the voice of the speaker more discernible. The metal construction ensures protection against wear and tear.
On the desktop stand of the mic, there is a mute button that you can reach for in case you don't need to speak or, on the contrary, want to give your two cents.
The other interesting part of the mic is a headphone jack – in case your conferences are all in Skype you can plug in your headphones right into the mic that's in front of you and enjoy a conversation without drowning in too much wire.
The neck of this mic is 15 inches – not that long and not too short. In general, this is a fine microphone for meetings and conferences. It is not that expensive and can still provide you with nice sound quality.
Boundary microphones
3. MXL AC404 USB Conference Microphone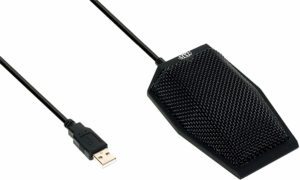 Price: $
MXL AC404 is a cheap yet very efficient solution when it comes to conference microphones.
This mic is suitable for discussions that involve up to 8 or 10 people. Just one microphone can capture the voices of everyone in the room.
While this is obviously convenient and beneficial, the mic can also take in background noises, so if you have a dynamic environment, it is better to go with gooseneck mics.
The boundary microphones are all like that, of course. This model is no different from other options in this. It is, however, one of the best in terms of the price-quality ratio. Every small entrepreneur can afford it.
There is a USB connection just like in the case above. A USB cable comes together with a microphone – it is rather long so you can be sure you'll be able to hide the wire under the table if necessary.
There is also a headphone jack. These days the percentage of online conferences is growing, so someday you might want to use this mic for Skyping as well.
To wrap up, this is a great USB boundary mic. Installing one of two of these mics in your conference room will provide you with better room acoustics – even the quietest speakers will be heard.
4. Movo MC1000 Conference USB Microphone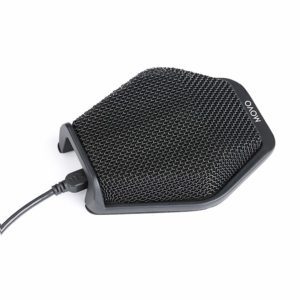 Price: $
Movo MC1000 is very similar to the model above. Well, it also has a USB connection and a headphone jack and comes with a long USB cable.
The polar pattern of this condenser boundary microphone is cardioid. It is very directional so it won't be a good idea to install just one microphone of this kind in a conference room and hope that it is enough.
Obviously, it won't be enough – you'll need at least a couple of these directed to different sides.
The quality of this mic does not differ from one of the previous models – some people say that Movo has a fuller bass pickup which can be both a good and a bad thing depending on your environment.
So, the key difference then is directionality. The price is a bit lower, but not that much. If you need a directional boundary microphone that doesn't cost a lot, this is your option.
5. Audio-Technica PRO 44 Cardioid Condenser Boundary Microphone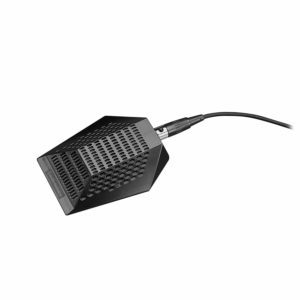 Price: $
One more cardioid boundary mic. Audio-Technica usually produces high-quality hardware – this piece is not an exception. Rugged construction is resistant to wear and tear.
The sound quality is great. It is certainly better than the previous models but here's the trick – the microphone connects through an XLR cable meaning it requires phantom power.
So, make sure you have an appropriate audio unit before buying the mic.
Otherwise, there are not many drawbacks. There is a TA3F to XLRM-type cable in the shipping package so all you'll need additionally is some kind of a mixer to connect it to.
All in all, if you want a high-quality boundary mike, this is one of them. Since the polar pattern is cardioid, make sure that every second person has at least one piece in front of them. Although, of course, it all depends on the size of a conference table. Make sure to take this into account as well.
You may also like: 11 Best Microphones Over the Ear
6. MXL
AC-360-Z
USB Microphone
Price: $$$
If you want one microphone to solve all of your problems, try this option. This MXL USB microphone includes 12 condenser capsules that are able to produce HD-quality sound. Both 3.0 and 2.0 USB connections are supported.
The sound quality of this mic is second-to-none. It records four tracks simultaneously so if you need just one audio track there might be some difficulties.
The sound waves that are being captured may come from sources that are far beyond the radius of a conventional conference table. There is 25 ft coverage so nothing will be missed.
This piece is shipped together with mounting hardware, USB cables, and 5 V power supply. If you need an all-embracing microphone that can be simply put in the middle of the room, you've found one. The price is high but so is the quality.
7. ClearOne 910-156-250 Chat 170 USB VoIP Desktop Hands-Free Wired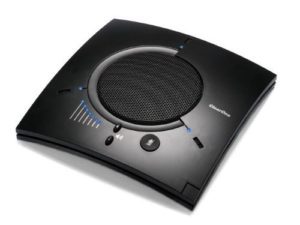 Price: $$
This five-star ClearOne system is an excellent alternative to the mic above. It also has a 360 degrees coverage, however, the distance is a lot shorter – 8 ft.
This is, of course, enough for a small number of people. If a conference room is attended by no more than 8-12 speakers then there's no need for long-distance coverage.
The microphone has excellent echo and noise cancellation. Despite the fact that it is omnidirectional, there are not too many ambient noises both in the recordings and the sound from the speakers.
There is a first microphone priority which automatically highlights the sound waves that come from the person who's speaking and reduces other sounds in the room. How amazing is that?
On the mic's corpus, you can see three buttons – mute and volume adjustment. Just like the option above, this one connects through USB. Unlike the option above though, this one doesn't cost an arm and a leg. In sum, this is a very well-thought choice.
Ceiling-mounted & wall-mounted microphones
8. ClearOne Ceiling Microphone Array Kit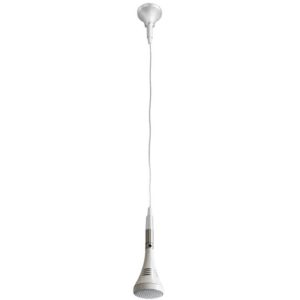 Price: $$$
In case you don't want a microphone on your table – after all, it can get touched and spoiled and all of that – you can acquire a ceiling-mounted mic.
This ClearOne microphone array consists of three individual condenser capsules. The array catches sound from all sides.
The radius of its reaching is rather long. In fact, this mic will work best in medium-sized and large rooms. Some people also buy it for training rooms since it can considerably improve the quality of communication.
There is an adaptive ambient gating control that blocks ambient noises. Noise rejection, in general, is pretty good – you won't hear unwanted sounds in audio.
The microphone comes with several pieces necessary for setting it – a mounting base, a couple of drop-down cables (12 and 24 inches), and other cables for connection. If are ready to attach the mic to your ceiling, then go ahead and check this option! Works perfectly with ClearOne mixers.
9. Polycom 2200-23809-001 HDX Primary Ceiling Microphone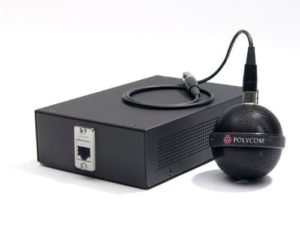 Price: $$$
This Polycom ceiling microphone is more expensive than the previous model because it is more powerful. The mic can cover 2800 square feet, which is a lot.
The coverage radius or the pick-up is 360 degrees, so it is omnidirectional so to say. If you are buying a microphone for a small office, there is no need to invest in such equipment. However, if your scope is larger, then this option is worth closer attention.
The microphone produces audio of high quality. It is great when combined with other Polycom units such as the Polycom HDX video systems and Polycom Sound Structure. In general, if you need something really powerful, then this one is for you.
10. ClearOne Beamforming Microphone Array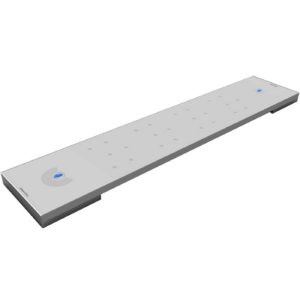 Price: $$$$
This equipment is even more high-end. In fact, only big corporations can afford it. Today lots of new groundbreaking technologies are being developed every single day.
Beamforming & adaptive steering technology is one of them. It lets record and reproduce crisp and clear sounds without background noises, echoes, or other unwanted signals.
This unit has 24 microphones in it. Imagine how powerful it can be!
The array can be combined with ClearOne mixers to achieve the best sound. It can be placed both on the wall and on the ceiling – whatever you prefer most. The obvious advantage is modern looks that will fit any interior.
The array also comes in black. All in all, this is a great but very expensive microphone (set of microphones, in fact). It will cost you an arm and a leg if you are an independent customer. If you are a representative of some company though, then the price might be alright.
---
Conclusion
To conclude, there can be various sound solutions for conference rooms.
The most important thing while buying a conference mic is to be aware of your purpose, your budget, and the type of conferences you are going to hold.
Take all these factors into account and you will certainly make the right choice! Thank you for reading up till the end. I wish you to make a good purchase and hold lots of successful events with it.
---
F.A.Q.

about conference microphones

Q: Are there other types of microphones that can be used during conferences, meetings, etc.?

Yes, there are other types of microphones that can be used in conference rooms. Lavalier microphones are a universal solution.

The less common option is over the ear microphones. It all depends on your goal. The microphones above are the most common choice when it comes to various meetings but you can always go for less conventional options.

Q: What connection is better when it comes to conference microphones – USB or XLR?

The USB connection for conferences is actually alright. First of all, you don't need to mess around with additional audio units and, secondly, there is usually no need to upgrade the sound quality.

Most of the time it is what it is. XLR mics are more complex since they require not only cables but also phantom power, mixers, and all the good stuff; this complexity allows them to be more adjustable and even upgradeable.

So if you are ready to deal with these subtleties, then it is better to choose an XLR mic. Also, XLR mics can use without a computer, which can be a benefit.