When you're thinking about microphones in general, you immediately think about voice recordings. What else do we need the microphones for? But there is a great amount of them and how to choose the one that suits you?
In the list of the best microphones for voice recording you may find that answer. And if not, you can check out the articles about voice-recording microphones in previous years.
Our Top Picks:
| Item | Main information | Polar Pattern | Connector type | |
| --- | --- | --- | --- | --- |
| Sennheiser MD 421-II | Suitable for any type of the recordings with the effective feedback rejection |  Unidirectional | XLR Connector | See Best Price |
| Shure SM7B | Great microphone for recording vocals and speech, easy to use | Unidirectional | XLR | See Best Price |
| Sennheiser Pro Audio Ew 100 | Best option for the field recordings, able to capture the sounds even from a distance | Unidirectional | XLR | See Best Price |
Sennheiser Professional MD 421-II Cardioid Dynamic Instrument Microphone
This is a classic dynamic microphone and this is one of the most widespread microphones all over the world, it is used in many studios and it brings fantastic sound.
It is a cardioid microphone and surprisingly for the Sennheiser brand it comes at a medium price point. This microphone is simply classic. I've owned this microphone for decades now and it's one of my favorites.
When I was going to ride this article about the best recording microphones I immediately thought of this particular item. Especially for the recording, MD421 is way too perfect not to pay attention to it.
But despite this fact, this microphone could be great for any purpose. It includes an excellent high pass filter which is part of the cornerstone of everything that this microphone can do.
There's a switch for bass and low range roll off where you can attenuate out boominess on a kit or focus on high shimmers.
It has the perfect sensitivity for vocals and it will capture all the sound in detail and will polish all the insecurities. It can also double as a great quality radio microphone or microphone for podcasts as well
Main features:
Type: Cardioid unidirectional large-diaphragm dynamic
Frequency Response: 30 to 17000 Hz
Connector: XLR 3
Weight: 0.85 pounds
Pros:
Extremely versatile and sounds good for all types of recordings
Works both for studio or live settings
5-position low-frequency roll-off switch
Effective feedback rejection
Cons:
Even though the mic is marked at the middle price range, it might still seem expensive to some
You may also like: 12 Best Voice Over Microphones
Shure SM7B Vocal Microphone
Probably, this is another microphone on our list that doesn't need an introduction but we will still do this. It is one of the most popular microphones by the Shure Company.
This particular microphone is an excellent cardioid dynamic microphone that was built for all types of vocalists.
To be more precise, it does a great job for singers, radio, and podcasting. I would recommend it to all people who are looking forward to developing their vocal skills and careers.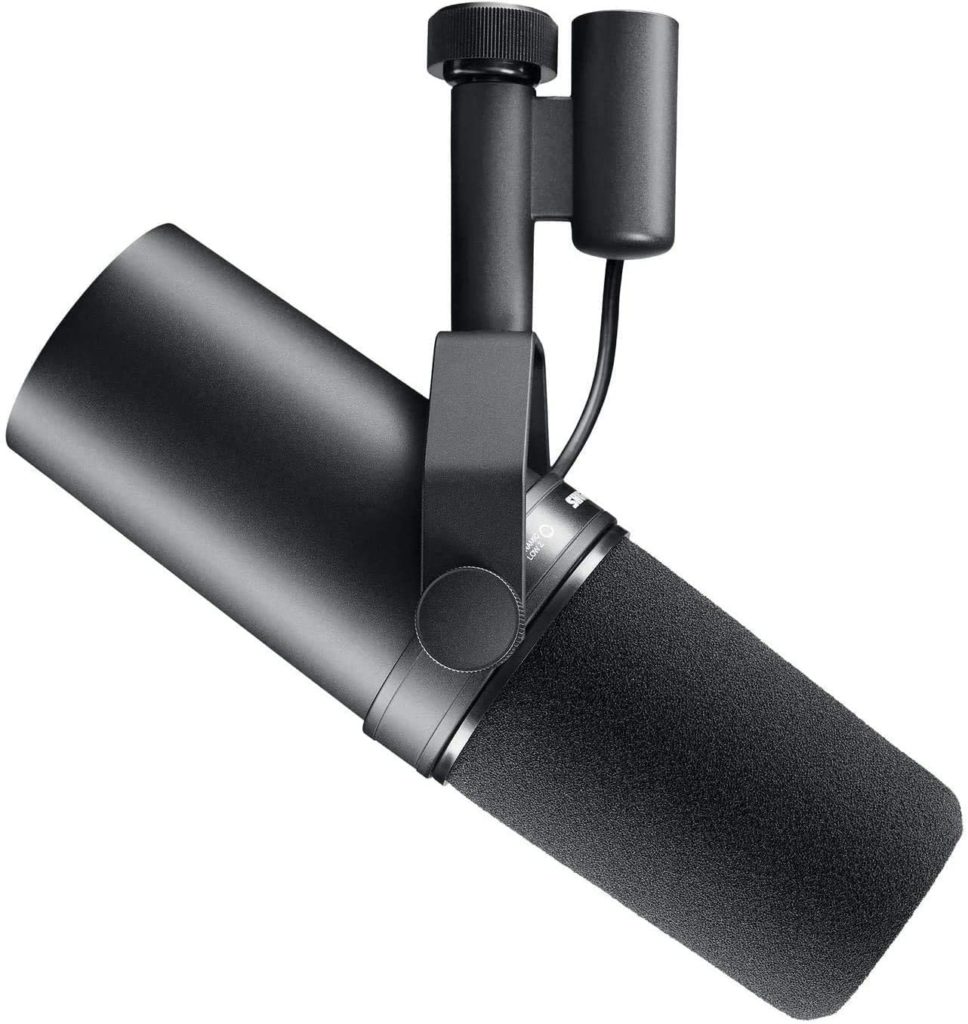 Originally, this make was made famous because Michael Jackson used it in one of his videos. In fact, this is one of the most ubiquitous mics in the sound studios that you can find today.
Just like the previous mic by Sennheiser, this Shure mic is also versatile and it's suitable for interviews, speeches, podcasting, or singing. And just like for the professional studio, you can use this microphone at your home studio.
A large part is played by the Home shielding that's built into the make. Whether it's laptop noise, amplifier buzz, or a fan sound from the next room all those background noises can creep into the recording.
This microphone includes the classic cardioid pattern and it ensures clean and directional vocals with little accidental coloration.
Originally, this microphone provides a flat and crisp sound. It's a little bit cheaper than the previous week because the brand is more affordable in general, but once again, it will not seem affordable for everyone.
Main features:
Type: Cardioid unidirectional large-diaphragm dynamic
Frequency Response: 50 to 20,000 Hz
Connector: XLR
Weight: 1.69 pounds
Pros:
Best microphone for vocals
Electromagnetic hum shielding
Included windscreen
Doubles as a general-use microphone
Unbothered by phantom power rigs
Cons:
Price
Has only one cardioid pattern
You may also like: Best ASMR Microphones for iPhone
Sennheiser Pro Audio Ew 100
This is the best microphone when it comes to field recordings. Because it has great directivity and can reject side noise, this microphone will bring to you the right type of result, even if you're recording from a distance.
This microphone will be an excellent suitable choice for old people who are working with video editing and videography. This is a dynamic microphone and when it's paired with a camera it focuses your sound on the same target as the lens.
Therefore, when you're doing field recordings or interviews in spaces that you cannot control, this type of microphone is crucial because they direct the action of a subject.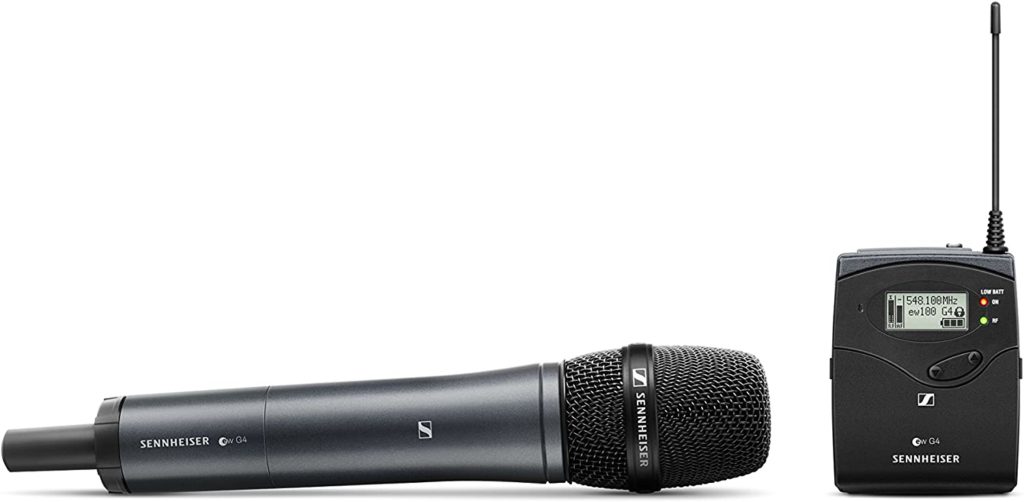 And if you want, you can also use this microphone for targeted studio recordings or over hats. This works also well for choir recordings. This particular microphone offers a slew of impressive specs and functionality but at quite an affordable price.
It has a great directional pickup pattern along with side sound cancellation. It's your body that makes this microphone comfortable for holding in your hand. This microphone offers long-range pickup without getting in the way.
The mic is also super easy to usage and for this type of gear, it's surprisingly easy to set up and start working.
Another advantage of this Sennheiser mic is its construction quality. The item is made of high-end ABS plastic with metallic detailing and is built to last. It feels lightweight and sturdy at the same time.
But one of the features which are personally my favorite is its capability to work with battery or phantom power which means this microphone is compatible with all types of devices.
Main features:
Type: Shotgun condenser, super-cardioid; lobar
Frequency Response: 40 Hz to 20 kHz
Connector: 3.5 MM DSLR mic input (not included) or XLR (not included)
Weight: 0.28 pounds
Pros:
Prominent side sound cancellation
Activated low-cut filter
Phantom power or AA battery for operation
Shock mount included
More compact than the majority of the shotgun mics
Cons:
Sometimes requires a separate wind guard purchase when used in the streets
No cables included
You may also like: Best Voice Over Microphones
Neumann TLM 103-MT Large Diaphragm Cardioid Microphone
This improved cardioid version of the U 87 includes many simplified features of the legendary mic of this brand to yield an absolutely top-notch large-diaphragm unidirectional cardioid that can even be better than its predecessor.
It's no secret that Norman is one of the most famous brand names in the microphone recording and it's been on the market for a while already. Its products are used in world-class recording studios.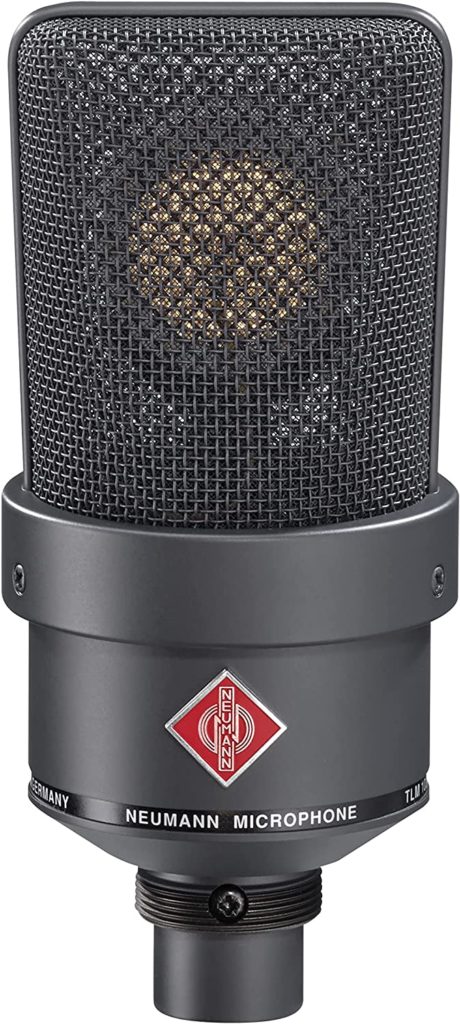 This microphone is the descendant of the legendary U87 microphones because it has the same body and diaphragm design as that item.
It is a little bit of a simplified version of the U87 microphones but sometimes it works even better, and what is more impressive, it's sold for just 1/3 of the price of the original.
This particular microphone offers only a unidirectional cardioid polarity. The reason it's not the original U87 model opens up the reason for the major price drops so more people can afford the high-end sound for their recordings.
It's internally quieter than the U87 microphones and it has extremely low levels of self-noise. Just like the majority of the recording mix it has a warm and full-tone sound.
This microphone by knowing one is perfect for vocals, spot recordings, and instrumental recordings. And if you have several of these microphones, you can even use them for orchestral recordings.
This microphone is a great deal for the quality price match. It will be suitable for all the vocalists and all the professional recording studios who want to take their sound to the next level.
Specs:
Type: Cardioid unidirectional large-diaphragm dynamic
Sensitivity: 20 Hz to 20 kHz
Connector: XLR, phantom power
Weight: 2.98 pounds
Pros:
Large-diaphragm capsule just like in U87
Extremely low self-noise
Accommodates very high peak levels
Excellent sound quality
Cons:
Still expensive
Single cardioid pattern
You may also like: Best directional microphones
Blue Yeti USB Microphone
I've already mentioned in our numerous lists that the Blue Yeti is one of the most versatile microphones. Partially, that can be explained by its 4 pickup polar patterns and its USB output which means it's compatible with literally every single device.
This is a great microphone for everyone, for instance, podcasters, streamers, musicians, singers, and so on. I personally also have a Blue Yeti microphone and I love it.

As I've mentioned before, it's extremely versatile, so I use it not only for voice recordings but also well playing online games with my friends. It provides an instant crisp sound.
And even if I want to record an acoustic guitar in a room and pick up the room tone I usually set it to the Omni directional pattern and I'm ready to go.
Or, in case you want to record that music, but an interview, for example, you can set up the bi-directional pattern and it will do the trick.
And when it comes to recording wall colors, there is nothing easier than doing that with Blue Yeti. And the best part in comparison to all the previous models of microphones is probably the price of the blue yeti. It's quite affordable.
This is a great item for entry-level podcasting or recording on the digital audio workstation. But remember that this Blue Yeti microphone isn't meant to plug into a traditional recording rig. It's rather the child of the 2000 and it's meant for digital usage.
With its all-night directional mode and stereo pickups, you can just set this microphone in the middle of the room for the unpolished room tone or just place it anywhere for having crisp Zoom sessions.
It's not the cheapest microphone in its own category of USB microphones, but for vocal recordings, this is much of a decent choice.
Specs:
Type: Condenser, 4 polarities: cardioid, omni, figure 8, stereo
Frequency Response: 20 Hz to 20 kHz
Connector: USB 48 kHZ sample rate, 16-bit
Weight: 1.2 pounds
Pros:
Multifunctional with its 4 polar patterns
USB type plug-and-play microphone
Mute button and headphone output on the device
Affordable
Cons:
Not an XLR type of the microphone
IK Multimedia iRig Mic Handheld Condenser Microphone
This time I suggest reviewing something rather unusual for our list, since we're always talking about the most popular and most professional microphones.
But in order not to repeat myself, I suggest paying attention to this budget option by IK Multimedia which is a suitable choice for those who only start their journey in vocal recordings.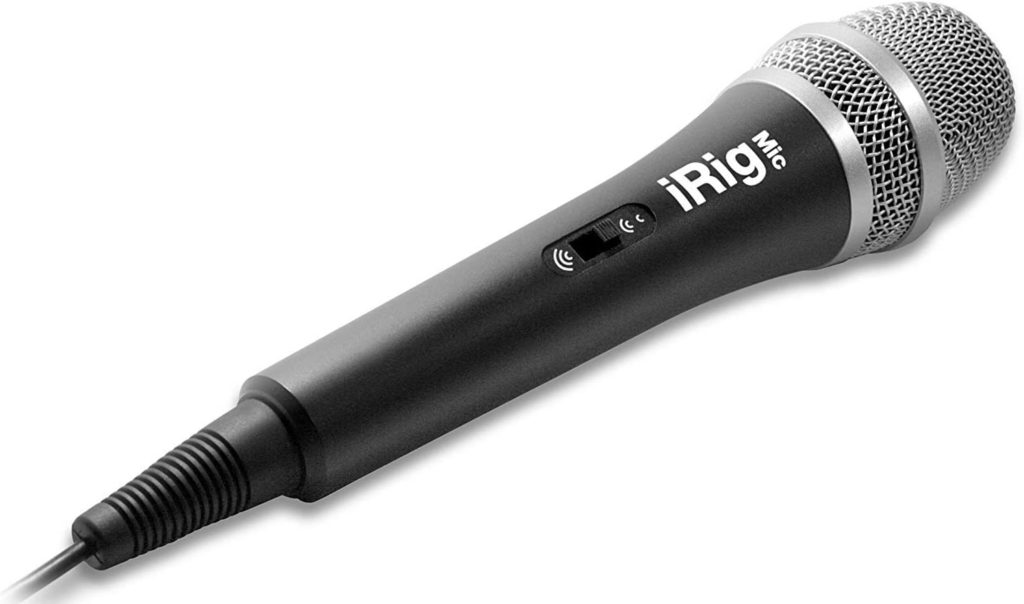 This microphone has been in huge demand because it has decent quality. And just like the blue yeti microphone, it has a simple setup and it provides the access to a suite of apps for recording and production. It's compatible with a laptop or PC.
The price here completely matches the quality that it brings even more. The construction is quite reliable, the microphone is made of durable metal housing and it can withstand hard hits and drops.
What is more, the remarkable feature here is that it has a built-in headphone jack. It's also a nice microphone for live performances since it has a cardioid pattern that can improve speech quality.
Main features:
Type: Condenser
Pickup pattern: Cardioid
Application: Speech
Connection: Micro USB
Pros:
Easy to set up
Decent sound
Great included software
Cons:
Not a professional microphone
You may also like: Best Microphones for Publish Speaking Big Audience
Sennheiser e609
As you can see, Sennheiser provides a number of top-level mic in terms of sound reordings. This particular model is great for recording the instrucmental music.
This is an unusual looking condencer mic with the broad flat grille so you could simple place it in front of your instrument and start recording. The detailed clarity is provided by this mic like in all models by the Sennheiser brand.
Its supercardioid pattern does an excellent job of rejecting off-axis noise. And it is resistant to vibrations when recording.
Its super-cardioid pick-up pattern provides isolation from other on-stage signals. The internal shock mounting that e609 has will help to handle the background noises.
Main features:
Type: Dynamic
Pickup pattern: Supercardioid
Connection: XLR
Powered: No
Pros:
Easy to position
Robust
Indifferent from high SPL figures
Cons:
Not so easy to mount on drums
A bit of a one-trick pony
FAQ for Voice Recordings Microphones usage:
What type of microphone is best for voice recording?
The best microphone for voice recording depends on the type of recording being done. For most vocal recordings, a condenser microphone is recommended due to its sensitivity and ability to capture the full range of frequencies in the human voice. Dynamic microphones can also be used, but they are not as accurate at capturing the nuances of the human voice.
For more professional applications, a condenser microphone with higher quality components will yield better results. Additionally, choosing an appropriate mic position will make a huge difference in the overall sound quality.
What microphones are used on the voice?
The voice is typically recorded with one of two types of microphones: condenser and dynamic. And most of the time we use condenser mics for voice recs.
Condensers are generally used for studio recordings due to their greater sensitivity and ability to capture a wider range of frequencies in the human voice. Dynamic microphones, on the other hand, are more commonly used in live performance settings because they are durable and can handle louder volume levels without distorting the audio signal. Some professional vocalists also use specialized ribbon mics or tube mics for certain singing styles or effects.