Did you know that Elvis Presley recorded his hits with a Shure microphone? I bet you didn't! But you probably know that Shure microphones are famous all around the world. Throughout its history (which is fairly long – over 90 year), the company has managed to produce several golden standard models.
The Shure microphones are legendary. However, there's no need for us to look only into the old stuff. Shure continues to develop new models and implements new technological advances all the time. Let's find out more about the company's most popular microphones.
Before we start though, it is worth contemplating what Shure microphones are out there. There are five series. The entry-level microphones belong to the PG series. Average price and quality are associated with the SM series; this series' models have less feedback and less handling noise.
Then there are the BETA series microphones that were created for professionals; these are highly directional and with a broader presence in the middle range. The most advanced series is called KSM.
Elvis, by the way, sang with microphones from the fifth series, which is, of course, the classics. Now that we know the basics, we can dive into the details of the most popular models. 
And before you start, don't forget to also check the article about the best Rode microphones. 
Product
Details


Shure SM58-LC

 

very durable quality microphone;

excellent mic, accurately transmits voice at all frequencies, both at the top and at low, bass;

clear voice reproduction with a minimum of hiss and pops;

does not need phantom power;


Shure SM7B

quite easily to adjust its frequency response;

thick low-mids, a nice presence bump, and an agreeable proximity effect;

off-axis noise rejection;

perfect for high fidelity audio recording, podcasts, getting smooth voices;

Shure BETA 58A

 

the super cardioid pattern helps cut down on extraneous noise from surrounding instruments or other singers;

fully reveals all the vocals, all the frequencies;

a solid, reliable, durable microphone option;

awesome build quality;
---
1. Shure SM58-LC Cardioid Dynamic Vocal Microphone

Price: $
This is the Shure icon. The microphone has been used by musicians and vocalists for several decades and still remains the most popular model on the market. You can see SM58-LC practically anywhere – live performances, presentations, sports events, and more.
The microphone is dynamic which makes it less vulnerable to abuse and wear and tear. The most distinguishable feature of this one is probably its ruggedness. You can do lots of various things with this mic and it will still be working. Drop it, smash it, put it on fire – the mic will still be able to transform sound waves. It is not a call to action, of course, however, it is good to know that you're buying a reliable thing.
This durability is only attributable to original Shure microphones. These days there are lots of forgeries so beware of that. The microphone is not that expensive to buy a fake version of it.
As for the main application of this mic, this is, of course, vocals. The microphone's frequency response is tailored for the vocal application. It is hard to imagine how many songs have been sung with SM58-LC. The sound it produces is warm and pretty clear. As one reviewer puts it, the mic is not especially excellent at anything but it is solid for everything. So if you wish to have a universal microphone, you can buy this Shure. Its production hasn't stopped so everyone has a possibility to meet with the icon! Given the price, it is not that hard.
Check price at Amazon
You may also like: Best microphones for small audience
2. Shure SM7B Cardioid Dynamic Microphone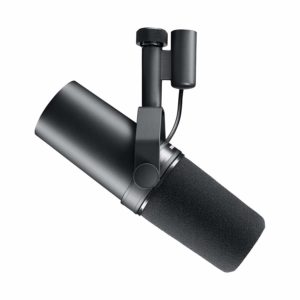 Price: $$$
Shure SM7B is one more dynamic microphone made by Shure. This one, however, is most frequently used in studios. In fact, the microphone is probably the most popular dynamic model when it comes to studio recording. Most studios these days prefer condenser microphones since these are able to provide you with a more natural sound. Condenser microphones, in general, are considered to be more sensitive than dynamic ones, but this model is an exception.
It's not that it is particularly sensitive but thanks to bass roll-off, mid-range emphasis, flat range frequency response and some other peculiarity, the sound produced by Shure SM7B is smooth and warm. Besides, it is very clear. There is an air-suspension technology which lets to record words and not heavy breathing. In this, dynamic microphones are probably better than condenser ones. The main areas of application for this device are broadcasting, podcasting and studio recording. The mic can also be used for recording musical instruments, such as guitar, piano, and others.
The embedded pop filter also contributes to the elimination of heavy breathing. If you are prone to use plosives in your speech, then you might benefit from a windscreen that comes with the mic. The windscreen will make the recordings even smoother and more pleasant-to-the-ear. The microphone is protected against radio interference that can be caused by smartphones and other electronic devices. This results in, first of all, less anxiety about RF and, secondly, more efficient recording.
Finally, the cardioid polar pattern of the microphone captures only your voice, reducing the off-axis sounds. This feature is especially useful in podcasting. The shock mount of the mic is stable and durable – be sure that the handling noise will be minimized. All in all, this is an excellent dynamic microphone with excellent characteristics. You can order it for many different purposes and be sure it won't be a waste.
Check price at Amazon
3. Shure BETA 58A Supercardioid Dynamic Microphone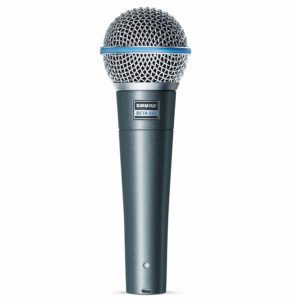 Price: $$
As we've mentioned earlier, the BETA series microphones tend to be more professional, with a more expressed directionality and a broader presence in the middle range. This model is not an exception. Shure BETA 58 is a premium vocal microphone that can be used both in studios and in live performances.
The microphone has a supercardioid polar pattern which rejects side noises and background noises, capturing only what comes from a vocalist. The sounds you get with this mic are crisp and clear. Most vocalists want a microphone that will compliment their tone. This model is capable of doing it.
What else you need to know about this model is that it is amazing at reducing the proximity effect. Some microphones tend to be very sensitive to breathing and other sounds that can be inadvertently produced by a singer. This one makes sure that only the needed sounds get into the recording or the speakers. As a result, the audio quality is impeccable.
Shure BETA 58A is quite durable and can withstand many unpleasant incidents. You can use it on stage and not stress out about having to handle it gently. The mic comes with a pneumatic shock mount and a case. It is definitely one of the best. If you need a rugged high-quality mike for stage performances, you have found exactly what you need!
Check price at Amazon
4. Shure BLX24/PG58 Handheld Wireless System with PG58 Vocal Microphone
Price: $$$
Shure is not only famous for its dynamic vocal microphones. The company produces great wireless systems too. This is, by the way, one of them. Shure BLX/PG58 is a wireless system with a PG-type handheld microphone. The microphone that goes with the system can be replaced by any other Shure microphone. PG, as it was noticed before, is an entry-level series. It is great for the beginners but maybe not as good for the professionals. The microphone is pretty rugged just like all the Shure microphones. It has a metal construction which adds up to durability. PG58 is great for lead and backup vocals.
As for the wireless system, it consists of a transmitter and a receiver. Actually, you can choose from several receivers – one-channel, dual-channel and rack mount. The microphones that can be used with all these types of receivers can also be different – handheld, head-worn, even lavalier. The transmitter included in the system is compatible with all of them. The system works on a couple of AA-batteries which you'll need to buy. It is the most common type so there shouldn't be any problems. The operating time can be up to 14 hours.
The receiver has a simple frequency selection thanks to which the sound is conveyed and recorded in the best way possible. In general, this is a great system that gets you rid of the necessity to deal with wiring. The included microphone is also alright, however, the most important part in this package is the system. These days, everybody aims for convenience and it is definitely more convenient to use a mic without a cable (of course, if the mic can be used without a cable).
Check price at Amazon
You may also like: 11 Best Microphones Over the Ear
5.
Shure KSM32/SL Embossed Single-Diaphragm Cardioid Condenser Studio Microphone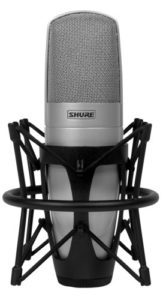 Price: $$$
'Better than real' – this is how some people describe the sound produced by this microphone. KSM32 is for the most demanding professionals. The microphone has a condenser diaphragm with extended low-frequency response. Low-frequency filter and pop filter make the recordings sound more real and natural.
This is the first and the only condenser microphone on this list. Such microphones are mostly used in studios. With Shure KSM32, you can record vocals and acoustic instruments. You can also use this mic during live performances, especially the ones that are more academic than rock and roll.
Needless to say, that this mic has excellent noise cancellation, is made of high-quality materials, and great at eliminating handling noise. If you are looking for professional studio gear, take a closer look at this model.
Check price at Amazon
---
F.A.Q. 
Q: So, what is the best Shure microphone for vocals?
It is hard to answer this question since every person has special needs. If you are an entry-level musician, you can buy SM58. If you are recording songs professionally, then you might want to try one of the KSM models. It is important to take your budget and your level into consideration. There are many options you can try out – some of them will fit you better than the others. In general, it is a matter of personal taste and capabilities.
Q: Are there other popular brands like Shure?
Yes, there are certainly many other popular brands like Shure. You can explore them in this article. What makes Shure so special is a number of revolutionary models produced throughout the company's long history.
---
Conclusion
Thank you for reading this article until the end. Hopefully, now you are more knowledgeable about Shure microphones and can recommend this or that model to your friends. There are lots of other Shure microphones to discover. Stay open to new stuff but don't forget about the icons!