Rode is an Australian company that produces microphones in Australia.
Today the Rode brand is famous all over the world, especially in the Western Hemisphere. The most popular microphones produced by the company are for video shooting, however, there are many other types of mics Rode can be proud of. Without further ado, let's dive right into the reviews!
In addition to this article, you can also explore the best microphones by Audio-Technica.
Product
Details


Rode NT-USB

no need to connect an external sound card;

sensitive to all sounds without distortion, background noise is almost absent;

the pop filter does a great job with "beating" consonants;

the recording is as close as possible to the Studio;

Rode Procaster

 

fantastic microphone for voiceover work/podcasting and any sort of radio/broadcasting application;

well built with a metal exterior;

plenty of bass, but it's not muddy;

noise reduction is unmatched;

very Low self-noise;


Rode VideoMicro

metal housing, has a very solid feel;

it's pretty decent directionally, doesn't pick up a lot of sound from behind the camera;

has a great wind screen;
---
1. Rode NT-USB Versatile Studio-Quality USB Cardioid Condenser Microphone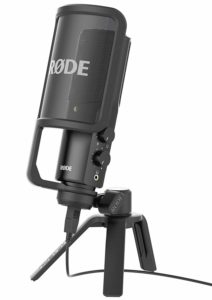 Rode NT USB is one of the few Rode microphones that feature a USB connection. USB connection means that the mic can be connected directly to your computer.
There is no need to buy additional audio units or use several cables. It is as simple as an apple pie – just plug in and play.
By the way, you can connect this microphone to your iPad as well. So, easy connectivity is the first advantage of the model.
The next advantage would be versatility. The mic can be used for many different purposes. You can record podcasts, vocals, instruments – whatever you need.
The cardioid polar pattern is perfect for all of these applications. Besides, there is a wide frequency response which allows for a very diverse usage of the microphone.
The third great thing about Rode NT is convenience. Now we know that it can be connected through a simple USB cable. But it is worth keeping in mind that it can also be set rather easily and without any problems.
There is a tripod that can be placed on any even surface and there is also a pop filter that can protect the mic from anyone's saliva. Not just that, of course, using a pop filter means having fewer plosives in the recording, which is always a good thing.
All in all, this Rode microphone is a perfect solution for an average user who makes her way into the recording industry. It is very simple in use – practically anyone can figure out how to work with it. Podcasters, vocalists, and musicians, don't omit the option!
You may also like: Best microphones for Android
2. Rode Procaster Broadcast Dynamic Vocal Microphone
Rode has a whole series of microphones created for broadcasting. This mic is somewhat unusual in this series since it has a dynamic diaphragm.
Dynamic microphones don't require phantom power so it is easier to deal with them. Besides, they are more rugged and less prone to wear and tear which means you can use them in many different circumstances.
What is unusual in this situation is that dynamic microphones are rarely used in broadcasting. Most people prefer studio-like condenser microphones. However, it doesn't mean dynamic mics can't deal with the task.
This Rode Procaster mic is excellent at accomplishing the task. It delivers clear and warm sound without background noises. The frequency response tailored for voice ensures smooth and natural sounding. The pop filter embedded in the mic gets you rid of the plosives and minimizes the proximity effect.
The microphone comes with a stand so you'll need some time to set it right. The good thing is that it is so much easier to work with a stand since you can place the mic exactly where you want to. All in all, this is a nice microphone for everyone interested in recording podcasts, radio interviews, voiceovers, and many more.
3. Rode NT1-A Complete Vocal Recording Solution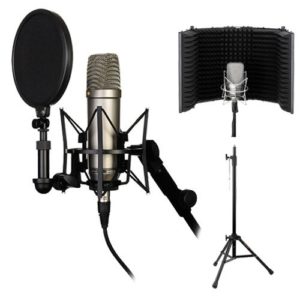 Rode NT1-A is not just a microphone – it is the whole setup for recording. There are a microphone, a stand, a shock mount.
In general, there is everything that is needed for setting up your own little studio. A couple of words about the microphone.
Rode NT1-A has a large diaphragm with a gold-plated membrane.
It is a condenser microphone specially made for studio recording. Many people compare the mic's quality with the one characteristic of professional hardware.
The polar pattern is obviously cardioid. The frequency response is great both for vocals and acoustic instruments. There is also a pop shield that comes together with the microphone. This pop shield can protect you from unpleasant sounds.
There is no need to say a lot about this amazing piece of gear. It can produce good sound. It can produce great sound. And it can produce amazing sound! All in all, if you want high-quality recordings, this is your option.
4. Rode NT1
This is one of the Rode's most famous microphones, it is a variation of the first microphone they ever released. This is an NT1 microphone. It is a large diaphragm condenser microphone and it is one of the best options for those who want to create their own little home studio.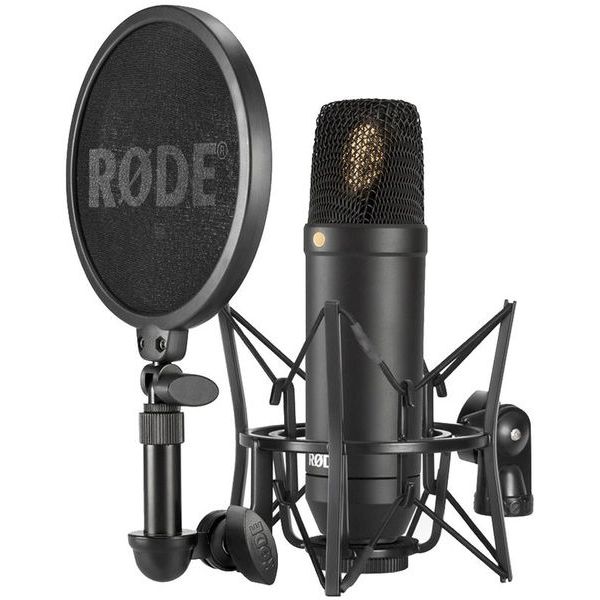 The item is also remarkable by its affordable price and excellent audio quality. When you buy Rode NT1 it's not just solely a microphone, you also get a microphone kit that includes everything that you need to get started.
The microphone itself is engineered really well and it delivers the purest audio. Another remarkable feature of a road and T1 is that it offers the ultra low self noise.
The manufacturer has suspended the transducer and modified the microphone by implementing Rycote's Lyre system.
It helped to minimize the vibration at the capsule level. In the microphone kit, you will get shock mount so it reduces the vibrations even more.
Besides, this microphone also uses a security word polar pattern and it will be only sensitive to the audio coming through the front of it. The frequency response range is also excellent and it covers the common spectrum of sounds that the human ear can catch.
5. Rode VideoMic Pro+ Compact Directional On-Camera Shotgun Condenser Microphone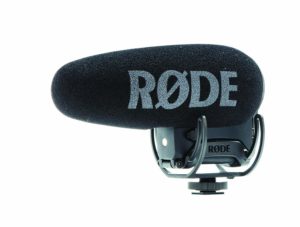 Rode VideoMic Pro+ is for those who like to record videos. If you want to improve the quality of audio in your videos, you should take a look at this model.
Rode VideoMic Pro+ has amazing characteristics. It can produce smooth and natural sound while at the same time reducing ambient noise and all the other side noises that may ruin your recordings.
The mic has a supercardioid polar pattern. It is shotgun in nature which is perfect for filming, vlogging, and other activities of this kind. Low self-noise with this mic is guaranteed.
It is guaranteed partly because of the stable shock mount which lets you handle your camera in whatever way you like without affecting the audio quality.
There are three ways of charging this mic. You can use a couple of AA-type batteries, a Rode rechargeable battery, or a micro USB connected to the mic.
This is especially useful for video bloggers who often face a low charge and have to wait until their gear is ready for work. By the way, you can check out other shotgun mics that go well with cameras in this article.
As for this one, it is really one of the best Rode microphones. Its popularity in the market is undeniable. There is the other version, an older one, that cost less so if you are up to saving up a little bit, you can choose VideoMic Pro (without the plus). The difference between them is not that crucial. Love vlogging? Check this mic out!
You may also like: 8 Best Microphones Compatible with PS4/PS5
6. Rode VideoMicro Compact On-Camera Microphone
If you are up for video shooting but need a budget microphone that won't hurt your savings, Rode VideoMicro is what you're looking for! This mic is directional so it will capture only the front sounds eliminating all the side noises.
The microphone goes well with a range of cameras including GoPro, camcorders, DSLR. It will improve the sound of your videos but don't put your hopes too high – for the price that you're paying for this mic you won't get any breakthroughs in quality.
It will get better but not too much. The only exception is probably windy environments. If you want to record video in windy weather, the mic will help you to avoid unpleasant noises.
The furry windshield that comes with the mic also contributes to noise reduction. The mounting system is made in such a way that you could enjoy videos free of self-noise.
All in all, this is an excellent option for those who are just starting out making videos. Rode is great at producing microphones for cameras so you can be sure you're buying quality stuff.
7. Rode PodMic
Probably, the name of this microphone speaks for itself. This mic by Rode is made for everyone who wants to record podcasts. The quality that it delivers at such a low price is amazing.
Apart from that, Rode PodMic has already gained an excellent reputation on the market and it's a legend in the microphone world.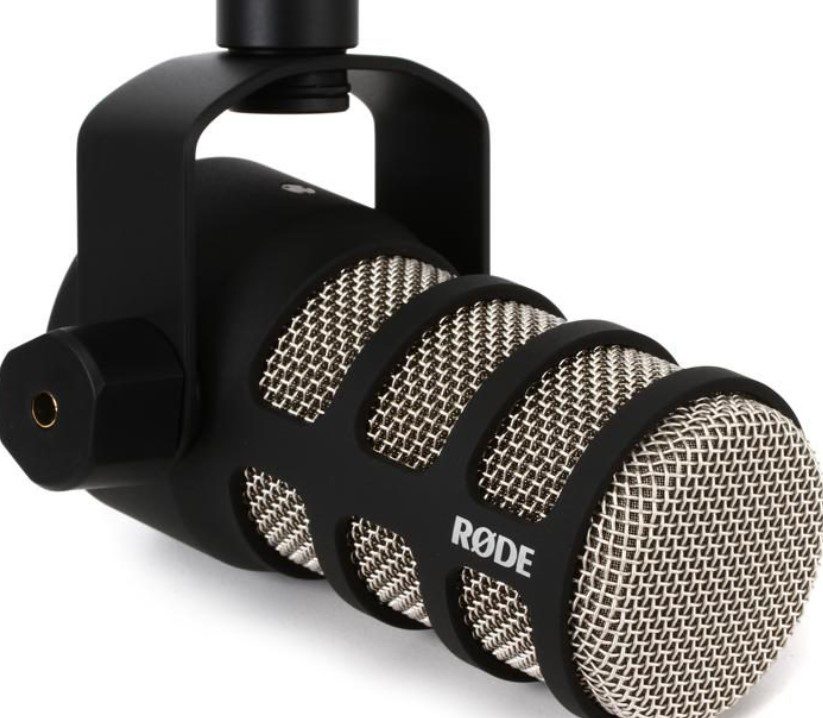 It has a convenient small size which makes it easy to fit into any setup. However, the size doesn't make the looks compromised and even if you are filing a video this Rode PodMic is going to look amazing.
This is an XLR-type microphone. You can use this microphone for streaming, podcasts, and more. One of the remarkable features of this microphone is that it is able to deliver the sound in its richest details and that will make your voice sound highly professional, complementing the various frequencies.
You will have really be impressed the first time that you will use this microphone. It is especially useful for those who don't have a deep voice since Rode PodMic helps to add deepness to the audio. The PodMic that's a good job by enhancing the bass frequencies.
It uses the internal pop filter and it also has the shock mount in its kit, therefore, providing clean audio.
The capsule itself is essentially suspended on its swing mount. It makes it easy to move around and it also adds additional protection for your audio quality. Overall, this is an excellent microphone for podcasting and it's also incredibly affordable.
---
Conclusion
Thus, Rode produces a wide range of different microphones. These days Rode mics are associated with quality and style. They've become recognizable in many various areas.
If you are looking for a good microphone no matter what your purpose is, overviewing the Rode offers is a wise thing to do!