Audio-Technica is a good enough choice for the hosts of Olympic games, World Cup Soccer, Grammy, and many other significant events. Do you think the AT products will be good enough for you? Well, we'll see! Needless to say that AT (short for Audio-Technica) has managed to come with a number of extraordinary solutions in sound engineering. One of them is radio frequency interference resistant technology. This technology is embedded in all the AT mics which makes them less vulnerable to interference and so much more reliable on stage.
The microphones below are quite different. They've been chosen on the basis of rating on Amazon. We've tried to embrace all the most famous and successful models. If you like any of them, be free to check the links and learn more.
Product
Details


Audio-Technica AT2020

great quality recording;

quality build;

great for vocal work, and the easiest connection possible;

USB plugin is perfect and convenient;

great built in control features;


Audio-Technica AT2035

great clarity and amazing build quality;

excellent, crystalline sound, very faithful and extremely versatile;

can handle anything from vocal, guitar, drum, to all the other instruments;

very easy to set up since its a plug and play;


Audio Technica AT2005

very solidly-built;

warm, clean, versatile, good for multi-purpose use;

will not pick up any background noise, the quality is clear and crisp;

very simple to setup and get working without any fuss;
---
1. Audio-Technica AT2020USB PLUS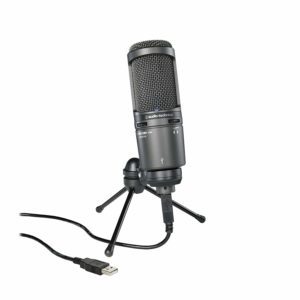 Price: $
AT2020 USB + is probably the most popular model of them all. The reason is that this is the cheapest USB condenser microphone with a large diaphragm on the marker. And if you find a cheaper USB condenser microphone with a large diaphragm on the market, it will certainly not beat AT2020 in terms of quality. So this is it! The perfect ratio between the price and the quality is what makes this mic a true bestseller.
The mic has a cardioid polar pattern which is perfect for recording music, podcasts, voice-overs, and so much more. The areas of applications are numerous – you can use AT2020 mic practically anywhere. If you want to have your own little home studio for recordings, it would be the perfect first microphone for it.
The construction of the mic is rather solid. There is a headphone jack for monitoring recording in real time. As for the items that come together with the microphone, these are a cable, a case, a tripod, and a shock mount that can be used with various microphone stands. The most important part is, of course, the sound quality. Well, here it is great! Of course, the sound is not as clear as the one you would get from a $3000 microphone but we're not looking at $3000 microphones now. Given the money you pay for this mic, the sound quality is just wonderful. So, if a cheap USB microphone sounds like something you'd want to acquire, check this model out!
Check price at Amazon
2. Audio-Technica AT2035 Cardioid Condenser Microphone
Price: $
Wait, why would be reviewing the same model all over again? Well, not quite so. It is true that AT2020 and AT2035 are from the same series and have got a lot in common. However, there are several crucial differences between them that make each model somewhat peculiar.
The first and probably the most important one is the type of connection. Previously, we looked at a USB model which can work on the so-called 'plug & play' principle. This mic connects through an XLRM-connector and requires phantom power. What this means is that in order to make this microphone work, you need to buy an additional audio unit. To learn more about the difference between USB and XLR microphones, you can read the F.A.Q. section on our main page.
The second difference is that this model has an 80Hz hi-pass filter and a –10dB pad. So, basically, this model is more flexible and can tolerate even the loudest sounds. As for the areas of applications, they are quite the same. The cardioid polar pattern allows for the use of the mic in studio recording sessions, live performances, at home, and more. Wide frequency response (the same as in the case before) helps to create that smooth and natural sound. In sum, this is another great AT mic. This time with an XLRM-type connector.
Check price at Amazon
3. Audio-Technica AT4040 Cardioid Condenser Microphone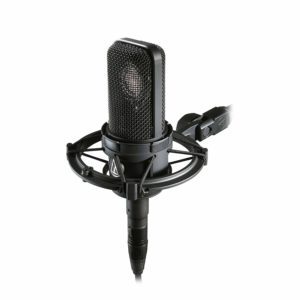 Price: $$
Wait, yet another one!? And yet again no! AT4040 is more premium than the first two models and therefore has a higher price. It has got an externally-polarized (DC bias) condenser element which is extremely reliable and precise. Just like the other two mics, this one has a large diaphragm and a cardioid polar pattern.
The characteristics of this model are excellent. High SPS, wide dynamic range, low self-noise… There is so much more to add to this list. But it all boils down to one thing which is an impeccable quality of the sound recording. People use this microphone both for professional and personal purposes. The microphone can record well both the vocals and the musical instruments.
As usual, Audio-Technica adds some accessories to the shipping package. Here, they are a special case for storage and transportation and a shock mount. All of the items are of high quality. The AT40 series is generally known for solid reliability and consistency. If these are the features you're looking for in microphones, then AT4040 might be the one for you. As said before, it is a little bit more high-end than the other two condenser mics. If it is not a problem for you to invest a little bit more in a quality item, then go for this model!
Check price at Amazon
4.
Audio Technica AT2005USB Handheld Dynamic Microphone
Price: $
AT2005 is a dynamic microphone suitable for podcasting, skyping, singing, and many other activities. And nobody said you can't use it on stage! What's amazing about this piece of equipment is that it has two kinds of connectors – both USB and XLR. So when on stage, you can use an XLR connector which would the most rational choice. And when at home, you can simply connect the mic to your computer through a USB cable.
The microphone has a cardioid polar pattern. It is rather small in size, which makes it easy to transfer. On the body of the mic, there is a headphone jack that allows you to monitor the recording in real time. There is also an on/off switch button just in case you want to stop recording or amplifying your voice at some particular moment.
All dynamic microphones are tougher then condenser ones. They might be not as sensitive or accurate but they are definitely more durable and reliable. Besides, in some cases, your voice can sound better when combined with a dynamic mic. It is not a coincidence many singers choose dynamic diaphragms over the condenser one.
This dynamic microphone is indeed versatile. It is not just about having two ways of connection. There are also two ways of setting the mic – one is on a tripod and the other one is on a shock mount. Both the tripod and the shock mount are shipped together with the microphone. So if you are looking for a cheap dynamic mic for beginners that can be used anywhere and at any time, this is a great option for you!
Check price at Amazon
5.
Audio-Technica AT8024 Stereo/Mono Camera-Mount Condenser Microphone
Price: $$
Finally, AT8024. This model has also got 4+ stars on Amazon. Its popularity can be explained by the increased demand on shotgun microphones, especially the ones that can be mounted on cameras. This mic is just like that. You can easily attach it to your DSLR or some other type of video camera and start making fantastic videos with it.
The great part is that you can get both mono and stereo output – it all depends on what you are recording and which kind of audio you prefer. A three-position adjustable attenuator (-20 dB, -10 dB, 0 dB) lets you capture both soft and loud sounds without any distortion. There is low-frequency roll-off that you can switch on to get rid of humming and other ambient noises from your environment.
The sound quality that this mic is capable of delivering is truly amazing. Many people compare it to the Rode Video microphones and say that AT definitely beats them. By the way, you can check out the Rode models as well as other popular shotgun microphones here.
If this mic seems massive to you, don't be deceived! It is extremely lightweight, so there shouldn't be any problems with taking it with you. Two windscreens, as well as some other accessories, come together with the mic. In sum, this is another great model that Audio-Technica can be proud of!
Check price at Amazon
---
Conclusion
As we can see, there are different Audio-Technica microphones that can be applied in many different circumstances. The five models outlined above are just a small part of the big variety of AT models that are present on the market. If you have a particular goal for which you need a microphone, you can go to the Audio-Technica website or their Amazon store to learn more about different models and compare their characteristics. For now, we say goodbye. Choose the best microphones gear & have fun using it!