Blue is a relatively new kid on the microphones' block. The company appeared in the '90s when it started to produce high-quality products for average users. The most popular models of this company are USB microphones. And if you also want to check the best 3.5mm microphones, then read this article. 
These are the mics that can be directly connected to your computer, phone, tablet, or any other device. Such microphones work on the 'plug and play' principle – there is no need for additional hardware or software. Everything's working from the very start! Let's review the best and most famous Blue microphones.
Product
Details


Blue Yeti

 

substantial and solidly built;

the sound is crystal clear and professional;

excellent audio capture;

multiple capture settings for any situation;

instant listening so you aren't guessing on quality;

Blue Snowball

great value;




perfect for beginners;




unique and robust design;

USB powered - no need for a phantom power supply or huge, bulky XLR cables;


Blue Snowflake


records guitar, voice and other sounds with little to no distortion;

decent noise reduction in the recordings;

design for shipping and travel is great for a USB mic;
---
1. Blue Microphones Yeti USB Microphone
Blue Yeti is one of the most popular Blue microphones on the market. It is not that expensive and at the same time very diverse in its functionality. To begin with, it has got four polar patterns. Yes, four! They are cardioid, omnidirectional, stereo, and figure eight. You can use each of them for various purposes. Cardioid is best for broadcasting, recording voiceovers, vocals, and even instruments. Omnidirectional is used to capture all the sounds in the environment. As for stereo and figure eight, they are best at recording interviews or duets.
The interface of the mic is also rather interesting. It has got two buttons – mute and volume adjustment. There's also a headphone jack. You can connect your headphones and monitor the recording in real time. What's not to like?
The construction of the mic is steady. It is set on the table stand, however, if you wish you can find other ways of how to set this microphones. There are special shock mounts sold separately. As for the sound quality, many praise it for being crisp and clear. You'll certainly get a decent quality sound.
To sum up, this is an excellent USB mic that will help you to bring your home recording to the next level. Beware though that it is far from small.
You may also like: Best microphones over-the-ear
2.
Blue Microphones Snowball Omnidirectional/Cardioid USB Microphone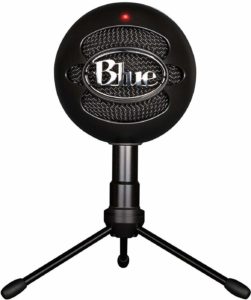 Blue Snowball is another popular option when it comes to Blue Microphones. In fact, this one is probably more popular than the previous model. The obvious reason is the price.
The microphone has two polar patterns – omnidirectional and cardioid. Technically, there are three of them. The third one is made for recording loud sounds with high fidelity. The SPL (sound pressure level) is quite high.
As you can see in the picture, there is a LED light indicating the operating status of the microphone. The mic is placed on a tripod, however, you can use it with a standard microphone stand as well. Just like in the case above, there is a headphone jack for monitoring the recording in real time.
This mic will significantly improve the quality of your communication through Skype and other services. It doesn't mean you can't use this mic for recording vocals – in fact, many people do and they do great. All in all, if you are looking for a budget USB microphone, you have found it!
Check price at Amazon
3. Blue Yeticaster Professional Broadcast Bundle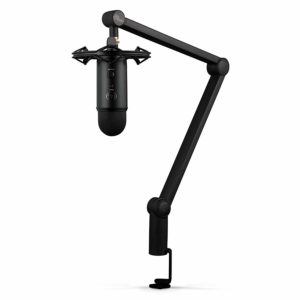 Yeticaster is the Blue Yeti microphone from the beginning of this article. It is just it is in a different position. Here, you can buy the whole package together – a special shock mount for broadcasting, a boom arm, cables, adapters, etc. So, basically all that's needed for broadcasting, live streaming and other activities of this kind.
The microphone has those four polar patterns. There's actually no need to go into details about it since you already know all the details (if you read carefully, of course). As for the other items, they are specially made for making the recording sessions as convenient as possible. You can barely see the mic on camera when recorded with its mounting hardware.
By the way, all the Blue microphones come in several colors. It is not just black and white. There are also red, pink, blue, green, and many other ones. The color palette is really big. You can choose the design to your taste no matter how bizarre it is.
All in all, this is another great Blue Microphones' invention. It will let you create amazing podcasts and even more amazing tunes and songs.
4. Blue Snowflake USB Microphone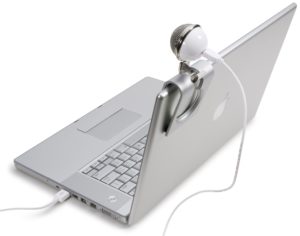 Obviously, the Blue Microphones company is great when it comes to names. It is probably because one of the company's founders is from Latvia. Hence, there is this focus on snow, winter and, you know. Anyway, this Snowflake microphone is designed for improving the quality of online communication. This was the initial purpose, of course. The microphone is also broadly used for recording voice and instruments.
Its most peculiar feature is the clip that allows you to attach the microphone to the top or to the bottom of your computer or laptop. Okay, these days it is rather difficult to find a person who uses laptops more than tablets or phones. But if you are among those who are a bit old-fashioned, then maybe you'll be interested in this offer!
I say old-fashioned not only because the use of laptops and PC's is on the decline but also because many customers complain that the mic's clip was designed to fit wide surfaces. It is not that good with slim modern devices. Apart from this little drawback, the mic is wonderful. The sound quality is great and it is quite convenient not to have anything standing in front of you. If you need a good microphone for holding online meetings or any other tasks, get this one!
You may also like: 11 Best Directional Microphones
5. Blue Raspberry Premium Mobile USB Microphone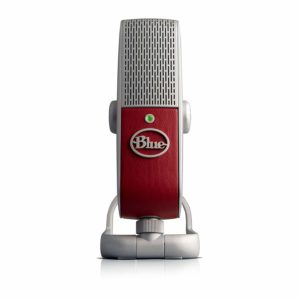 Blue Raspberry microphone can be connected directly not just to your PC or laptop, but also to your phone or tablet. That's the main advantage of this mic. It is rather portable so you can use it anywhere and at any time. For those who like to travel a lot and always make recordings in different places, this is the option number one to look at.
The microphone can connect either through USB 2.o or lightning connector. Most iOS and Android devices can work with it. For some, you'll probably need an adapter but it is not so problematic to get it.
The interface of the mic is rather convenient. There are the mute button,  controls, and a headphone jack. If you need to monitor what you're recording, you can do that.
The most important aspect to look at is, of course, the sound that the mic is able to produce. Here, it is rather clear without distortion or noise. The noise, by the way, is eliminated by special technology and a cardioid polar pattern. A cardioid polar pattern means you can use this mic for recording podcasts, voice-overs, and more. This is the most expensive mic among those that we've covered in this article, so it must be really good! Check the reviews & see if it suits you.
---
Conclusion
So, as we can see, Blue microphones are not too expensive. This is because they are made for average users who would like to upgrade their sound quality when recording at home. Nonetheless, there are many technological advances embedded in these mics. Many of them have received certain awards for being unique and original in their nature. If you happen to look for a good USB microphone, you are in the right place! Blue is the leader in this category, so it is unlikely you'll make a mistake.