Most microphones for smartphones are created for iOS devices, however, it doesn't mean that you can't find a stable Android mic. There are lots of lavalier and video microphones for Android – it is just that they are not as easily found.
The models below are the most popular options for smartphones. They can significantly improve the recording quality of your device. Go through the list and find the mic that suits you.
By the way, if you have an older Android device, a 3.5 mm microphone will suit you as well.
Product
Details


Comica CVM-VS08

significantly improves the sound quality of videos;

the audio out plug so you can monitor the audio as it is being recorded;

the ability to face the microphone any direction you like;

the quality is top notch - no junky, flimsy parts, it is well built;


Professional Cardioid Condenser Microphone SF666PRO by ZaxSound


decent sound quality and adjustability;

picks up sounds from far distance;

impressive  range;

very robust build quality;


Aputure A.lav

the sound quality is good;

the battery life last a long time, and it takes no time to charge up;

the cord is really long so you will have no trouble

clipping the mic wherever you need to;
1. Rode VideoMic Me
Price: $$
Rode VideoMic Me is a mini shotgun mic that is compatible with most smartphone devices – Android included. It has a headset jack, so no worries about compatibility.
New generation iOS devices like iPhone 7 or higher require a lightning port to a 3.5mm port adapter, however, there shouldn't be any problems with older iOS versions or Android phones.
In case you have them, try buying an adapter.
This mic is very directional. It has a cardioid polar pattern that picks up sounds that come from the front and ignores all the rest. This lets you make recordings even in noisy environments, such as supermarkets, crowded streets, or India. You can think of any other examples of noisy places.
What's important is that the capsule will convey what you're saying and almost nothing else.
The aluminum body of the mic is made to last. It reduces self-noise, which contributes to a clearer sound. The microphone comes with a windshield that reduces wind noise and eliminates plosives. There is also a shock mount in case you need one.
What is special about Android devices is that sometimes the headset jack and camera are situated on the same side of a smartphone.
If this is the case, then Rode VideoMic might not be suitable for you – at least for video-recording. Of course, it is quite compact, but it can still be seen in your videos if the camera is not that far off. Just be mindful of that.
As for everything else, this mic is awesome for recording! It will take your video shooting quality to the next level. Because, as they say, half of the good video is good audio.
You may also like: Best Rode Mirophones
2. Professional Cardioid Condenser Microphone SF666PRO by ZaxSound
Price: $$
This MIC is perfect for purchasing if you are an Android user. The device perceives sounds great and processes it using a cardioid pickup.
The microphone is small in size and therefore does not take up too much of your space. You can record music or podcasts in a quiet room by placing the device on a tripod and adjusting its tilt as you like.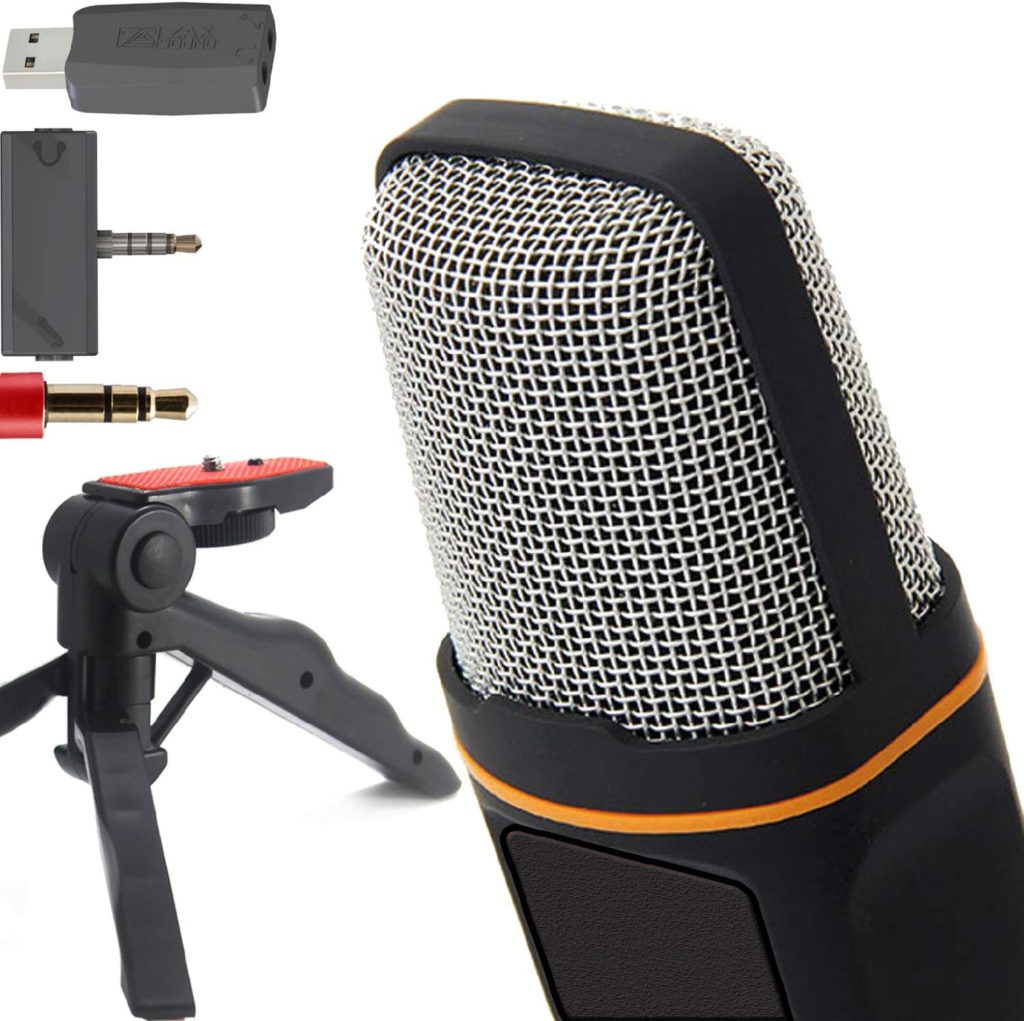 The stand has three legs and allows you to turn the device 180 degrees.
Also, the device has a 3.5 mm audio jack, which allows you to connect the microphone to various gadgets via USB.
It is possible to use this MIC not only to connect to Android but also to tablets, PCs, iPhones, and even Xbox.
At the same time, there is no necessity to install additional software to use the microphone. Just connect it to the gadget and start recording.
Advantages:
High-quality sound without noise and delays.
User-friendly device design.
It is possible to link to any gadget.
Drawbacks:
The stand is made of low-quality material and can quickly become unusable.
3. Rode SmartLav+
Price: $$
Rode SmartLav+ is a lavalier microphone for smartphone devices. Lavalier microphones are used when it is necessary to conceal the microphone from the eyes of viewers.
It can also be used for podcasting and other activities that do not necessarily involve video-shooting.
Most of the time lavalier microphones are called wireless due to the fact that they are connected with receivers by transmitters.
In such a way, the need for long cables is no longer there. As for lavalier smartphones microphones though, it is nothing like that. Your smartphone will serve both a transmitter and a receiver.
Thus, what we get is a microphone with a short cable (you can use a longer cable, but it is not recommended).
Rode SmartLav+ is just like that. It has an omnidirectional pick-up pattern that picks up sounds from all the sides.
The mic uses a headphones jack, which is exactly what you need if you want to use it with an Android device. A mounting clip, a kevlar cable, and a foam windshield are all included in the shipping package.
This microphone is great for video-recording, podcasting, public speech, and other activities.
Its small compact size allows you not to pay attention to the mic and instead pay attention to what you're saying. So if you want a good lavalier mic, this option is certainly worth checking out!
Specifications:
omnidirectional pick-up pattern;

frequency range: 60Hz – 18kHz;

maximum SPL: 110dB;

dimensions: 1180 x 4.50 x 4.50 mm.
4.

Movo PM10 Deluxe Lavalier Lapel Clip-on Omnidirectional Condenser Microphone

Price: $

This is a mini-microphone that is very convenient to attach to the collar or other parts of your clothes and continue recording a video or podcast without being distracted by the device at all.

The microphone has a suitable plug for both Android and Apple gadgets. The developers have made a 3.5mm jack so that any phone can be connected to this microphone.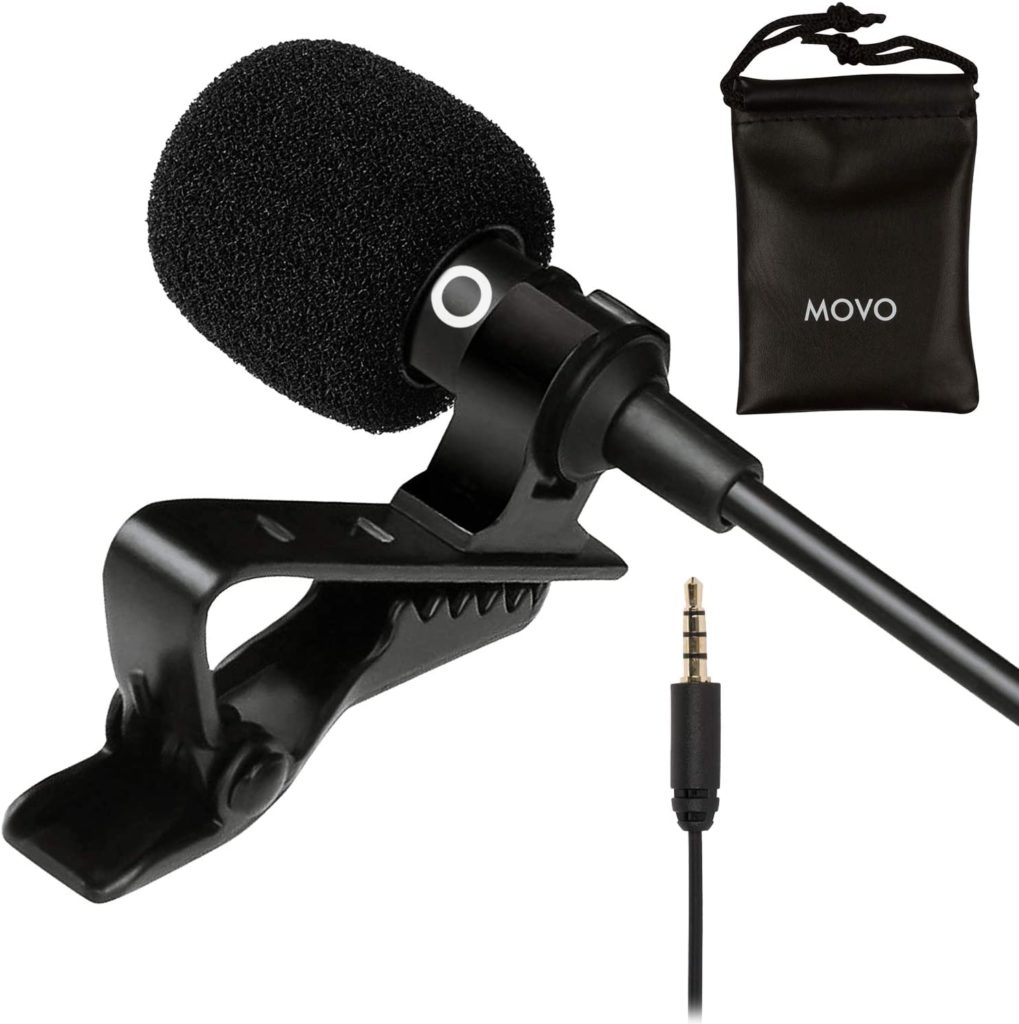 The set includes a special bag where you can put the microphone so as not to lose it. There are also several pins with which it is possible to attach the microphone.
Since this is an omnidirectional lavalier microphone, you will only get clean and high-quality sound.
The microphone perceives not only sounds directed at it but also all the noises around it. That is why this device is an excellent choice for those who record music, and videos and create movies.
The microphone can record even the quietest sounds in the room or outside.
Advantages:
It is possible to get audio recordings of high quality.
The microphone can be attached to clothes using special pins that are included in the set.
Drawbacks:
High sensitivity to noise can be disturbing when there is no need to record extraneous sounds.
5. Comica CVM-VS08
Price: $$
Comica CVM-VS08 is a shotgun condenser microphone that has a cardioid capsule.
The mic is compatible with all the smartphone devices. It connects through a headset jack, so nothing new here.
There are two particular Android devices this microphone was checked with – Samsung and Huawei.
The microphone works well with Samsung smartphones both in audio recording and video recording. As for Huawei, the video mode is not supported for some reason. However, you can try to download a third-party video-app in order to resolve this problem.
There is one more issue you are going to face with this microphone – distortions. If you want to exclude humming from your recordings, it is important to turn on the audio mode.
The microphone is suitable for many different purposes. It deals with lots of different issues as well, however, most mics do. It is not possible to monitor sound in real time with this microphone – only playback mode is available.
If you need a nice shotgun condenser mic, take a look at this option. Maybe you'll find everything you need in it.
Specifications:
cardioid polar pattern;
100 % aluminum;
two windscreens and a mound are included;
compact size.
You may also like: 8 Best Microphones Compatible with PS4/PS5
6. 
Purple Panda Lavalier Lapel Microphone Kit
Price: $
This clip-on omnidirectional condenser lav mic is compatible with smartphones, tablets, camcorders, GoPro, DSLR, laptops, PС, so basically all the devices that exist out there.
The mic is able to produce excellent stereo sound. Just like all the other microphones on this list, it is far from expensive. Nonetheless, it is able to take the recording quality of your device to the next level.
The Panda kit has everything you need – two types of adapters, a windscreen, a fuzzy windscreen, and a bag for all of that. There is also an additional clip in case the default one breaks down.
The mic is certainly compatible with Samsung devices. As for the other Android devices, there might be some problems, however, they are easily resolvable.
All in all, if you need a cheap lavalier mic for vlogging, podcasting, interviews recording, or other activities, get this mic! It shouldn't let you down since it is the most popular option in its price range.
Of course, you can also look for the options that are even cheaper, however, they won't provide you with the same sound quality as the Panda lavalier mic will.
Specifications:
omnidirectional polar pattern;
3.5 mm headset jack;
3 m cable;
TRS and mini-USB adapters included.
7. PowerDeWise lavalier microphone
Price: $
PowerDeWise lavalier microphone is very similar to the previous option. There might be certain differences but they are not crucial.
This microphone is the most popular choice on Amazon, so it is most likely that you have already seen it.
Just like any other option on this list, it is able to cancel out background noise and focus on the sound source.
The mic has an omnidirectional polar pattern. It doesn't support real-time monitoring so, first, you need to record something and then listen to it. The working principle is, as always, 'plug and play' – no additional batteries are needed, no settings' customizations are required.
PowerDeWise is not only compatible with Android devices. It can also be used with iOS devices if you have a lightning to 3.5 mm adapter (which most iPhone owners do). You can also use this microphone with PCs and laptops.
This mic comes with lots of useful items. When you unpack the shipping box, you'll see an extension cable, an additional wind muff, mono adapter 4 to 3 pin that lets you use the mic with laptops and PCs, and a convenient storage case.
There is a lot of stuff you can get for $20! So if you are looking for a nice microphone's kit that will extend your Android's recording abilities, this is a great choice.
Specifications:
3.5mm TRRS jack for Android devices;
omnidirectional polar pattern;

signal to noise ratio: ≥56dB;

frequency range: 50-16,000Hz.
8. CKOKC Wireless Microphones
Price: $$
This device is perfect for those who record various podcasts, create videos, or just need a good microphone to communicate with other people.
This is a small and lightweight microphone that can be easily attached to clothes. To attach it to the collar, use special pins that are already in the set.
You can easily use these MICs to record an interview. The fact is that the set includes two transmitters and one receiver.
The devices are wireless and which means that it is very convenient to use them.
In addition, there is no need for special software. Just plug the receiver into your phone via USB and start recording.
The microphone works at a distance of up to 65 feet without delay in recording audio.
The sound that you will receive after the recording has a high level of clarity and quality because the microphone has a special spongy windscreen built in, as well as a smart algorithm aimed at recognizing extraneous noise.
These unnecessary sounds will not be recorded.
It is great that the device uses environmentally friendly batteries that can be recharged.
Furthermore, the microphone can work for 8 hours, but you can immediately replace it with a second one when the first one runs out. In this case, it is possible to record audio for 16 hours.
Advantages:
There are 2 microphones in the set at once.
This is a lightweight and convenient device.
Microphones can work for a long time.
There is a special noise reduction system.
Drawbacks:
MICs can still record sound along with noise.
9. Alvoxcon Wireless Lapel Microphone
Price: $
These are great microphones for those who care about quality and comfort.
Conveniently, this device is compact enough that it can be fixed to your clothes – this way the microphone will be near your mouth and this will allow you to get the most precise audio.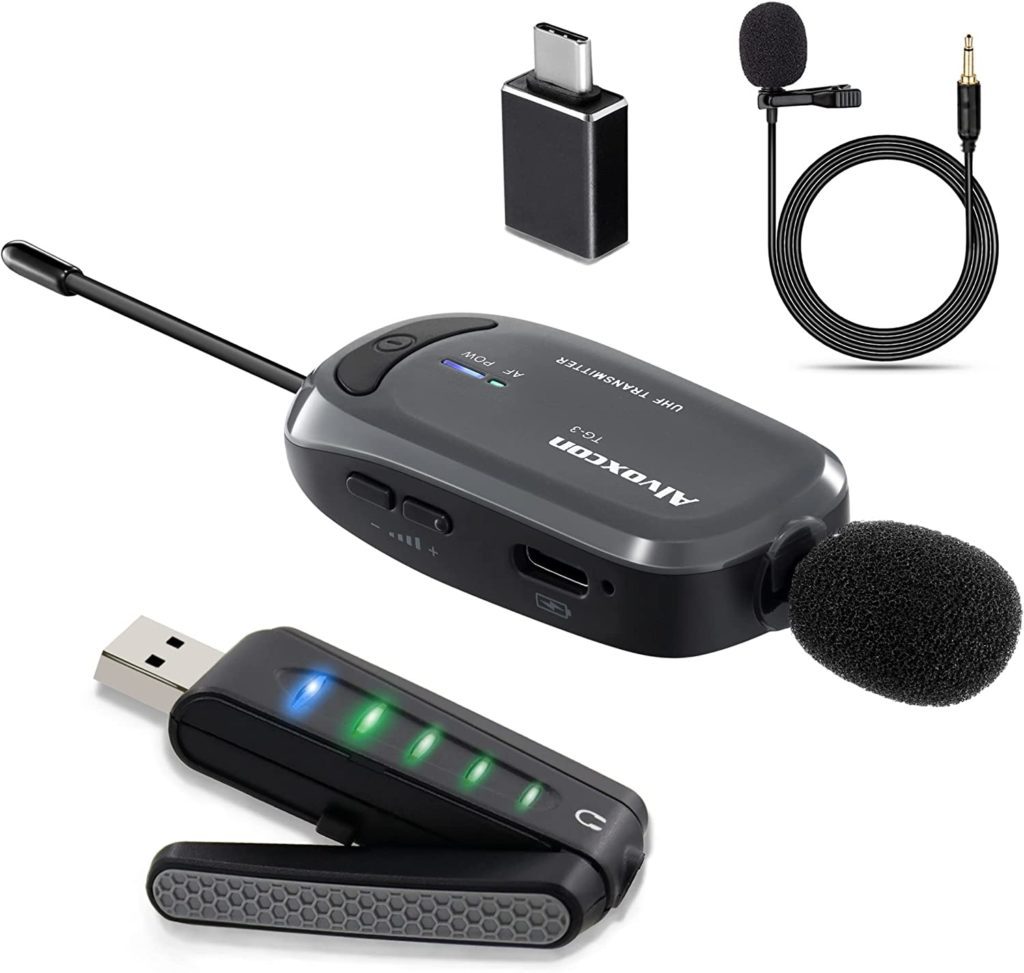 You can also use the MIC as a handheld when necessary.
This mike is provided with a USB so that you can link it to your Android or PC. There is no need to download additional programms to use the microphone. Just plug the cable into the jack and start recording.
The device has a built-in high-sensitivity professional condenser capsule. Thanks to this feature, you get an excellent sound.
What is more, the area that the microphone perceives is one hundred feet – this is enough to work in a spacious room, hall, or even outside.
Also, you can use MICs at the same time as the headphones. This feature is useful if you are at an online conference or recording a podcast. The headphones are simply connected via a 3.5mm AUX jack.
Advantages:
Excellent and clear sound.
It is possible to use a microphone and headphones simultaneously.
It is convenient to use – the device can be fixed on clothes or held in your hands.
Drawbacks:
The battery runs out quickly.
10. NEWWARE Wireless Lavalier Microphones
Price: $$
If you often have to make videos, music, or create podcasts, then this microphone will be a useful tool and will help you make this process more enjoyable.
The device has a built-in battery that needs to be charged regularly. The charging time is no more than 1.5 hours, while the microphone's operating time reaches 6 hours.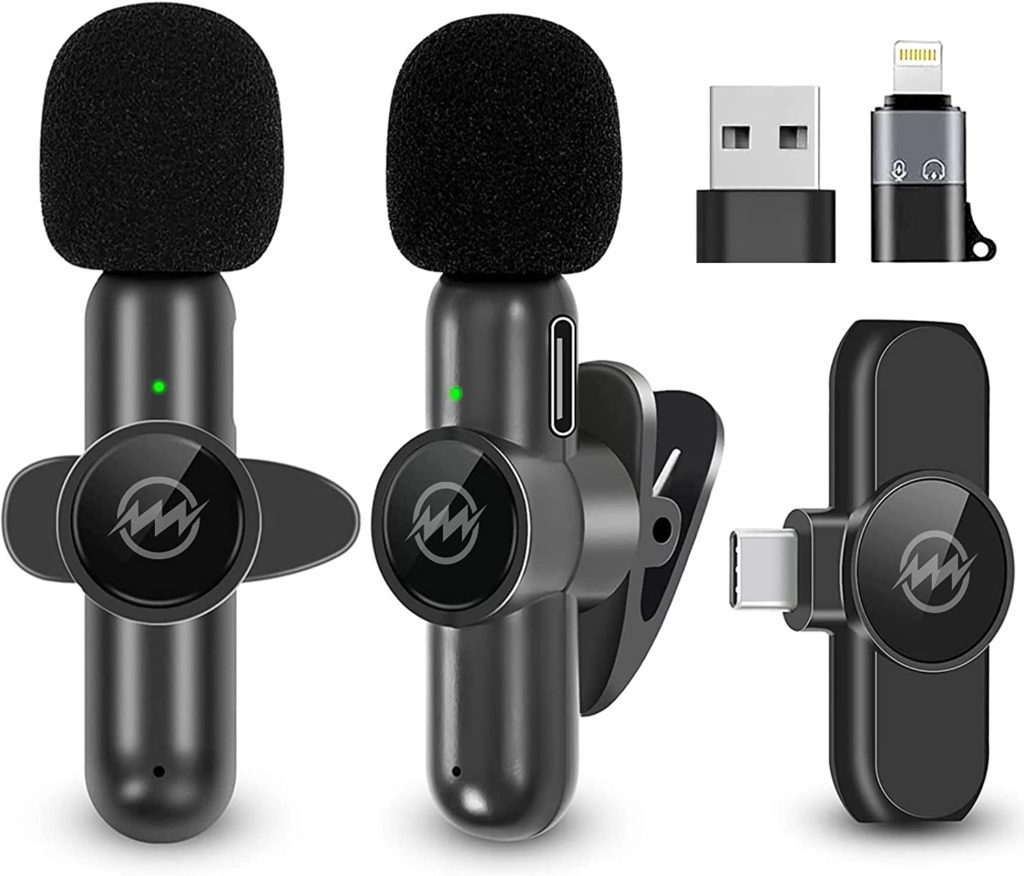 The microphone is friendly with all gadgets! You can connect it not only to Android but also to Macbook, iPhone, and PC. This is possible since manufacturers have added a USB-C socket.
Also, this wireless lavalier microphone has a high sensitivity to sounds. That is why it is possible to record gorgeous and clear audio. The device can detect sound at a distance of up to 65 feet.
The microphone perceives sound 360 degrees around itself, which allows you to create high-quality recordings. In addition, there is a spongy windscreen as well as a special algorithm that inhibits extraneous noise.
Advantages:
The microphone provides a clear sound.
There is a built-in noise protection system.
You can use the microphone for a long time.
Drawbacks:
It is possible that the headphones will have to be charged for a long time
11. PoP voice Microphone
Price: $
This device will help you always have an excellent and high-quality audio recordings and will also become an assistant at all your online conferences and live broadcasts.
Although it is not a wireless microphone, its cord is 16 feet long, which is why you can easily move within a room.
The microphone has a jack for both Android and iPhone. Moreover, there is a special adapter for the PC.
Advantages:
Good sound quality.
Small and user-friendly design.
Drawbacks:
There is a cord that may be inconvenient to use.
---
F.A.Q. about microphones for Android devices
Q: I plug in an external microphone, but it doesn't work. What should I do?
If your external microphone doesn't work with an Android device, most likely you'll need a special adapter to make it work. Search for a microphone adapter in a nearby store, try it, and see whether it solves the problem.
Q: What adapter will I need to connect an external microphone to my smartphone?
It depends on the type of microphone, however, most of the time the TRS to TRRS adapter is needed in order to make this or that mic function with an Android device. Sometimes you don't need an adapter at all.
Q: I want to record a video, but my external microphone isn't functioning. How can I fix this?
Some devices can't record video with the use of external microphones. This is just the fact. However, if your device supports this feature, the problem might be in something else.
First, try to download a third-party video app on Google Play and use the mic with it. If this doesn't work, check whether your mic can function on other devices. Always remember that you can call the support team whenever you need.
---
Conclusion
So, there is a big range of microphones that can be used with Android devices. We've covered only compact ones – the ones that are suitable for vlogging and other activities that require movement.
If you want to, you can look for studio-like microphones that can be connected to smartphones – this article is just not about them. After all, smartphones are made for taking them with you wherever you go.
Anyways, we hope you've found the content of this article useful. Be tech-savvy and choose the best microphones' gear with MicSpeech!