Sennheiser is a world-renowned company specialized in producing headsets and microphones. The company was founded in Germany in 1945, after the Second World War. In the 60s, the brand was the first to introduce open headphones. After that, there were lots of advances in wireless technology. In the 80s, the company managed to produce high-quality shotgun mics that remained the Hollywood standard for years.
To this day, Sennheiser remains one of the top microphone brands. It is true that it puts a greater emphasis on headsets, but the quality of microphones is still impeccable. In fact, for many people Sennheiser equals quality. Such a reputation is worth a lot; it is unlikely that one would risk it. So what are the best Sennheiser microphones for vocals and musical instruments? Let's find out!
Product
Details


Sennheiser E835

very good metal case;

sounds amazing and has great clean highs;

well defined sharp notes;

resistant to various interferences;


Sennheiser MK 4




great for drum over heads, vocals, and guitar cabs;

nice and airy, flat even tone;

has very low self noise, is very neutral and produces excellent recordings; 

the shock mount is extremely stable for a spider design;


Sennheiser E609

works well with higher volumes;

super light and negates the need for an amp stand;

the forward pickup pattern is great and rear rejection superb;

gives good sound reproduction and portable;
1. Sennheiser E 835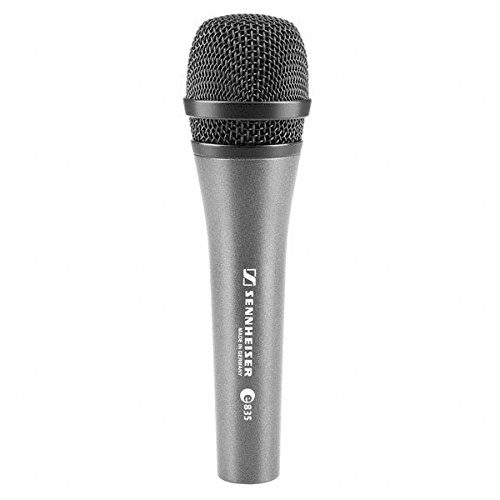 Price: $
Sennheiser E 835 is the most popular Sennheiser dynamic microphone. The microphone can be used for speech and vocals. You can find it in concerts, rehearsal rooms, houses of worship, even studios. In most ways, this model resembles the famous Shure SM58, although some people say that it is considerably better. Well, it is not for us to decide – we are here to make suggestions and you are to choose.
The mic has a metal corpus which is resistant to wear and tear. There is no on/off switch on the side of this model but you can order the model that has such a button. It is just that most of the time you don't really need it. An audio tech will surely know better when to turn on and off the whole system.
The pick-up pattern is cardioid. What this means is that the microphone will pick up sounds that come from the front. All the side and background noises will be rejected. By the way, dynamic means, first and foremost, the type of diaphragm. Dynamic mics are considered to be tough and durable, more suitable for a stage than for a studio.
What is peculiar about this dynamic microphone is that it can skillfully minimize the proximity effect. The wide frequency response allows for a natural smooth sound. In general, this microphone is great for all the singers out there. If you are looking for a good vocal microphone that can be used any time and anywhere, this is an excellent model to try out. Check it out and see if it suits you!
Check price at Amazon
You may also like: Best Audio-Technica Micorphones
2. Sennheiser MK 4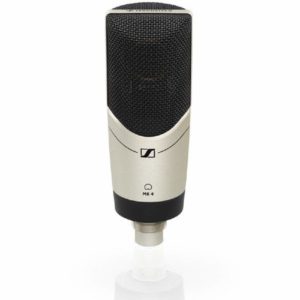 Price: $$
Sennheiser MK 4 is a condenser microphone. Unlike dynamic ones, condenser microphones are more suitable for studio recording. They are more sensitive and can record even subtle details. This sensitivity, however, also means being more vulnerable to various noises, so if you want to create a clear recording, make sure that your environment is quite.
The cardioid polar pattern a little bit helps to solve this problem, leaving all the side noises out. However, sometimes it is not enough. Of course, this is not a reason to refuse from buying a condenser microphone. After all, only condenser mics can help you to achieve that natural smooth sound that is sometimes even more beautiful than real.
You can use MK 4 to record vocals, musical instruments, such as guitar, piano, drums, percussions, and your speech. Yes, sometimes the mic is used for recording podcasts and voice-overs, which are very popular activities in our digitalized world.
The quality of the sound is awesome. So is the quality of the construction. It is all metal and made with special attention to the details. At the end of the mic, there is an internal shock mount which prevents handling noise from entering the recording. All in all, Sennheiser MK 4 is a dream of every home studio owner! If you want your home recordings to sound like the studio ones, try this option out.
Check price at Amazon
3. Sennheiser e945 Supercardioid Dynamic Handheld Mic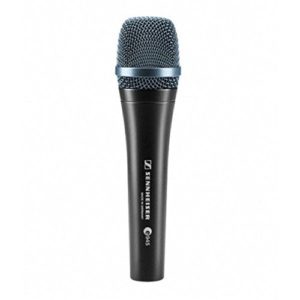 Price: $$
This is another dynamic microphone from Sennheiser. This one is more high-end compared to the first model. And more cardioid too! The microphone has a supercardioid polar pattern which is even more directional than the cardioid. The Sennheiser microphones from the e900 series are generally considered to be more colorful meaning they can deliver the sound in more detail.
This mic is a fairytale for all the professional vocalists. Not only does it emphasize the natural sound of your voice but it also adds some warmth to it, making you sound cooler and more interesting. Crisp highs and solid lows are what this is all about.
All Sennheiser microphones are durable and reliable. This one has a 10-year warranty, which is unimaginable! It goes against today's infamous logic of economics: buy more junk every year to support technological development. As usual, the housing is made of metal. Taking everything into consideration, this popular Sennheiser mic is for all the vocalists out there who are ready to take the game to the next level!
Check price at Amazon
4. Sennheiser E609 Silver Super Cardioid Instrument Microphone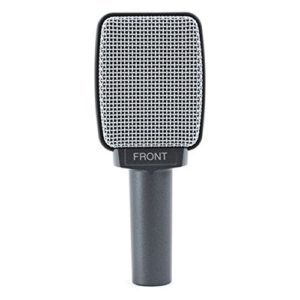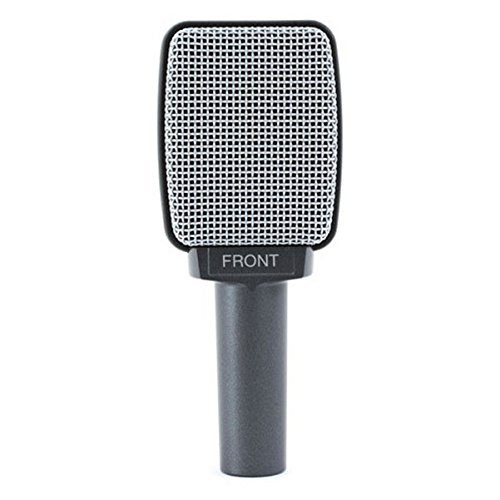 Price: $
Are you a guitarist? Then this one is for you. The Sennheiser E609 lets you record a guitar easily and clearly. All you need to do is put the front of the mic against your speakers so that the two were looking at each other and that's it. You can start playing!
The mic is suitable both for live performances and studio recordings. Thanks to a supercardioid polar pattern, it is able to reject side ambient noises. Feedback rejection is great. The maximum SPL is really high. The mic can maintain high fidelity even under 150db.
As far as I am concerned, no other company produces such convenient hardware for guitarists. Sennheiser is a real leader in the category. All the musicians should be aware of its e600 series!
Check price at Amazon
You may also like: Best Rode Microphones
5. Sennheiser E604 Dynamic Cardioid for Snare and Toms
Price: $
And not only snare and toms! This mic can also deal with percussion, brass, woodwind, and drums. The high maximum SPL, 150db, allows it to handle even the loudest sounds. The rugged body construction makes sure that you can use this mic for a very long time.
Many customers compare Sennheiser E604 with Shure SM57. It is true – the sound is quite similar. However, here what you get is compactness and user-friendliness. Okay, I've just made that last word up. The point is that it is very easy to use this mic. There is a special clipper that you can attach to any standard drum kit.
What else is great about this model is that it efficiently rejects handling noise. All in all, if you are looking for a good microphone to use with any low-frequency instrument, you have found one!
Check price at Amazon
---
Conclusion
To end up with, Sennheiser has lots of great models for singers and musicians in general. Most of them are, of course, vocal microphones with a specially tailored frequency response. However, there are also models specially made for recording instruments. Sennheiser is one of the best brands when it comes to convenience in instruments recording. Surely you shouldn't look just for the famous Shure models if you want to make music.
Sennheiser can be a step forward for you. The prices and the quality are all great, so why not to explore more models of this brand? There are many more!