Lately, we've been reviewing the best microphones for PS4. With the Xbox console, it is a little bit different. While some players say that they can use microphones such as the Blue Yeti or the Blue Snowball with Xbox, others are blaming the Microsoft company for not introducing such an opportunity.
That's why in this article we'll focus on gaming microphones created especially for playing and streaming. At the end of this article, we'll review some normal hardware as well while making certain remarks on how you can use it with your Xbox. And if you want, you can also explore various microphones for Android devices. Stay tuned to find that out!
Product
Details


ZaxSound

high sensitivity and great response;

the design provides a comfortable and secure grip;

compatibility with all PC's, notebooks, iPhones and Androids, game consoles;

plug-n-play type of the microphone;


Purple Panda

compact and convenient microphone for XBOX;

comes at a great affordable price;

extremely versatile and compatible with almost all types of devices;


Zalman Zm-Mic1



amazing sound quality;

very sensitive - gets all ambiance noise (fans, dogs barking, etc);

extreme cord length;

quite sturdy build;
---
1. ZaxSound Professional Cardioid Condenser Microphone
Zaxsound offers the first budget cardioid microphone with high sensitivity. Cardioid pickup patterns pick sound from the front with noise cancellation from the sides and back which provides the best quality sound for gaming, live webcasting, and youtube recording.
A great design of the mic with a perfect grip plug-and-play condenser also includes a 3.5 mm stereo audio jack plug, TRRS 3.5 mm audio adapter to be used with smartphones and a USB audio adapter to be used with pcs or laptops for ultimate device compatibility.
Zaxsound cardioid condenser mic has high compatibility with all PCs, notebooks, all iPhones and Android Smartphones, game consoles including XBOX 360, and almost all other devices. The plug-and-play connectivity eliminates the need for a driver or software when used with any device on your Windows, Mac, iPhone, or Android.
An external microphone with six feet cable for Windows 7 to 10 or Mac PC computers and laptops provides clear digital stereo sound. The long cable makes ZaxSound great for chatting over Skype and making youtube videos with excellent recording sound even at a big distance.

It is a high-sensitivity microphone with 34db sensitivity as the microphone will pick up the sound from twelve inches away. Unlike some cheap microphones that require a minimum distance between you and the mic.
With this being told, you can use your smartphone to record your youtube videos from ten feet far in a quiet room, and enjoy all features of a cardioid microphone.
The microphone is designed to be best in its type for vocals, therefore uses a cardioid pattern that is most sensitive in the front and has highly reduced sensitivity from both sides, the back, and the top side.
Therefore, when you speak to the microphone from the front, all other possible sounds from the environment will be highly reduced in respect to your sound. It comes with a mini three legs tripod stand that allows you to adjust the angle of the microphone according to your needs up to 180 degrees.
Zaxsound professional microphone has such a range of applications that it can be used with cameras such as DSLR Nikon and Canon. Although it is a perfect tool for youtube recording, gaming, and skype calls, ZaxSound microphone scored 90% accuracy on Nuance Dragon software, therefore proving to be one of the best microphones in voice recognition.
In the package, you get a cardioid microphone with six feet unattached cable, a tripod, an audio speaker/ headphone splitter for mobile phones, tablets, and XBOX 360 connectors, and one USB audio adapter for extended compatibility with pcs and laptops.
All of all, if what you need is a karaoke microphone or a microphone for playing music games, this is a great option to check out. The price of it is very nice, probably the cheapest on the market.
2. ABLET Cable Boom Microphone
ABLET cable boom microphone instantly upgrades your headphones into a professional headset for gaming, business, skype, podcasting, and even taking calls on the go. 3.5 mm male to 2.5 mm male audio cable adapter features upgraded flexibility for durable and convenient use.
In comparison to ZaxSound, this detachable boom mic enables rotary volume control and mute switch, which is usually useful for gaming and recording purposes. The steel-flex arm makes ABLET mic easy for perfect microphone positioning. It is suitable for a wide range of devices due to high input compatibility.
All devices supporting 3.5 mm audio output such as gaming PS4, XBOX One controller, PC, laptop, iPhone, and Android phone. While also having decent output compatibility due to a 2.5 mm jack. The 2.5 mm jack is only suitable with Bose QC25, QC35, QuietComfort 25/35 headphones.
ABLET cable boom microphone is engineered for maximum longevity plug after plug as the output jack has a lifespan of over 30000 bends, and the input jack allows more than 20000 bends. This boom mic has a cable length less than ZaxSound microphone, measuring four feet which is just enough for comfortable gaming and recording.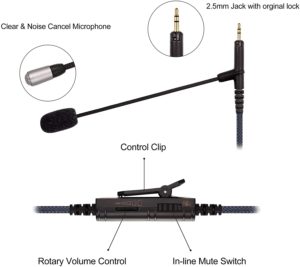 ABLET boom mic is for the ones who pursue sound and product quality, as the microphone is designed to provide noise cancellation for clear sound. There is a dual 3.5 mm Y-adapter included for devices requiring a separate microphone and headphone input.
It is a perfect choice for the ones who have a headphone not designed for gaming and turns it into a high-quality gaming headset, as it is compatible with all headphones on the market with standard removable 3.5 mm cable input.
Another feature offered by this cable boom microphone is mic monitoring which is highly evaluated for gaming reasons. Mic monitoring allows you to hear your own voice through a headset which is essential for online gaming with friends to reach an overall good gaming experience.
Essentially, mic monitoring provides several benefits for gaming purposes i.e. Solving the issue of loud talking that arises due to gamers not hearing themselves and therefore having a tendency to talk louder than needed, and also helps with troubleshooting.
High compatibility and convenience in use make this boom mic perfect for gaming on a range of devices and consoles.
3. Purple Panda Lavalier Lapel Microphone Kit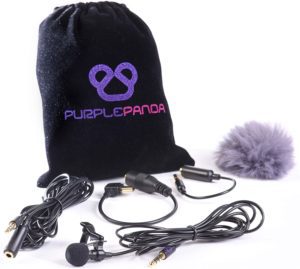 The premium quality Lavalier microphone kit is durable, lightweight, and discreet, while also being highly compatible. You can build confidence in your work and gaming by creating compelling recordings and videos.
The kit comes with five extra accessories including a three-meter extension cord, a mini USB adapter, TRS two-ring adapter, and a free e-book for filmmaking newbies.
The included drawstring pouch also has an extra clip and fuzzy windscreen for additional sound quality against microphone interference issues.
Perfect for vlogging, moto vlogging, filmmaking, or gaming, this PurplePanda mic is a multi-functional tool for almost everything you may need a microphone for.
No need for batteries, app downloads, or configurations, simply clip it on and plug it in and easily transform your audio to another level by capturing high-quality sound with this Lavalier microphone.
The mic has a 3.5 mm jack connector type and several adapters, therefore, being compatible with a wide range of devices other than XBOX such as smartphones (iPhone, Android, LG, and more), also fitting eight models of GoPro from HERO 2 to HERO 8, DSLR and Action camera, zoom recorders, Tascam recorders, and PS4 joysticks.
From the technical aspect, the Purple Panda Lavalier kit is an omnidirectional microphone with a metal capsule for clear audio.
To mention, ZaxSound Professional mic and ABLET cable boom mic featured in this list are cardioid mics. The microphone itself sounds very good, it is full range and captures rich-sounding audio.
However, it is important to note that it does not capture stereo audio due to a single omnidirectional microphone capsule, it captures monaural audio only.
Other than that it has an ultra-thin plug to fit phones with covers and an extra-long ten feet cord that makes the microphone even more useful since you will not be constrained or limited by the standard five feet length of the microphone's cable.
The microphone has a foam windscreen and includes a more effective "dead cat" type windscreen that is attached over the foam and uses a particularly fine fake fur that is very effective at reducing wind noise.
4.
Zalman Zm-Mic1 High Sensitivity Headphone Microphone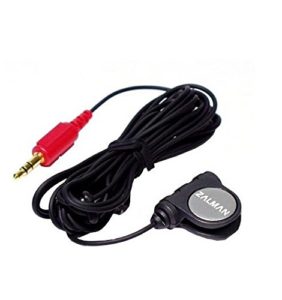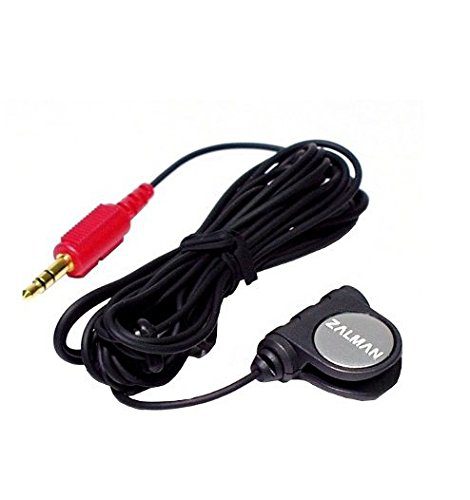 Most of the time players would use headsets with microphones rather than microphones that are sold separately. We assume that if you are searching for an Xbox microphone, you need something other than a headset.
However, it might be the case that you are alright about using a headset and you are alright with having the sound quality a headset microphone can deliver – it is just that you don't have a mic on your headset or the one that you have has broken down.
In this situation, you may think of buying a substitute for your dead microphone. And guess what? There are mics out there that are produced specially for substituting basic headset mics.
Zalman is one of them. Its sound quality is great. The mic is very sensitive. The only problem you may encounter is that it is too sensitive – after all, nobody wants to hear humming and all the other sounds that surround you. So if you have a noisy environment, it is better to look for some other option.
A few words about connectivity. The mic can be connected directly to your headset if your headset is rather advanced. Connecting it directly to your Xbox is impossible, but you can try. So, check your headset and see if it can be used with some other mic.
5. Blue Snowball USB Microphone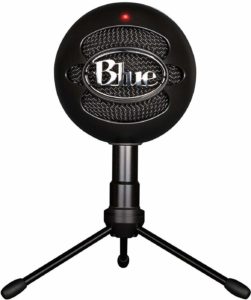 Blue Snowball is one of the most common choices among streamers and bloggers.
The first thing you need to know about it is that it wasn't created for streaming or gaming.
This is just a basic mic that can be applied in various situations – recording vocals, music, and podcasting, to name just a few. Streaming is one of them.
If you've read the introduction part of this article (which I hope you have) carefully, now you know that it can be difficult to connect a USB microphone to Xbox. Sometimes if you want to get high-quality audio, you have to suffer a little bit.
Actually, this applies to other areas of life as well. See how I got philosophical here! It happens over and over again. Anyway, to find out how to connect practically any USB mic to your playing console, scroll down to the end of the article.
The Blue Snowball microphone has two polar patterns – cardioid and omnidirectional. It also features another polar pattern which is cardioid with -10 dB PAD attenuation.
With this third polar pattern, you can record even the loudest sounds with high fidelity. In general, the sound quality you get for the money you pay is second to none. To be more precise, the price-quality ratio is second to none.
The microphone comes with a tripod but, as it is usually the case, you can place it on a standard microphone stand. On the body of the mic, there is a headphone jack which is exactly what you'll need to connect it to your Xbox. In sum, this is a great microphone that lots of people dream of. Check it out and see if you can dream about it too!
You may also like: Best conference microphones
6. Blue Yeti USB Microphone
Blue Yeti USB microphone. A legend. You can find this mic on many microphone lists including microphones for podcasting, microphones for making voice-overs, microphones for home studios, and so on.
The mic is really famous. It is known worldwide and there are reasons for this.
First of all, Blue Yeti is quite cheap, or at least it is not that expensive for a good high-quality piece of gear.
Secondly, the sound quality you can get from it is wonderful. Of course, if you learn how to use it well. I'm sure it will be baby steps for you. If you put in some effort, you'll know how to deal with the mic. God, this article is turning into a pep talk.
There are four polar patterns that you can use – cardioid, omnidirectional, stereo, and figure eight. The last two are basically bidirectional – we don't need to go into detail about this since you'll probably use only the cardioid pattern anyway. The microphone has excellent noise reduction and wide frequency response.
There are gain controls, volume controls, polar pattern selection, and a big mute button on the body of this mic. A headphone jack is present too. In some way, this model is an advanced version of the Blue Snowball.
It costs more too. If you can afford to spend a little bit more cash on the microphone, choose this one!
7.
Blue Yeti Nano Premium USB Mic for Recording and Streaming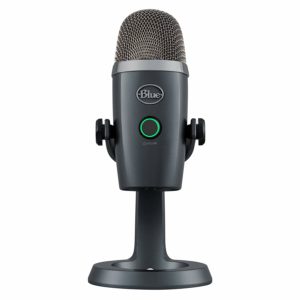 It might look like we work for the Blue Microphones company but this is not the case – it is just that Blue Microphones is one of the best producers of USB mics. So let's review one more model made by it.
The Blue Yeti Nano is a lot like the Blue Yeti, however, it is less complicated and smaller in size. It is less complicated in that it doesn't have as many regulation buttons on the interface – in fact, you can see just one big mute button in front of you that allows you to turn the sound off in case somebody tries to interrupt your playing or streaming. We know how unpleasant this could be! There are also just two polar patterns – cardioid and omnidirectional.
The smaller size of the mic is actually the benefit. For playing, you don't really need a big massive microphone – it can distract you from the gameplay. This is why it is always recommended to acquire a microphone stand – to make a microphone less noticeable by positioning it near your mouth.
This mic, by the way, just like the other Blue microphones on the list, can be set up in many different ways. You can buy a special boom arm and put it on that. You can use a basic tabletop stand – whatever you like.
Taking everything into consideration, this is another great microphone for streaming and gaming. And if for some reason you don't like how it looks, check all the colors that it comes in – there's certainly something that will suit your taste!
Universal USB Microphone for Xbox (Mad Catz Store)
This is a universal microphone that works with a USB cable that comes with the microphone itself. This device has the ability to connect to gaming consoles and play audio from video games.

Also, this microphone is synchronized with karaoke video games, so you can sing at home as on stage. This microphone has a large number of settings, including a noise reduction function that allows you to make the sound much cleaner.
Also, on this microphone, you can adjust the musical accents for a more professional sound. And the noise reduction mode will help get rid of background noise and will reproduce only your voice.
The manufacturers have published a full video instruction on how to use this microphone, which clearly explains all the functions and the use of any settings based on your goals.
Also, included with the microphone itself is a paper instruction in which all the setup steps are duplicated, Moreover, this microphone has the possibility of improved synchronization with some of the most popular karaoke games for consoles.
This microphone is an extremely popular product on Amazon because of the fair price-quality ratio. Such a device is in no way inferior to microphones in real karaoke establishments.
Rock Band USB Karaoke Microphone for PS3, PS4, X-Box One, X-Box 360, PC & Mac
This is a universal microphone for gaming consoles, capable of reproducing and broadcasting sounds in excellent quality. This device recognizes even the quietest whisper, so you can use it for any video games and other purposes.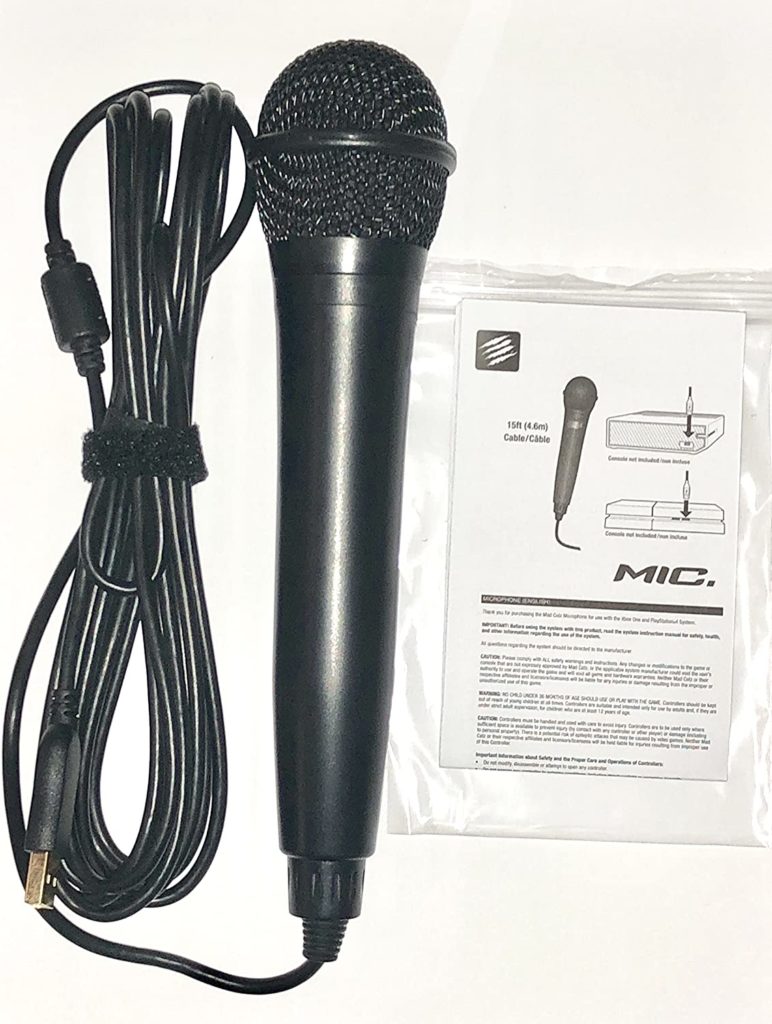 This microphone is originally designed for video games with karaoke, in which you and your friends will be able to feel the full range of emotions from a well-transmitted sound.
There are also certain settings on this microphone. You can adjust the volume of sound playback, the frequency, as well as the emphasis on bass and other elements of musical accompaniment.
Moreover, the microphone comes with an extended USB cable, which serves not only as a device for connecting the microphone to the console but also works as a charger.
Also, there is a noise reduction function in the settings of this microphone. This means that while singing, the microphone will only play your voice, since it will be the closest sound source, and background noise sources will not be played.
This feature allows not only the audience to hear your singing better, but also the singer himself to hear his voice without an additional headset that suppresses noise.
Talk PRO USB Microphone
This is an innovative microphone model from JLab, which combines all the functions of microphones that have been successful with other microphones from the same manufacturer, as well as additional latest features.
The manufacturer claims that this microphone has 4 different sound playback modes that can be changed depending on your purpose of using the microphone, namely stereo, cardioid mode, omnidirectional and bidirectional.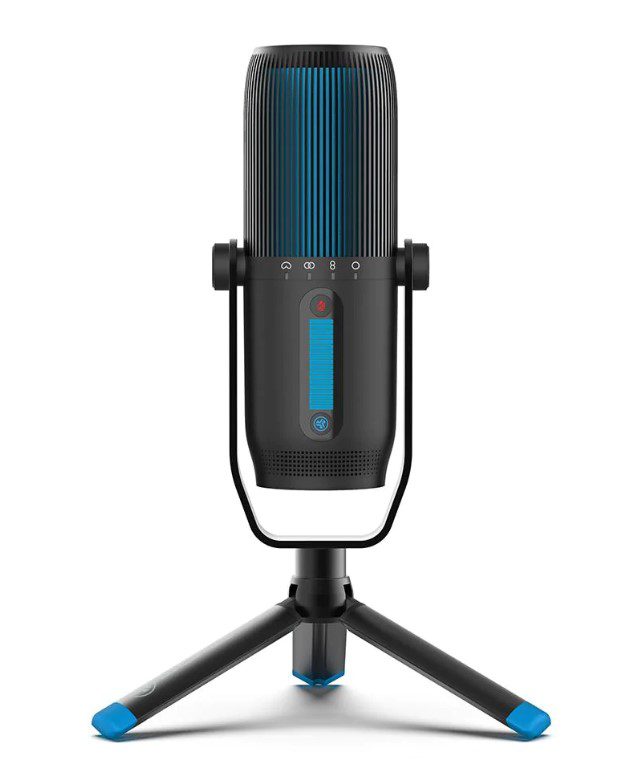 Each of the modes is suitable for its own purposes, for example, for recording streams, conducting individual online sessions, recording audio for ASMR format videos, and much more.
This microphone is the most suitable for any game console and has additional synchronization capabilities with the Xbox game console. You can configure the microphone both from the center of the game console and on the device itself.
With this microphone, you can not only perform songs in karaoke format games but also play online, talking with members of the gaming team. Thanks to a large set of functions, your interlocutors will hear you better than others.
There is also a built-in noise reduction mode, thanks to which you will not be hindered by third-party noise, background sounds, and other things that create interference.
The USB cable comes with the device itself and has an elongated size, so you can be at a decent distance from the console while using the microphone.
Talk USB Microphone
This microphone can be used for any purpose, for example, for karaoke games on different consoles, for online shooters and negotiations with the team, for conducting online sessions of a working format, recording streams and podcasts, and much more.
This microphone is charged and synced with game consoles and other devices using the USB cable that comes with the kit. It has an elongated format, which allows users to be at a sufficient distance from the gaming device and not spoil their eyesight.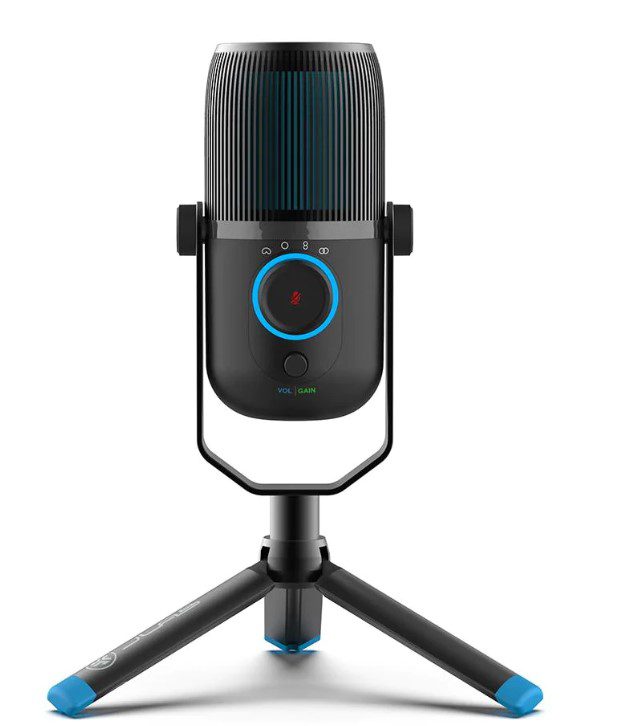 This microphone has advanced stereo sound settings, as well as enhanced noise reduction mode, when turned on, an atmosphere of complete silence and complete isolation from extraneous sounds and background noise is created.
On the sound recording, only your voice will be heard as the closest sound source to the microphone.
Also, on this microphone, you can stop, record, and produce recorded sounds at any time and in any format.
Moreover, on this microphone, you can adjust the accents to the desired sound elements to get a more professional sound recording.
---
How to connect any USB microphone to Xbox?
Xbox can be difficult to deal with. To use a USB microphone with it as well as your headphones, you'll need to buy some additional items. They are Xbox One headset adapter, 3.5mm CTIA Splitter cable, and 3.5mm jack to jack auxiliary cable. So, basically, all you need to do is to connect all these things to each other. And this is how you do it:
First, connect Xbox One headset adapter to your Xbox One.
Next, connect the CTIA Splitter cable to the adapter to get two inputs: one is for the microphone and the other is for the headphones.
To connect the microphone, use the 3.5 mm jack to jack auxiliary cable – one end of it you should plug in the Splitter cable and the other one in the headphone jack on your microphone. This is why it is important to get a USB mic with a headphone jack.
Obviously, you can connect your headphones to the other input of the auxiliary cable. You're done! Have a great game.