Lately, we've been reviewing the best microphones for PS4. With the Xbox consoles, it is a little bit different. While some players say that they can use microphones such as the Blue Yeti or the Blue Snowball with Xbox, others are blaming the Microsoft company for not introducing such an opportunity.
That's why in this article we'll focus on gaming microphones created specially for playing and streaming. At the end of this article, we'll review some normal hardware as well while making certain remarks on how you can use it with your Xbox. Stay tuned to find that out!
Product
Details


TPFOON Wired USB Microphone

works with any computer/tablet/phone that combines mic+spk upon one port;

oxygen-free copper provide maximum's conductivity and durability;

well-made braided wire offer a great audio transmission;

amazing sensitivity;


Official Guitar Hero World Tour Microphone

 works great for both guitar hero and the karaoke app on Xbox;

the uber-long cord;

doesn't distort and picks up music with great clarity;


Zalman Zm-Mic1



amazing sound quality;

very sensitive - gets all ambiance noise (fans, dogs barking, etc);

extreme cord length;

quite sturdy build;
---
1. TPFOON 4M 13FT Wired USB Microphone
TPFOON microphone is made for music games on playing consoles. The mic can be used for playing such games as Rock Band or Guitar Hero. There are many other karaoke-like games that you can find. The most important feature of this microphone is that it is handheld. You need to take it with your hands to start singing. Now, this can be a downside but it can also be an advantage. The advantageous side is that you get to feel like a real rock star. You can jump with this mic, walk with it and do any other movements you like. You can dance.
The sound quality is alright. It is not the greatest but this is a gaming microphone so it is what it is. The polar pattern is cardioid just like the one all the popular vocals mics out there have. The connection certainly occurs through a USB cable.
If you are not sure whether this mic is compatible with your Xbox or not, read this list: PS4, Xbox One, Xbox One S, Nintendo Switch, Wii, Wii U, Xbox 360, PS2, PS3, PC, and so one. AND SO ON. Got it? Basically, you can be sure that you're going to be able to connect the microphone to whatever you've got. Besides, you won't need any special drivers. It is plug and play – just turn the cable in and start singing!
All of all, if what you need is a karaoke microphone or a microphone for playing music games, this is a great option to check out. The price of it is very nice, probably the cheapest on the market.
2. Official Guitar Hero World Tour Microphone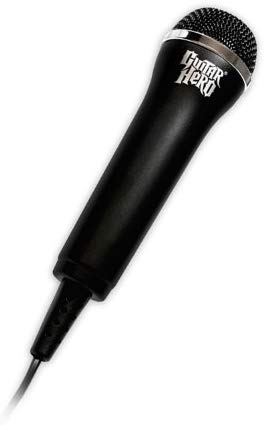 If you are a fan of Guitar Hero, this mic is for you! The microphone is also suitable for other music games so no matter what your favorite game is, you can use this mic to enhance your sound quality and have fun.
Just as all the other microphones on this list, Guitar Hero mic connects through a USB cable. The cable, by the way, comes with it. It is 15 ft long so you can really enjoy playing with it – walk, jump, dance or whatever you do while singing.
The mic represents official game gear so it will definitely work fine with your Xbox. Xbox compatibility is written in the description of the item so don't worry about it. All in all, if you like playing music games, this is another option you can consider buying.
3.
Turtle Beach – Universal digital USB Stream Mic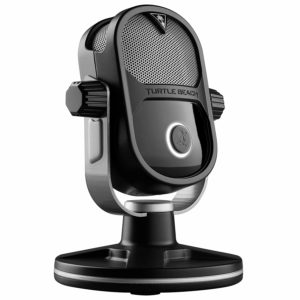 Turtle Beach is an excellent microphone for streaming and playing. You can use it both with gaming consoles such as Xbox and PS4 and your personal computer. The microphone picks up sounds perfectly. It has two sensitivity modes – high sensitivity and low sensitivity. If you keep the mic close to your mouth, it is better to use low-sensitivity mode. Otherwise, high sensitivity would be better.
There are also several polar patterns that this mic has to offer – cardioid, omnidirectional, figure eight. If you download special software produced by Turtle Beach, you can get free access to other polar patterns such as supercardioid and hypercardioid. If all of these names sound strange to you, it is okay. Let's find out what stands behind them.
First of all, the basic cardioid pattern means that the mic captures sounds that come from the front. For example, if you put the mic in front of you, it will capture your voice and not the noises outside your window or from some other room at your place. This is the most common polar pattern which you'll certainly use most frequently. Then, there is an omnidirectional polar pattern that picks up soundwaves from all the sides. Figure eight is like a couple of cardioid polar patterns – the front and the back is what it takes in. As for supercardioid and hypercardioid, these ones represent that same cardioid polar pattern, just narrower. You can google it all up to see the graphs of how all of these patterns look like.
Back to the microphone. It is amazing that the mic has several polar patterns but, as I've already mentioned, most of the time you'll need just cardioid. The mic features a headphone jack which means that you can monitor your streams in real time – just plug your headphones in. The outcome you get with this mic is high-definition sound. There can be some noises captured – in fact, some customers complain about the background noises that are clearly heard with this mic. If this is the case, you can always decrease sensitivity or put a windshield on the mic (in the most desperate situations your sock can serve as a windscreen). Apart from these noise problems, there are no problems – the microphone can significantly improve the audio of your streams or the quality of your communication with friends.
At the back of the mic, there are two modes – PS4 and XBox. In our case, what we need is an Xbox mode. The interface of the mic is rather advanced. You can see volume controls and a mute button on it as well as some other features. This particular product comes with a tabletop stand, however, if you prefer a boom arm setup, it is possible to order a boom arm separately and use it instead of the tabletop stand. All in all, if you need a versatile streaming microphone, don't miss this option. Its only big downside is the price.
4.
Zalman Zm-Mic1 High Sensitivity Headphone Microphone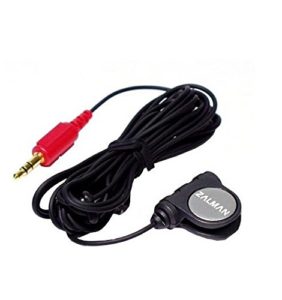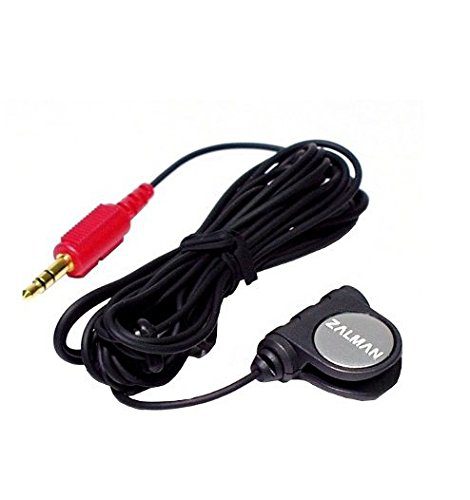 Most of the time players would use headsets with microphones rather than the microphones that are sold separately. We assume that if you are searching for an Xbox microphone, you need something other than a headset. However, it might be the case that you are alright with using a headset and you are alright with having sound quality a headset microphone can deliver – it is just that you don't have a mic on your headset or the one that you have has broken down. In this situation, you may think of buying a substitute for your dead microphone. And guess what? There are mics out there that are produced specially for substituting basic headset mics.
Zalman is one of them. Its sound quality is great. The mic is very sensitive. The only problem you may encounter is that it is too sensitive – after all, nobody wants to hear humming and all the other sounds that surround you. So if you have a noisy environment, it is better to look for some other option. A few words about connectivity. The mic can be connected directly to your headset if your headset is rather advanced. Connecting it directly to your Xbox is impossible, but you can try. So, check your headset and see if it can be used with some other mic.
5. Blue Snowball USB Microphone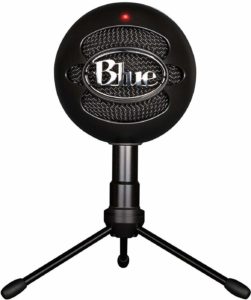 Blue Snowball is one of the most common choices among streamers and bloggers. The first thing you need to know about it is that it wasn't created for streaming or gaming. This is just a basic mic that can be applied in various situations – recording vocals, music, podcasting, to name just a few. Streaming is one of them.
If you've read the introduction part of this article (which I hope you have) carefully, now you know that it can be difficult to connect a USB microphone to Xbox. Sometimes if you want to get high-quality audio, you have to suffer a little bit. Actually, this applies in other areas of life as well. See how I got philosophical here! It happens over and over again. Anyway, to find out how to connect practically any USB mic to your playing console, scroll down to the end of the article.
The Blue Snowball microphone has two polar patterns – cardioid and omnidirectional. It also features another polar pattern which is cardioid with -10 dB PAD attenuation. With this third polar pattern, you can record even the loudest sounds with high fidelity. In general, the sound quality you get for the money you pay is second to none. To be more precise, the price-quality ratio is second to none.
The microphone comes with a tripod but, as it is usually the case, you can place it on a standard microphone stand. On the body of the mic, there is a headphone jack which is exactly what you'll need to connect it to your Xbox. In sum, this is a great microphone that lots of people dream of. Check it out and see if you can dream about it too!
6. Blue Yeti USB Microphone
Blue Yeti USB microphone. A legend. You can find this mic on many microphones lists including microphones for podcasting, microphones for making voice-overs, microphones for home studios, and so on. The mic is really famous. It is known worldwide and there are reasons for this. First of all, Blue Yeti is quite cheap or at least it is not that expensive for a good high-quality piece of gear. Secondly, the sound quality you can get from it is wonderful. Of course, if you learn how to use it well. I'm sure it will be baby steps for you. If you put in some effort, you'll know how to deal with the mic. God, this article is turning into a pep talk.
There are four polar patterns that you can use – cardioid, omnidirectional, stereo, and figure eight. The last two are basically bidirectional – we don't need to go into detail about this since you'll probably use only the cardioid pattern anyway. The microphone has excellent noise reduction and a wide frequency response.
There are gain controls, volume controls, polar pattern selection, and a big mute button on the body of this mic. A headphone jack is present too. In some way, this model is an advanced version of the Blue Snowball. It costs more too. If you can afford to spend a little bit more cash on the microphone, choose this one!
7.
Blue Yeti Nano Premium USB Mic for Recording and Streaming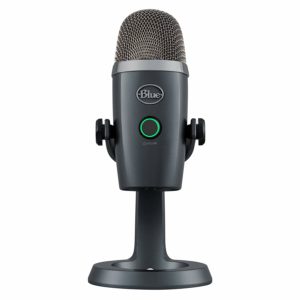 It might look like we work for the Blue Microphones company but this is not the case – it is just that the Blue Microphones is one of the best producers of USB mics. So let's review one more model made by it.
The Blue Yeti Nano is a lot like the Blue Yeti, however, it is less complicated and smaller in size. It is less complicated in that it doesn't have as many regulation buttons on the interface – in fact, you can see just one big mute button in front of you that allows you to turn the sound off in case somebody tries to interrupt your playing or streaming. We know how unpleasant this could be! There are also just two polar patterns – cardioid and omnidirectional.
The smaller size of the mic is actually the benefit. For playing, you don't really need a big massive microphone – it can distract you from the gameplay. This is why it is always recommended to acquire a microphone stand – to make a microphone less noticeable by positioning it near your mouth. This mic, by the way, just like the other Blue microphones on the list, can be set up in many different ways. You can buy a special boom arm and put it on that. You can use a basic tabletop stand – whatever you like.
Taking everything into consideration, this is another great microphone for streaming and gaming. And if for some reason you don't like how it looks, check all the colors that it comes in – there's certainly something that will suit your taste!
---
How to connect any USB microphone to Xbox?
Xbox can be difficult to deal with. To use a USB microphone with it as well as your headphones, you'll need to buy some additional items. They are Xbox One headset adapter, 3.5mm CTIA Splitter cable, and 3.5mm jack to jack auxiliary cable. So, basically, all you need to do is to connect all these things to each other. And this is how you do it:
First, connect Xbox One headset adapter to your Xbox One.
Next, connect the CTIA Splitter cable to the adapter to get two inputs: one is for the microphone and the other is for the headphones.
To connect the microphone, use the 3.5 mm jack to jack auxiliary cable – one end of it you should plug in the Splitter cable and the other one in the headphone jack on your microphone. This is why it is important to get a USB mic with a headphone jack.
Obviously, you can connect your headphones to the other input of the auxiliary cable. You're done! Have a great game.