If you want your microphone to last for a long time, you need to keep it in appropriate condition. It is great when a case or a pouch comes together with a microphone. If it doesn't, you need to take care of storing it yourself.
Usually, this means buying a special bag or a case. Below, we review several great bags and cases for microphones that you can order on Amazon. Check the list out and see if anything suits you! 
And the wireless microphones that you can put in your case, you will find in this article.
Product
Details


Casematix Drum Kit Microphone

light weight and customization padding;

the customizable foam is great;

great case with a lot of room;


Gator Titan Microphone Case

solid waterproof case;

lots of storage for mics and accessories;

helps to protect mics very well;


Auray Zippered Pouch

high quality of the case;

the internal lining is silky soft;

the padding is nice and thick;

durable canvas on the outside;
---
1. Auray Zippered Pouch for Handheld Microphones
If you need a simple microphone bag for a handheld microphone, Auray Zipped Pouch is what you should definitely check out.
The pouch is soft on the inside – it contains 6 mm foam padding. The material which is used for making the microphone is high-quality nylon.
There is a zipping to keep it all safe and sound, literally and figuratively.
The price of the pouch is an average one. It could have been a little bit lower but it is what it is. In sum, if you want a nice pouch for your Shure SM58 or any other handheld mic, check this option out.
You may also like: Best over the ear micorphones
2. BOLY Black Zipper Microphone Pouch Bag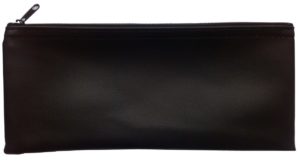 BOLY zipper pouch bag is another great way of storing a handheld microphone. It is a vinyl bag with a height of 4.5″ and a length of 9.7″ (11cm X 24.8cm).
The bag is suitable for storing all kinds of handheld microphones. It can also be used for storing other gear such as adapters, batteries, microphone clips, and so on.
The price of this vinyl bag is a bit lower than the price of the Auray pouch. However, there is a small difference between these two – in particular, this pouch doesn't have padding.
If you are not afraid of inadvertently dropping your pouched microphone, take a look at this option! In any case, take a look at this option because most of the time it is all just a matter of taste.
3. Auray WMC-100 Wide Mouth Microphone Case
This is a microphone bag created for storing not just a handheld microphone alone but also the accessories that may come with it.
This is very convenient in case you never know where to put all those adapters, shock mounts, memory sticks, and so on. Having a longer and a wider storage bag kind of solves the problem. The exterior dimensions of the pouch are 11.5 x 6.0 x 3.25″ (29.2 x 15.2 x 8.3 cm).
The pouch features foam padding which is made of faux fur. The exterior part of the case is made of nylon. As you can see, there is a wrist-strap handle. It is good to have such a thing because it is much easier to lift a bag with lots of heavy hardware using it rather than grabbing the whole thing with both hands.
All in all, if you are looking for a bag that will facilitate the transportation of your handheld microphone (as well as the accessories that come with it), this is a nice option to look at.
4. Caseling Hard Case for Audio-Technica
ATR2100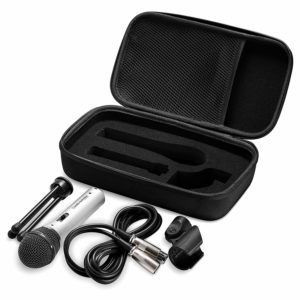 Sometimes you can search for a particular microphone model and find a case specially made for it. This Caseling hard case is made for Audio Technica ATR2100 microphone.
The case is very reliable, made of high-quality materials. It has internal padding. The external part is made of EVA.
The dimensions of this case are 11.1″ L x 6″ W 3.35″ H, which is, of course, perfectly suitable for ATR2100. If you've got a microphone similar to ATR2100, this case will do as well. On the inside of the case, there is a mesh pocket for accessories as well as special slots for a cable and a shock mount.
The case is waterproof and damage-proof. Even though the case has all these wonderful features and characteristics, it doesn't cost a lot. And it will definitely keep your mic safe!
5. Caseling Hard Case Fits the Blue Yeti USB Microphone
This is one more microphone case from Caseling. This one is made for the Blue Yeti microphone which is the most popular USB microphone on the market. If you have it, good news! You can keep it safe now.
This case is just like the case above. It is made of the same materials and features the same characteristics. The only difference is the size and the form of the inside foam cutting.
By the way, if you have an unusual microphone model that you can't find a case for, you can buy foam and cut the shape of your microphone in it yourself.
Once you've done the cutting, you can put the foam in any hard case – just make sure the case and the foam have the same dimensions.
As for this case, once again it is waterproof, dust-proof, and shock-resistant. There is nothing you can do to damage the microphone put in it. Of course, you can try but we would not recommend that.
The inside mesh pocket of the case may be used for storing accessories. All in all, this is a nice hard case for the Blue Yeti as well as for the microphones similar to it.
6. khanka Carrying Bag for Blue Yeti USB Microphone
This is one more microphone case cut out, especially for Blue Yeti. This khanka case has slots for the accessories as well as a mesh pocket for a pop filter.
It is bigger in size than the previous item but the price of it is also bigger – twice as big as one of the options above.
Many customers say that it is a perfect fit for the Blue Yeti microphone so you can be sure that nothing will fall out, shake, etc.
On the outside, the case looks quite massive but the size is what makes it more reliable. All in all, if you've got the Blue Yeti microphone, this is another option for you to check out.
7. Gator Cases Padded Microphone Carry Bag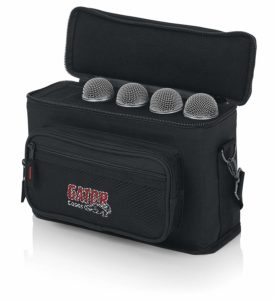 There is a series of Gator cases that are different in shape and size. This one is designed for storing four handheld microphones at a time.
The case is very well made. It is made of nylon. There is a pocket for accessories on the side of it in which you can put your XLR cables, adapters, and all of that.
The case also has a shoulder strap so in case you need to move your mics around a lot, you can easily do it.
The slots for the microphones are rather big so if you have miniature microphones that are smaller than the standard mics, this case won't be a good match for you. The length of microphones can be up to is 6,5″.
To sum up, this is a great nylon case that you can use to store and transport several handheld microphones. If several slots are what you are looking for, check this option out.
You may also like: Best conference microphones
8. On-Stage MB7006 6-Space Microphone and Accessory Bag
This On-Stage bag is made for storing up to 6 hand-held microphones. The bag is made of nylon. It is rather big because it has special compartments for the accessories.
There is also a mesh pocket for pop filters, lyrics books, and so on.
Since the size of the bag is far from small, there are special handlers on it for easy transportation.
The bag also has a shoulder strap but it is optional to use it – you can be good just with the handlers. So, if you want a bag that will store everything you need to take with you for a performance, this is one of your best choices! The price is alright too.
9. DRUMSAFE Drum Kit Microphone Carry Case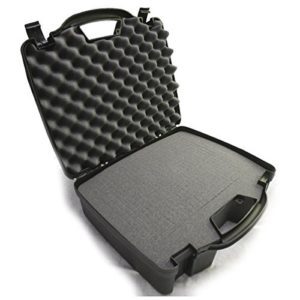 Remember how we were talking about cutting the foam and making it suitable for whatever hardware you have? This case is exactly about that. There are no slots in it – you should cut them out yourself.
The internal dimensions of this case are 15″ x 11.0″ x 4.0″. These dimensions are fine for the drum and bass microphones, their accessories, overhead mics, lavalier mics, and many other ones that are not too big. In theory, you can use the case for storing anything you want to. Just make sure to cut those holes right.
There is a locking mechanism that is very reliable so you can be sure your hardware is in a safe place. On the outside, the case looks sturdy and stable. It feels sturdy and stable too.
So if you want to have some freedom for creating something out of nothing, this is a great choice for you!
10. Gator Cases Titan Series Water Proof Injection Molded Microphone Case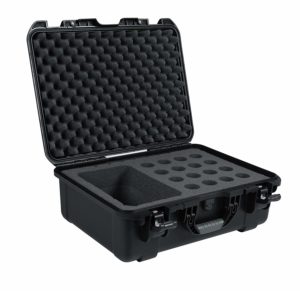 Earlier, we've mentioned a Gator series of microphone cases for a limited number of microphones. As it turns out, Gator has one more series of this kind. In this one, all the cases are hard cases with some foam in it.
If you want to, you can check other cases from the series by following the Amazon link down below.
This case can store up to 16 wired mics simultaneously and there will even be some space left for the accessories. The dimensions of the case are quite impressive – 20″ X 14″ X 8″.
The case is waterproof, dust-proof, impact-resistant, and all of that. Your microphones will be kept safe and sound as long as you use this case for storage. You can use it for transportation as well, of course – there are handlers on top of it – but I am afraid the weight of the whole thing will be too heavy.
In sum, if you have lots of microphones and you don't know how to store them properly and in one place, take a look at this Gator case. Maybe it will be exactly what you are looking for.
---
Conclusion
So, what do you need to keep in mind in order to choose the perfect case for your microphone (or microphones)?
First of all, you need to look at the size of your microphone and the dimensions of a case you'd like to buy and see if they match.
Secondly, you should take into account how many microphones you'll need to store, because, as we can see, there are different cases with a different number of slots in them.
Do you have a problem with storing accessories? Look for the cases that have additional pockets or compartments in them.
Finally, you should think about reliability. In fact, this is probably the most important thing you should think about. See what materials are used for creating the case, whether there is padding or not, how the locking system is working, etc.
Once, you've encountered an option that meets all of your requirements, it is time to make a purchase! I wish you to make the most rational decision possible and never suffer from inadequate storage of hardware.