There are lots of things to pay attention to while choosing an XLR cable. Now I won't go into the details about how important it is to have a good cable and how one creepy cable can spoil the quality of the whole recording. You probably already know all of that. What I am going to focus on is how you can choose a great XLR cable without splashing out.
The list below contains the most popular XLR cables on the market today. We've tried to embrace different kinds of models. All of them should work well and be able to provide you with high-quality sound. Scroll through the list and make your choice!
By the way, we also recommend you to check out the article about the best audio tchnica microphones.
Product
Details


Hosa HMIC-003

 

the cable shielding is nice and thick;

the XLR plugs are very well made;

the connections are solid and secure;

no RF interference;




D'Addario Planet Waves

 

clear, noise-free sound

;

sturdy cable, thick and flexible at the same time;

good connector heads;

perfect for anyone needing an xlr cable;

 

CableCreation XLR Microphone Cable

exceptional quality;


quite flexible;

sound quality is good;

not bulky or stiff;
---
1. Hosa HMIC-003 REAN XLR3F to XLR3M Pro Microphone Cable
Hosa is an excellent XLR cable for microphones. The cable can be ordered in different sizes – from 3 feet to one hundred. The price, of course, depends on the length that you choose.
There is a silver-plated connector. In general, this is a cable you would want to buy in case your own one has broken down and you want to replace it quickly and without pain.
Most reviews about this mic are positive. People even use it with professional hardware such as Newmann microphones. So if you want a balanced middle-priced cable, check this option out.
You may also like: Best microphones for interviews
2. D'Addario Planet Waves 10 feet Classic Series Balanced Microphone Cable
D'Addario Planet Waves cable is another simple and fairly widespread cable that is great for average users. It is 10 feet long which is not too much and not too little. There are nickel-plated brass connectors – not silver but still good.
The cable's price is also average – this is a $10 cable capable of providing the sound just alright. Once again, if you are looking for simple options, don't overlook this one.
3. Mogami GOLD STUDIO-10 XLR Microphone Cable
Mogami cable is for real professionals. This is one of those $50 cables I was warning you about. If you feel like you would be good with the basics, you don't need to look for these expensive models.
However, if what you're doing with the sound is extremely important and fits into the pro category or something, may I present to you this Mogami microphone.
The mic has gained some popularity over the years. You can see it mentioned in other cables' reviews. It has gold-plated connectors which are said to be really good.
Besides, there is excellent noise cancellation. This mic is highly recommended. It has lots of positive feedback and there are certainly lots of reasons why.
4. MCSproaudio XLR CABLE 25FT
If for some reason you need several XLR cables, you can order them in bulk – it is cheaper this way, you know.
This MCSproaudio package has five XLR cables in it. All of them are rather long – 25 feet. The cables are of really nice quality.
These are not the best ever cables you can get but they work and they work pretty well.
Some customers complain about interference, however, this problem can be connected to the microphone as well, not just with the cable. in general, this is another great option for you. If you like to order lots of things at once, why not to order 5 cables instead of just one?
5. Audio-Technica AT8314-50 Deluxe Super Cable Microphone Cable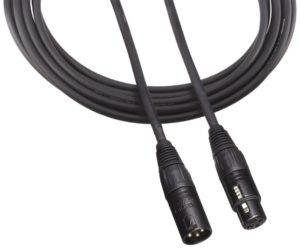 Sometimes you'll need XLRM cables and not XLR. These are very similar but a little bit different. If your mic connects through an XLRM, then this Audio Technica cable might be exactly what you need.
The cable is really flexible. It is 50 feet long so you can go long distances with it, very far from your audio interface.
The fact that the mic is this long can be both liberating and daunting. It is liberating in the sense that you can use it even in the biggest venues.
And it is daunting because the bigger the cable, the less clear the sound. That's right. However, with this cable, there shouldn't be such problems. It has nice conductivity. Surely the developers took care of the capacitance as well.
All in all, if you need a long XLRM cable, check this option out. Audio Technica is good at producing this kind of gear, so this cable shouldn't disappoint you.
You may also like: Best microphones for Android
6. CableCreation 3 FT XLR Male to XLR Female Balanced 3 PIN Microphone Cable
This cable is really cheap. Yes, it is that $5 cable I was warning you about. But a cheap cable can be better than no cable, eh?
If you are short on cash these days and have to tighten your belt, no worries! There are cheap microphone cables that can save you from hunger and maybe even help you to earn some cash (if you use the gear for getting an income).
This mic is not as thick as they say it is. There are some issues with it. For example, a couple of reviewers have mentioned that it has faulty connections. Others, on the contrary, say that the cable is amazing. Most of the time though it works and this is the most important thing for us.
There are different lengths – you can choose 3 feet, 6 feet, 10 feet, …, 50 feet. So if you need an inexpensive quick fix for your audio setup, this cable might come in handy so check it out.
7. Cable Matters 2-Pack Microphone Cable
Cable matters. Have you doubted that? I hope you haven't. And two heads are better than one. This Cable Matters package includes two excellent XLR cables that will provide you with pristine sounds.
Of course, given the fact that the rest of your hardware doesn't suck.
Nothing will make a creepy microphone seem better than it is. It is worth remembering that.
These cables, both of them, can be of different length – you can choose the length you want to have from the range between 3 and 50 feet.
By the way, it is possible to connect XLR cables to each other so if you want to, you can build one long XLR cable out of two smaller ones.
Oxygen-free copper used for creating the conductors delivers great sound quality. Copper braided shielding ensures noise cancellation.
In general, this is a solid pair of XLR cables that is very popular on Amazon. If you have doubts about the choice, you can rely on the experience of hundreds of other customers and go for this option.
8. SPEAKFRIENDS 10ft Microphone Cable
This is an attractive red XLR cable. It looks different from the rest of them on this list but its features are all the same.
The only big difference is that this cable has a braided tweed cloth jacket.
Don't worry – it is perfectly protected from wear and tear. The cable, what's inside of it, is resistant to corrosion. In general, this is a very durable piece of equipment that will serve you for a very long time.
As for the length, you can order a 10 feet, 15 feet, and 20 feet one. The price is quite average – it is far from expensive but it is not dirt cheap either. So if you want a stylish XLR cable that you can show off to your fellow musicians or friends, this is a nice option to take into consideration.
9. AmazonBasics XLR Male to Female Microphone Cable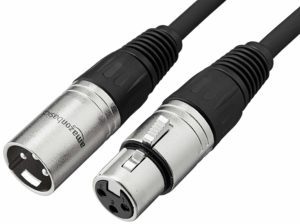 If you haven't seen this one, you are probably lying! AmazonBasics XLR cable is what you get when you don't want to think about what to get. The cable is pretty good. It is not great but it is fairly good.
Metal housing protects the cable from wear and tear as well as from bad weather conditions and other unpleasant circumstances.
The cable has copper conductors and inner copper spiral shielding so it is protected from noises and interferences and able to produce crisp and clear sounds.
You can choose the length. It can be 6, 10, 25, or 50 feet. As usual, the price depends on the length. In all cases it is pretty low so you shouldn't expect some magical gear. In a nutshell, if you need a low-budget cable that will do the job, you can choose this one.
---
Conclusion
The XLR cables for connecting microphones can be quite different. Before choosing one, you should think about the length you need, the money you are ready to spend and the quality you want to get.
Most of the time simple $10 cables are what you should choose to get the sound you desire. Sometimes there are exceptions and you may wish to spend a little bit more on a really good piece of gear.
Hopefully, these quick overviews were useful. I didn't want to use lots of difficult words and technical terms so that everything was clear to everyone.
If you prefer more detailed reviews you can check the cables' descriptions on other websites as well as the instructions on how to choose XLR cables.
Weigh all the pros and cons and may you get the perfect cable for your microphone!