iOS devices are considered to be second-to-none these days. However, it doesn't mean that they can't be improved. The fact that new versions of the iPhone are released every year proves that there's always space for improvement.
If you want to improve the recording quality of your iOS device, the list of microphones below is exactly what you need! We've chosen 7 models that can be ordered on Amazon. Check them out to find the one that suits you best.
And if you want to find a microphone for your iPad specifically, here is an article for you.
Product
Details


Comica Video Microphone

has a low cut filter feature which helps to avoid booming type noise;

the mic is clear and the grip is very versatile;

the mic is really responsive;

the addition of the floof works well in windy conditions;


Rode IXYL

clear, defined, high quality audio recording;

low noise and the included windscreen works great;

small, easy to use with the iPhone, very sturdy construction;

works with all the recording apps; 


IK Multimedia iRig Mic Cast

clean high quality directional recording;

the sound is excellent, there is limited ambient noise in the recording;

has great white noise reduction;

small and compact;
1. Comica Video Microphone
Price: $
Comica Video Microphone is a great miniature mic that can be attached both to a smartphone and a GoPro Camera (or any other camera for that matter). The model is just great for iOS devices. It is suitable both for recording video and audio.
All you'll need to do in order to make this mic function is connect it to your device through a lightning port. If you want to record outside, it is recommended to use a wind muff to get rid of wind noise and background sounds.
In general, the mic is great at capturing what you need. First of all, because it has a cardioid polar pattern that reacts only to the sounds that come from the front. Secondly, because it uses aluminum parts for processing, which considerably reduces background humming.
The shipping package includes a wind muff, a windscreen, a couple of cables, and a shock-absorption mount that is able to reduce background noise. So, basically, it has everything that you need, so you don't have to buy anything additionally. What's more, there is an awesome case for storing that is better be used if you don't want to kill the mic ahead of its time.
All in all, Comica microphone is a great mic for improving video and audio quality of your iPhone or iPad. Its price is average, however, the price-performance ratio is perfect. So if you are looking for a compact mic to enhance your audio recording possibilities, don't miss this option!
Specifications:
cardioid polar pattern;
frequency range: 80Hz~16000Hz;
sensitivity: -34±3db;
maximum SPL:100 dB
weight: 34.2g;
size: 21mm x 85mm.
You may also like: Best microphones for interviews
2. Shure MV88 iOS Digital Stereo Condenser Microphone
Price: $$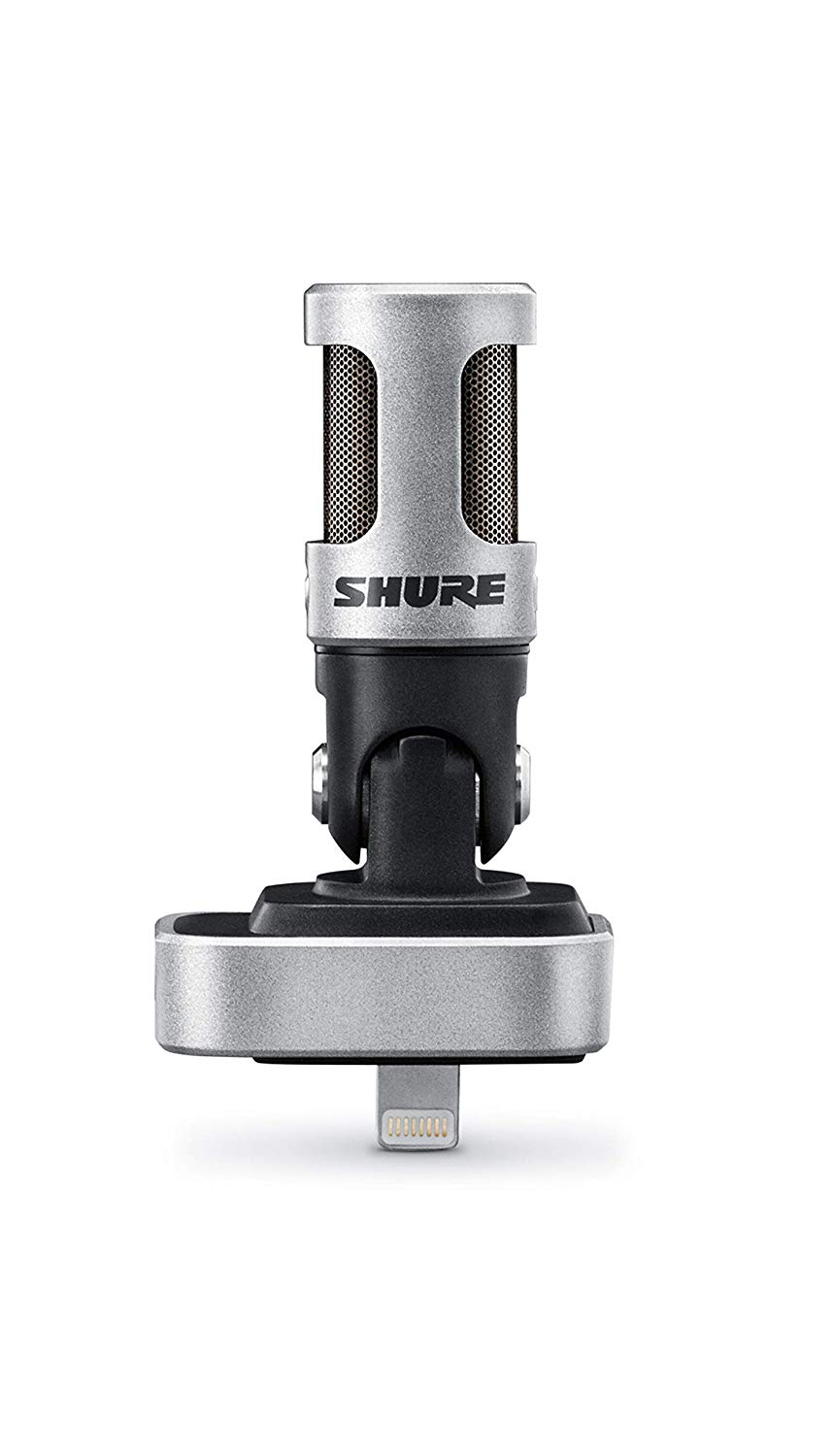 Shure MV88 for iOS is an excellent miniature mic that you can take with you wherever you go. The microphone has a compact size, which makes it perfect for recording music on the go, taking quick interviews, video blogging, and a lot more.
There are two kinds of polar patterns – cardioid and bidirectional. You can use the former one to record speech and the latter one to records musical instruments for a great stereo sound. Upon the whole, there are five preset modes: speech, singing, acoustic guitar, flat, and loud. In various situations, the microphone automatically turns on the mode that is most suitable.
This mic is compatible with all the devices that are equipped with lighting, iPhone 7 included. The head of the microphone is rotating, which means that you can choose the most convenient position for recording without having to make up the ways of how to place the smartphone.
They ship this device with all that you need in order to make it work: windscreen, headset adapter, carrying case. The microphone itself is made out of metal which makes it durable and reliable. So if you happen to need to record something on the go, this is a way to go! The microphone will help you to record not only speech but also singing and musical instruments.
Specifications:
polar patterns – cardioid and bidirectional;
frequency response: 20 Hz to 20,000 Hz;
dimensions: 2.64 high × 0.98 wide × 1.38 deep inches;

5 preset modes (Speech, Singing, Flat, Acoustic Instrument, Loud).
You might be intersted: Best Wireless Microphones in 2023
3. Rode
 

Smart Lav+

Price: $$
Rode SmatLav+ is one of the most popular lavalier microphones for smartphones. The mic has a headset output, which makes it compatible with all the smartphones and tablets out there.
There is this 'plug and play' principle which means that you can just plug the mic in and start recording. This principle is characteristic of all the smartphones microphones. There is no need to install any additional software or change the settings. Basically, it is just like with headphones – plugging in means changing the mode of the device.
Rode SmartLuv+ is loved by video bloggers. If you are tired of sounding a bit dorky in your Instagram stories or Periscope livestreams or even YouTube videos, change the game by buying this mic.
The mic has an omnidirectional pick-up pattern as most lavalier microphones do. If you are worried about background noises, you can use a windshield. Apart from a foam windshield, the shipping package includes a kevlar cable and a mounting clip, which is all you need. The overall construction of the mic seems sturdy. So if you are looking for a lavalier microphone to use with your iOS device, be it iPhone or iPad, consider this option.
Specifications:
omnidirectional polar pattern;

frequency range: 60Hz – 18kHz;

maximum SPL: 110dB;

dimensions: 1180 mm x 4.50 mm x 4.50 mm.

comes with a mounting clip, a kevlar cable, and a foam windshield.
4. Rode IXY-L
Price: $$$
Yet another 'clip-on' video microphone for iOS. Rode IXY-L comes in two different versions: one for older iOS devices and the other one for newer iOS devices. Since we assume that iPhone 4S, iPhone 4, etc. are now rarely used, we'll contemplate the second version. Beware though! Some customers say that it doesn't work with the iPhone 7 due to the fact that it has a different home button. If you have doubts, always contact the seller. The instructions say that the mic is compatible with iPhone 5, iPhone 5s, iPhone 5c, iPhone 6, and iPhone 6plus.
There are two cardioid capsules fixed in a 90-degree alignment. This allows you to record clearly musical instruments and singing. You can also use the mic for recording speech. Metal casing ensures low self-noise. The microphone come with a foam windshield and a storage case. Once again, the mic is only for the 3rd generation iOS devices. Make sure you're going to use with one of them.
Specifications:
two cardioid condenser capsules;

frequency range: 20Hz – 20kHz;

120dB SPL;

weight: 40 gm;

dimensions: 46 x 55 x 40.
5. Rode VideoMic Me Compact 
Price: $
Let's overview one more Rode device. This one is a popular Rode VideoMic. This shotgun type microphone has a cardioid polar pattern. It is great for recording speech because it can really focus on your voice and not on your surroundings. You can use the mic for recording interviews, making videos, and many more. All you'll need to connect the device to your smartphone is a headset jack.
There is one problem though. It is recommended to use the microphone with the Airplane mode on because otherwise, you'll get unpleasant distortions in your recording, which is not very nice. This makes the microphone practically unusable outside of WiFi zone in case you want to use it for live streams.
Besides the mic, the shipping package includes a furry windshield. This mini short-gun mic has proved its quality for many times, so if you need a budget solution for your iOS device recording quality, pay closer attention to this option.
Specifications:
cardioid pick-up pattern;
frequency range 100Hz – 20kHz;
140dB SPL;
dimensions: 38 x 21 x 80;
weight: 34 gm.
You may also like: Best podium micorphones
6. IK Multimedia iRig Mic Cast
Price: $
iRig Mic Cast is a microphone for podcasting. But not only for podcasting – just like any mic, you can use it for many different purposes. First thing first. You need to understand that this is not a professional microphone meaning it won't let you record music as your favorite musicians do (of course, if your favorite musicians are not garage bands from the 70-s and 80-s). However, it will considerably improve the sound quality of your phone recordings.
Due to the fact that iRig mic has a directional pick-up pattern, it ignores the noise from the outside world. All that's left is what you're saying. This is very convenient in case you often find yourself in crowded places or windy environments. Getting rid of noises and distortions is always for the best.
There are two sensitivity modes – low and high. If you are recording interviews or something robust and dynamic, it is better to use the high-sensitivity mode. If you like to sing, the low-sensitivity mode will be your favorite.
The package of the mic includes a travel pouch and a table-top stand. In sum, this is a simple mic made for all the smartphones and tablets to improve the quality of audio outputs. Check it now and see whether it suits you.
Specifications:
unidirectional / cardioid pick-up pattern;
recording quality: 16-bit, 48 kHz max;
adjustable input sensitivity;
headset jack;
compact size.
7. Zoom iQ7 Mid-Side Stereo Microphone for iOS Devices
Price: $$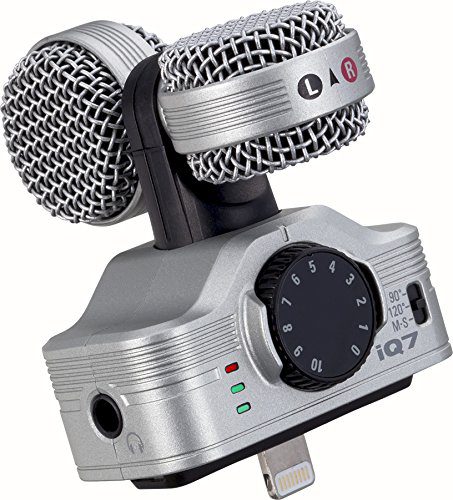 Zoom iQ7 is compatible with all the iOS device equipped with lighting. It comes with an extended Lightning connector that goes well with iPhone, iPad, and iPod Touch.
As you can see, there are two rotating capsules. You can place them in the way you want to in order to reach the best sound quality. There can be many different situations in which you'll have to use the mic – recording musical instruments, podcasting, making interviews, and more. There are best positions for each of these situations – just play with the mic to find out what is best for you. Of course, you can just read the instructions (if you're looking for easy ways).
Upon the whole, this mic is suitable for those who want to record both stereo and mono sound. Its main advantage is versatility that you can get for less than $100.
Specifications:
two cardioid capsules;
stereo sound;
120 dB SPL;
48 kHz/16-bit recording;
dimensions: 54.5 x 57.2 x 26.5 mm;
weight: 31.8 g.
---
F.A.Q.
Q: How to get rid of distortions?
If your external microphone records the distortions together with the sounds you'd like to hear, try turning on the Airplane Mode. In many cases, cellular feedback ruins the recording, so it is better to block it.
Q: What is special about external iPhone microphones?
Almost all the external microphones that are compatible with the iPhone and other iOS devices need a lightning port to function. Some mics, however, require only a TRRS jack – a headset jack.
Q: Can I use a studio condenser microphone with my iPhone / iPad?
Yes, you can. There are certain condenser microphones that can be used with smartphones. In this article, we've covered only compact models, but you can look for studio-like microphones for your device as well. In general, there are three kinds of microphones that are compatible with smartphones: lavalier, video mics, and studio-like mics. You can always broaden your horizons and look for different options that suit your needs best.
Q: What apps can I use with an external microphone for iOS?
You can use any app with your external microphone – preferably the one that deals with recording or audio messaging. It can be Instagram, What's Up or any other messenger, a notes app, a special equalizer app. You can search for more options in your App Store.
Some microphones' producers recommend certain equalizer apps for recording, however, practically any smartphone mic can be used with all the audio and video apps.
---
Conclusion
These days it is not that difficult to turn your smartphone device into a compact recorder. The video quality is constantly improved, so the audio quality shouldn't be left behind. If you want to add a professional touch to your phone recording, one of the microphones listed above is what you should start with. Forget about the annoying background noise and enjoy clear and crisp sounds!