Microphones for iPad are no different from microphones for iPhone, so in general, we can talk about microphones for iOS devices. However, in this article, we assume that you need a mic for iPad for much more extended purposes than you might have needed a mic for iPhone. That's why the list below contains not just simple lavalier microphones that work on the plug and play principle, but also studio-like mics that you can use to get better quality.
No matter what you need a mic for – podcasting, live-streaming, recording vocals or music, the mics below will help you to start out!
Product
Details


Shure MV88

works good at cutting down surrounding noise when set to a cardiod pattern;

great bass, nice separation, wide soundstage;

the software is intuitive and easy to use;

captures a clear sound;

works with all standard iOS apps that use sound;


Zoom Mid-Side Stereo

has great recording quality and is extremely easy to use;

manual controls for gain;

picks up low tones really well without sounding muddy;

allows you to create a variety of effects;


Rode VideoMic Me

sturdy, comes with a stabilizing clamp included;

the audio is nice and crisp;

has the included wind sock to help reduce wind noise;

very affordable and good quality build;

easy to touch, stays connected even if the phone accidentally fall;
1. Shure MV88 iOS Digital Stereo Condenser Microphone
Price: $$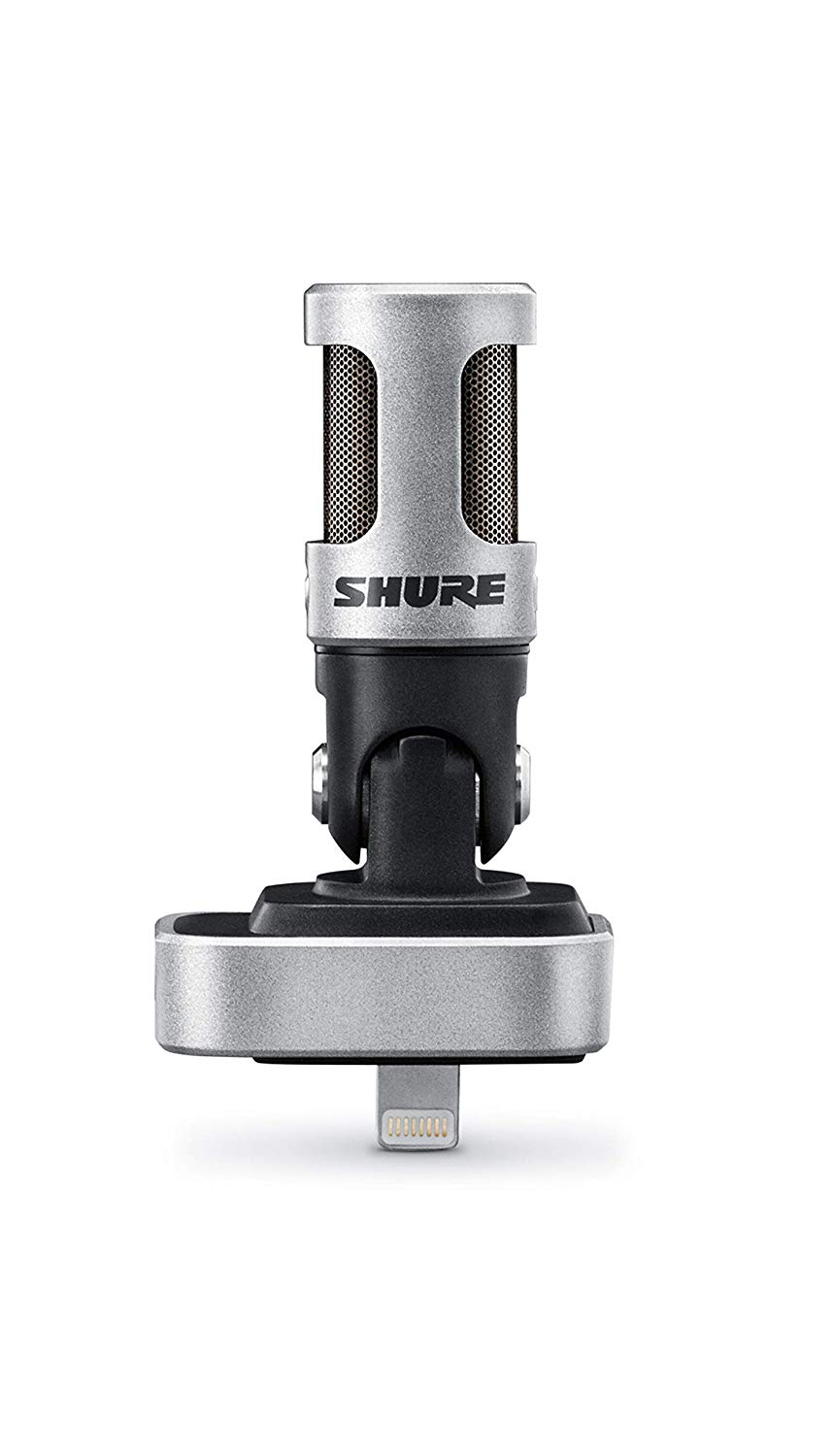 If you are planning on recording music using your iPad, Shure MV88 is what you definitely need to consider buying. The microphone has 5 preset modes that you can use depending on your situation: speech, singing. flat, acoustic instrument, and loud.
The metal head of the mic is rotating so it is possible to set it in the most convenient position. As you can see in the picture, the mic has quite an unusual form – there are two sides of it. If you are to use the mic for recording an interview, for example, you can use a bidirectional pick-up pattern. Acoustic instruments perform better when combined with a cardioid polar pattern. This mic has both, so you can switch between them whenever you need it.
To use the mic, it is recommended to download the Shure MOTIV app from the App Store. Once you've downloaded it, you can check and fine-tune various settings.
iPad compatibility is guaranteed since the microphone requires a lighting input. There is a headset adapter in the shipping package which you may use to extend the compatibility of the mic. What else will you get together with the mic? Shure comes with a windscreen and a carrying case. These are the items everyone needs so it is nice they send them with the mic.
Upon the whole, Shure MV88 is a wonderful tool that can be used in many different ways. It goes well with all the iOS devices that have lighting input. If you aim for good quality as well as for compactness, take a closer look at this model.
Specifications:
cardioid and bidirectional pick-up patterns;
frequency response: 20 Hz to 20,000 Hz;
records 24-bit / 48 kHz WAV;
Saves to a variety of compressed formats ALAC, AAC, 96, 128, 256;
2.64 high × 0.98 wide × 1.38 deep;

Speech, Singing, Flat, Acoustic Instrument, Loud preset modes.
2. Zoom iQ7 Mid-Side Stereo Microphone for iOS Devices
Price: $$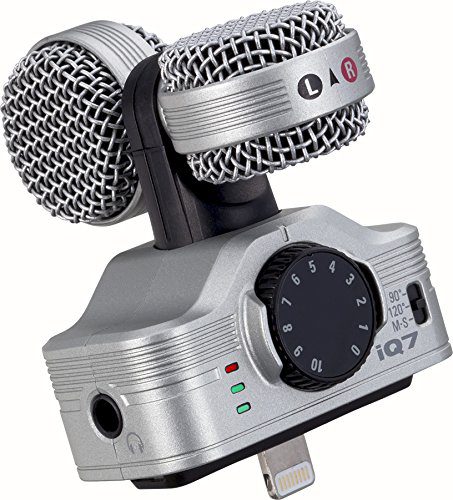 Zoom iQ7 is a mic that was created specially for iOS devices, iPad included. You can simply connect it to your iPad, open a special app and start recording. The Handy Recorder app from the App Store will help you with that.
The microphone has two rotating capsules. Both capsules have a cardioid pick-up pattern. You can place them in the manner you find most efficient.
There is a foam windshield in the package to save you from irritating background noize. It is usually used in windy weather, however, you may try to use it in other circumstances as well. Upon the whole, this mic is a good purchase. For less that one hundred dollars, you can significantly improve the quality of your recording on iPad. If you aim for that, check this option out and see if it suits you.
Specifications:
two cardioid capsules;
stereo sound;
120 dB SPL;
48 kHz/16-bit recording;
compatible with iPad (4th, 5th and 6th Gen, Air, Air 2, mini, mini 2, mini 3, mini 4, Pro and Pro 2) as well as other iOS devices;
dimensions: 54.5 x 57.2 x 26.5 mm;
weight: 31.8 g.
3. Rode VideoMic Me Compact
Price: $
Rode VideoMic Me Compact doesn't have lighting connector, however, it can still be used with iOS devices. All that is required is a headset jack. The microphone is shotgun in its essence, however, it has a standard cardioid pick-up pattern. The cardioid pattern is preferable in situations when you need to highlight a particular sound source.
Rode VideoMic is quite a popular model since all you have to do to make it work is plug it in. Unlike the previous models, the microphone doesn't produce stereo sound. It is made for video shooting and improving the sound of videos, so music lovers should look for something else. Of course, in theory, you can record anything with this mic, but it is best at such tasks as interviews, podcasts, storytelling, etc.
Many customers complain about noize and interference. The best solution to this problem is to turn on the Airplane mode or turn off the data. If this doesn't help, maybe, all you need to do is to put on a foam windscreen that is, by the way, included in the shipping package.
All in all, this is a cheap mic that goes well with iOS devices. It has two big advantages – the price and the fact that it is extremely easy to use. So if you want to improve the quality of video-recording on your iPad, try this model.
Specifications:
cardioid pick-up pattern;
frequency range 100Hz – 20kHz;
140dB SPL;
dimensions: 38 x 21 x 80;
weight: 34 g.
4. Saramonic SmartMic
Price: $
Saramonic SmartMic is very similar to Rode VideoMic. It is just that it is even cheaper! Of course, the cheaper the microphone, the less likely it is to produce top-notch studio-quality recordings. However, if your purpose is to just produce sounds that won't irritate listeners' ears, why not to consider cheap yet efficient models? After all, it is not always necessary to spend lumps of money to get a good item.
The mic comes with a windscreen and a muff that you can use depending on the weather or your mood. The capsule of the microphone can be rotated so it is possible to choose the right angle for the recording. The developers promise to ensure low self-noize and high sensitivity. Well, from what we've read and heard, the mic has a standard self-noise and sensitivity, however, it is still good.
Upon the whole, this model is suitable for everyone who seeks a cheap and compact solution. It is easy to use this mic on the go. Just plug it into your headset jack and start recording.
Specifications:
cardioid polar pattern;
plugs into standard 3.5mm headset jacks;
frequency response: 35 Hz to 18 kHz;
74dB SPL.
5. Blue Microphones Blue Raspberry
Price: $$
Blue Microphones Raspberry model is first of all very beautiful. Now let's move on to more essential characteristics. The mic is compatible with all kinds of divices- laptops, PC, phones and, of course, tablets. It can be connected both through USB 2.0 and a lightning connector.
Special technology for noize minimization allows you to get crisp and clear sounds. So if you have room noizes all over the place, don't worry! The mic will capture what's needed and leave out all the rest. A cardioid pick-up pattern will also help to do that since, as you probably already know, it picks up sounds only from the front.
Take one more look at this nice red beauty. It has a convenient stand. There are control buttons behind it. In sum, everything is made is such a way so that it was convenient to record and change settings on the go. What else can a one need from a USB model?
Blue comes with two cables and a case. You can both record with it at home using an iPad device and take it with you to record someplace else. Some users point out that they prefer to take this mic on the journeys with them because of its compact size and ability to produce high-quality sounds. Podcasting, music making, skyping, and a lot more. Get this mic and surprise everyone with your improved sound quality!
Specifications:
cardioid polar pattern;
USB 2.0 or lightning connector for power;

frequency response: 20 – 20 000 Hz;

24-bit/48kHz audio recording;
iPad Pro (9.7-inch), iPad Pro (12.9-inch), iPad mini 4, iPad Air 2, iPad mini 3, iPad Air, iPad mini 2, iPad mini, iPad (4th generation) compatibility;
120 dB SPL;
weight: 272.3 g.
6. Apogee MIC PLUS USB Microphone
Price: $$
This Apogee mic is one more USB mic that goes well with all kinds of devices. In this, it is very similar to the Blue microphone. Laptops, PC, tablets… Anything! There two kinds of connection – USB and headset input.
The microphone has a condenser cardioid capsule which makes it perfect for recording acoustic guitar or piano. You can also record vocals, speech, and many other kinds of sounds with this mic. Due to the mic's compact size, it is possible to take it with you wherever you go. Some prefer to use this microphone in home studios, others find many other interesting applications. It is all up to you!
The mic has a small disadvantage compared to the previous model – it doesn't have a carrying case. So if you want to keep this mic safe and sound, it is better to buy one separately. One more detail worth mentioning is that the Apogee mics are made in the USA. On the one hand, you can be sure that the working conditions of those who make this mic are good. On the other hand, high wages may influence materials quality. However, these are just assumptions which you shouldn't worry about. As a rule of thumb, all mics that fall within a certain price range perform quite similar.
All in all, this microphone is a great alternative to the Blue mic. If you are looking for a USB-mic or studio-like mic that doesn't require an XLR cable or an additional audio unit, check this model out!
Specifications: 
cardioid polar pattern;
24-bit / 96kHz audio recording;
lightning, USB (Type-A), USB (Type-C) cables are included;
weight: 200 g.
7. Rode
 

Smart Lav+

Price: $
If you are looking for an iPad microphone, you should take all the available options into consideration. It is good to know that there are excellent lavalier microphones that can function together with iPad devices. SmartLav is probably the most popular option out there.
But first, why would you need a lapel mic for an iPad? Well, there can be a number of reasons. Lavalier microphones are very convenient to use in video shooting. Besides, when you use them, you are able to speak while holding your iPad device in your hands, which is very convenient in a number of situations. Areas of applications are limited only by imagination!
To use this mic, you need to download the RØDE Rec app for iOS from the App Store. However, any other recording app will do. Just plug the mic into your tablet and start recording.
The pick-up pattern of the mic is omnidirectional meaning it captures sound from all the sides. If you feel that there's some background noize you don't like, you can put on a windscreen and see whether the quality changes.
The shipping package of Smart Lav+ includes a mounting clip, a kevlar cable, and a foam windshield, which are all very useful details. The mic is extremely lightweight meaning you won't even notice it when attaching to your clothing.
In sum, if you need a lavalier microphone for your iPad, check out this model! The price will make you happy.
Specifications:
omnidirectional pick-up pattern;

frequency range: 60 Hz – 18 000 Hz;

maximum SPL: 110dB;

Weight: 6 g.
---
F.A.Q.
Q: Do I need a special recording app to use with an iPad microphone?
No, you don't need a special app to record on your iPad device. Some companies recommend to download their app for recording, however, this is not a must. You can use any app you like.
Q: Can I use an iPad microphone with other Apple devices?
Yes, in most cases it is possible to use a microphone that you buy for your iPad with other Apple iOS devices. To learn more about this, you should read the description of a particular model. All the information is usually mentioned there. If not, you can always contact the support team.
Some microphones are compatible with the old generation devices, while others are made for the new generation devices. If this is the case, then it is good to check the compatibility. However, once again, in most cases, you shouldn't worry about it.
---
Conclusion
This article covers the most popular models that can be used with different iPad devices. Some of them are more expensive than others. The list is compiled in such a way so that everyone could find what he or she is looking for. We hope that now you know what options are out there and are ready to make your thoughtful choice.