Are you an ASMR content creator? Or maybe who's only thinking about starting the ASMR channel? Or maybe you have to travel a lot and you're thinking about getting a convenient mic that you can take with you?
We got you covered. In the following article, you will find all the best ASMR microphones for iPhone. By the way, you can find more interesting microphones for iOS under $100 in this article.
Our Top Picks:
| Item | Main information | Polar Pattern | Connector type | |
| --- | --- | --- | --- | --- |
| Blue Yeti USB Microphone | Versatile and easy to use microphone and with the professional quality | Multidirectional | USB, Bluetooth | See Best Price |
| Ecomxia | Wireless microphone easy to carry around, broadcast quality |  Omnidirectional | Bluetooth | See Best Price |
| PowerDeWise | Compact microphone, nice recording quality |  Omnidirectional | Wired | See Best Price |
Blue Yeti USB Microphone
Blue Yeti is one of the most popular microphones for all smartphones, including iPhones. And because of its versatility and high quality of recordings, it's still one of the best microphones for recording the ASMR even in 2023.

Honestly, if you want to get the best option for your iPhone in terms of microphones for ASMR, you should look no further than this item. We guarantee you that it delivers clear and powerful sound quality that could be compared with professional studios.
You might have noticed that the majority of content creators use blue yeti in their videos. An interesting feature of Blue Yeti is that it has Blue Voice support that will enhance your ASMR sounds and will make them sound even brighter and better in general.
Classically, this microphone consists of four selectable pickup patterns. What else can a content creator dream about? You can instantly start recording and streaming with this microphone since it carries the Plug and Play technology.
It's so easy to set up. But keep in mind that since it's a USB microphone you will need an iPhone headphone adapter if you want to use it. The microphone itself is a little bit heavy so you might struggle a bit with its transportation.
However, if the sound quality is important to you and you need versatility, you will have to sacrifice the lightness for the better.
Pros
Broadcast-quality sound
Blue Voice microphone technology
Plug-and-play technology
Extremely versatile with its 4 polar patterns
Cons
You may also like: 9 Best 3.5mm Microphones
Ecomxia 2 Pack Wireless Lavalier Microphone for iPhone
As an alternative to the previous Blue Yeti microphone which was quite heavy to carry around, this microphone by Ecomxia is the best one when it comes to portability.
It's super easy to carry with you, and the charging case allows you to record and create any type of ASMR content at any place in the world.
This microphone set can be extremely helpful when you need to record outside and the microphone can suppress the big round noises so the ending result is a clear sound.
It's also extremely easy to connect to your iPhone and start recording immediately. You will need your iPhone's lightning cable to connect. All in oh, the compact size and the long battery life makes this item one of the best choice in terms of ASMR microphones.
The only thing is that setting up Ecomxia is a little bit more difficult than with blue yeti and errors occur quite often. You'll have to waste sometimes a couple of hours to make it work.
Pros
The kit includes the charging case
Easy to use for the outside recordings
Massive pickup range
Lightweight
Cons
Can be difficult to set up and configure
PowerDeWise Professional Grade Lavalier Clip On Microphone
In case you're on a budget and you have an older iPhone model but you still want to have clear and highly detailed results from your recordings, you should pay attention to this option. This power device microphone is a professional-grade item.
Usually, wired microphones are something obsolete, but not in this case. Here the quality of the sound that it provides is so great that we placed it in the third position.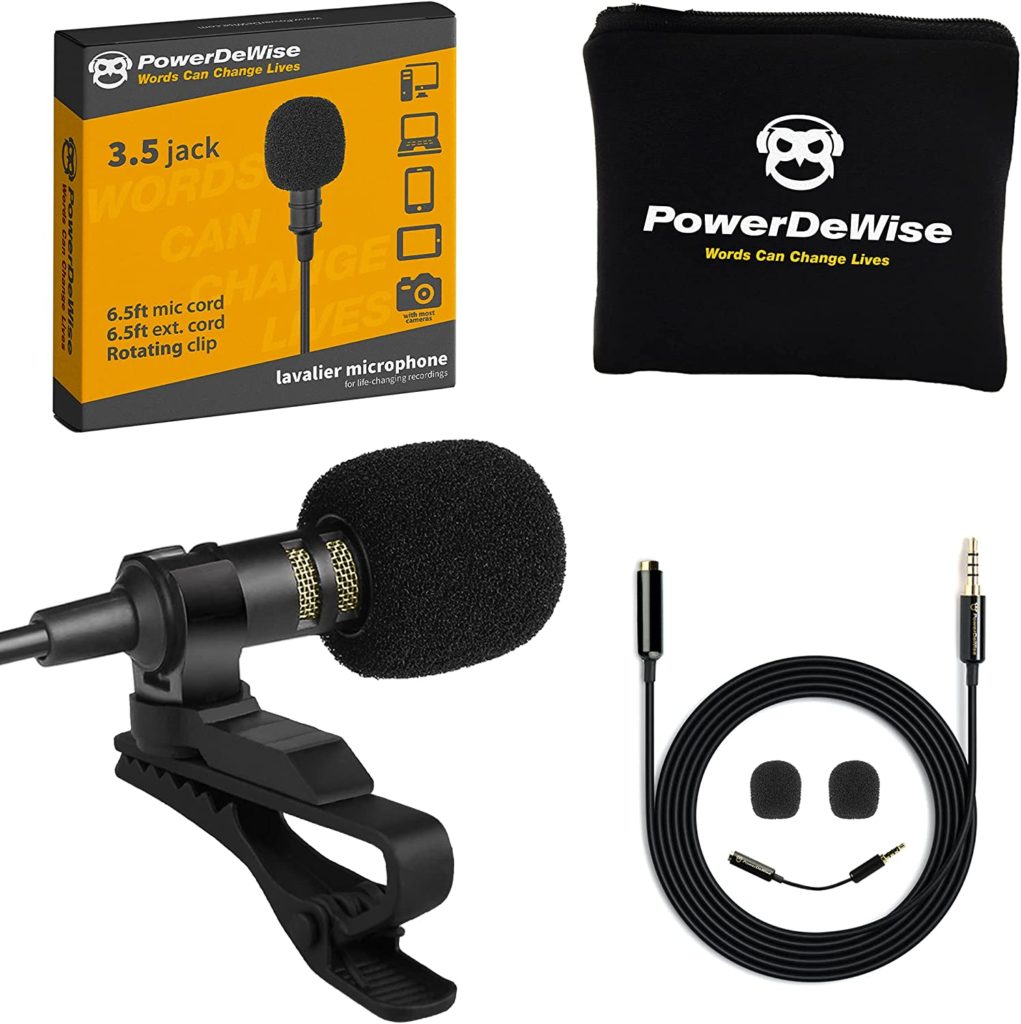 The microphone comes with a clip so you can always attach it to your clothes while you're filming a video therefore you don't need to hold it in your hands.
This sensitivity of the microphone is wide enough to capture all the sounds even if the make is not placed straight in front of your mouth.
The one factor that holds this microphone back is that it has excessive feedback. Sometimes come off in the recordings, you can detect some background hum that can ruin the excellent audio quality. But in all other aspects, including the price, it's the microphone that we really liked.
Pros
Perfectly clears any audio of extraneous noise
Reproduces the original and detailed sound in high-quality
Wired and lightweight microphone
Affordable
Cons
An excessive amount of feedback
You may also like: Best Choir Microphones
Blue Yeti Nano
Blue Yeti Nano is another popular microphone by Logitech company and originally this item was invented for streaming and gaming.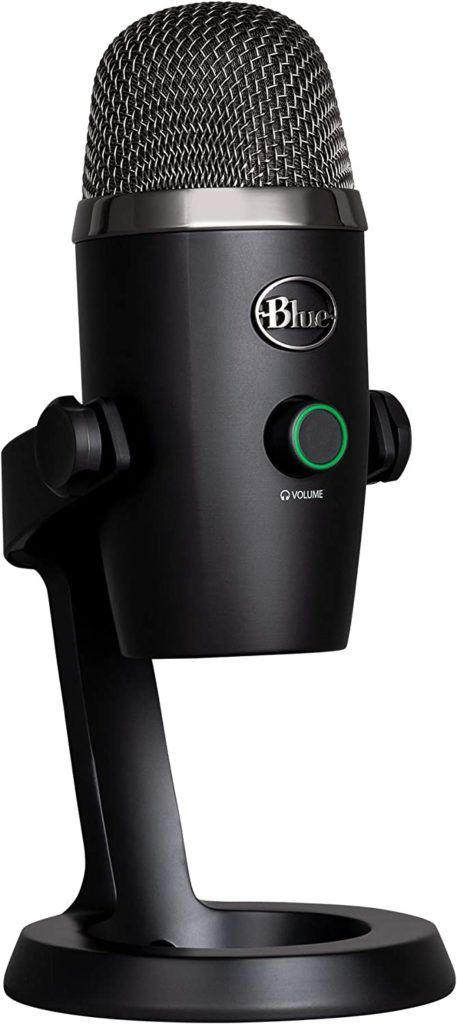 But it turned out to be so versatile and able to provide it such a high-quality sound, that it would be suitable make for any type of content creator. Therefore, it could be a nice microphone for a smart and it's totally compatible with iPhone.
It's slightly similar to the original Blue Yeti microphone but it's a little bit less versatile. It includes only two polar patterns, cardioid and omnidirectional. All you have to do is just so sad the right configurations and you can start.
The only downside of this Blue Yeti microphone is a lot of users know that the quality of the sound tends to deteriorate over time as you use it. Of course, a lot of things depend on the initial maintenance and frequency of usage.
But if the price is not an issue for you and you have to travel a lot and you want to take a decent microphone with you for your smart recordings, then this is another decent option for you.
Pros
Professional quality of the recording and ability to capture the sound in detail
Cardioid and Omni-directional pickup patterns
BLUE Voice software compatibility
Cons
The quality of recordings deteriorates over time
Audio-Technica AT2020USB+
Audio Technica is a wide-known brand providing affordable and good-quality microphones. This model AT2020 is totally compatible with iPhone and it's a cardioid microphone that can provide a professional quality recording.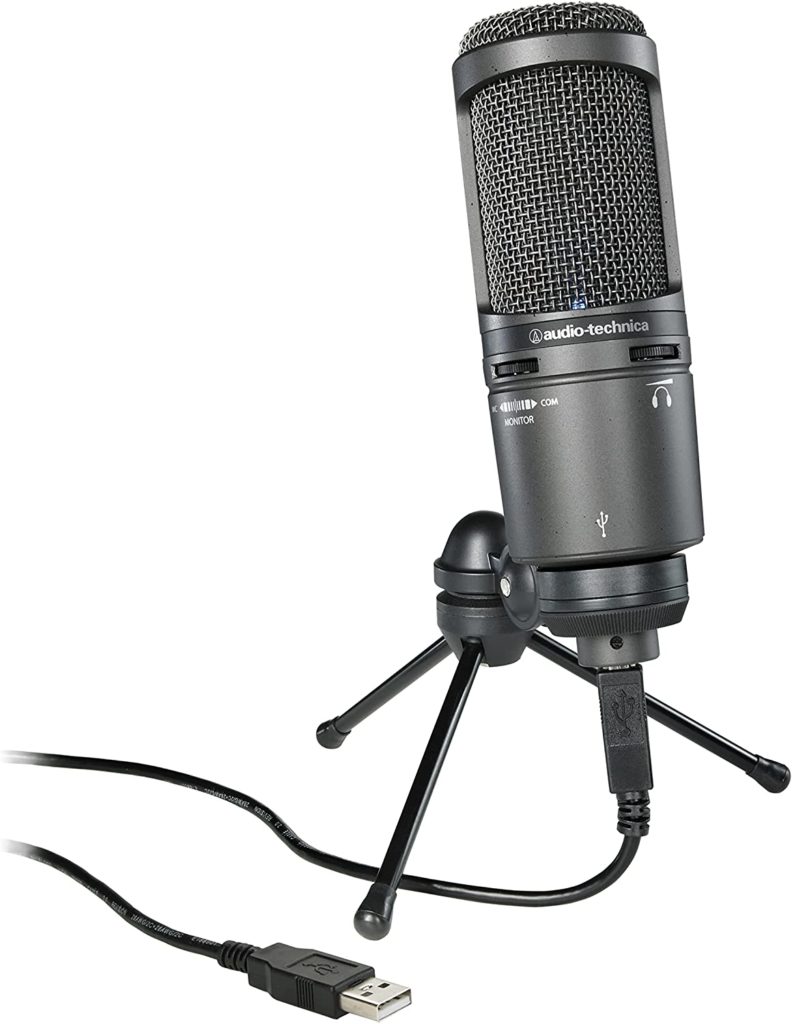 This model includes the mix and volume control which are beneficial for streaming or ASMR videos. There's also the blending feature that can improve the quality of the sound, allowing you to concentrate on other things.
But keep in mind that since this microphone is so affordable it's made of quite low-grade materials which are susceptible to deterioration and can also break easily.
However, if you plan to use this microphone only for your home studio and home recordings, this is a nice option for your iPhone device.
The frequency response of this microphone is wide enough to catch the thin highs and make the low sound more retreated which is essential for videos in ASMR format.
It also has the Plug and Play technology which means you can use this microphone right away without any additional configurations.
Pros
Professional studio sound with a high-quality A/D converter
Mix control to blend microphone signal and pre-recorded audio
Delivers superior clarity and overall volume
Affordable
Cons
Made of the cheap materials
Movo Professional Lavalier Lapel Clip-on Interview Podcast Microphone
This is the wired microphone and it is built to help you to pick up the sounds with maximum efficiency. This lavalier microphone will help you to catch every sound in detail. It is extremely easy to use, so you can just plug in and start recording.
Also, the factor that it's wired means it needs no charging. But make sure that your iPhone has the 3.5 mm Jack to actually connect this microphone to the device.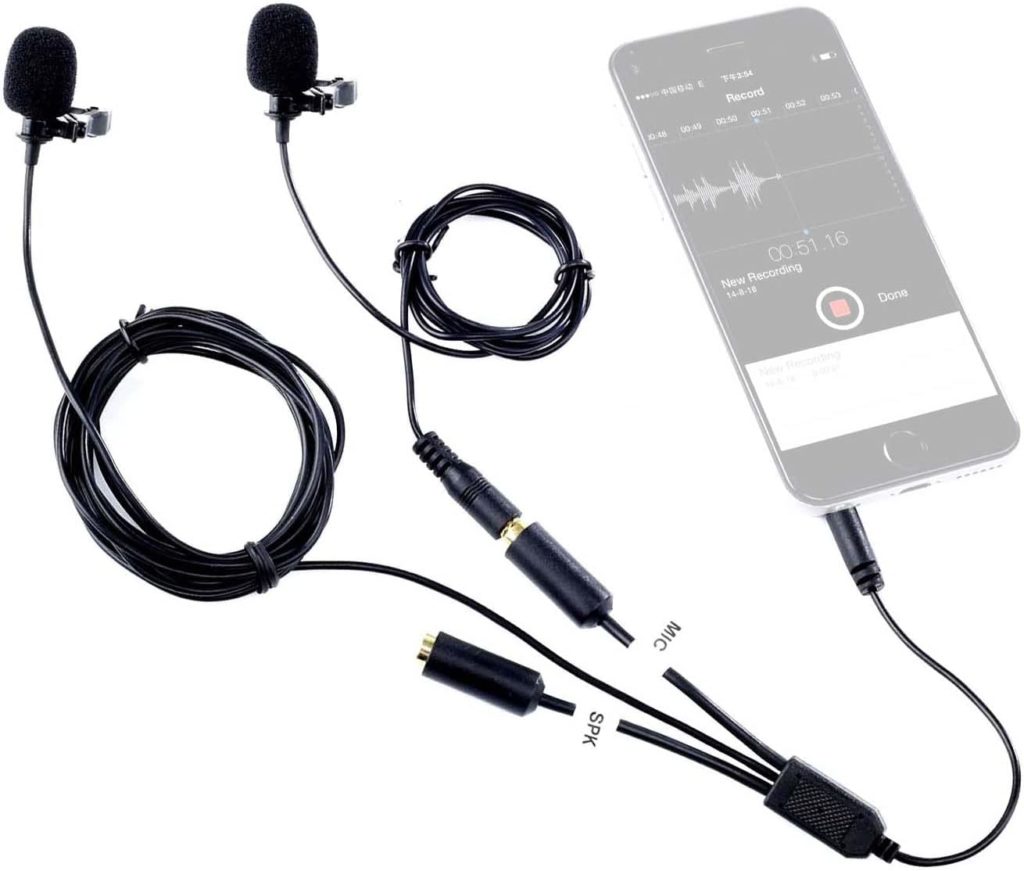 The microphone itself is of good quality for its money but it's quite vulnerable to interference holds.
And it can be explained by the fact that it's not a professional microphone, but it's rather a microphone for everyone that it's easy to transport and use.
You can still use this microphone as you're working ASMR mic for example when you need to do the recordings outside.
Pros
Convenient to use with its clip-on technology
Easy to plug in and record
100% wired, so there's no need to recharge
Cons
Susceptible to terrible interference
You may also like: Best Voice Changing Microphones
Movo VXR10-PRO External Video Microphone
If you want to get a video of higher quality along with excellent noise cancellation, then here we have another microphone for your iPhone by Movo. The advantage of this mic is that it can flawlessly remove background noise.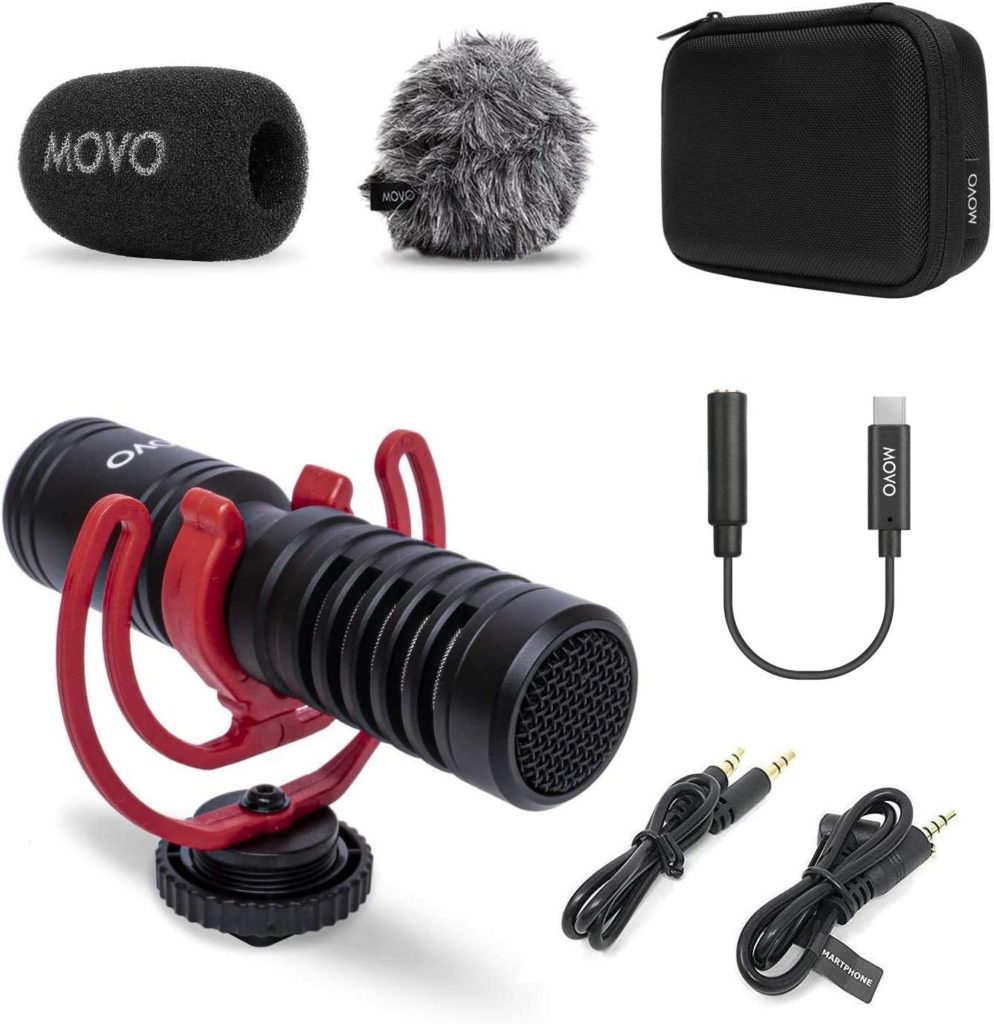 As you can see, it is a compact shotgun microphone and it creates excellent audio it also looks cool on the video. It comes with the starting mount in its kit which is designed to minimize handling noise and improve the overall sound quality.
The only thing is that this microphone is a directional item. It means that recording the ASMR videos with it specifically can be a little bit problematic since the captivity of the sound is not as broad as in other models.
But if you're planning to use it for your home studio then that might be a solution. What is more, this item is quite durable.
Pros
Compatible with the majority of devices, including iPhone
Sturdy shock mount to minimize handling noise
Small, durable, and lightweight
Cons
Directional microphone is not the best choice for ASMR recordings
FAQ for ASMR Microphones to use with iPhone:
How do I choose an ASMR microphone?
When choosing an ASMR microphone, there are a few factors to consider. Firstly, the type of microphone matters – most ASMR videos are recorded using either a condenser or dynamic microphone. Condenser microphones tend to be better at picking up subtle nuances in sound, so they're often preferred for this purpose. However, dynamic microphones are also suitable for ASMR recordings, as they are better at picking up louder sounds.
Secondly, consider the frequency range that your microphone is capable of capturing. Generally speaking, a wider frequency range will capture more sound details, so it is preferable if you are looking to record high quality ASMR videos.
There are some more tips to choose it but basically you may use these two and just check our mic suggestions above.
What are the benefits of using an ASMR microphone with iPhone?
Using an ASMR microphone with iPhone offers several benefits.
Firstly, it allows you to record high-quality audio anywhere and anytime – perfect if you're recording a video on the go.
Secondly, ASMR microphones are generally more sensitive than regular microphones, meaning they can pick up subtle sound nuances that would otherwise be lost.
How do I use an ASMR microphone?
Using an ASMR microphone is relatively straightforward. Firstly, you will need to connect the microphone to your device – either directly or via a USB cable. Once connected, you can adjust the settings on your microphone according to your preferences in order to get the best sound quality possible.
Once you've adjusted the settings, it's time to start recording. Depending on the microphone you're using, you may be able to adjust gain levels, or choose different input modes (such as stereo or mono).
Finally, make sure you listen back to your recordings during and after recording.
What are some of the best iPhone ASMR tips and tricks?
Some of the best iPhone ASMR tips and tricks include:
– Make sure you have a quiet environment when recording, as background noise can interfere with the sound quality.
– Wear headphones while recording to ensure that you're hearing exactly what your microphone is picking up.
– Use an app to monitor sound levels during recording, as this will help you ensure that your recordings are at the correct volume.
– Play around with different settings and microphone placements to get the best sound quality possible.
– Experiment with different sounds (such as tapping or whispering) to see which ones produce the most satisfying results.