For people who often use a microphone to make streams, live broadcasts, meetings, or even study, it is important that the device on the table is stable and does not distract. So here is the list of best of best microphone stands for desks that I advise you to use in 2023:
Our Top Picks:
| Item | Material | Weight | Item Dimensions | |
| --- | --- | --- | --- | --- |
| InnoGear | Iron | 860 Grams | 5.12 x 10.63 x 5.12 inches | See Best Price |
| BILIONE | Metal | 1 kg | 12.6 x 7.28 x 2.95 inches | See Best Price |
| Aokeo AK-35 | Steel |  1.11 Pounds | 16 x 4 x 2 inches | See Best Price |
InnoGear Desktop Microphone Stand
When it is necessary to place the microphone on the table for talking, podcasting, or other purposes, you can pick up this device. This microphone stand is a great choice to buy.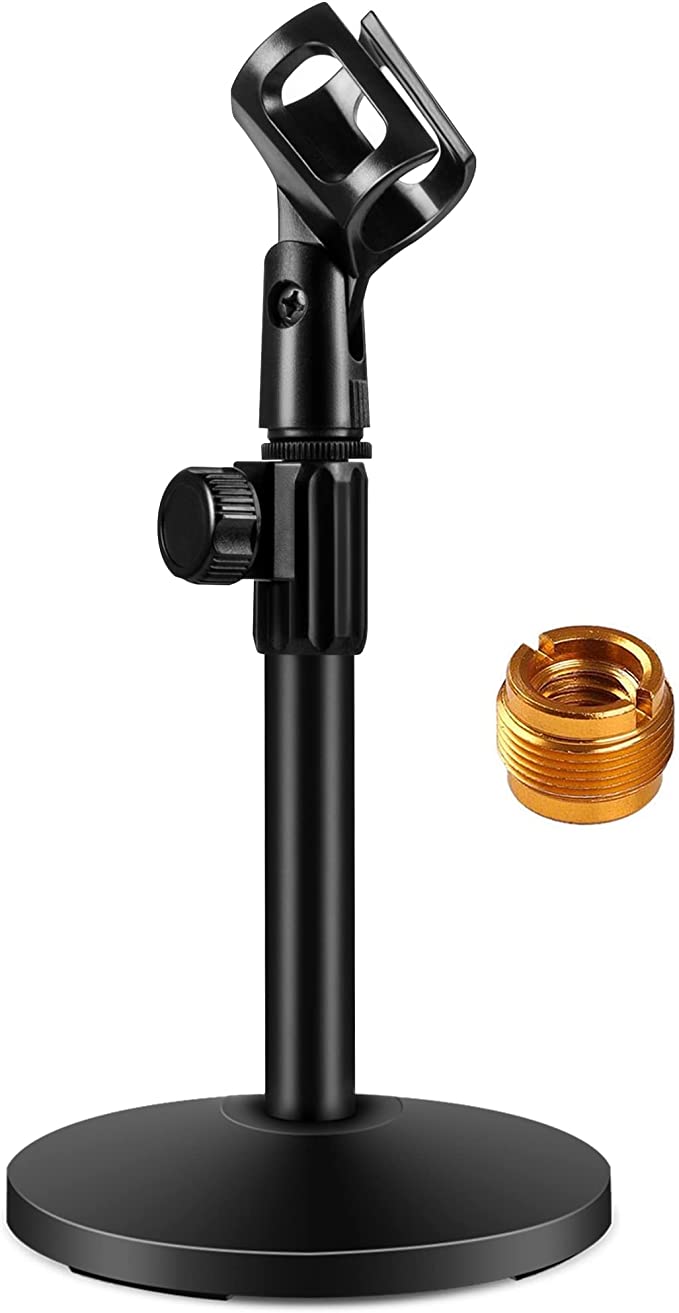 To begin with, this device is very lightweight, only 1.85 lb. It also has a small size, this fact allows you to easily take a stand for trips and does not take up much space at home.
Nevertheless, this weight is optimal, which is why the device cannot be knocked off the desk.
Moreover, the device has a well-fixed lining made of soft fabric. It means you can shift the mic tripod over the table without making noise or damaging the surface.
It is possible to set the size of the stand from 10.6 inches to 15.4 inches. You should fasten a special screw so that the size remains appropriate for you. This is the most reliable way to fix the microphone stand tripod.
Also, the device provides a metal 5/8″ to 3/8″ adapter. This fact gives you a chance to choose almost all modern microphones to work or stream.
Advantages:
This is a portable stand that is convenient to take on a trip.
The stand is made from durable material.
The tripod is attached with a screw.
Drawbacks:
Customers complain that there is no manual in the kit.
You may also like: 9 Best Microphones for Canon Camera
BILIONE Upgraded Desktop Microphone Stand
This is a multifunctional device for those people who prefer comfort while recording podcasts, videos, live broadcasts, or even their tracks.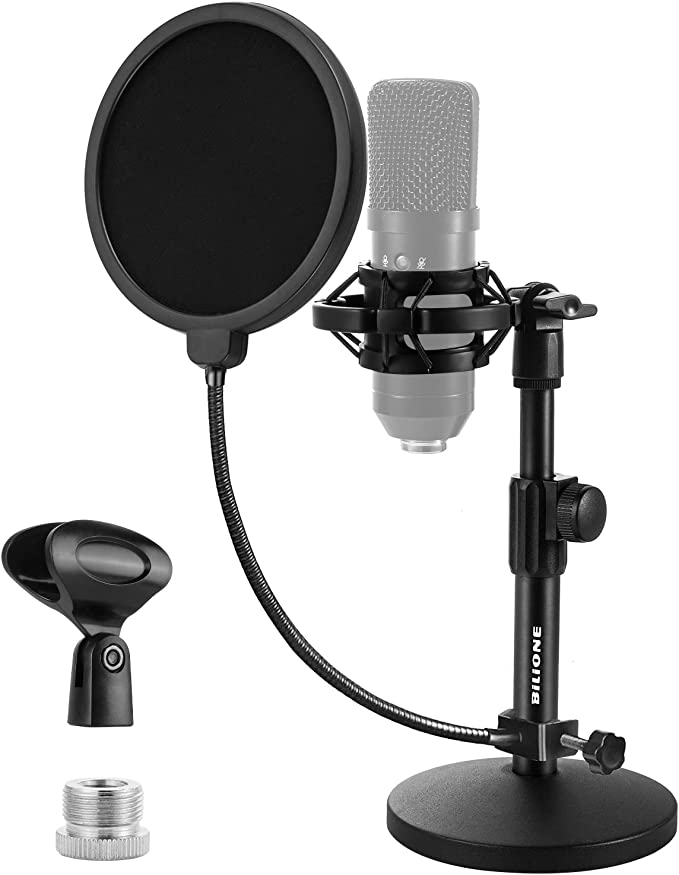 The stand weighs 1.5 pounds and has a special weighting at the base. This helps the device to hold heavy microphones safely and not fall.
At the same time, this is the optimal weight so that it is not difficult for you to carry the stand. It also has pads that protect your recordings from extraneous noise in case the stand moves across the table.
Moreover, the device has an additional element that allows you to get better and clearer recordings of your voice. This is a pop filter with two screens that engages undesirable sounds spoiling your podcast or video.
The holder is suitable for a microphone with a diameter from 1.77 to 2.05 inches. It protects your micro from all sides and you can be sure that your device will not drop and break.
Advantages:
The kit includes a two-layer pop filter.
There is a reliable screw adapter.
Drawbacks:
The stand is not stable enough with some microphones.
AOKEO AK-35 microphone arm stand
This tool is constructed from top-quality metal that will let you use this device for many years. This stand arm moves very smoothly, you can move it so that the microphone is in the most convenient position for you.
The microphone stand should be attached to the table so that it is fixed. This allows you to move the stand arm 360 grades.
It is possible to set a microphone weighing up to 65oz. Thus, almost any micro, such as Blue Snowball, Blue Yeti, and others, is suitable for use in conjunction with this tool.
What is more, the stand adapter easily detaches, and this way you just attach another one that holds your mic.
Advantages:
It is possible to use microphones weighing up to 0.65oz.
The stand arm can be turned in any direction.
Drawbacks:
This stand may be inconvenient to take with you on trips.
Moukey Desktop Mic Stand
This stand for your microphone has a special non-slip desktop clip that does not allow it to move over the table and distract you while working.
Also, the stand has a bottom that weighs 2.33 pounds and is 5.51 inches in diameter. In addition, special rubber pads are attached to the base. That is why this stand can save you from vibrations and also assure you of its reliability.
The mic stand size can be 12.6″ to 18.5″. Adjust this for your comfort! You have a possibility to fix the height using screws that are much more reliable than snap-on tripods.
By the way, 2.2 lbs are the maximum weight for your microphone to be installed on this stand. So you can be almost unlimited in choosing a micro to use.
Advantages:
There are special anti-slip pads on the table.
It is possible to adjust the height with a screw.
Drawbacks:
The stand is made from low-quality material.
You may also like: 9 Best Binaural Microphones
Mictop Desktop Mic Stand
This is a small, portative tripod stand for your device that will be an excellent choice for anyone who often hosts streams, or makes songs.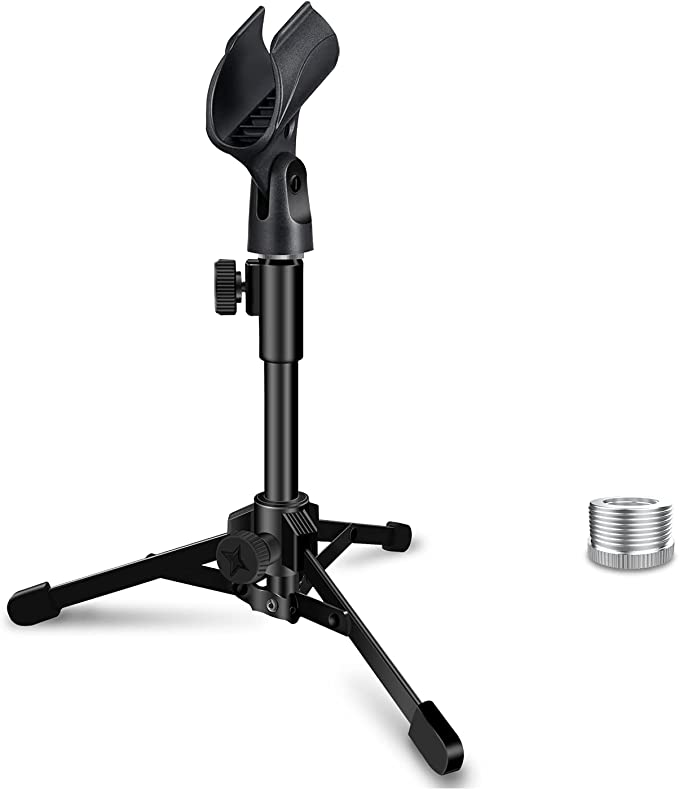 You can easily put this device in your bag and carry it with you to meetings, and at home, it does not take up much space.
In addition, this stand is appropriate for almost all dynamic microphones such as ATR2100-USB, AT2005USB, Samson Q2U, Behringer Xm8500, or Shure SM58-LC PGA48/PGA58.
You can change the size of the stand as the tripod has a size from 10.1 to 14.6in, which allows you to comfortably speak directly into the micro.
All three tripod legs have a non-slip surface and the entire device is made of high-quality material.
Advantages:
This is a high-quality reliable stand that is steady on the desk.
The stand is portable and you can place it in your bag without any problems.
Drawbacks:
Heavy microphones are not suitable for this desktop stand.
QuadCast Boom Arm Mic Stand
This is a stand that is installed on a table and lets you make recordings of your voice without being distracted by setting up a tripod.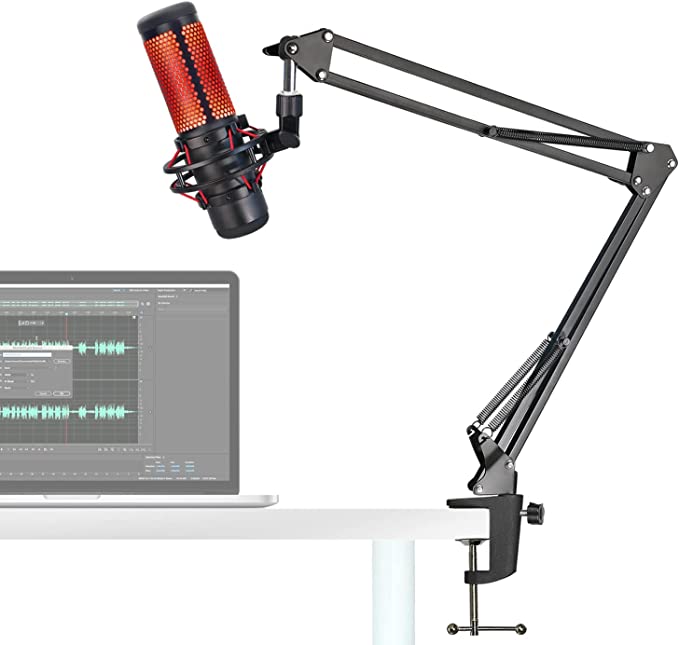 The mic will not fall because the holders and levers are specially enhanced in the arm stand.
The microphone holder may be changed from 3/8″ to 5/8″, and it also means you can find a device suitable for this size.
It is possible to fix a stand arm on a table up to 1.89″ thick. This piece of the tool has a special soft surface and does not damage the surface of your desktop.
The stand arm turns 360 degrees at the bottom and can be bent up to 180 degrees in the middle of the tripod. So you can set up the position of the stand as it suits you.
Advantages:
The stand does not damage the surface of the table.
There is a reliable mount for the microphone.
Drawbacks:
It is suitable for microphones with a maximum weight of 3.08 lbs.
You may also like: 9 Best Voiceover Microphones
ZealSound Microphone Stand
This microphone stand is attached to the table surface and therefore cannot be accidentally pushed by someone to the floor. It easily attaches to tables up to 2.4 inches thick, that is, to almost all standard desktops.
Unlike other arm stands, this one can be flexed anywhere. The fact is that a tripod with a length of 13 inches can take any shape you want. You can even try knotting it. Furthermore, it is made from duty aluminum alloy.
The mic stand has a 1.38-inch diameter clip. This size is fit for many small microphones.
However, there is an adapter in the set ranging in size from 3/8″ to 5/8″, which allows you to use other models of microphones. However, keep in mind that the stand can only hold 2 lbs.
Advantages:
You can adjust the flexible stand.
Drawbacks:
This stand is only suitable for microphones weighing up to 2.2 lbs.
FAQ for Microphone Stands for Desk Buyers:
How do I choose a microphone stand for my desk?
When choosing a microphone stand for your desk, there are some important factors to consider.
First, you'll want to make sure the stand is sturdy enough to hold up your microphone. If you're using a condenser or dynamic mic, something with at least three legs is recommended; if you're using an omnidirectional mic, you may need up to five legs for support. You'll also want to make sure the stand can be adjusted to the right height and angle for your voice and recording setup.
Finally, think about how much room you have on your desk; a shorter microphone stand is a better option if space is a #1 priority.
What are the benefits of using a microphone stand?
Using a microphone stand has several benefits. It helps reduce background noise and echoes, as the microphone is held at a consistent distance from your mouth. Additionally, it offers more stability than hand-held mics, which can be affected by sudden movements or vibrations.
With the right kind of stand, you can adjust the height and angle of the mic to better capture your voice. This can be especially helpful when recording live audio or podcasts.
How do I know if a microphone stand is compatible with my desk?
The first step is to check the size and weight of your microphone. This will give you an idea of what kind of stand you'll need for your setup. Some stands may be adjustable, allowing them to fit any size mic or desk space. If not, look for a stand that offers enough clearance for both the mic and any items on your desk.
Lastly, make sure the stand is compatible with the type of microphone you're using. Some stands are designed for specific models or brands, so double-check before making your purchase.
How do I install a microphone stand on my desk?
Before you begin, make sure to read the instructions that come with your stand. The installation process will vary based on the type of stand and microphone you're using.
Once you've determined how to attach the stand to your desk, secure it in place by tightening all screws or clamps. Then adjust it so that it is level with your work surface and the microphone is at the optimal height. Make sure to double-check that everything is securely fastened before starting any recording.