Recording bass can be tricky – it is different from recording acoustic guitar or piano, which is why there is special gear for each occasion. If you are looking for a microphone that can record low frequencies and embrace even the loudest sounds, then you'll be glad to discover the options below.
And for the voice recordings, we recommend to use the voiceover microphones. 
Product
Details


Heil Sound PR40

the shock mount is perfect for the mic;

the build quality is superb;

the sound is warm and doesn't pick up much background noise;

plugging it into a mixer or soundboard really makes this mic shine;


Shure BETA 52A

pulls out the rich, deep tones that on overhead mic can't capture;

more gain throughout the expected frequency range;

ideal for kick drum and bass guitar;

Shure SM-57

 

durable and  small;

the sound quality st good and works well with my existing mixer setup;

it's focusing on the singer and not the room: don't pickup sound from behind/beside it, receives sound only about 70 degrees on axis in the front;
---
1. Heil Sound PR40 Dynamic Cardioid Studio Microphone
Price: $$$
This Heil microphone produced in the USA might be unknown to you which is a pity because this is a very good microphone. Heil Sound PR40 is actually a vocal mic which is frequently used for broadcasting and podcasting. However, there are many other areas of applications for the item including recording bass guitar.
How can it be good both at capturing voice and recording dull bass sounds? All is due to the deep bass response that can deal well with sounds of different frequencies. By the way, the frequency response of this mic is unusually wide for a dynamic microphone. This also contributes to smoothness and wide applicability.
Among other features, it is worth mentioning high SPL (sound pressure level). The microphone can record even the loudest sounds in a decent manner. There are internal and external shock mounts that prevent all the noises from entering the recording. All in all, if you want an all-around great microphone that can be used not just for bass recording but also for other purposes, take a look at this model.
Key features:
dynamic;
cardioid polar pattern;
28 Hz – 18 kHz frequency response;
deep bass response;
high SPL;
made in the USA.
You may also like: Best boundary microphones
2. Shure SM57
Price: $
Shure SM57 is an industry standard among instrument microphones. It is definitely one of the Shure best microphones. The mic can be used both for live performances and recording. It can record bass, drums, guitar, vocals, and many more. The rugged construction which is characteristic of all the Shure mics will withstand any nasty weather conditions or other unpleasant circumstances.
The great thing about this microphone is the price. For less than a hundred bucks, you can acquire a great piece of equipment that might become indispensable for your studio recording. The mic has high SPL which makes it amazing in dealing with low-frequency sounds. The fact that it is dynamic is also an advantage. Dynamic mics, in general, are more suitable for recording bass guitars. This is not to say that they are more reliable and can be used in many various circumstances.
In sum, if you want an inexpensive microphone for recording musical instruments, this is an option you should definitely take into consideration.
Key features:
dynamic;
cardioid polar pattern;
frequency response tailored for instrumental reproduction & vocal pick-up;
40 Hz – 15 kHz;
rugged construction.
3.
Shure BETA 52A Supercardioid Dynamic Kick Drum Microphone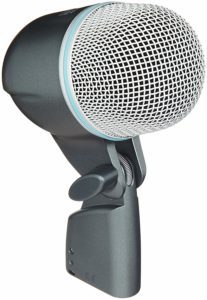 Price: $$
This Shure mic is one of the BETA series microphones made for the real professionals. It is great both at recording drums and bass. The characteristics of the mic are no different from the ones of other good bass microphones. The SPL is high. The frequency response is made in such a way so that low frequencies were given enough attention. The mic is resistant to wear and tear.
In general, this is a very good microphone for recording a bass guitar. The shape of it might seem strange but this is actually a common shape when it comes to recording such instruments as kick, drums, etc. If you want a special microphone for low-frequency sounds, don't miss this option!
Key features:
dynamic;
supercardioid polar pattern;
low sensitivity to loud noises;

frequency response shaped for kick drums and bass;

rugged construction.
Shure Beta52A is an ideal microphone for drum and bass recording. Originally the microphone was created for recording
4.
AKG D112 MkII Professional Bass Drum Microphone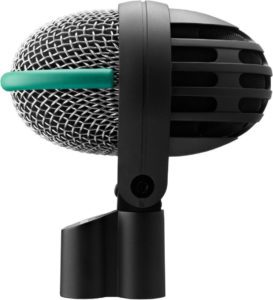 Price: $$
This mic has long been an industry standard for recording bass and drums. It still is. AKG D112 can deal with loud sounds and low frequencies quite impressively. The sound you get with this mic is deep and smooth, unique in its nature.
The mic has been given five stars on Amazon which screams good quality. All the reviews are positive, stating that this is the best microphone ever for recording drums and bass. If you want to buy an item checked by time, you must regard this option!
Key features:
supercardioid polar pattern;
20 to 17000 Hz frequency response;
hum-compensation coil;
high SPL capability;
rugged construction.
5. Sennheiser E602 II Cardioid Instrument Microphone
Price: $$
Sennheiser E602 II is a dynamic microphone with an extended bass range. It is suitable for dealing with such instruments as bass drums, bass guitar cabs, tubas, and more. The mic features a lightweight aluminum body. It looks stylish and minimalistic. There is a special mount at the end of the mic which makes setting the whole thing up a lot easier.
The sound produced by this mic is warm and deep. It is quite dynamic and most importantly pleasant to the ear. Just like in the case before, there are reviewers who call this mic the best ever for recording bass. Most of the time there can be subtle differences between all of these models so it is really up to your taste.
It is worth saying that the Sennheiser e600 series is known for being perfect at rejecting off-axis noises. The model is relatively new so if you haven't heard about it before, it is worth checking it out. Who knows? Maybe, it will be the one for you.
Key features:
dynamic;
cardioid polar pattern;
155 dB SPL;
low handling noise;
high feedback rejection.
You may also like: Best Rode microphones
6. Audix D6 Dynamic Microphone
Price: $$
Audix D6 is another bass microphone that is perfect for recording kick drum, floor toms, bass cabs. An electric bass guitar will do very well with it. Everything's due to the fact that the microphone is able to record low ends with clarity. If you want a natural sound then this is an option to consider.
Many customers say that the sound you get with this microphone is a lot more interesting than the one produced by Shure or other popular mics. It is quite unique so it is better to try it out before making the decision. Actually, this applies to all the microphones, however, sometimes we need to trust the reviews and our intuition.
The mic is tiny – it can be unnoticeable during performances, which is certainly an advantage. If you want a realistic reproduction of your bass sounds, then this is a great mic for you.
Key features:
dynamic;
cardioid polar pattern;
30 Hz – 15 kHz frequency response;
high SPL capability (144 dB);
made in the USA.
7. Electro Voice RE-20 Cardioid Microphone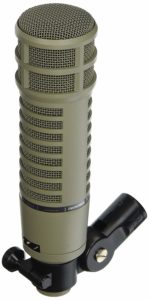 Price: $$$
This is one more so-called industry standard. Electro Voice RE-20 is a very popular microphone applied in many different areas. The mic can be used for recording vocals, guitar amps, snare, toms, and others. Simply put, this is a universal dynamic microphone applied in all the existing situations.
The mic has a rugged construction. Due to the unique design, it can minimize the proximity effect to the point when it becomes virtually non-existent. Flat frequency response can be great in many applications. There is a bass roll-off so in case you intend to use the mic for broadcasting or let's say vocals, you can eliminate unwanted noises.
The sound quality you get with this 'working horse' is impeccable. And you can be sure that the microphone will serve you for a long time. All in all, this is a great choice.
Key features:
dynamic;
cardioid polar pattern;
internal pop filter;
bass roll-off switch;
45Hz-18kHz frequency response;
low proximity effect.
---
Conclusion
Hopefully, now you know what to look for while choosing a mic for recording bass guitars. Of course, there are other options but we've tried to embrace the best of them. What makes a great bass mic? Firstly, it is an ability to capture low-frequency sounds clearly and, secondly, it is a high SPL capability. So now you know the herbs for the potion, it is time to make the magic work!
If you are still a newbie in recording, watch this video to learn the basics: