DSLR cameras are a great invention! They let many people around the world shoot videos of excellent quality, practically indistinguishable from the ones created by professional filmmakers. And yet, there is always space for improvement.
Audio is no less important than video and in some situations, it is really worth upgrading its quality.
If you are in one of such situations, then continue reading! Below, there is a list of shotgun microphones used with cameras, one of which may turn out to be your game-changer. And in case you also have an Android device you can check out the best microphones for Android.
Product
Details


Deity V-Mic D3 Pro

the stepless gain knob allows for a crisp sound;

sounds good and connects quickly to any device;

s

turdy mount, perfect to directly put in on top of the camera;

easy to switch between camera, phone or handheld recorder;

the dial is easy to micro adjust the levels and it has two levels of filtering;


Sennheiser MKE 440





stereo separation;

having more control over the gate and gain;

pretty good sound quality, rejecting sounds and noise from its sides and behind it;

long battery life;

functional shock absorber;

Rode VideoMicro 

the housing is all metal, it has a very solid feel;

uses your camera's plug-inpower instead of batteries;

has a great wind screen;

pretty decent directionally, doesn't pick up a lot of sound from behind the camera;
---
1
. Deity V-Mic D3 Pro Super-Cardioid Directional Shotgun Microphone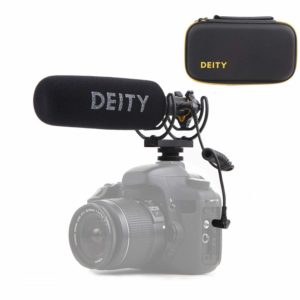 Price: $$
This Deity microphone is considered to be one of the best when it comes to video shooting. The mic, however, does not only work with cameras of various kinds – it is also compatible with smartphones, tablets, laptops, and lots of other devices.
It features a TRS/TRRS output which can be added with an adapter. The result is perfect compatibility with the majority of the devices out there.
The sound quality of this one has been continuously discussed both by YouTubers and experts. Many regard this microphone as superior to the Rode VideoMic which is the most popular model – we'll talk about it later.
The outcome is crisp and clear. There are not so many lows, which makes the recordings sharper and more accurate.
The weight of this one is 143 g. For some, it is rather small while for others it can be a problem. The mic is made of aluminum which increases its durability.
The Rycote Duo-Lyre shock mount that comes with the mic is also quite stable and durable. As for power sources, Deity uses a rechargeable lithium battery that can operate for up to 50 hours.
Just like other shotgun mics, this one has a supercardioid polar pattern which is very directional – it will capture the sounds that mostly come from the front and not from the sides or from the back.
In general, the mic is perfect for shooting movies or clips. And its price is more than rational. Check it out yourself.
You may also like: 11 Best Microphones for Your iPad
2. Sennheiser MKE 440 Professional Stereo Shotgun Microphone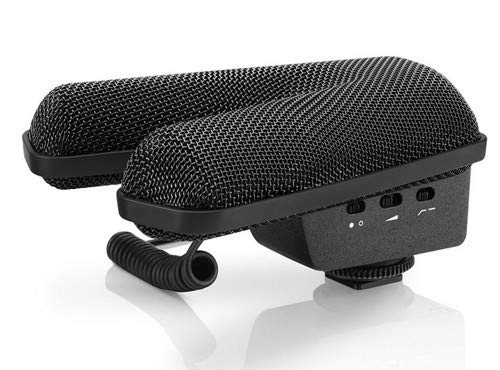 Price: $$
Sennheiser MKE 440 is a great directional mic that also comes with a nice price. In fact, there are two microphones for getting stereo output.
This mic will definitely perform much better than its competitors at music recording and other activities that are better captured 'in the volume'.
The directionality makes sure that there are no background noises in the recordings. But not only directionality – there are three sensitivity and low-cut filters that help you regulate sound recording adjusting it to various environments.
In order to function this mic needs AAA batteries. The size of the microphone is relatively small and the looks are gorgeous. If you need a stereo microphone, this is a great choice!
3.
Sennheiser MKE 400 Shotgun Microphone
Price: $$
Sennheiser MKE 400 is slightly different from the model above. Obviously, it is from the same series, however, there is a number of peculiarities.
First of all, this mic produces mono output, not stereo. If you need to record interviews, lectures, or other materials that mostly involve speaking, then this option is quite alright for you.
The sound quality is great. It is different from MKE 440 but it is still good and unique.
Just like MKE 440, this model has a switchable sensitivity which can be very useful if you tend to record in various types of environments. You need one AAA battery to power this mic. The power can be on for 300 hours, which is a really long time.
As for the construction, it is metal and durable – just like the shock mount. The shock mount is resistant to handling noise so don't worry about touching or turning something.
All in all, this mic is a great option that can't be omitted. It falls within the same price category as the first option on this list, however, it is in no way worse than it. Plus, the size is rather small, which allows you to take the mic with you wherever you go!
4. Shure VP83F LensHopper Camera-Mounted Condenser Microphone
Price: $$$
Shure VP83F is an awesome microphone for your video camera! It has so many great features and amazing quality.
To start with, the mic is, of course, unidirectional. It is not that big, however, it is not that small either. The microphone works perfectly well with DSLR, GoPro, and other recording devices.
If you want to have some kind of backup, prepare your memory stick – the mic can record sound on a MicroSD (up to 32 GB).
There is a model that comes without flash recording – it is considerably cheaper because of that – so you can decide for yourself which one fits you better both in terms of functionality and in terms of budget.
This one has a small LSD screen that shows the operating status. What's more, there are lots of useful buttons that let you control the recording quickly and easily.
If you'd like to monitor what you are recording in real-time, you can plug your earphones in and listen.
Thanks to RF immunity and a low-cut filter, the microphone is able to produce pristine recordings without humming or other background noises.
A wide frequency range helps to create a natural and balanced output. Works with two AA-type batteries. To put it in a nutshell, you must check this option out! It is really one of the best.
5. Azden SMX-15 Powered Shotgun Video Microphone
Price: $$
Azden microphone is another popular directional mic that works well with DSLR cameras. The microphone is rather compact, although it is not too small. The sound quality is great.
There are excellent noise rejection and high sensitivity. Plus, a wide frequency response adds up to the harmonious sound.
You can cut lows and make other adjustments in order to reach the best sound.
There is also one more version of this model that can produce both mono and stereo sound. It is a bit more expensive, however, it offers a wider variety of options for recording. Both models work on a couple of AA batteries that can last up to 10-15 hours. The quality of the recording doesn't get worse as the batteries start draining.
This mic has already received lots of positive reviews. Who knows? Maybe yours will be the next one. In any case, the quality-price ratio and other cool factors about this model make it well worth consideration.
6. Rode VideoMic Pro+ Compact Directional On-Camera Shotgun Condenser Microphone
Price: $$$
Rode VideoMic Pro+ is probably the most popular choice when it comes to microphones for DSLR cameras.
So, why is it not on top of our list? Well, there is a rumor that the microphones that come before it are actually better.
Rode is, of course, an amazing company that has pioneered great items, however, in our age and time, many brands quickly catch up and start producing the same quality gear, only at a lower price. The times are a' changing, as one poet said.
Still, this RodeMic Pro+ is really cool. It looks quite cool. And it sounds really cool. Just like all the other microphones on this list, this model has a supercardioid polar pattern (should I even mention that).
Thanks to a high-pass filter and some other regulations, you can adjust the mic to the particular environment you're filming it. By the way, VideoMic Pro+ is different from VideoMicPro in that it has buttons behind it.
These buttons are used for turning on and off various filters as well as the mic itself. What's not to like?
The shock mount of this one is Rycote Lyre. Most other mics on our list have it too. This shock mount prevents handling noise from entering the recording. The one that comes with this mic is quite stable – you can be sure it won't let you down.
There are three ways how you can charge this microphone – rechargeable lithium Rode battery (that comes together with the mic), 2 AA batteries (the most common types – you can find them everywhere), and Micro USB input (with which you can charge the rechargeable battery).
Finally, sound quality. Here, the sound is a bit voluminous, so to say. Some prefer it this way while others are up for more sharpness. The volume can be explained by the fact that the mic has a wide frequency response.
Of course, you can try to make certain regulations to avoid the effect as if you were speaking to a bucket. In some environments, however, Rode beats other mics. Well, there are reasons why it is so popular!
These reasons though should never be enough for us to exclude all the options and blindly go for what is hyped.
You may also like: 11 Best Microphones for Interviews
7. Rode VideoMicPro Compact Directional On-Camera Microphone
Price: $$
If you want Rode but you want it cheap, then this option is more suitable for you than the previous one. It also has a Rycote Lyre shock mount that is great at handling handling noise.
The frequency response is the same as well as many other features, so in order not to waste time let's mark the differences.
First of all, this mic is smaller than its friend above. For many people, this can be a crucial advantage. If you travel a lot and like to make videos in other places, then the size might be of somewhat importance to you.
Secondly, there is no high-pass filter and you haven't got the ability to regulate certain parameters on the mic. There are some buttons behind it, of course, but not the whole interface as it were in the previous case.
Well, the sound quality is great. After all, the Rode mics are famous for that. You will probably find lots of good reviews and positive feedback.
In sum, this is a great option to consider – despite the fact that the microphone is missing some of the features the newer model has, it wins in terms of the price-quality ratio. If you have to tighten the belt, it is better to give preference to this Rode mic.
8.
Rode VideoMicro Compact On-Camera Microphone
Price: $
And yet another Rode microphone on our list. This time it is the Rode VideoMicro. Micro is because the microphone is really small. Well, at least it is smaller than all the options enumerated above.
The 'above' options were mostly suitable for high-end cameras – of course, you can use them with various models but given the price and the characteristics, those were the mics for serious stuff.
However, what if you don't really want anything serious? Well, then there's a cheaper and more beneficial solution for you!
This Rode mic is directional, compact, and lightweight. It is able to produce good-quality recordings, but don't expect it to be professional in any capacity. Sure, it is pretty good (and damn popular), but the difference between your camera's mic and this one is not that big.
The microphone comes with a Lyre suspension system to block the noise and a windscreen to use in severe weather conditions.
If it is the first time you're buying a microphone for your camera and you want to see how it goes, try this option! It won't hurt your wallet and at the same time may turn out to be quite useful.
---
Conclusion
To wrap up, there are many shotgun microphones for DSLR cameras. Some are made specially for high-end DSLRs, others can be used with anything.
Most of the mics can work with any camera, which is quite logical given the fact that there are not so many different inputs in the world.
We hope our picks will guide you through the world of camera microphones and you will make a really worthwhile purchase! Mind the size and mind the price. The quality – we took care of it.
---
F.A.Q.

for DLSR camera microphone buyers

Q: Can I use other types of microphones with my DSLR camera?

Sure, you can use many other types of microphones with your DSLR. Shotgun is just the most popular choice among them.

You can also look for lavalier microphones, handheld microphones, headset ones, and many others. It all depends on your purpose and your preferences.

Q: Do all the shotgun microphones come with windscreens? Do I need to use them all the time?

Most shotgun microphones come with windscreens, yes.

There are different kinds of them too – basic and 'dead cat' or fluffy ones. Some companies include both of them. It doesn't mean though that you should use a windscreen all the time.

You can check the sound of the recording with and without it and then decide which one you like better. Nevertheless, we recommend you using a windscreen. Not only does it reduce the noises but it also helps you to prolong the life of your microphone.