Headset microphones, microphones over-the-ear, head-worn microphones… The gist is all the same. You are looking for a microphone that you can wear near your mouth, right?
We've selected ten popular options and put them in decreasing order – starting with the most expensive ones and ending with the least expensive ones. Check them out and find the one! 
And for those who don't like over the ear microphones and want to have a classic microphone for events, we recommend to check out this article.
Product
Details


Sennheiser EW 100-ME3

robust in construction;
crisp and clear in the vocal pickup;
extremely reliable in the field and studio;
the metal backside clip is extremely strong to remain clipped on a belt or waistline;


Countryman E6 Omni Earset 

excellent audio response;

great sound and awesome levels;

three sensitivity options for all use ranges;

ultra miniature;

Av-jefe Vl630-h4p

has a rich sound for its price;

super light and comfortable;

very good feedback control and frequency response;
---
1. Sennheiser EW 100-ME3 Wireless Cardioid Headset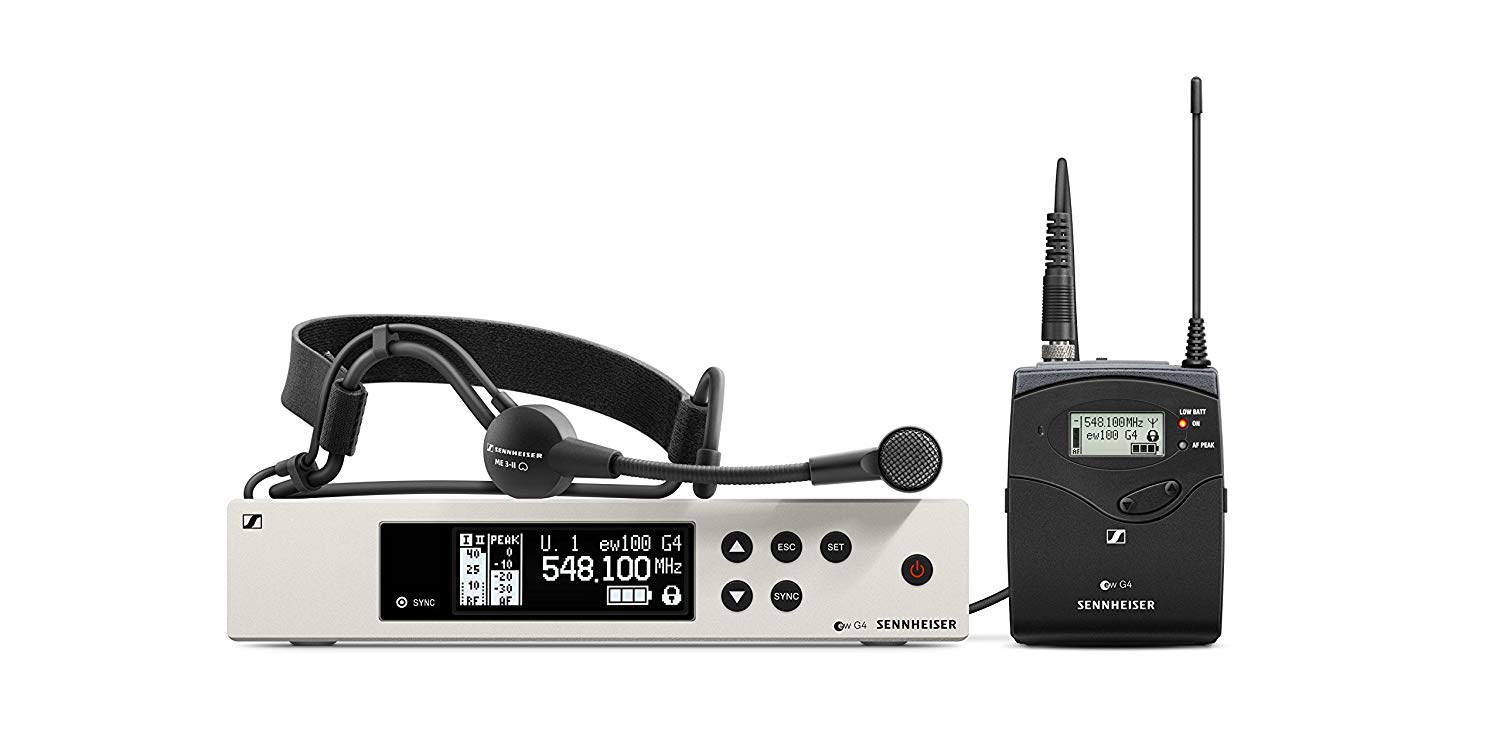 Price: $$$
Sennheiser EW 100ME3 is a wireless system that includes a headset microphone. Sennheiser has a whole series of wireless systems – each one comes with a certain type of mic, e.g. handheld, lavalier.
Here, the head-worn microphone looks quite massive – you won't be able to elusively hide it behind your ear. However, it is able to produce super clear sound and that is what's most important.
The system consists of a receiver, a transmitter, and a microphone. The receiver has a display that reflects all the necessary information about the operating status.
The transmitter has a convenient mute button that you can use to turn the mic on and off without referring to the receiver.
In fact, there are two kinds of transmitters in the package – handheld and bodypack. Depending on your situation, you can choose the one that fits you best. The maximum distance between the receiver and the transmitter can be up to 100 meters.
Finally, a couple of words about the microphone. It has a cardioid polar pattern which is great in case you need to eliminate background noises.
There is a flexible frequency range, which makes the mic suitable for various sound sources. All in all, quality is seen in many details. Sennheiser is respected for that. If you want really good gear, consider this option.
You may also like: 12 Best Voice Over Microphones
2. Sennheiser EW 152 G3-A-US headset EW system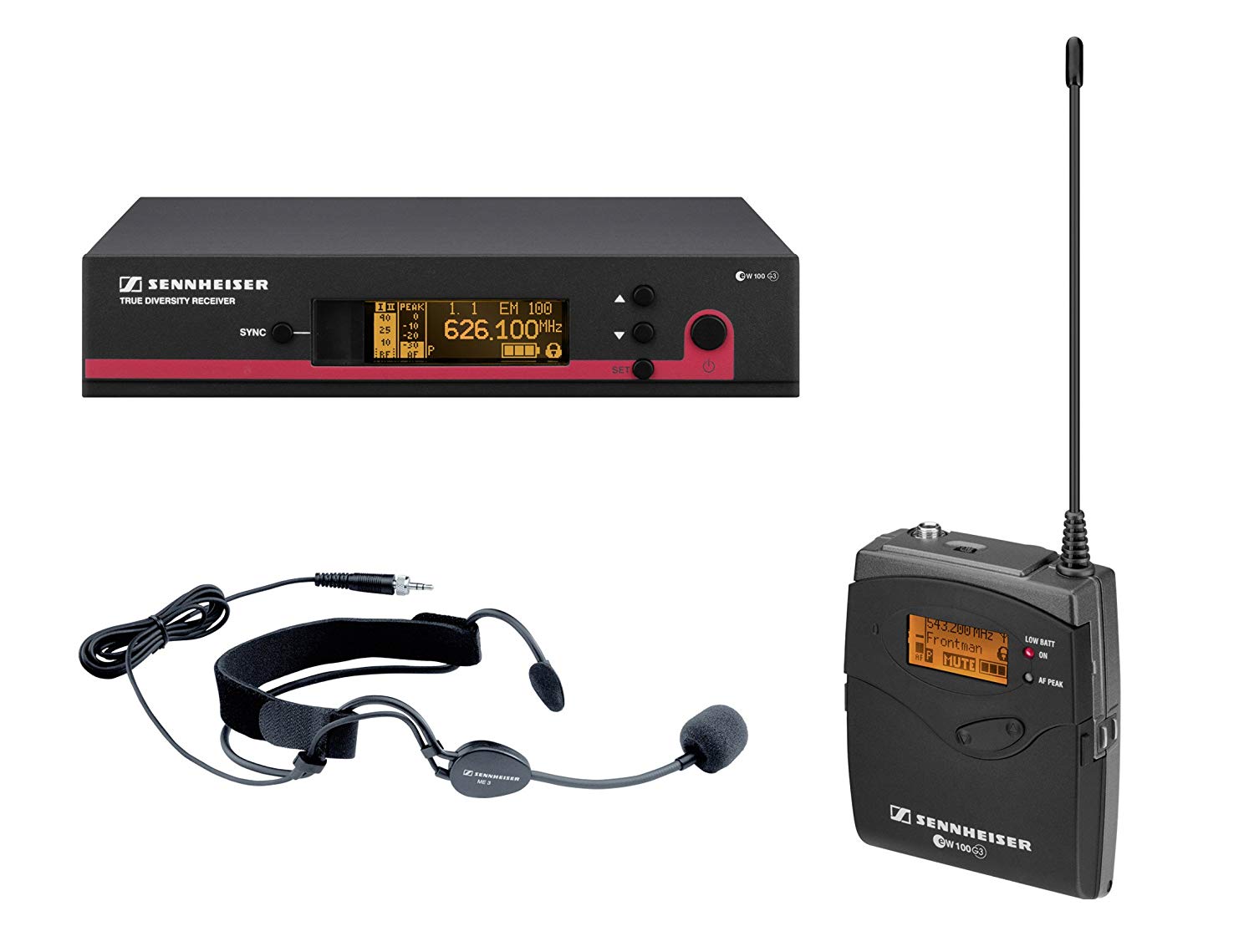 Price: $$$
Old but gold. Yet, another Sennheiser mic is on our list. This one is quite similar to the option above, although there are some insufficient differences. First of all, the looks of this system are not the same.
Here, we can see a somewhat older design which can be explained by the fact that the model appeared in 2004. The previous model, in contrast, appeared in 2018, and is pretty modern.
The number of frequencies this Sennheiser includes is 12. Although the mic still has an excellent capability to hop between frequencies in order to obtain the best sound. The system has a rechargeable battery that you can use when needed.
The mic's capsule is super-cardioid, which is even better at handling side noises. Besides, there is a pop shield that can be used in extremely noisy surroundings or just in case a one wants to get rid of plosives.
Upon the whole, this is one more great option that is very similar to the first model both in functionality and price.
3. Countryman E6 Omni Earset – Sennheiser
Price: $$
Previously, we were reviewing wireless systems that include all that is needed for a headworn mic to function – a transmitter, a receiver, and the mic itself. However, sometimes you can come across options that are just microphones.
The sellers assume that you already have a receiver and a transmitter and therefore offer this one missing element. This is the case with this product.
Countryman E6 is a very popular option when it comes to headset microphones. It can produce crystal clear sounds without too much noise.
If you are looking for a model that can perfectly convey your voice (and even maybe beautify it a little bit), this is an excellent model to go with.
The price of it is rather daunting given the fact that there is no additional hardware, however, the microphone is considered to be the industry's golden standard, so you really get what you're paying for.
What's important is compatibility. This mic is compatible with all the Sennheiser transmitters that belong to the Evolution series. To find out the exact versions, check the Amazon link down below.
As for the rest, this mic is really cool, it can be used both for speaking and vocals. The color is neutral – tan – it is hard to notice at first glance. A very thoughtful choice!
4. Audio Technica Microset Omni Condenser Headworn Microphone in Beige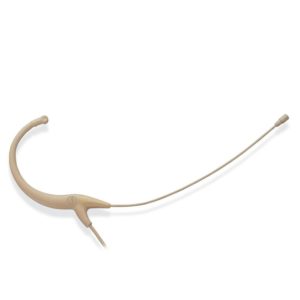 Price: $$
If the previous headworn mic is compatible with Sennheiser transmitters (some of them), this one is compatible with Audio-Technica ones.
It has a 4-pin connector, so mind that while deciding whether the mic suits your wireless system.
The microphone has great quality. It is condenser and omnidirectional, which means that it catches sound from all sides.
The sound it produces is crisp and clear, without any interference. Apart from the microphone itself, the package includes a windscreen, a cable, and a cable clip, so basically all that's needed.
So, if you need a neutral Audio-Technica mic that can replace the one that's broken or improve the overall quality of your performance, check out this option! It is a 5-star choice, don't miss it.
5. Audio-Technica ATW-2192AI-TH 2000 Series Wireless Headworn Microphone System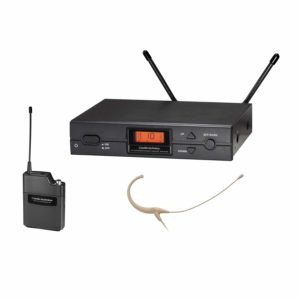 Price: $$$
In case you don't have a wireless system, you need to buy one.
This Audio-Technica system is perfectly compatible with the mic above, although it comes with its own mic, so you don't need to buy any additional equipment here.
However, if the included AT mic breaks down, you'll know what to do! It is unlikely, of course, since the quality is good, but you never know, right? Just don't forget to contact the seller first.
The body of the transmitter, as well as the body of the receiver, is made out of plastic, however, it doesn't mean poorer quality. It is just some people prefer other materials, such as aluminum or other metals.
The receiver has an LCD display that shows the operating status. The microphone itself is omnidirectional. Actually, it is no different from the option above that is sold separately.
Even the looks are the same. Here, you can choose between black and beige colors – the most popular options among headworn microphones.
Finally, there are 10 switchable frequency channels. Just like the systems above, this one can choose the right frequencies automatically in order to get the best output. To wrap up, this AT model is no worse than its competitors and definitely worth consideration!
6. Av-jefe Vl630-h4p Tan Headset Microphone for Audio Technica Wireless Microphone System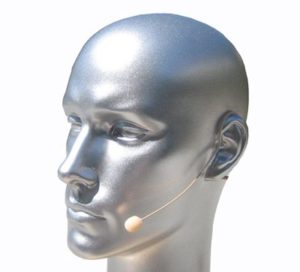 Price: $
This is one more mic for Audio Technica transmitters that comes separately. The mic is compatible not just with AT equipment – you can use it with Sennheiser transmitters and other ones as well. The key is to be able to use a 4-pin connector.
The microphone's capsule is condenser and omnidirectional. The mic is bendable – you can adjust it in the manner you prefer most. The most appropriate position is usually at the corner of your smile.
There are several colors to choose from – apart from black and beige, you can find brown and even pink. As for the rest, this is a pretty basic microphone that is able to produce a high-quality outcome.
The main factor why it is worth consideration is probably the price. It is considerably cheaper than other versions. The difference is very noticeable. If you want to save up some money, give preference to this option.
7. Rode HS2-BL Lightweight Headset Condenser Microphone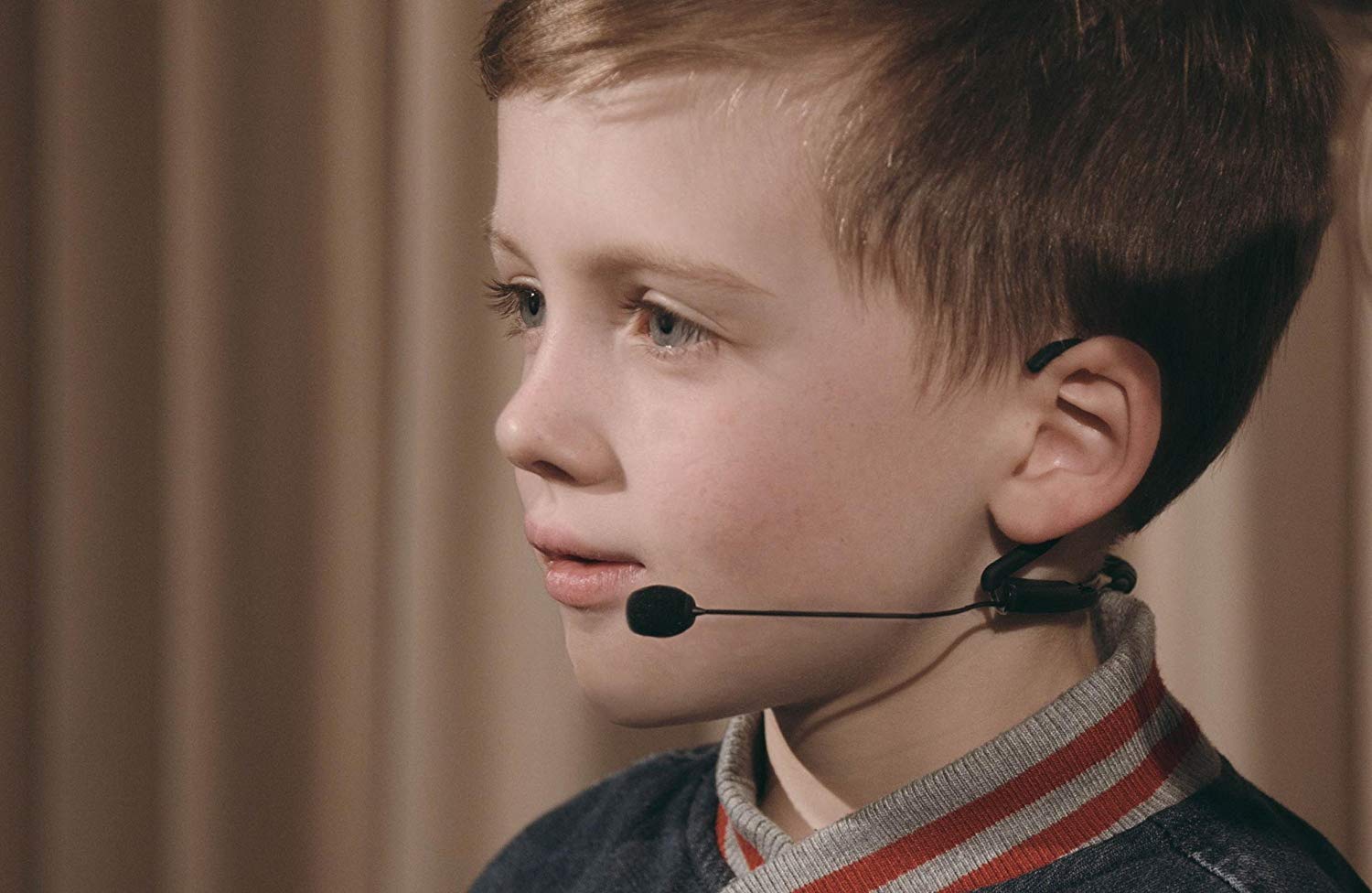 Price: $$
Pink or black? Large or small? These are the options offered by Rode. Of course, we couldn't compile this list without including a Rode model in it. This one is quite modern. It was released in 2016 and caught on quite quickly.
The advertising video is awesome but you might want to read some reviews before making your choice. In this particular case, we offer quite a limited description of the mic.
The sound quality is great. The design is ergonomic. The looks are stylish. So, there are lots of reasons why one would want to buy this model. The polar pattern here is omnidirectional which is, as we can see, quite common.
The most distinguishing feature of this microphone is probably that there is a smaller version made especially for children. So if you are buying a mic for your kid, you must take a look at this one!
You may also like: 7 Best Audio-Technica Microphones
8. Shure MX153T/O-TQG Omnidirectional Earset Headworn Microphone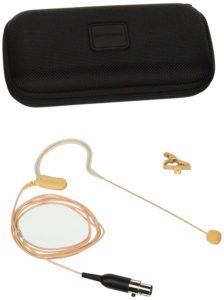 Price: $$
Speaking of head-worn mics without transmitters, this is one of them. This time by Shure. The microphone connects through a TQG / TA4F connector.
It is compatible basically with all of the Shure transmitters. If you want to use it with the transmitters made by other companies, you gotta make sure there is + 5 V DC.
The mic has a condenser omnidirectional capsule. It comes in three colors – tan, cocoa, and black.
Depending on the color of a speaker's skin, you can choose a mic that would be the most unnoticeable. Kevlar-reinforced cable that comes with this mic is made to last. The shipping package also includes such items as a collar clip, a carrying case, and 3 different windscreens.
The mic is quite flexible – you can bend it and shape it. As for the more substantial details, the sound quality is really good. Since there is a special technology that prevents radio interference from affecting the audio quality, the outcomes you get with this mic are pristine and precise.
All in all, this is a great choice for everyone who happens to have a Shure transmitter.
9. Shure SM35-TQG Wireless Performance Headset Condenser Microphone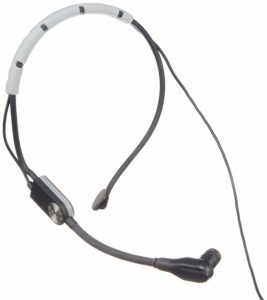 Price: $
This is yet one more microphone that comes without transmitters or receivers. This is just a mic. A very good one. But if you want it to function, you need to have some additional items.
A receiver, a transmitter, yes… But also a phantom power. Be careful – this one doesn't function without it.
The mic requires a transmitter that works with a TA4F (TQG) connector. Most Shure wireless systems have those.
As for the mic's features, it is extremely convenient. Probably it is less over the ear and more headset since you don't need to attach it behind your ears and use complicated techniques how to do so.
This is both advantageous and disadvantageous. The benefit is that you can be sure that the mic will be there no matter what you do, how you bend, etc.
Most fitness instructors prefer this type of mic since they are really hard to displace. The downside is that the mic cannot be used on a big stage – it is quite massive.
Despite looking massive, the microphone is lightweight and very comfortable to wear. The cardioid polar pattern ensures the exact capturing of the speaker's voice and not the sounds from the surroundings.
There are several windscreens in the shipping package that also prevent unnecessary noise from entering the recording. In a nutshell, this is a very practical high-quality mic. By the way, there is a wired version as well.
10. Shure BLX14/SM31 Headworn Wireless System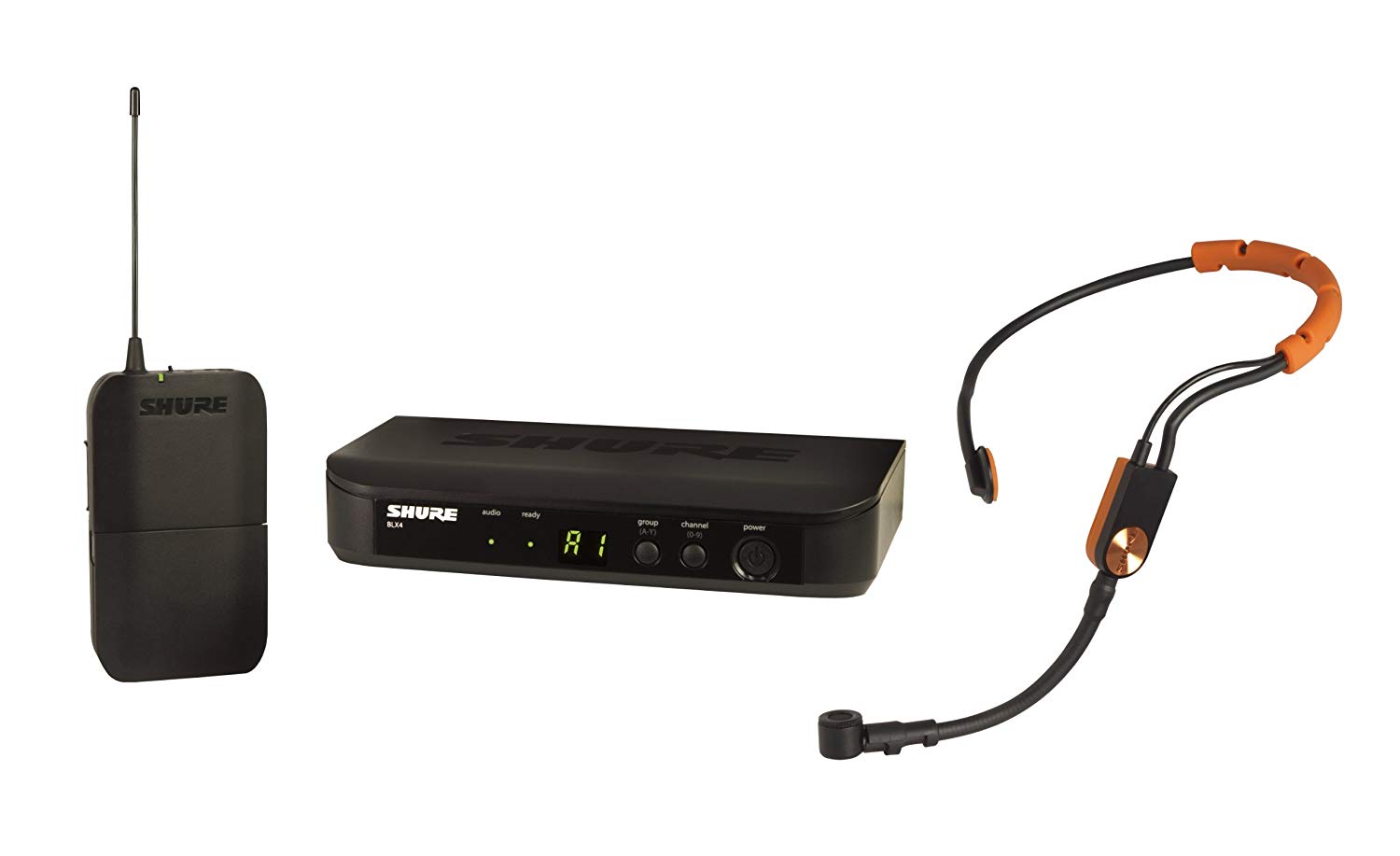 Price: $$
Once again, if you need the whole system, here it is. Shure head-worn wireless system. Unlike its Sennheiser and Audio Technica friends, it has a more budget price. The looks of the mic are not merely noticeable – they are noticeable. You won't be able to hide it but most of the time you don't really need it.
The mic is suitable not just for aerobics instructors but also for street singers and other performers. Its flexible neck can be adjusted however you like. The durable materials used for the mic's construction ensure long-lasting high-quality performance. What's more to wish?
As with any wireless system, this one has a receiver and a bodypack transmitter. There is also a power supply, a windscreen, and a clothing clip. In general, this is a great purchase – not so pricey but at the same time quite reliable.
If you are looking for the best price-quality ratio, this model might be the one. Check it out for more details!
11. Sujeetec Headset Microphone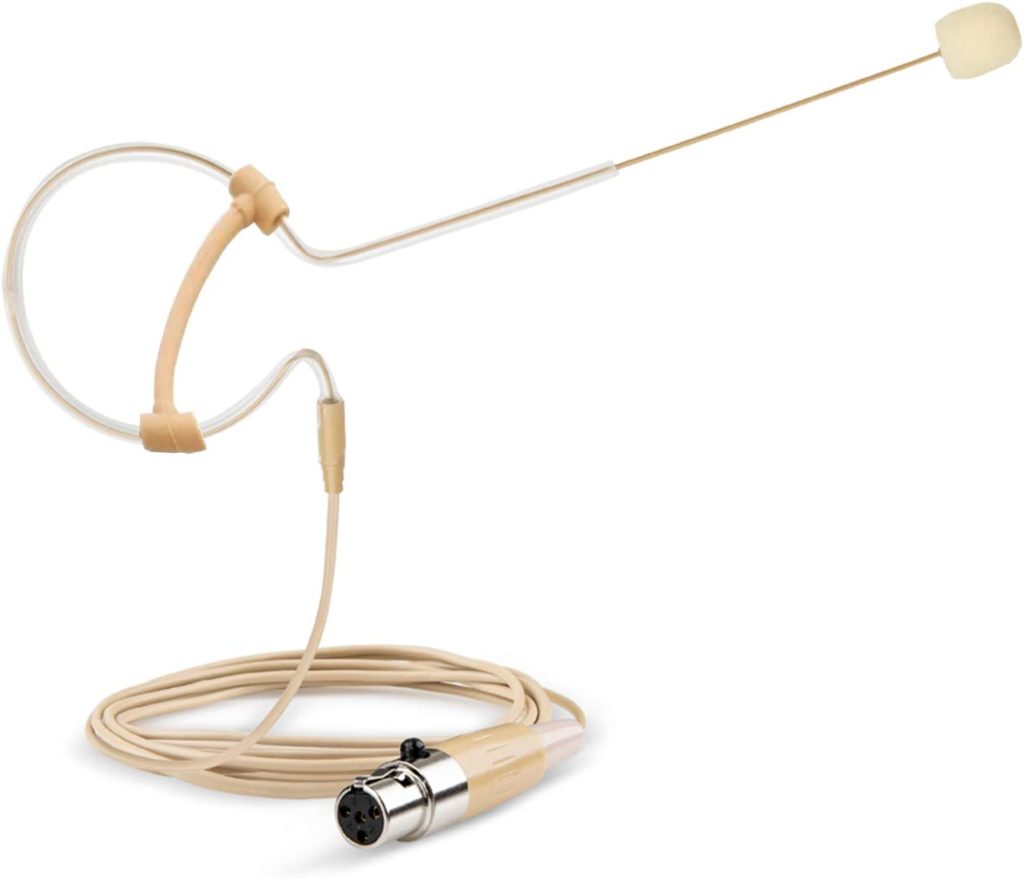 Price: $
This microphone looks stylish and elegant. It has a baby pink color and won't be that visible on the skin. In addition to that this model is quite lightweight which makes it really easy to carry around.
Overall, the manufacturer recommends using this microphone for singing. It has an XLR connector type so it's a professional mic rather than just a versatile all-purpose thing.
The sounds quality is decent and the pop-up filter helps to prevent plausive sounds while moving and singing into a microphone.
In addition to that, the sound is quite clear and the signal is stable so you can release all the worries about the technical part during the performance. All in all, this will be an ideal microphone not only to musicians, but also for TV presenters, lecturers and anyone who have to speak in front of the wide audience.
---
Conclusion
Thus, we've reviewed two kinds of products – wireless systems that come together with over the ear microphones and over the ear microphones. It is good to know that these mics are sold separately but if it is the first time you're buying a headworn microphone, you'll need the system. Most of the time good quality requires money, which is why most models are far from cheap, however, Shure demonstrates that there is always a middle way.
To end up with, we wish you to buy a mic that will satisfy your needs and last for a long time! No matter what you need a mic for – education purposes, presentations, big shows, work at houses of worship – the microphones described above are the best options to choose from.