Let's be honest. Embedded GoPro microphones suck! That's probably why you are here looking for an alternative. The right place to be. In this article, we discuss the microphones models recommended on the GoPro website as well as our own picks that are 100% compatible with GoPro cameras.
It's worth mentioning that not all of GoPro cameras tolerate external hardware, some simply don't support it – for example, HERO (2018), HERO (2014), and HERO+.
If you are lucky to have a camera that does support external mics and want to improve its sound quality, then go through the list below and see what is out there that you can acquire to do so.
And don't forget to check out the microphones compatible with Xbox!
Product
Details


Rode VideoMicro

 

does an excellent job of rejecting ambient sound;

very compact and durable;

the frequency response is notable, great lows and highs;

the clarity is crisp, the bass is balanced;

Shure VP83

perfect design, functionality, build and durability;

superior in natural sound, low cut filter engagement;

the built in shock mount works very well;

the low pass filter works great;

the battery life lasts so long;


Saramonic SR-XM1

 

 

has brilliant frequency response, clarity and a low noise floor;

gives very nice crisp audio;

has the ability to change the angle to focus the audio pick up;

great mic for GoPro, DSLR, and smartphone;

---
1. Rode VideoMicro Compact On-Camera Microphone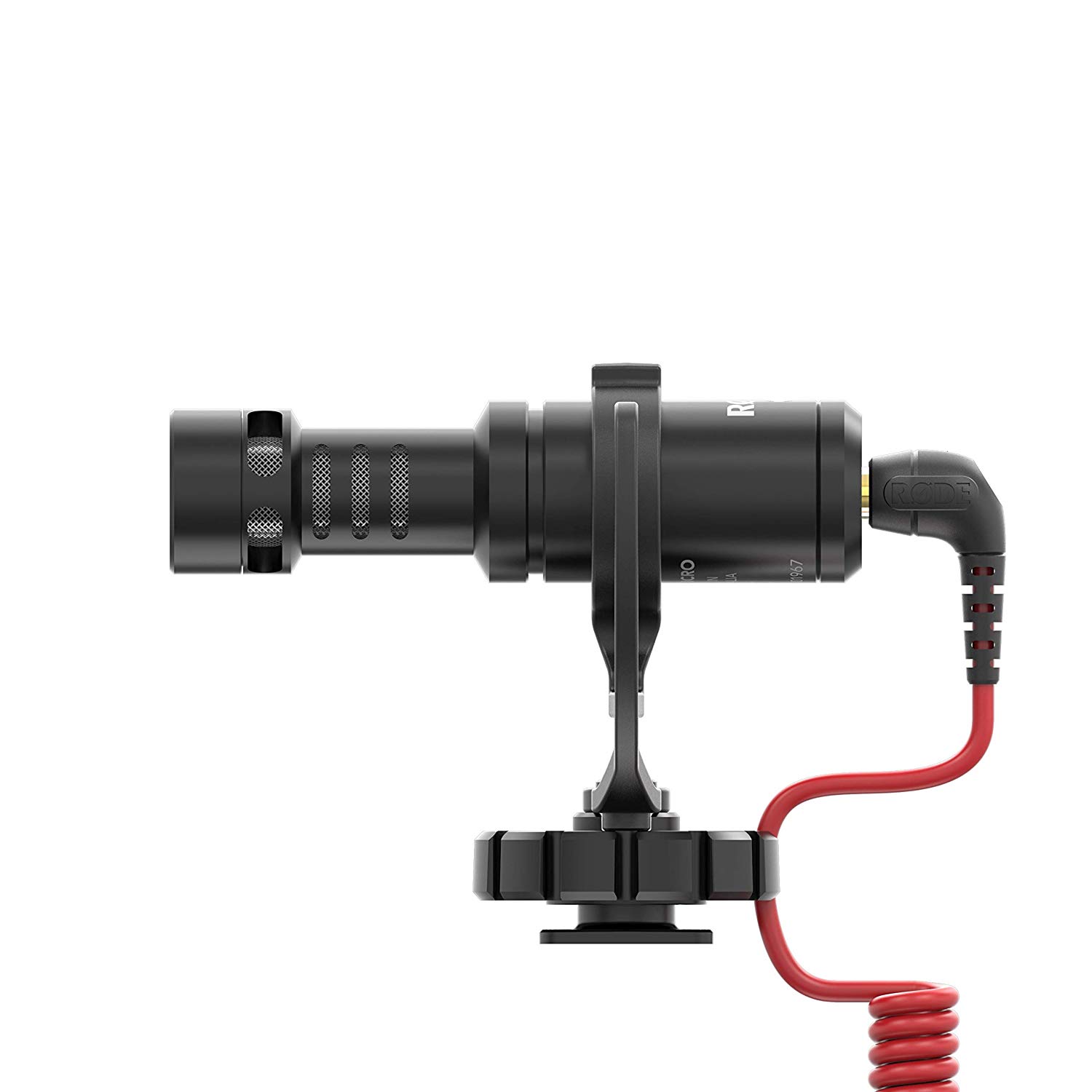 Price: $
Practically all the Rode mics are compatible with GoPro cameras. Those that are not compatible can be made so by buying an additional adapter.
In this case, though, you don't need an adapter – the microphone can be just plugged in and that's it. That old 'plug and play principle is in the game, which is obviously an advantage.
The microphone is specially made for use with different cameras including not just GoPro, but also camcorders, entry-level DSLRs, etc.
It is rather small in size and lightweight. Since GoPro cameras are usually used for vlogging and other outside activities, this is very convenient – no need to carry lots of additional weight.
The main feature of the mic though is that it is directional. Rode VideoMicro has a condenser cardioid capsule that captures the sound just from the front. It will ignore all the side noises and focus on your voice.
In terms of sound quality, the mic is not that great – it is good, that's for sure – but you won't get a professional sound just by plugging it in.
However, the directionality considerably improves the recordings carried out in some kind of noisy environment. In this sense, this mic is way better than the one your GoPro camera has.
In sum, this is a nice microphone for those who want to slightly improve the sound in their videos. Don't expect it to be a revolutionary solution. Given the price, however, the model can be a modest yet efficient start to your experiences with sound.
You may also like: 8 Best Microphones Compatible with PS4/PS5
2. Sennheiser MKE 440 Professional Stereo Shotgun Microphone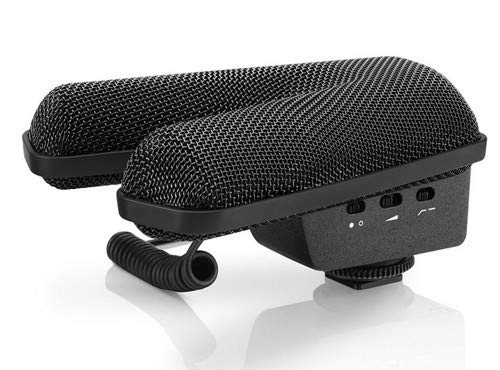 Price: $$
Sennheiser MKE 440 is a dual shotgun microphone. It is way better in terms of quality than the previous model, however, its price is also a bit higher.
The other difference between the two models is that this one requires AAA-type batteries to function. The Rode model can work just because it is connected to a camera.
There is a number of similarities too, for example, this microphone is also compatible with different kinds of cameras.
This is true for every mic in this article actually, so if you have a camera different than GoPro you can improve its sound recording too – kill two birds with one stone. Or with one Sennheiser in this case.
What's so special about this mic is that it produces stereo audio. The videos created with it have more volume in them – you can kind of feel where this or that sound was produced.
Undoubtedly, this is better than mono-recording, although if your purposes include just talking to a cam, then there's no real difference in which mode to choose.
The robust housing of this mic is made of durable materials which provide good noise protection. Since the mic is shotgun, it is, of course, directional, so no side sounds are going to be in the recording.
In sum, this is a great microphone. Its price range is middle and its quality is excellent. If you are looking for a significant improvement in your sound quality, then this is the way to go!
3. Shure VP83 Condenser Shotgun Microphone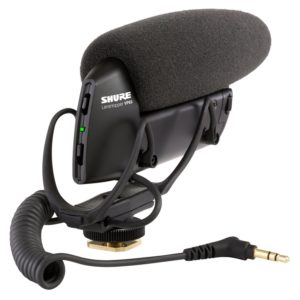 Price: $$
Shure VP83 is one more shotgun microphone with a supercardioid polar pattern. Supercardioid polar pattern means catching sounds that come from the sound source and nothing else.
This microphone is able to produce high-definition recordings. The quality is really amazing.
A wide frequency range ensures that a gentle and natural sounding of outcome. Low-cut filter engagement also guarantees balanced results.
Just like the model above, this Shure microphone is made of aluminum. Stable construction not only means durability but also good RF rejection.
The microphone is great at capturing only what's needed – noises and other unpleasant sounds won't ruin recordings. RF immunity is of paramount importance. You don't want the simple presence of WiFi to destroy the whole process.
This mic also requires an AA battery. Shure kindly sends it to you with other details. The operating time is 130 hours which is a lot! You can film everything you want to film. Probably, the only disadvantage of this mic is that it is not small.
It is not massive either, however, sometimes the compatibility matters. Here, however, sometimes you have to choose between quality and convenience, so we leave it to you to decide which one is more important.
All in all, this is a nice microphone that can provide you with a pro-like sound.
4. Saramonic SR-XM1 3.5mm TRS Omnidirectional Microphone
Price: $
If you want small, this is small. Saramonic SR-XM1 is a directional omnidirectional microphone. Yes, there is such a thing. It is directional because it can literally be turned around 90 degrees.
So you can kind of direct it in the way the sound you want to record is coming from. It is quite convenient, however, there's one little downside – the act of turning the mic is noisy and recorded, so you'll probably need to cut it out from the resulting video.
The mic is omnidirectional since it has an omnidirectional polar pattern, however as you can see in the picture, it doesn't really matter.
The area that captures the sound is plain and limited, so there's no need to worry about background noises – a polar pattern doesn't play a big role here.
The mic comes with a windscreen and a shock mount. All you need to do to start using it is just plug it in. No additional settings are required.
The price of the microphone is rather low – anyone can afford it. In sum, if you want an affordable substitute for your GoPro camera mic, this is a nice option to consider. It is not professional, but amateurs will appreciate it.
5. EDUTIGE ETM-001 Microphone – Omnidirectional Microphone
Price: $
EDUTIGE ETM-001 is one more small directional mic. This one is actually not so directional since you can't turn it.
Don't even try! But this can also be seen as an advantage – fewer turning details, more durability.
The mic is omnidirectional. It is very small – practically unnoticeable. If you want something tiny like a bug, this one is for you. The metallic body also adds up resistance to wear and tear. In general, the mic is quite robust. It is unlikely that you break it soon.
The sound quality of this one is approximately the same as the one of the previous model. There are some slight differences, however.
This model is louder – the outcome is really vivid and detailed. At the same time, it may be more susceptible to wind noise and plosives. To prevent these from spoiling your recording, you need to put on a windscreen.
In general, we can say that this is one more option for those who seek a simple yet functioning mic. Beware that in order for it to work with the GoPro Hero3/3+ and Hero4, you need a special adapter. For other models, it is just plugged n' play!
6. Movo GM100 Lavalier Lapel Clip-on Omnidirectional Condenser Microphone
Price: $
Here's a little secret. Practically all the lavalier microphones are compatible with GoPro. We've chosen one of the cheapest but you can always look for more expensive options – it is just most of them don't differ much.
Well, of course, the pricey ones sound different but when it comes to budget versions – pick anything and be content.
This one is definitely compatible with GoPro HERO3, HERO3+ & HERO4, which is even stated in its description. However, it doesn't mean other GoPro versions won't support it – all the versions that support external mics will support it – all it takes is an adapter.
The microphone is omnidirectional just like most lavalier mics. In some sense, an omnidirectional polar pattern is more convenient than a cardioid one, especially when we deal with lapel mics that can twist and turn at any moment.
The mic comes with a windscreen and a clip. There is even an adapter you might need to connect it to some of the Hero models. So if you are looking for a lavalier microphone for your GoPro, this is a nice option to start with.
You may also like: 9 Best XLR Audio-Cables for Microphones
7. MXL Mics MM-165GP Lavalier Microphone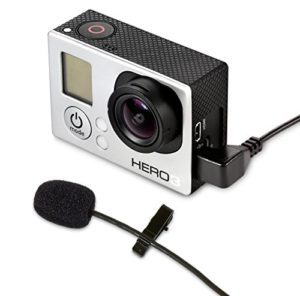 Price: $
This is one more lavalier mic – an alternative to the model above. This XML model is a bit more expensive. Just like the mic above, it was made especially for GoPro cameras.
However, let's first discuss why would you buy a lavalier microphone for a GoPro camera. Actually, the answer is simple.
If you like recording vlogs or just videos while riding a bike or motorcycling, then it is more convenient to attach the camera to your head and place the mic near the sound source – your mouth. There can be many other reasons too, of course.
This mic is also omnidirectional. It comes with a couple of puffy windscreens that create nice solid protection from wind noises. There is also a cable which is 5 ft long and a clip. The sound quality is good.
There are certainly more positive reviews than negative ones. In general, this is a very thoughtful purchase that's worth the money.
8. MS-TFB-2-11849 – Master Series by Sound Professionals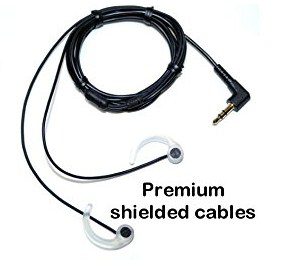 Price: $$
MS-TFB-2-11849 is a pretty long name. But that's not the point, of course. The point is that this mic was recommended on the GoPro official website which means that it is most certainly compatible with GoPro cameras.
This is great news since the microphone is binaural and can provide you with an absolutely different, even revolutionary audio experience. Binaural microphones are designed to convey the listening experience in the most realistic manner.
In order to do that, you need to put the microphones (there are two of them) into your ears. The video that you will get will have 3D audio similar to the one you've heard in real life.
This mic has an omnidirectional pick-up pattern, which is quite obvious, of course. The frequency response is flat, so the outcome is smooth and balanced. Highly sensitive – will capture every elusive detail whether you want it or not.
In most cases, however, this is not a bad thing, especially when you're filming in nature. On the whole, if you want to try something new and unusual, a binaural microphone is a way to go! Just imagine how realistic your videos will get.
9. Movo VXR10 Universal Video Microphone
Price: $
This is one of the best GoPro microphones available nowadays. It combines the best qualities of a microphone, for example the excellent sound quality. The sensitivity is at the medium level and it also has the wide frequency response range.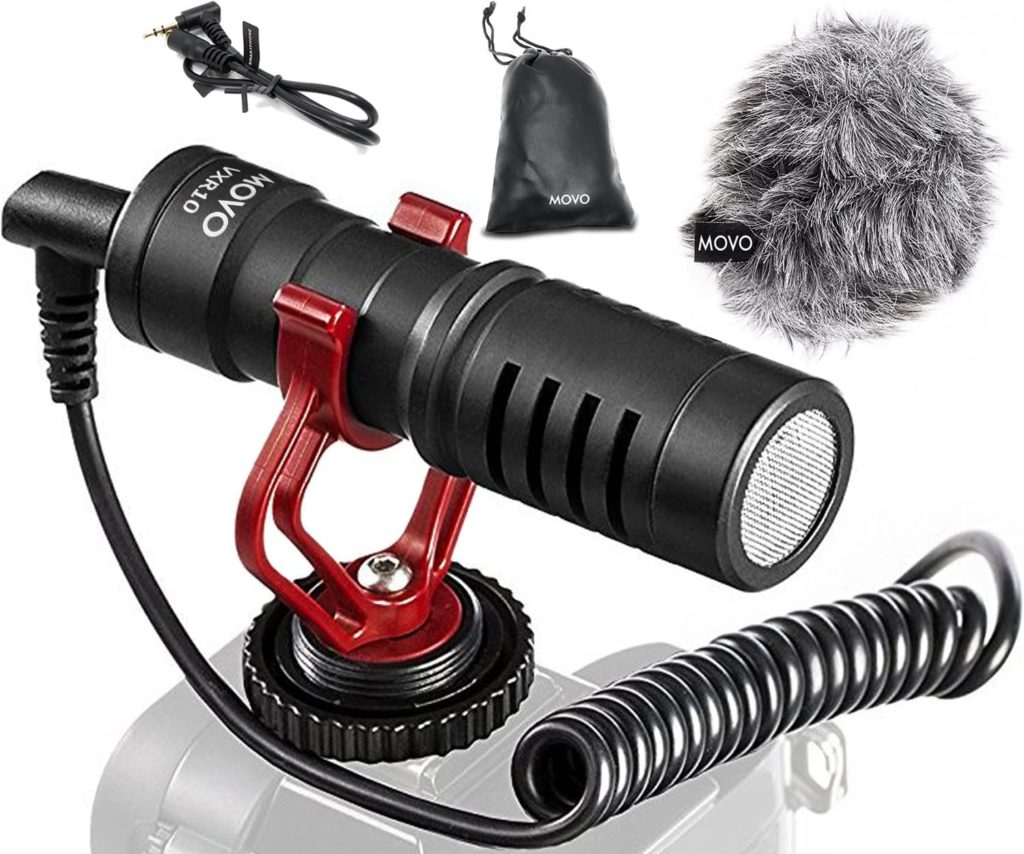 And along with the great sound, the quality of the microphone overall is more than decent because it is made of aluminum. However, it doesn't make it heavy, in fact, the microphone weights only 1.8.
Just like the majority of this models, it has the standard connector Jack and it means that an adapter will be required. The microphone is capable of picking up the clear sound in front of the device, additionally it has great looks.
The accessories that come in the microphone kit together with it are handy. The only disadvantage of this microphone is the quality of its shock mount. All In all, this is a great quality and affordable models. It is versatile and durable, so you can even use it to make recordings at concerts.
10. Removu RM-M1+A1 Wireless Microphone and Receiver for GoPro Hero4, Hero3+ & Hero3
Price: $
If you're looking for a Bluetooth microphone for your GoPro camera, look no further than this option. This GoPro wireless microphone includes the great connectivity and it has also an internal battery.
The working time of the microphone without charging is 6 hours. It's considered to be one of the best microphones for GoPro Hero 3.
It also comes with a microphone kids that include lots of great accessories, among which you will find the waterproof housing, a wind guard, and they connect her for GoPro mounts.
However, this is why of the heaviest microphones in this category. It waits, on average, five times more than the other models. Despite this fact, this GoPro Hero 3 Black microphone provides the professional quality sound.
It's a long wireless range gives you the flexibility and versatility that you won't find in other models. It's one of the best options to use outdoors particularly because of its long battery life.
It also provides an exceptional performance in windy weather. It's disadvantage is that it has the lack of connectivity options. The microphone is only compatible with Hero 3 and 4.
11. Comica CVM-VM10II Camera Microphone
Price: $
Another decent option for your gopro. We need to say that this microphone need to be resistant to the weather conditions because they should be able to cope with outdoor activities. This microphone by Comica does it quite well.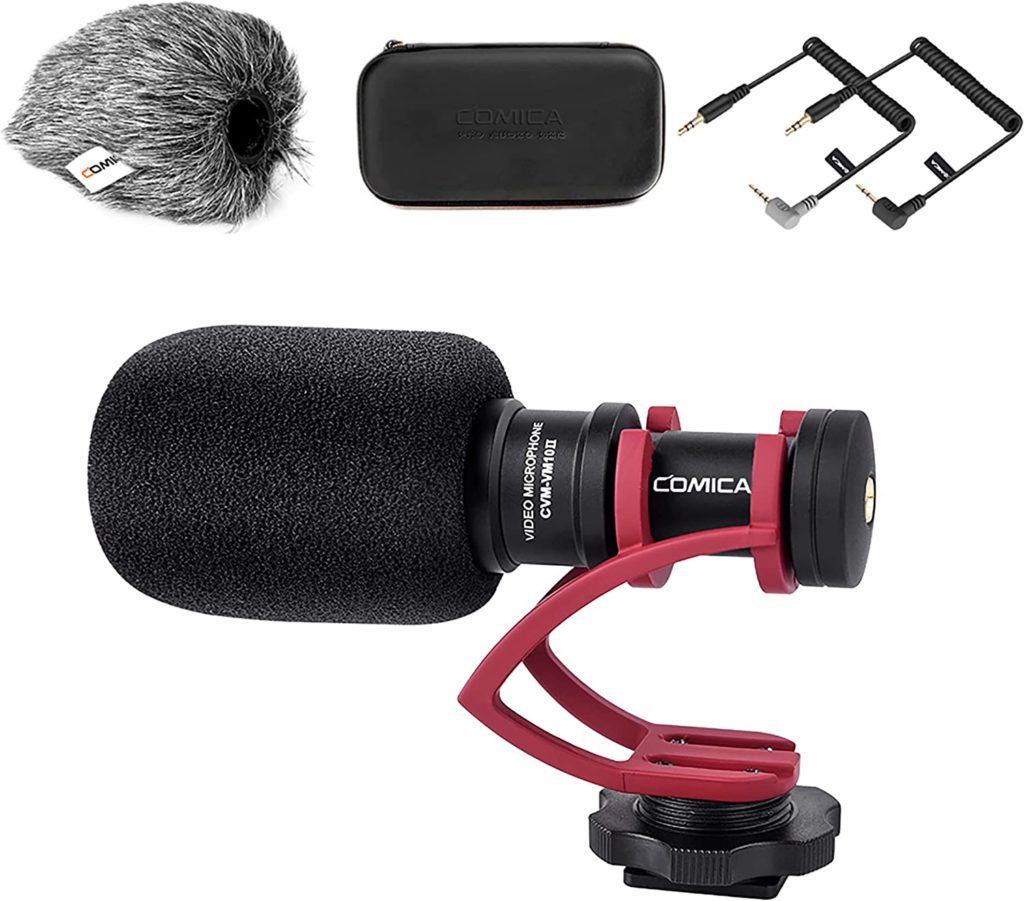 Because of its aluminum body it is quite a tough nut. However, it doesn't come with the best warranty conditions. In case you are looking for a uni directional polar pattern microphone for your GoPro this is one of the best options.
Its frequency response is quite good and the microphone itself is fairly sensitive. The best aspect of this model is probably its weight. It consists only 1.2 Oz which is very light.
The microphone comes with the accessory kit where you find everything that you need to have a great GoPro experience. This is a shotgun type of the microphone and it's quality not only excellent but the quality of its accessories isn't as well.
There is a solid case to keep your microphone protected and it has immense portability that is complemented by its cool shock absorption. This is a great choice if you need to record your audios from a distance.
And it also works quite well in a close to medium range. It's not the most affordable model but the price is still fair.
---
Conclusion
So, GoPro cameras can be quite different. There are shotgun mics, lavalier ones, and even binaural ones.
When choosing a GoPro microphone, it is important to mind three factors – weight, quality, and the kind of content you want to create.
First, you don't want to carry around an extremely heavy microphone.
If the size really matters to you, you can choose a small directional shotgun mic. As for the quality, it can be very different – starting with a little bit better than the incorporated one' and ending with professional.
The third and the second mics on this list can really take the game to the next level.
Finally, videos can be different – mind your own purpose while choosing a mike and you won't make a mistake!
---
F.A.Q.

for GoPRO microphone buyers

Q: I've connected a microphone to my camera but it doesn't seem to be working. What do I do?

Once you've connected a mic to your GoPro camera, the latter must show you that something has been plugged in. If it doesn't, then something is definitely wrong. It might be that you need a TRRS to TRS adapter.

Some microphones work only with batteries so you might be missing those. There also might be problems with your GoPro camera – in this case, try different mics if you have such an opportunity.

And once again, it is worth repeating that not all of the GoPro cams are made to work with external hardware.

Q: What versions of GoPro can be used with external microphones?

A good one! These ones are HERO7 Black, HERO6 Black, HERO5 Black, HERO5 Session, HERO4 Black, HERO3+, and HERO3.

Q: Is there a difference between the microphones for the GoPro Hero 7,8,9?

The main difference is those cameras require different adaptors for the microphones. And third party GoPro mic adapters will NOT work unfortunately.