Big audiences can be scary. But not too scary if you are sure your gear won't let you down. There can be a number of options you can choose from while buying a microphone for big events.
First of all, it is best to look at wireless systems that can provide you with a top-notch experience – after all, if a mic can simply be put within your hand or behind your ear, there's no need to think about it that much.
Hence, there is more headspace for concentrating on the content you're going to perform. Besides, big audiences mean big venues. If wiring is too long, it may affect sound quality and you don't want that! So, wireless mics are our top choice.
Secondly, since speaking in front of a big audience involves, well, speaking, you need to get a mic that has a cardioid polar pattern. Not only will it reduce background noises that may come from the audience, but it will also highlight your voice and make it soar above everything else. The type of mic doesn't really matter.
Although the first thing that comes to mind is lavalier. Below, we review various types of microphones, all of them carefully selected from a large number of options. Check the article out and choose what fits you!
Product
Details


Shure BLX24/PG58




the sound quality is clean, crisp, and just outright phenomenal;

there is no static or interference;

super easy to set up and get it programed;

great default sound and has a great range for passing the mic around a large room;


Rode RodeLink FM





performs decent and is really simple to use;

the gain is easily selectable on the receiving unit;

picks up speakers voice without much change in volume;

batter lasts long time;


Kithouse K380A

 

Lightweight;
Provided high density and elasticity;
Incorporated LED display;
Ideal sound;
Maximum range up to 100 feet;



---
1. Shure BLX24/PG58 Handheld Wireless System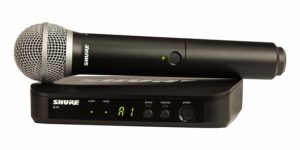 Price: $$
ShureBLX24/PG58 is a super-cool dynamic microphone. It is hand-held which is great – it means you can use it in a number of situations.
The microphone is quite a thoughtful choice for public speaking, especially if there are several presenters. They can simply hand the mic to each other and less equipment means less money spent on it.
As in any wireless system, this microphone comes with a transmitter and a receiver. The LED screen on the receiver reflects power and battery status. In order to function, the mic requires two AA batteries. The first pair you're going to use comes together with the shipping package, so no worries about additional purchases.
The operational time of this mic or, in other words, the time it can last is 14 hours. This is sufficient even for the longest sessions. The maximum distance between the receiver and transmitter is 300 ft or 91 meters.
And, lastly, the most important factor to consider – the quality of sound. Here, it is excellent. The microphone can produce a crisp and clear sound despite the fact that it has a dynamic diaphragm.
All in all, Shure BLX24/PG58 is a good choice for a number of reasons. If you are in search of a handheld mic, this one certainly won't let you down.
You may also like: 10 Best Conference Microphones
2. Kithouse K380A Wireless Microphone
Price: $$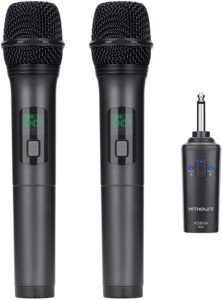 Kithouse K380A Wireless Microphone ideally suits for public speaking, karaoke, performances, and meetings. Provides easy and convenient use, as you do not have to install this microphone.
The design of this microphone system looks very exquisite and gives this microphone additional points.
Make your public speaking more confident and free! It includes a dual UHF wireless microphone with a Bluetooth receiver. This model comprises a maximum range of up to 100 feet.
The manufacturer stands firmly behind product quality and service. The microphone is made of high-grade foam, which provides a longer period of use. The metal woven mesh cover offers an ideally clear sound. This model guarantees ultimate comfort for everyone.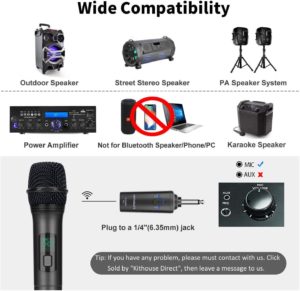 It comes with an LED display that allows you to check the battery. Provides a built-in rechargeable lithium battery.
No need to worry about charging your microphone all the time – this model features a power-saving system. The sturdy construction of the microphone provides extra durability and functionality.
The model is extremely lightweight, so you can take and put your microphone anywhere you want.
This model does not require special maintenance and easy to operate. The manufacturer ensures that consumers will not have to face technical glitches.
The set includes a warranty. If it does not suit you, you can easily make the cost back for 30 days or replace the microphone after 12 months. Basic, stylish, and universal – the major characteristics of this high-end model.
If you can not opt for an appropriate microphone for public speaking, try this variant. Besides, you will be pleasantly surprised by its price. Great value for the price!
3.
Rode RodeLink FM Digital Wireless Filmmaker System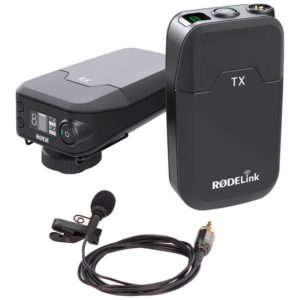 Price: $$
This mic also comes as a wireless system. There is a transmitter and there is a camera-mounted receiver.
Of course, you can use the receiver without mounting it to the camera but it is a rather useful and usable option. What is different in this system is that the mic that comes with it is lavalier.
Now, lavalier microphones are quite small, merely unnoticeable, designed especially for film-making and other situations in which it is best to conceal the gear.
We suppose that public speaking in front of a big audience is one such situation. Using lavalier mics can be quite tricky. You need to think through of where to attach them and how to mount them properly.
However, once this preparation is over, you won't have to deal with any more troubles. Performing with your hands free and using all types of gestures can be quite liberating.
RodeLink FM is one of the numerous options you can choose from. This one is semi-professional and comes under quite an impressive price. The microphone's capsule is omnidirectional. The mic can work from a distance up to 100 meters.
The power required for this mic can be gained through two different sources – AA batteries, just like in the cases above, and USB. This significantly increases the operating time of the system. The OLED display on the receiver shows power and battery status both of the receiver and transmitter.
The receiver, in its turn, includes the 'mute' button, so that in case of emergencies you could turn on and off the mic without reaching for an audio-tech guy.
All in all, lavalier mics can be very convenient and this is what this Rode model is about. Check it out and see if this is what you need!
4.
Audio-Technica ATW-2129AI 2000 Series Wireless Lavalier System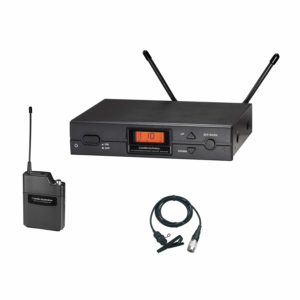 Price: $$
This is one more lavalier system, this time by Audio-Technica.
Audio-Technica produces a series of wireless systems that are quite different – some include handheld mics, others lavalier or head-worn. You can check them all by following the Amazon link down below.
Unlike the previous model, this lavalier mic has a cardioid capsule which is in many ways more beneficial than omnidirectional.
Although there are always exceptions like, if you want to capture the sound from all sides and not to worry about how your microphone is placed, then omnidirectional is preferable. In other cases, it is best to use cardioid – it reduces audience noise better.
As for the other specs, they are no different. The system can also hop between the frequencies in order to obtain the best sound (just like in the case with Rode). The distance and operating time are sufficient enough for use in big venues. So, this is basically just another option to choose from.
If you for some reason trust in AT more than in Rode, then go for this one! After all, Rode mics sometimes include really vague descriptions that are hard to follow.
This is, of course, not a good reason to choose one option over another, just a thing to consider. Weigh all the cons and pros and make your thoughtful choice!
5.
Audio-Technica ATW-2192AI-TH 2000 Series Wireless Headworn Microphone System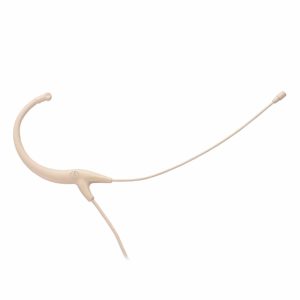 Price: $$$
Finally, a head-worn microphone. We've chosen the one by Audio-Technica but you can search for the other options. Someday there will be an article on our website devoted to headset microphones.
Till that day, let's just go with our best pick. Audio-Technica ATW-2192AI-TH comes in two colors – black and beige. You can choose the one you find most aesthetically pleasing.
As for the specs, the microphone has an omnidirectional polar pattern that is able to capture sound quite clearly. The transmitter and the receiver work efficiently – it is unlikely that you'll face problems with the connection.
The receiver has an LCD screen that shows the operating status. The functioning power can be gained through AA batteries.
So what's so special about head-worn mics? And why would you overpay just to get one? Well, there can be many reasons.
One of them is convenience. For example, both lavalier and head-worn microphones don't need to be held, however, head-worn mics, unlike the lavalier ones, don't limit your freedom of movement.
It is easy to shift or accidentally touch a lavalier microphone, which can cause an unpleasant sound. In the case of head-worn microphones, such incidents are very rare – you can turn your head however you like and the sound will still be constant and unchanging.
In a nutshell, head-worn microphones are one more type of microphone that can be used during public performances. They are suitable both for big and small audiences and can be used in different manners. The Audio-Technica model is a great option for starters!
You may also like: 7 Best Audio-Technica Microphones
6. Nady SP-4C Dynamic Neodymium Microphone
Price: $$
This is a multifunctional and professional microphone that is suitable for absolutely any kind of activity. The switchable Nady SP-4 C Dynamic has an excellent sound that spreads over long distances, without noise and any interruptions.
By weight, it is almost weightless and not heavy, it can easily thin out the noisiest situation without compromising the sound. This microphone also has an external on/off switch for easier sound control from the stage.
The presence of an improved multi-axis rubber clutch reduces noise when handling. The main element is a neodymium element for high and high-speed performance.
The Nady SP-4 C Dynamic has excellent silent and accurate reproduction throughout the sound space without any deformations.
This microphone is wired, so it must be connected to some device, it works with various types of devices.
Based on user feedback, this microphone fully justifies its price in terms of sound quality, weight, and period of use, is designed for a large platform with excellent acoustics and is perfectly suitable for different types of computers, but you will still need to buy additional amplifiers and wires if you need to get good sound quality!
7. AKG Pro Audio WMS470 Vocal Set C5 Band 7
Price: $$$
Excellent Bluetooth microphone for public speaking, stage, and singing. A separate place in the list of the best wireless
Bluetooth microphones take AKG WMS40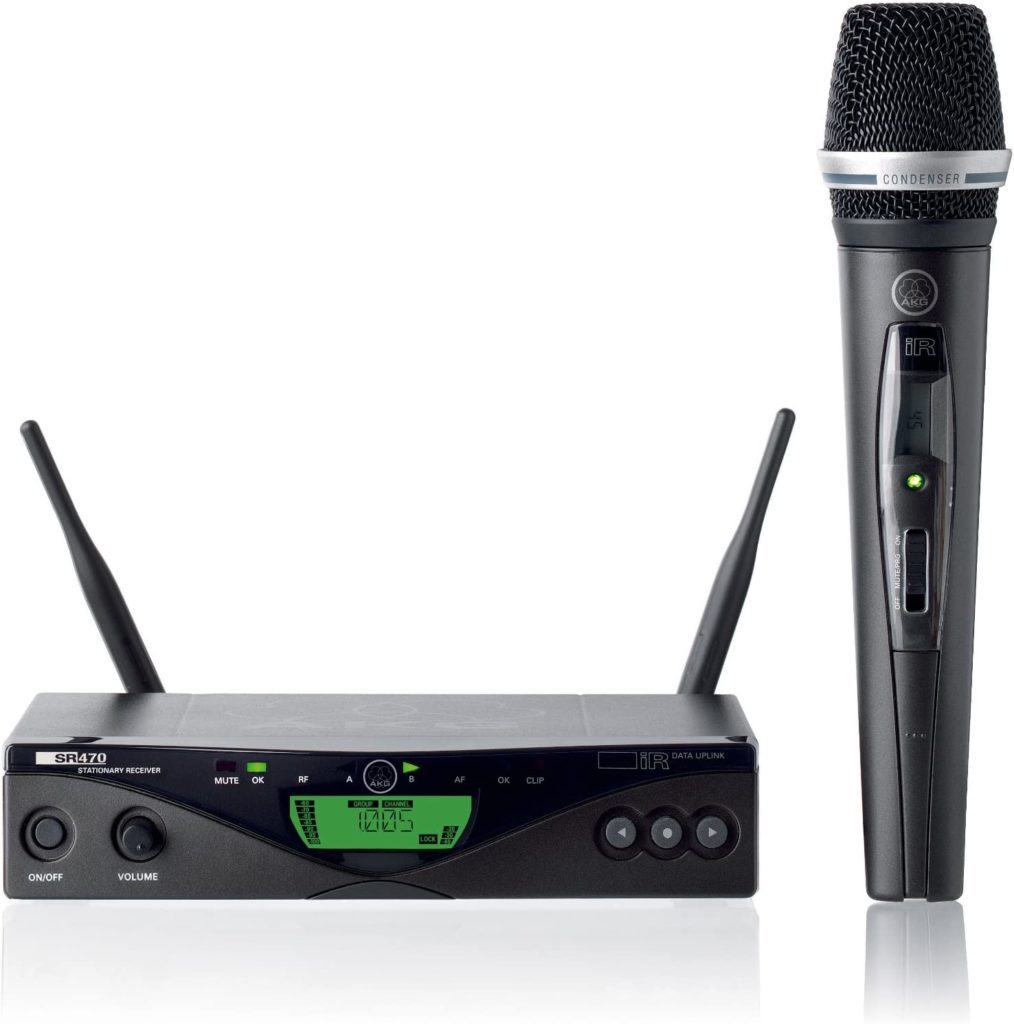 Mini Single Vocal Set is a high-quality wireless microphone for public speaking, stage, and singing. It works stably and, most importantly, for a long time – about 30 hours of operation on one battery.
Also, this wireless microphone transmits voice well, it is easy to use and even the price is reasonable.
Here are some specifications: frequency range 40 Hz – 20000 Hz, Modulation Mode: FM, Signal-to-noise ratio: 110 dB-A, Distortion (THD): 0.8%.
Equipment: Microphone transmitter, Receiver-base, Power adapter (with multiple outlets), 1 AA battery, Documentation.
Advantages: good sound quality, autonomy, simplicity, and stability, the optimal range of operation is 20 m.
Disadvantages: makes noise in the hand, and there is no remaining charge indicator.
8. Earthworks FM500HD is a FlexMic™
Price: $$$

Earthworks FM500HD is a FlexMic™ series speech microphone on a 48 cm flexible stand holder that provides a high level of speech intelligibility and a uniform off-axis response.
Thus the speaker can be clearly heard without loss of sound quality when he speaks from the front or side of the microphone. With a maximum acoustic input of 139 dB SPL, the microphone is almost impossible to overload.
In addition, there is a high degree of suppression of sounds coming from the back of the microphone and radio interference.
Designed specifically for use as a podium microphone, the FlexMic™ series offers many versatile features and options that make these microphones ideal for use in lecture halls, presentations, temples, community centers, theaters, and government offices. The FM500HD/HC model has a hyper-cardioid orientation.
9. Judiferty Voice Amplifier – Portable Audio System with Wired Microphone and Waistband for Tour Guides, Presentations
Price: $
This microphone is specially designed to amplify the voice of large audiences, and lecture halls. This accessory is designed to help you make your voice heard from all corners of the audience!
With the ability to cover an area of 100 square feet, this beautiful and powerful amplifier offers crystal-clear sound without any distortion and interference.
The Portable Microphone has a concise and simple design, also having a rear clip that helps to fix and install the device on a pocket or jeans.
It can be used at large gatherings, for teaching at school or university, or for public speaking. Also, this microphone has 6 modes: listen to the radio, take selfies, record basic information, and use it as a loudspeaker.
The portable audio system is very light in weight, has a powerful battery that can last about 8 hours, is very easy to use, suitable for various devices, but also in some cases, it is necessary to buy additional adapters.
---
Conclusion
We've covered several different types of microphones that people use for speaking with large audiences – handheld, lavalier, and head-worn.
Which one is the best is completely up to you and your preferences. You must know though that apart from the wireless systems described in this article, there are other options that require wiring.
If you have a podium, for example, then you may wish to buy a mic that can stand still on it. Podium microphones are a completely different topic that deserves a special article.
For now, these are the best options we could find. Time to make a choice!
---
Tips on how to overcome glossophobia
Glossophobia is a fear of public speaking. It is not the most widespread phobia as it is sometimes considered to be, however, many people have to deal with it. How do you know you have glossophobia? In most serious case you are aware of it well before the presentation. In milder ones, just a minute before you need to speak.
The symptoms are all the same, however. Your hands are starting to shake, your armpits are sweating, your brain is worrying.
To prevent this stress from affecting your performance, you need to be aware of some tricks you can use to tackle the fear.
Even if you are quite confident, knowing the info below may turn out to be helpful.
Breath deep before you have to go on stage. Try breathing through your belly and not through the chest. Apparently, it reduces your stress level and makes you feel more relaxed;
Imagine as if you were talking to one person. After all, all people want is to feel some kind of connection – not a bunch of common sense statements addressed to the whole world. So keep it simple! But don't forget to stick to the appropriate level of formality;
Don't focus on your audience and especially its reactions to your words. These reactions can be very diverse. Whatever they are, all you want to think about is the material you're trying to deliver. In fact, this is applicable in many areas of life. We're not responsible for the outcome or for the results. All we are responsible for is what we do and how we do it. So do it great! Don't worry about that serious face in the second row. There can be a number of reasons a person feels whatever she feels.
Don't pretend to be what you're not and speak from the heart. Most of the time it referred to as authenticity. This is a great thing! We all love it and want to have more of it in our lives. So why to conceal it during a presentation? Of course, if your personal life has nothing to do with the topic you're talking about, you just have to stick to the facts. But if the performance is somewhat personal, just be yourself as much as you can, fill the space with what is you and what you love about you. Just don't get too cocky.
Speak with confidence. If you are not confident, imagine as if you were. Fake it till you make it. There is a reason all those people are gathered to listen to you. There is a reason you've been invited to this important event. Own the place. You have the right to do it! This is not only beneficial for you but also for the audience. If the information you're going to convey is somewhat important, people will remember it best and can use it more skillfully if you speak with confidence. You do it for the audience, not for yourself, so be free to speak up when needed and use the attention they give to you to the maximum.
Just do it. Practice, practice, and practice. The more you do something, the less scary it becomes!