Along with the microphone, your preamp choice will play a significant role in the final sound of the recorded material. And despite the fact that the main objective of the preamp is quite simple and pragmatic (amplification of a low volume signal to a linear level), there are a number of parameters that you should pay attention to get the maximum from your microphone or instrument.
This guide is designed to help you narrow down your choices or find your perfect preamp. I, as usual, will recommend you some good models of microphone preamps of various price categories.
And you might also want to check not only microphone preamps but also best XLR cables for the mirophones. 
---
Table of contents: Best microphone preamps 2019
Budget Models 
ART TubeMP Tube Microphone Preamp 
Behringer Ultragain Pro MIC2200
Medium Price Category 
Expensive Models
---
Best microphone preamps 2019
ART TubeMP Tube Microphone Preamp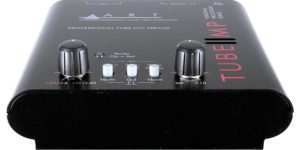 ART Tube MP is a high-quality microphone preamp. In addition to its main purpose, the ART Tube MP tube preamp can be used as a preamp for other musical instruments, such as electric or bass guitars.
In its series, this model of external mic preamp is one of the most popular devices in the world and this is an indisputable fact. Absolutely regardless of which system you use during recording – analog or digital, working on a computer base, the microphone preamps of the Tube MP series will allow you to achieve the best results as close as possible to the professional results of studio recordings.
According to its characteristics, this microphone preamp is significantly superior to many more expensive microphone preamp systems. The device ART Tube MP is a single-channel, tube, microphone-instrumental preamplifier, which in its design has a limiter built into the output and an additional indicator of the signal level.
In addition, the device is equipped with a convenient, preset switch to select different variations of the operation of the preamp. If you are looking for a multifunctional device for the preamplification of the microphone and instrumental signal, then the microphone preamplifier of the ART Tube MP model series will be one of your best decisions in this price category.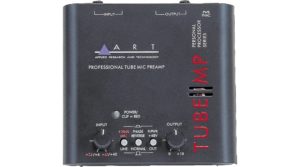 Unique features of the ART Tube MP tube preamp
The high-quality preamp for all types of microphones and other musical instruments, including electric guitars, bass guitars and electroacoustic instruments.
The built-in 12AX7A electronic tube provides high-quality amplification of the audio signal at 70dB, giving a special warmth and softness to the sound, without distorting the frequency spectrum.
The preamplifier device is equipped with convenient controls for adjusting the level of input and output signals.
The preamplifier is equipped with input and output connectors on the XLR microphone and standard 1/4 Jack connectors.
For studio dynamic microphones, the function of phantom power supply (+ 48V) is provided.
Ability to use the function of switching the reverse phase.
The external tube preamp has a much better and higher quality sound than preamp devices built into low-cost mixer consoles.
The compact body of the preamp is made of durable steel.
The presented model of a compact tube preamp is a virtually indispensable device for thousands of home and small promotional studios around the world. The fact is that by spending a fairly small amount of money on the device, you will get a practically universal instrument, thanks to which you can greatly improve the sound and recording of not only microphones but also many other musical instruments of your studio.
Due to the fact that the preamplifier is built on a hybrid scheme, it adds "tube" warmth and juiciness to the final sound, while maintaining the highest quality of the sound signal, without creating any extraneous noise.
You may also like: 11 Best Microphones for Interviews
Behringer Tube MIC100 Preamp 
The Behringer MIC100 is a vacuum tube mic/line preamplifier with an integrated limiter for studio, live and hard disk recording applications. The preamp can be used to add natural tube sound to microphones and instruments while producing a high-quality sound enhancement.
The device will be a good purchase for small recording studios, for home studios and musicians. The preamp provides a pleasant, warm sound with minimal noise. In addition to the preamp, the device can be used with any condenser microphones, as well as a high-end DI-box.
The main features:
The Behringer MIC100 preamplifier is equipped with a phase switch;
There is a phantom power system (+48 V) and a 20 dB attenuator;
When using the device at home or in a small studio, the preamp will be able to liven up the flat sound of standard digital recorders and sound cards;
Switching connectors are balanced XLR and 1/4 Jack;
Gain range from +26 to +60 dB;
Output range up to +10 dB.
A good device for home use for the money.
Behringer Pro MIC2200

The Behringer Pro MIC2200 is a studio tube preamp that provides high-quality pre-amplification for all microphones and line sources.
What I like most of all about this preamp is its versatility. It's perfect for both studio recording and live performances. The balanced 1/4″ TRS and XLR inputs and outputs give you maximum flexibility. The preamp is made in rack format.
The basis of the Behringer Pro MIC2200 is an ultra-low noise 12AX7 vacuum tube for a warm and deep sound. The sound level can be monitored using LED level indicators (12 steps). The discrete components provide a wide dynamic range and a high level of detail that is rarely seen with other tube preamps in this budget class.
The main features:
Ultra low microphone / linear preamp noise provided by 12AX7 tubes;
Fully integrated parametric equalizer with dedicated center frequency, bandwidth, and level controllers;
Phantom power +48 V;
Fully customizable 12 dB high pass filter;
Reverse phase switch to correct inter-phase connection problems;
Accurate 12-segment signal output level indicator.
The model provides you with a real tube sound of High-End class amplifiers at an attractive price and with a lot of modern technologies that save the device from many of the drawbacks of vintage tube appliances.
High-quality components and exceptionally robust construction ensure long service life.
Presonus TubePre v2 
PreSonus TubePre V2 is a new improved version of the classic tube preamps from PreSonus. As in the original TubePre, the new version is a fully professional tube preamplifier, with a semiconductor circuit without the use of electrolytic capacitors, which allows obtaining high levels without a significant increase in background noise.
Discrete components and high voltage circuits allow for a wide dynamic range and balanced tube operation. TubePre V2 provides even more possibilities of use and provides a much richer sound than the original TubePre model. To do this, the engineers used the popular XMAX ™ solid-state preamp, followed by further signal transmission to the 12AX7 tube. The saturation regulator TubePre V2 Drive will add "brightness" or "warmth" to the signal.
Thanks to the separate instrument and mic inputs, you can use it as a DI box for guitars and bass guitars. And since it's small, you can always take it with you and install it into a rack. If you have already used the original TubePre, then you will immediately love the improved version, and if you see it for the first time, you will be pleasantly surprised!
You may also like: 8 Best Microphones Compatible with PS4/PS5
Cloud Microphones CL-1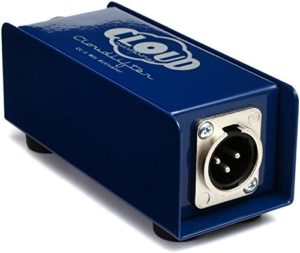 Cloudlifter CL-1 – is a 1-channel preamplifier (up to +25 dB). The device is designed for use with dynamic or passive ribbon microphones in front of the main amplifier, with standard phantom power from microphone amplifier interfaces, mixers, and various audio devices.
The preamplifier can significantly improve the quality of the transmitted signal over long distances via XLR cables. Ideal for use when recording and broadcasting live sound, working in a studio room, on stage, and in open spaces.
Thanks to the patented technology, the device provides a pure signal enhancement, while maintaining its naturalness and clear sound. Recommended for use when recording sound through a DAW interface, the presence of noisy preamps, recording through mixers, recording the sound of acoustic instruments and vocal music.
The device body has a rubberized metal design and has additional fasteners for various situations.
Specifications and features:
Signal amplification up to + 25 dB for passive microphones
Four selected JFET transistors provide two crystal-clear amplification stages.
Easy to use and connect, only phantom power required.
Initially recommended for use with all passive microphones.
Use discrete amplification circuit.
Provides ideal load impedance for optimum performance.
The Cloudlifter CL-1 is an easy-to-use and compact audio solution for recording problems on stage or in the studio.
ART TPS II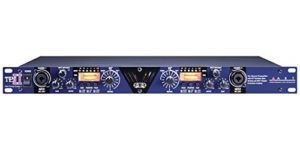 ART TPS II is a multifunctional two-channel rack-mounted preamplifier with a wide range of applications. The advanced tube circuit of this model allows you to get a warm sound with a great texture.
The Tube Preamp System uses a hand-picked 12AX7A tube. Each channel has:
a microphone/instrument input on the front panel (combined XLR / jack),
parallel microphone input on the rear panel (XLR),
a sensitivity control,
an increase button (+20 dB),
a phantom power button (48 V),
polarity switch,
V3 preset selector (Variable Valve Voicing – several preamp settings for the electric and acoustic guitars, bass guitars, keyboards, drums, vocals, etc., some presets with limiter),
the output level regulator.
A two-channel tube microphone and linear preamp, created using the special ART technology, allows musicians to get high-quality tube amplification when performing on stage or working in a studio. The TPS II uses a 12AX7 amplification circuit.
A feature of this model is the availability of V3 ™ technology (Variable Valve Voicing), patented by ART, – a change in the color of the sound at a different level of heating of the tube. With the help of 16 presets, the user can select the most suitable sound of the instrument or vocal.
It's also necessary to note the extremely wide dynamic range of the preamplifier – more than 120 dB. OPL ™ technology precisely and accurately adjusts the peak output signal, providing effective protection for the connected recording equipment.
DBX 286S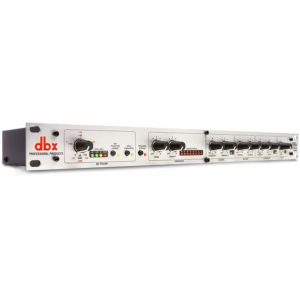 The DBX 286s is a studio preamplifier that provides high-quality pre-amplification for all microphones, line and instrument sources. It's perfect for both studio recording and live performances. The preamplifier is made in rack format and is designed for installation in a 19 "rack.
The DBX 286s contains 4 processors that can be used independently of each other or in any combination. To amplify the microphone, the device has all the necessary functions, including switchable +48 V phantom power and an 80 Hz low-pass filter to remove low-frequency hum and other noise.
The built-in patented DBX OverEasy compressor gently smoothes out the unevenness of the acoustic tracks and provides an even and clear sound. The built-in De-Esser removes vocal sibilance and high-frequency distortion from instruments (for example, cymbals). Another integrated instrument, the enhancer, adds completeness and depth to vocals and bass instruments, while at the same time clearing the middle-frequency range.
By adjusting the HF Detail enhancer control, you add richness and brightness to the sound, and the LF Detail control lets you add fullness and depth to the sound of vocals and bass instruments while clearing the sound of the lower mid-frequency range.
The DBX 286s also offers a complete set of status and level LEDs, which also helps to achieve the best sound visually. The balanced microphone input accepts both balanced and unbalanced connections, making it easy to connect both professional studio and simple home microphones.
Additional 1/4 "Jack TRS input also accepts balanced and unbalanced signals (for example, instruments), processing them in real time.
The DBX 286s preamp will provide you with high-quality, high-end preamplifier sound at an attractive price and with a large number of embedded processors.
Focusrite Scarlett OctoPre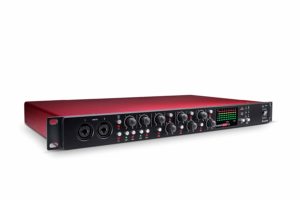 The Scarlett OctoPre mic preamp is a replacement for the popular OctoPre MkII. The new version of the preamp has a robust housing and a small size for installation in a rack – 1U. This preamp can be used for studio work and live performances.
The device switching is represented by 8 microphone/line combo inputs, and inputs 1 and 2 can also be used as instrument inputs. The output section has 8 balanced line outputs, there is a Word Clock in/out, 2 ADAT digital/optical outputs.
The system supports sample rates up to 192 kHz. To use condenser microphones, the preamplifier is equipped with a + 48V phantom power system that can be connected independently for selected channels 1-4 and 5-8. A visual indication of the levels is on the front panel. These are 5-segment LED indicators for each channel independently. Preamplifier receives power from the built-in power adapter.
The model is quite expensive and it is worth weighing the pros and cons before buying. I haven't had a chance to try this device personally, but I have heard only positive reviews. Only you decide how much you need such a device.
PreSonus DigiMax D8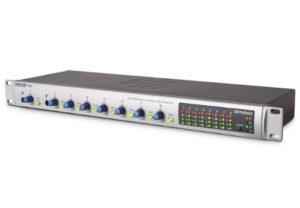 It's not often possible to find an 8-channel preamplifier of this level and for such money, therefore I recommend to pay close attention to this model!
The PreSonus Digimax D8 8-channel preamplifier has eight XMAX Class "A" microphone preamps with a 24-bit ADAT digital output. All preamps have a level control, 48 V phantom power, 4-segment LED indicators and a 20 dB pad. On the rear panel, there are 2 additional inputs for direct Hi-Z instrument input next to the balanced direct analog outputs TRS. Also in Presonus Digimax D8, there is an input for synchronization of impulses of words.
The main functions of the device are 8 preamplifiers with TRIM control, quick-response LED indication. You can also independently direct the signal of each channel.
High-quality mic preamp can change the sound of your recordings. In the absence of a quality preamp, the phrase "garbage in, garbage out" sounds quite appropriate.
Users and eyewitnesses had plenty of opportunities to make sure that class A PreSonus XMAX preamps are the best choice in their price segment. DigiMax D8 offers such high-quality 8-channel amplification, which is enough to "raise the bar" of the studio to a higher level.
Universal Audio SOLO/610 
The Universal Audio SOLO/610 microphone preamp embodies the sound of the legendary 610 mixing console in a rugged, versatile unit.
This device is distinguished by the classic warm color of the sound of the original microphone preamps developed by Bill Putnam and can decorate any microphone or instrument with its unique sound.
Despite its incredibly compact size, it is able to transform and add new colors to the sound, even when working with budget microphones. Also, thanks to the peculiarities of its body, SOLO 610 can be used in virtually any environment, be it a home recording, a concert, or outdoor performances.
Specifications:
Classic microphone preamp based on the legendary UA 610 developed by Bill Putnam
Legendary tube sound
Input impedance selector, sensitivity controls and output level for maximum sound diversity
Compact design for ease of use in a professional or home studio and on stage
Durable metal housing
It's assembled by hand in the USA.
Avalon VT-737sp 

This is a new studio processor, which successfully combines all the basic functions of a tube-type preamplifier, an opto-compressor, as well as a multi-band equalizer.
In particular, in the preamp section, the developers provided 3 inputs: a microphone (transformer type, equipped with 48V phantom power), an instrumental one (jack located directly on the front panel), and a balanced linear type, made on the basis of discrete circuitry class A.
The VT-737SP preamp doesn't have the bright and rich "top" characteristic of many existing tube preamps. Rather, its sound can be called smooth and natural. But the low-frequency range amazes with its depth and linearity, which creates an incredible sound effect. Perhaps this feature is associated with the operation of the transformer at the microphone input.
It's necessary to note the high-quality operation of the High Pass filter located in the input section, which, if necessary, is capable of delicately cutting out the low-frequency component in the signal. Adjustment of the upper limit of the filter is made smoothly and in a wide range of 30-140 Hz. Instrumental input has a slightly more colored sound.
The VT-737SP provides excellent sound output in most studio or concert use, but the most extreme styles of music may require a different, alternative solution. Combining a number of unique advantages, the device as a whole has a universal focus, which allows us to recommend it as the main, and in some cases as an additional microphone processor of a professional recording studio.
---
Preamp Buying Guide
What is a preamp? What does it do?
This is the component that takes an audio signal and amplifies it to the required level. This is necessary because of the microphones on the whole form an extremely weak signal that simply doesn't reach the operating level of the end device. Preamplifier prepares the microphone signal for processing or playback, amplifying it to the linear level.
What should be the primary consideration when selecting a microphone preamp for your task?
The main criterion is, certainly, a SOUND. However, there are other factors that may have a weighty significance.
Number of inputs
Everything is simple: more channels – more microphones can be recorded simultaneously.
Low pass filter
Use microphone preamps equipped with special filters that cut off frequencies below the level of 20-200 Hz. Low-frequency interference, in this case, will be eliminated.
Phantom power preamp
This type of power supply is the most optimal for the operation of condenser microphones.
Integrated limiter
There are a number of cases when a microphone preamplifier with a built-in limiter will be productive. For example, if the signal from the preamp is sent to the input of the audio card. This will eliminate unwanted overloads. But you should be warned that in most of these situations, you obviously overpay for the integration of these devices.
Level indicator
Despite the fact that this is an optional component of the preamp, it's recommended to test it practically, and you will certainly make sure that this device is useful.
Phase switch
If there is a need to record from many microphones, then the phase switch will definitely be useful.
Microphone Preamp with Equalizer
An equalizer is increasingly common on modern models. The option cannot be considered a category of first necessity. Try it and decide how necessary this function is for you.
Does it make sense to buy a preamp for a microphone, if it already exists in a sound card or mixer?
Definitely, it does. Separate microphone preamps provide better sound than built-in preamplifiers such as many audio interfaces and mixers from the mid-range price range have. In addition, microphone preamps have their own specific sound. And this means that you can buy a preamp that will most suit your microphone by sound. This is especially true of tube preamps.
Tube or Transistor?
Do your recordings require bright, rich sound provided by the tube, or do you rather like clear and clean transistors? It's up to you to decide on how to equip your home studio, but professionals usually have both types. If you are just starting to work with sound and in plans, you shouldn't work with large groups yet, we would recommend starting with a tube.
The price of a transistor preamp is usually cheaper. However, an expensive and high-quality transistor device is still better than a tube preamplifier of the "middle" level.
*Hybrid Preamps
Some preamps have both a tube and a transistor circuit at the same time, with a choice or even a combination of them. Attention should be paid to this option if there are approximately the same number of instruments recorded, for example, vocals and instruments, or guitars and keyboards.
Form factor: Rack, "500 Series" or Desktop?
Microphone preamps are available in 3 basic forms: standard rack (19 inches), the "500 Series" module or a desktop device. Some manufacturers produce their popular models in various form factors, for example, rack and 500-series.
The significance of the form follows the preamp function – it depends on how ergonomically you have equipped the studio. Fewer problems with the connection and more free space – more attention to the creative process.
1-channel, 2-channel or multi-channel?
If you are expanding your studio, then you should definitely pay attention to multichannel preamps that will complement the existing 1-channel or 2-channel preamps.

If today you don't record more than 2 microphones at the same time, the situation may change in the future. And these are investments that should be taken care of in advance: we recommend comparing the "per channel" cost of a multichannel preamp with 1- and 2-channel devices. It often happens that you pay less for a higher quality preamp unit. Well, in the future, when you start working with larger-scale projects, you don't have to spend any extra money.
Transformer or Transformerless?
To put it very clearly, that preamp can be considered a transformer one, in the construction of which there is a transformer. If it is missing, then we are dealing with a transformerless preamp. Transformer devices are characterized by a more "colorful" sound. So,  lovers of "transparency" will hardly love it. Transformerless circuitry delivers the purest, most transparent signal.
What to pay attention to?
Thus, we discussed the main parameters and now you have to ask yourself a few questions to buy a microphone preamp:
What will you connect to it and how it will fit into the workspace?
How many preamp channels do you need?
Do you need additional sound shaping controls?
Please note that we didn't consider specific situations of using preamps: drums, acoustic guitars, vocals, etc. This is because if you ask 10 specialists what his favorite preamp is for such and such a case, then you will receive 10 different answers. You should look globally: it's important that the preamp that you take is easy to integrate into your studio and have the additional sound controls you need.
That's all, there is nothing to add here by and large. The main advice is one – before you buy a mic preamp, listen to it with your microphone and then compare it with other models. We hope this guide to mic preamps was helpful for you.
---
Conclusion
Well, on this I finish my material. Now you know what a microphone preamp is and what it is for. If you own your home recording studio, I recommend that you still buy such a device. Just before purchasing, pay attention to my advice on choosing this music equipment. Well, be sure to consider preamps in different price categories.
For example, the budget model ART TubeMP sounds pretty good. Behringer Pro MIC2200 is a high-quality device with all the necessary functions and very good sound.
I also showed you high-quality rack devices in the middle price category. There is also something to choose from. If the budget allows, you can consider them.
Of the most expensive preamps, in my opinion, Universal Audio SOLO / 610 deserves the most attention. I was very pleased with its sound, its functionality, and capabilities. I recommend it too!