Selecting microphones for each instrument of the drum kit is certainly an interesting thing and will allow you to get the desired sound. But such a "set" will cost a lot. Not every home studio can afford it.
Therefore, many manufacturers offer turnkey solutions in the form of a set of microphones for drumming. They cost less than individually selected microphones, and at the same time allow you to cover the entire set.
And in case you need a nice microphone for your vocal performance we recommend to check the article about the best microphones for events. 
Product
Details


Shure PGADRUMKIT7

 

you can easily get by and get great sound out of just 3 mics;

they offer a great sounding tone on drums and amps;

great quality product, sturdy and easy to use and mount;

the provided cables are a good length to reach a sub snake;

the sound is clear and flat, excellent for those seeking a neutral flat response;




AKG Drum Set Session

 

amazing performance and build quality;

the sound is clear - no noise, distortion, or any other problem;

the clips hold the mics tight to the drum rims;


Nady DMK-7

mics work like a charm and they were really easy to setup;

a hard case that is well protected for safe storage ;

DM80 kick mic is a versatile workhorse;

nice for recording upright live in a room with other instruments;

capture the "wood" tones of the bass without too much mud;
---
Shure PGADRUMKIT7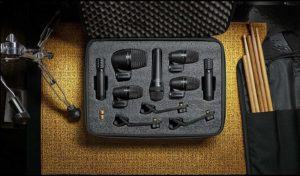 Anyone who considers sound to be an important means of self-expression must have used at least one of the Shure products, be it microphones, headphones or other sound equipment.
PGADRUMKIT7 is a professional-quality microphone kit for capturing high-quality drum sound when playing and recording music.
In addition to concert sounding drums, microphones can be used in a recording studio to get a good sound of drums.
The kit includes:
1 x PGA52 Cardioid Dynamic Microphone for Bass Drum
3 x PGA56 Cardioid Dynamic Microphone for Snare Drum/Tom
1 x PGA57 Cardioid Dynamic Instrument Microphone
2 x PGA81 Cardioid Condenser Instrument Microphone
3 x A25D Break-resistant Microphone Clip
3 x AP56DMBreak-resistant Drum Rim Mounts
7 x XLR-XLR cables 4.6 meters long
Zippered transport case
The PGA52 is ideal for transmitting and recording low frequencies. Equipped with a hinge and retainer for quick and convenient microphone placement.
Main characteristics:
Type: dynamic
Frequency range: 50 Hz – 12 kHz
Pattern: cardioid
Output impedance: 150 ohm
The PGA56 – robust microphone for close placement to the source (used with snare, tom or percussion)
Main characteristics:
Type: dynamic
Frequency range: 50 Hz – 15 kHz
Pattern: cardioid
Output impedance: 200 ohms
The PGA57 uses a cartridge designed for the clear sounding of amplified instruments and acoustic drums.
Main characteristics:
Type: dynamic
Frequency range: 50 Hz – 15 kHz
Pattern: cardioid
Output impedance: 150 ohm
The PGA81 is an advanced condenser microphone with a level frequency response for sensitive acoustic instruments.
Main characteristics:
Type: condenser
Frequency range: 50 Hz – 15 kHz
Pattern: cardioid
Output impedance: 150 ohm
This set was developed specifically to provide excellent sound for full drum kit performance and recording of the drum and toms.
You may also like: 11 Best Directional Microphones
AKG Drum Set Session 1
The KG Drum Set Session I is a drum microphone set that includes everything you need to fully mike any set of standard sizes while providing an excellent balance of performance and cost.
It consists of 5 dynamic and 2 condenser microphones for use in various fields. Provided with a complete set of microphone clips and mount adapters for quick and easy installation and configuration. Reliable protection during storage and transportation in long tours is provided with a durable aluminum case.
Also, the kit can be used for percussions, guitars and bass guitars, various kinds of wind instruments. All microphones belong to the Perception Live series and are characterized by the presence of a durable metal housing, a robust steel grid to protect the microphone, a scratch-resistant coating, and a high maximum sound pressure level.
By combining condenser and dynamic microphones, AKG provides drummers with a versatile and compact set of microphones for recording and live performance.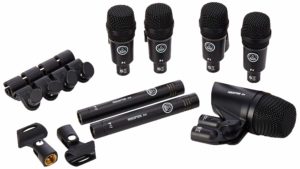 In addition, microphones withstand powerful sound throughout the entire application. For example, P4 mic copes with sound pressure up to 152 dB and with all loud instruments without distortion.
The cardioid pattern makes this microphone very user-friendly as the sound is focused at the front of the microphone, which reduces feedback and unwanted noise at the microphone. The durable metal body easily withstands all the difficulties of scenic and daily use.
P2 microphone takes care of the low frequencies, providing the deepest bass range with bass drums, trombones and bass amplifiers. Together, this dynamic duet provides neutral sound reproduction of the instruments.
The P17 condenser microphone is also capable of maintaining sound pressure up to 155 dB and provides outstanding clarity with a lightweight diaphragm. Thanks to transformerless electronics, it provides the user with a full dynamic range with minimal distortion.
The famous drummer Rick Latham has already used Drum Set Session I, and this is what he said: "Drum Set Session I is an amazing microphone set that gives high-quality sound to any drummer, regardless of skill level. The set is always with me – in my studio, on the road, and on stage. "
In general, this is a good and inexpensive set of microphones. In its price range probably the best. Includes convenient case for transportation. Just don't forget to buy 7 microphone cables for this set.
Nady DMK-7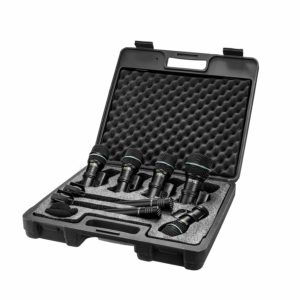 Nady DMK 7 is a set of 7 professional microphones for sounding drums.
Nady DM 70 is a dynamic cardioid microphone, suitable mainly for sounding a snare drum or tom. The DM 70 copes well with high sound pressure levels without distortion. Due to its cardioid pattern, the DM 70 is well insulated from other nearby drums. The microphone is practically invisible because of the small size.
Technical characteristics of Nady DM 70:
Dynamic, cardioid
Frequency range – 70 – 16000 Hz
Maximum sound pressure – 130 dB
XLR – connector
Impedance – 600 ohms
Nady DM 80 is a dynamic cardioid microphone, suitable mainly for sounding drums or bass toms, as it's focused on high sound pressure levels and improved low-frequency transmission. The cardioid directivity isolates the microphone from adjacent instruments and drums. The microphone is small in size.
Technical characteristics of Nady DM 80:
Dynamic, cardioid
Frequency range – 30 – 15000 Hz
Impedance – 250 ohms
Maximum sound pressure – 140 dB
Nady CM 88 is better suited for sounding and recording hi-hats, cymbals, and other instruments with a high-frequency component. The microphone can also be used to sound vocals and instruments since it has a linear frequency response. CM 88 needs phantom power from 9 to 52 V.
Technical characteristics Nady CM 88:
Condenser, cardioid
Frequency range – 50 – 18000 Hz
Impedance – 200 ohm
Maximum sound pressure – 136 dB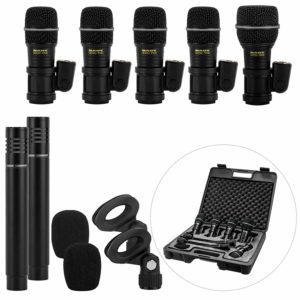 Perfect for use in the field of a studio recording of percussion, brass and woodwind instruments from close range.
The kit comes in a convenient plastic case.
Audix DP5A
AUDIX is a leading American manufacturer of high-quality microphones for live sound and sound recording. One of the features of AUDIX microphones is a clear classification by application. Among the products AUDIX, I would like to highlight the DrumPack 5 – a set of microphones for the sound of the drum set in an aluminum road case.
A set of high-quality instrument microphones for the drum kit from the DP series. Each D-Series microphone contains a membrane made using VLM technology (Very Low Mass), the body is made of aluminum. Microphones and 4 D-Vice mounts are located in a convenient travel case, allowing you to quickly and conveniently position the microphone on the drum set.
The kit includes:
D6 – kick drum;
i5 – snare drum;
D4 – floor tom;
D2 – rack toms;
DVICE gooseneck rim mount clips.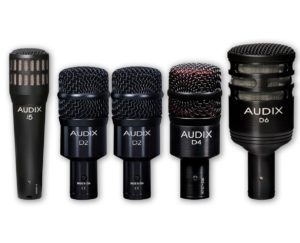 D6 has a frequency response of 30 Hz-15 kHz and a cardioid pattern. D6 is designed for easy positioning and doesn't depend on the location on the drum. The D6 capsule has the legendary VLM technology, which has made D Series microphones extremely popular for live performances and recording studios.
i5 focuses on specific instruments, cutting off the sound of other instruments or ambient noise on stage. With a smooth frequency response of 50 Hz-16 kHz and the ability to process sound pressure levels above 140 dB, the i5 can be used for a wide variety of applications and for all music genres.
D2s has a natural, dynamic sound of toms. D2 faithfully reproduces the warmth and the beats necessary for a successful percussion sound. D2's natural warmth makes it an excellent choice for many instruments, including sax, brass and woodwind instruments.
D4 has an exceptional frequency response of 40 Hz – 18 kHz and successfully captures the true sound of instruments that require bass reproduction. When it comes to attack, harmonics, and decay of large toms, D4 is a perfect choice.
You may also like: 11 Best Choir Microphones
Samson DK705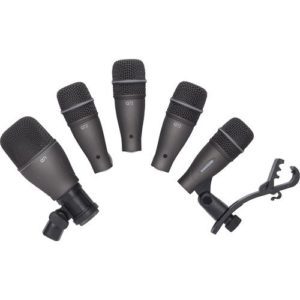 One of the most popular companies for the production of microphones is Samson. This brand has proven itself due to the excellent quality of products and their durability. Therefore, I would like to include their set of microphones for drums in this review.
The Samson DK705 Drum Microphone Set, consisting of 5 drum microphones, will mike your drums both at live shows and recordings in the studio. Each microphone in the DK705 has been carefully selected and tested to preserve the natural tone of your instrument.
The DK705 consists of four Q72 snare/tom microphones and one Q71 kick drum. Each microphone has a precision capsule with a neodymium magnet and swivel-style mic adapter.
The Q72 microphones accurately record the attack and warmth of your drum and toms while preserving the natural tone and character of the sound.
The Q71 can operate with high SPL sound pressure and provides optimum frequency response for your bass drum.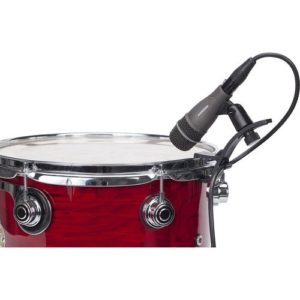 Each Q72 microphone has a time-tested tension-mounted rim clip. The mounts are compatible with all standard microphone stands. The Q71 has a mount to any standard microphone stand. All microphones and accessories are packed in a hardshell carrying case.
The devices can be freely used both in the studio and in concert conditions. High technical characteristics of these models allow them to effectively cope with the various tasks of the music world in each of the described circumstances. At the same time, the sound will be transmitted as clearly and in detail as possible, which will allow the drummer to truly enjoy the creative process.
The manufacturer positions this set as a set of equipment that is capable of qualitatively satisfying all the needs of a modern musician in terms of providing sound transmission when working with percussion musical instruments.
Tascam TM-DRUMS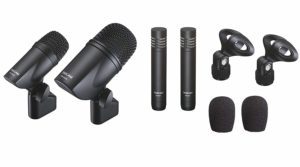 Tascam TM-Drums is a set of four microphones with which you can fully record your drum set. The kit is specially designed for beginner drummers or sound engineers who cannot afford to record each drum with a separate microphone. The set contains Tascam TD-50DB microphones for bass drum, Tascam TD-50DS for snare drum and two Tascam TD-50C microphones for overhead or hi-hat, which will be enough for a full recording.
Tascam TD-50DB is a cardioid dynamic microphone for recording bass drums.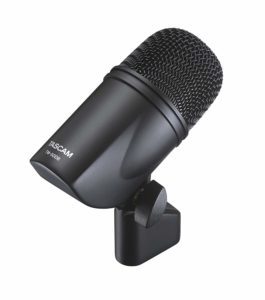 The frequency range from 50 Hz to 15 kHz, doesn't require phantom power. The model is designed perfectly to get the punchy and present frequency response out of the bass drum.
The Tascam TD-50DS is also a dynamic cardioid microphone. Designed to record a snare drum, can be used for toms or other elements with a shaped and defined attack. It has a frequency range from 50 Hz to 14 kHz, phantom power isn't required. The microphone perfectly perceives the snare attack and provides a bright and powerful sound.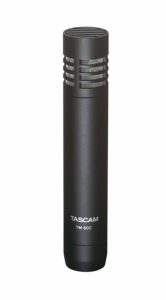 The Tascam TD-50C is a condenser microphone with a diaphragm of 16 mm. Cardioid directivity requires 48V phantom power. This kit contains two microphones, which enables recording in stereo. Also, the microphone can be used to record hi-hat or toms.
Due to the wide frequency range from 30 Hz to 18 kHz, the microphone fully transmits both the overall sound of the drum set and the high-frequency timbres of the cymbals, and the condenser type of the capsule allows you to capture as many sounds as possible for fullness and richness of the sound.
Tascam TD-Drums Microphone Kit is the perfect solution for a budget drum kit recording. With four specialized microphones for different drum components, you can transmit the sound in full.
The bass drum and snare drum, which make up the foundation of the sound, are miked with separate microphones to achieve the best result with a powerful attack and the pronounced character of the drums.
The stereo pair of microphones record the sound of the drum set as a whole with a predominance of cymbals, which essentially enlivens the recording, creating a wide and full sound. Microphones can be used to record or sound drums. Mic clips and windscreens for TM-50C Condenser mics are included as well as a hard Carry Case.
Lewitt DTP Beat Kit Pro 7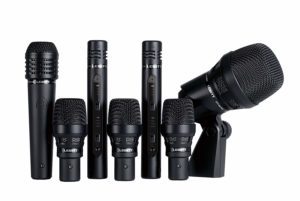 The Lewitt DTP Beat Kit Pro 7 is an elite full-fledged drum microphone set designed for an ever-increasing number of regular drummers and producers looking for a high-performance omnidirectional set that allows you to reproduce powerful, authentic sound in any environment.
DTP Beat Kit Pro 7 behaves equally confidently, both in high-level studio projects and large live performances, showing itself from the best side and providing premium sound reproduction.
It provides rich detail and powerful sound, as well as many settings of sound characteristics. The set consists of a DTP 640 REX drum microphone, three DTP 340 TT microphones for capturing the sound of toms, a pair of LCT 340 overheads and an MTP 440 DM microphone for a snare drum. The set is packed in a case for component protection and transport.
The drum microphone DTP 640 REX has two capsules: dynamic and condenser ones. A switchable filter (improved frequency response) provides a neutral or rich and intense instrument sound. There is an attenuator with a four-way switch.
DTP 340 TT microphones are supercardioid dynamic, allowing you to accurately capture the sound of percussion instruments.
Microphones LCT 340 – universal condenser for acoustic, percussion instruments, drums, and vocals. An attenuator and a cut filter are provided, each with a four-way switch. Supplied with cardioid capsules.
The MTP 440 DM Dynamic Instrument Microphone is equipped with a cardioid capsule that provides a bright and vibrant sound. Designed for toms, percussion, snare, guitar, wood/brass or vocals.
This is a set of high-end microphones both in their design and technical characteristics. The peculiarity of this set is wide possibilities of use and application. The set showed itself very well both in studio projects of the highest class and in various live performances. Lewitt DTP Beat Kit Pro 7 (cardioid only) offers full-fledged sound support of a very high level.
Shure DMK57-52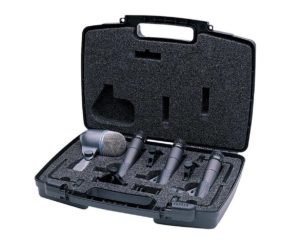 Consisting of three SM57 microphones with A56D mounts, one Beta 52 microphone, and a durable case, the DMK57-52 kit is a complete set for sounding drums both on stage and in the studio.
The best-selling SM57 microphone successfully reproduces the sounds of the snare drum and toms. The gorgeous Beta 52 is designed for the sounding of a kick drum and is easily set up and securely fixed in the required position with the help of a special mount. The A56D is a versatile and reliable mounting system for attaching microphones to percussion instruments.
The SM57 versatile dynamic cardioid microphone has become a classic when working at a wide variety of concert venues and studios around the world. The gradual increase in its frequency response at mid frequencies contributes to a clean and clear sound transmission of musical instruments and a warm, rich vocal reproduction.
SM57 is indispensable for the percussion and instrumental amplifiers. The microphone is great for working with ensembles, acoustic and electric guitars, banjo, brass and woodwind, electric pianos, electric organs, Leslie effect, drum, toms, cymbals, and hi-hat.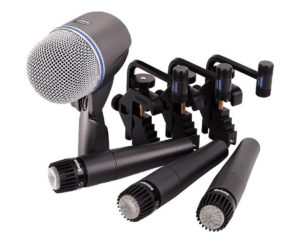 The Shure Beta 52A snare microphone has been specially developed for capturing the sound of percussion instruments, in particular, the bass drum. Shure Beta 52A is perfect for removing high-quality low-frequency sound, which includes all kinds of bass drums, and even bass instruments, such as bass guitar.
The features of the Beta 52A microphone are expressed in the fact that this model is capable of vividly and qualitatively expressing a drum sound and not allowing it to get lost in the general mix of the sound of instruments.
The manufacturer recommends using a microphone not only for live performances and drumming but confidently states that the Shure Beta 52A bass microphone can be used quite well in the recording studio, which greatly expands its application, making this model almost indispensable for work with low-frequency sound.
I can conclude that DMK57 is a great combination of the highest audio performance and an affordable price.
Audix FP7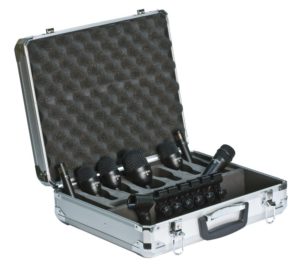 Audix has revolutionized the drum and percussion microphone segment, developing special models for specific instruments.
Fusion Series:
Assembled and tested in the USA.
Fully meets all the performance criteria required for a professional stage and studio.
The company offers to buy the Audix FP7 kit in a convenient aluminum case, inside which a special foam is used for safe storage.
All microphones have a robust design: zinc alloy is used to make the housing.
XLR connector covered in gold.
Laser engraving of the model, as well as its serial number.
The price of the Audix FP7 kit corresponds to the quality.
The kit includes:
Audix f5 (snare drum)
3 x Audix f2 (toms)
Audix f6 (bass drum)
2 x Audix f9 (overhead, cymbals, hi-hat)
The F5 dynamic instrumental microphone from the updated Fusion series has been designed to be used both on stage and in the studio and can be used for a whole range of musical instruments, guitar and bass guitar cabinets, speech, and vocals.
F5 has a hypercardioid directivity pattern to improve noise immunity and control the occurrence of acoustic feedback. Microphone diaphragm is made by LM ™ technology for natural and accurate sound.
F5 is durable, compact and easy to place in the optimal position relative to the sound source. With a wide frequency range from 55 Hz to 15 kHz, the F5 provides clear, accurate and natural sound without the need for equalization.
The dynamic instrumental microphone F2 is good for overheads, floor toms, congas, guitar and bass cabinets, saxophone, brass. Transformerless design, low impedance, and balanced output allow the microphone to work without interference even with long cable lines.
With a wide frequency range from 40 Hz to 16 kHz and ability to work with high sound pressure levels (up to 140 dB), the F6 is an excellent choice for miking low-frequency musical instruments such as bass drums and bass guitar cabinets. The microphone is easily positioned in space, has a robust body and compact dimensions.
F9 – designed for overheads, hi-hat and acoustic instruments. Professional condenser microphone for stage and studio. Range of use – 40 Hz – 20 kHz.
---
Guide how to choose microphones for a drum kit
How many microphones do you need?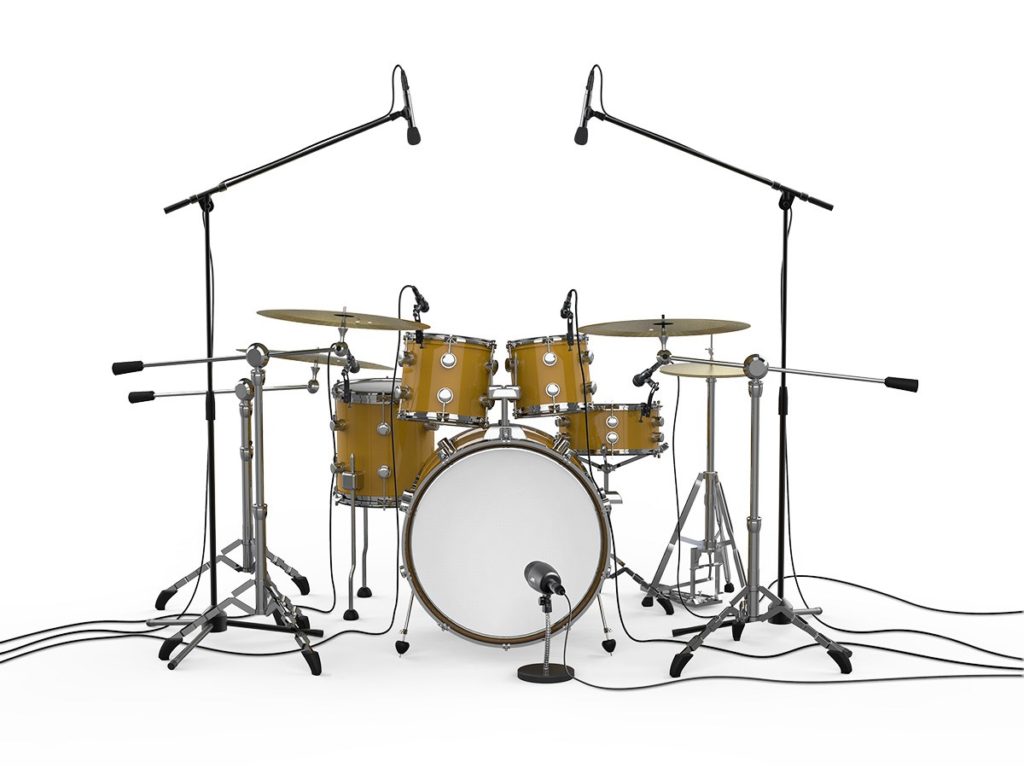 How many microphones do you need to sound a drum kit? Ideally, it's desirable to have one microphone (or even two) for each instrument in the set, plus a stereo pair of overheads.
However, for financial reasons, this option isn't always available. In addition, three high-quality microphones will provide better sound than eight mediocre ones.
Finally, with fewer microphones, a more natural sound is obtained, which is sometimes extremely important. The minimum required for stereo recording is three microphones: two overheads (a stereo pair over the setup) and one microphone for a bass drum. Such a kit was used to mike a huge number of hits.
A small set of high-quality, carefully selected models has only one drawback – the smaller the set, the less you will be able to adjust the sound in any way. With a small number of microphones, the acoustics of the room, as well as the individual drummer's playing technique have a serious influence on the sound.
On the other hand, if you use more microphones, individually selected for each drum and placed close to the instruments, you get a "controlled sound", which will be easy to edit later. In small live sets, however, a pair of microphones is enough.
What are the main microphones to purchase?
The standard drum kit has the following components:
bass drum
snare drum
three toms
hi-hat
crash/ride cymbals
Each of these instruments has its own characteristics of sound, so each of them requires a microphone of a certain type and with suitable characteristics:
Overheads are usually a stereo pair of condenser microphones (with a large or small diaphragm). The task of such microphones is to provide the balanced stereo sound of the drum set as a whole. But, unfortunately, the bass drum at the same time is not sufficiently covered, so I recommend purchasing a separate microphone for it.
Microphone for a bass drum. The bass drum is different in that it can produce a low-frequency signal with a very high sound pressure level (SPL). Therefore, this instrument requires a microphone that can cope with both features. Accordingly, in this case, use an expensive and high-quality condenser microphone, or opt for a dynamic one.
Snare microphone. The requirements for microphones for the snare drum are as follows: high maximum sound pressure level to cope with a loud sound without distortion; compact cardioid pattern to minimize the influence of other drums; robust body able to withstand strong sounds of chopsticks. The SHURE SM57 microphone fully meets these requirements.
Microphones for hi-hats. A hi-hat condenser microphone with a small diaphragm and a cardioid pattern is perfect for miking the cymbals. This is due to the fact that such a microphone picks up high frequencies well and eliminates the external sounds of other instruments.
Tom Microphones. Usually, sound engineers don't mike each tom, as they are well captured by the overhead microphones. But for a more detailed and controlled sound, you can use microphones that are attached to the rim of the tom and don't require additional racks.
Microphones for cymbals. Rides and crashes, as a rule, are also not miked separately, as they are adequately captured by the overhead microphones. But, having decided to choose a  separate microphone for them, buy a small diaphragm condenser microphone.
Should I buy a set of microphones?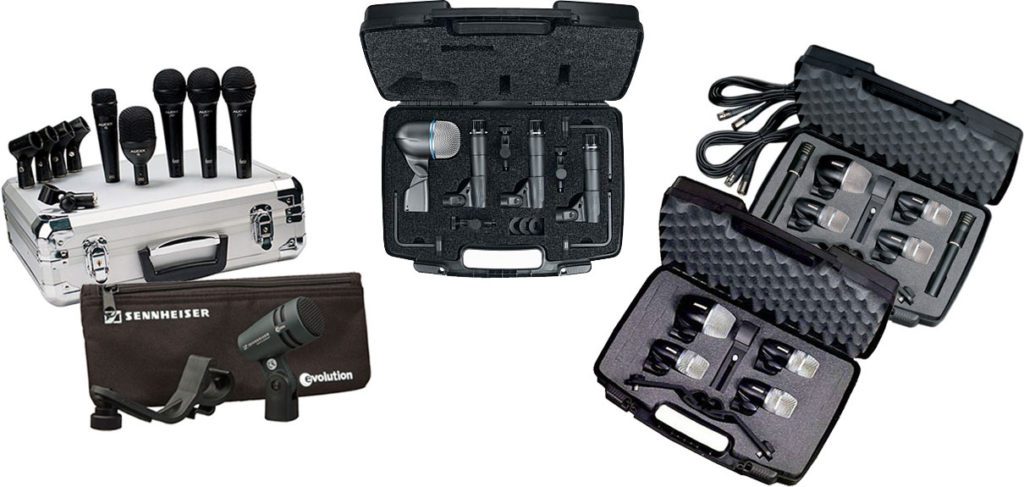 The cost of high-quality professional microphones is quite high and not everyone can afford to buy them separately. Fortunately, many manufacturers today offer ready-made kits for drumming, which are not only affordable but don't require a puzzle on "what kind of microphones to choose." Sets usually include three to seven microphones (or more). Microphones are specially designed for drums, and their amplitude-frequency response is optimized to work with certain drum setup instruments.
These kits are often supplied with microphone-to-drum attachment devices with rotating holders that allow the microphones to be quickly and comfortably positioned. Some of the fasteners provide the ability to install directly on the rim of the drum so that you can refuse to use the individual racks with which the set is usually surrounded on all sides, and thus save money.
Although usually the sets are produced by "low-end" manufacturers, many famous microphone companies also pay quite a lot of attention to this market segment.
Can I use ribbon microphones to record drums?
If you answer in one word – yes. Their figure of eight is particularly well suited for use as overheads in a room with good acoustics, and such microphones usually don't pose problems when working with high sound pressure levels. The "warmth" of ribbon microphones will significantly reduce the extra ringing of the cymbals (in comparison with condenser microphones), and the natural open sound will allow you to abandon the separate sounding of the toms.
Can I use a large diaphragm condenser microphone to mike the bass drum?
If we talk about sound capabilities, a condenser microphone with a large diaphragm is perfect for recording low frequencies of a bass drum. However, since condenser microphones are much more sensitive than dynamic microphones, it's very important to reduce the signal level to avoid overloading.
Most high-quality condenser microphones are usually equipped with a -10 / -20-decibel attenuator, which is used to prevent distortion when struck into a bass drum. In cheaper models, there may not be the attenuator, since such microphones are focused only on work with vocals, and comparing the volume of vocals and the bass drum is ridiculous!
The bass drum sounds good, but the sound of other instruments penetrates.
The problem can be solved in two ways, both of which can be used simultaneously. The first is to surround the bass drum with soundproofing material, thereby minimizing the interpenetration. In particular, the high-frequency signal of the cymbals will be minimized.
The second way is to turn on the noise suppressor in the bass drum channel and adjust it in such a way as to eliminate the interpenetration while not making the effect too pronounced so that quiet notes are not lost.
No matter how I put the microphones, the cymbals sound too loud through the overheads.
Cheap cymbals often sound unsatisfactory, so it is quite possible that you should change them for something more pleasant sounding. A good set of cymbals is a great investment. If this doesn't help, make sure that the microphones you are using are not raised high. If so, replace them with a pair of microphones with a smoother amplitude frequency response. Try to listen to the signal from the microphones in the mix with the toms and snare channels – perhaps the overall mix sounds much nicer.
---
Conclusion
Good microphones will last you a lifetime – their value is time tested. Unlike digital electronic devices, where a cheap model may sound very good, the difference in sound between cheap and expensive microphones is simply huge. Therefore, if you have problems with money, you should not rely on the sounding of each drum individually, it's better to purchase the highest quality (available) microphone for the bass drum and the same good overheads. The rest of the microphones you can buy over time.
On the other hand, if you really want to mike all the drums, perhaps a ready-made inexpensive set of microphones will do. Of course, if money allows, always buy only the best!
We hope that this review has answered many questions on the choice of microphones for a drum set, so it remains to wish you good luck!