Does your camera shoot video well but are you unhappy with the sound quality? You are in the right place! Let's analyze the market and consider the best microphone models for Canon cameras.
And if you need a microphone for your PS4/PS5 then check out this article.
Product
Details


Shure VP83

perfect design, functionality, build and durability;

superior in natural sound, low cut filter engagement;

recessed controls to reduce accidental changes in settings and power;

sensitive, has way more tonal range, deeper base, cleaner mid tones, and crisp on the high end;

Rode VideoMic Pro 

clear sound quality and durable;

ULTRA flexibilty for power options, super portable;

you don't have to plug it into a separate recorder - it has it's own mic input;

great for live video recording, voice overs, tutorials, and all your audio needs;


BOYA BY-MM1

 

great professional sound, reduced noise and just superb;

the windmuff is great for keeping down mild ambient wind noise;

doesn't have a battery to worry about;

the deadcat furry windscreen is a very effective when recording outdoors;
---
Shure VP83
Company SHURE specializes in the manufacture of professional microphones. And its products are extremely popular today. I'd like to highlight one of them used with Canon cameras – microphone SHURE VP83.
This is a broadcast quality condenser microphone with a supercardioid polar pattern. Most customers note that it provides excellent sound quality.
Features and Performance
As the model has a supercardioid polar pattern it ignores the sources of sound that come from the side, and also maintains a good recording in cars. The sound is transmitted to the camera using a 3.5 mm audio output. Another connector is used to output the sound to the headphones.
The most important property of such a microphone is that the battery charge isn't reduced from this since the camera is powered by two batteries. The microphone can work 10 hours continuously.
To sum up
The SHURE VP83 microphone has a record button and a clear menu even for a beginner – this makes it easy to use. The LCD display is located on the back side and shows complete recording information: track information, headphone volume, and more.
You may also like: 11 Best Microphones Over the Ear
TAKSTAR SGC-598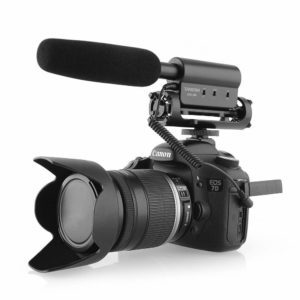 The compact condenser microphone Takstar SGC-598 fits into your camera's hot shoe and replaces the built-in microphone. Due to the large range of frequencies captured and directional polar pattern, the microphone is ideal for recording interviews.
Features and Performance
The use of a windproof noise-reducing windscreen made of high-quality flexible polyurethane foam can significantly reduce the level of spurious noise and provides a high and clear sound quality.
A shockmount with rubber pads, on which a microphone stands, provides maximum protection from vibrations, effectively suppresses the noise that occurs during the shooting process. Due to its design, the microphone can tilt in a horizontal plane and return to its original position due to rubber bands.
The Main Features:
Highly sensitive condenser microphone designed specifically for cameras.
Optional + 10 dB of sensitivity and a 200Hz low pass filter.
Mount, equipped with anti-vibration filter.
Aluminum body, reducing the influence of electromagnetic pulses.
Powered by 1.5V AA batteries, operation time up to 100 hours.
Battery discharge indicator.
To sum up
The versatility of using a microphone when shooting various scenes indoors and outdoors allows you to get high-quality sound in any conditions: during interviews, during club events, press conferences, weddings and traveling.
Most likely, professionals having experience with better mics will not appreciate this microphone. However, I would recommend this mic to amateurs looking for their first upgrade away from the in-camera mic.
Rode VideoMic Pro+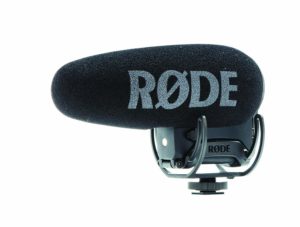 New VideoMic Pro+ becomes a new level for sound recording for semi-professional use. The microphone is equipped with a first-class shock mounting system Rycote Lyre, a VideoMic Pro capsule, and windscreen. In addition, some useful features have been added to the microphone.
Features and Performance
VideoMic Pro+ can work: from a removable lithium-ion battery LB-1 (included); 2 AA batteries; from a constant power supply via USB, from an external battery or a network adapter.
A serious plus is that the manufacturer tried its best and realized the possibility of charging the battery without taking it out of the battery compartment. The battery is charged through the micro USB connector using a USB – MicroUSB cable from an external source. The charge lasts approximately 100-150 hours of recording as the manufacturer says, which is true.
The Rycote Lyre based shock mounting system. For me, this name says nothing, but there's something to compare because in my arsenal there're shock mounts from other manufacturers.
The shock mounting is high quality, durable and, most importantly, performs its function. There is no vibration or noise when recording sound. At the first acquaintance with the Rycote Lyre, I thought that it was very fragile and easy to break, most likely I was mistaken. The microphone is mounted on the shoe easily and quickly.
Digital control allows you to adjust the parameters of the recorded signal directly on the microphone and reduce the time spent further on post-production and sound editing.
To sum up
This is a directional microphone for shooting events, news shooting and other types of shooting "on the go." Supercardioid directivity allows you to cut off side noise, and low self-noise provides a clear sound even for quiet speech and similar sound sources.
BOYA BY-PVM1000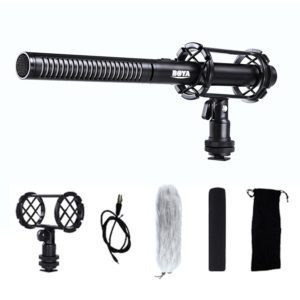 The Boya BY-PVM1000 shotgun microphone is ideal for recording high-quality sounds when used with DSLR, video and cinema cameras, as well as audio recorders.
The microphone has a supercardioid polar pattern, which allows you to receive sound directly from the object in front of the microphone while minimizing unwanted background sound.
Features and Performance
A special shock mounting system is designed to minimize noise and vibrations that adversely affect the overall quality of the recorded sound.
The Boya BY-PVM1000 microphone is equipped with a high pass filter that cuts low-frequency noise up to 80 Hz. Microphone mounting is universal – this is a standard hot shoe and a standard 1/4 " thread screw, which allows you to install the microphone on various devices with a 1/4″ screw.
In order to narrow the directivity, the manufacturer has significantly increased the length of the microphone. As a result, this microphone records a very high-quality sound in the capture zone and is absolutely not susceptible to extraneous noise outside it.
The power of the Boya BY-PVM1000 microphone is possible through an external phantom power source, as well as from an AA battery. Professional XLR connector allows you to use the microphone with almost any audio recorders, as well as with other devices with XLR connector.
To sum up
A number of successful engineering solutions, as well as the quality of the materials used and the assembly guarantee trouble-free operation of the device for a long time. This model has earned popularity among reporters and people involved in professional sound recording in theaters or on film sets.
Tascam DR-10SG
Tascam DR-10SG is a camera-mountable audio recorder with a shotgun microphone, designed for use with DSLR-cameras. 
This budget model has a very compact size and has a built-in mount for installation on the standard "shoe" of the camera. The model allows you to record audio in WAV (BWF) format on a microSD/SDHC memory card, and the DR-10SG requires only one AAA battery (the developer promises up to 8.5 hours of continuous life).
Features and Performance
You can use it as a standalone recorder to record interviews in noisy environments. This will be a great advantage regarding budget portable recorders due to super cardioid and equalizer mode.
What can be said about the quality of the sound? The sound is very real. Manual or automatic gain control plus equalizer presets give a very decent mono sound. Thanks to the supercardioid orientation, the unnecessary background is well cut off and the main source is well captured.
You can use the recorder without recording to the device, i.e. if you send sound to a camera or recorder, it will work as a microphone. For example, using Tascam DR-60D, we get excellent control of the recording level, additional gain level adjustment, and reduced self-noise.
To sum up
As for the "long range", it's average but supercardioid is great. The human sounds, the creaking of the doors, the rustling of the grass are transmitted very nicely. Thank Tascam! In this, the products of the company inspire me a lot.
In general, I didn't find critical minuses. If you know its specific features, then the result will be very worthy.
Audio-Technica AT8024
If you don't know which microphone to choose for shooting video on a Canon camera, then look at the on-camera video microphone from the Japanese microphone manufacturer Audio-Technica AT8024.
This microphone works with all cameras where there is a "hot shoe" for the flash, that is, you can connect a separate flash, except for the built-in one. Also, Audio-Technica AT8024 is great for shooting videos on youtube.
Features and Performance
Audio-Technica's AT8024 is designed for mono/stereo audio recording using video cameras or SLR cameras. It can operate in two modes: mono with a cardioid polar pattern and stereo with an internal matrix system.
By selecting the mode of operation, focusing on one object or expanding the field to record a real sound picture is provided.
The AT8024 is equipped with a built-in three-position adjustable attenuator of the input signal level (-20 dB, -10 dB, 0 dB) for capturing a soft and very loud sound without distortion. A switchable low-frequency roll-off filter helps to avoid unwanted ambient noise, sound reflections in the room, and mechanically induced vibrations.
To sum up
Audio-Technica AT8024 provides significantly better sound quality than the camera's internal microphone. The microphone is powered by 1 AA battery and is equipped with a built-in shoe for attaching to an SLR camera and video camera equipped with a shoe. The kit includes a 1-meter cable with mini jack, 1 x AA battery, foam and fur windscreen.
Canon Directional Microphone DM-E1
The DM-E1 Directional Stereo Microphone allows you to record a high-quality audio track for the video. It's easily installed in a "hot shoe" and connects to a 3.5 mm microphone jack on a range of compatible EOS cameras *.
* Not recommended for use with EOS-1D Mark IV and EOS 550D cameras, as they don't allow manual adjustment of the volume of an external microphone.
Features and Performance
Recording a rich and realistic sound, such as the entire tonal range of a piece of music – from violins and flutes to bass and bass guitar – thanks to a range from 50 Hz to 16 kHz. The sensitivity of -42 dB allows you to record even the quietest sounds.
Complement your video with great sound with three modes of directional recording. Choose 90 ° or 120 ° for high-quality stereo recording, depending on the size of the space, or use the "shotgun" (mono) mode to clearly record the conversations of objects on the camera without any extraneous noise.
You will get clear, high-quality sound with no unwanted noise due to a shockmount system that compensates for camera and lens vibration, a windscreen that blocks wind noise, and a 66 dB signal-to-noise ratio for suppressing external noise.
Thanks to its compact and lightweight body, the microphone can be carried everywhere with you. Together with the camera and lens, it forms a neat system for comfortable handheld shooting for a long time. A lightweight lithium battery doesn't make the device heavier.
To sum up
Canon DM-E1 microphone – the first external microphone in the Canon EOS system, which allows you to shoot video with high-quality sound.
You may also like: 11 Best Microphones for Android
BOYA BY-M1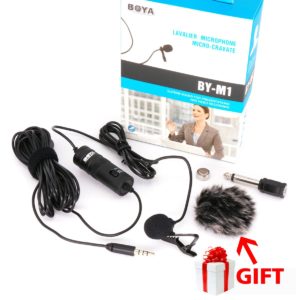 The microphone is suitable for smartphones, camcorders, audio recorders, personal computers, and other devices. This is a condenser microphone.
Features and Performance
Sound recording is good, but not great. The recording is much better than when using the internal microphone of the camera. The recording doesn't capture the sounds of the camera, focus. I want to note that there is a slight hiss in the background. This is clearly recorded in audio when recorded in a soundless room.
In a rather noisy place, this sound cannot be distinguished at all. You can almost get rid of this sound by making the manual settings in your camera, but the voice also changes, loses volume.
The length of the cable is 6 meters. This is a lot. Due to this, you can move away from the camera or other devices for a long distance. If you don't need such a length of the cable, you can search for a microphone with a shorter cable length. The microphone is powered by an LR44 battery.
If you use the lavalier mic without foam windscreen in the street in the wind, then it catches the wind and noise appears. With foam windscreen, there is less interference, but also there.
To sum up
In general, I like the BOYA BY M1. The microphone has a long cable, excellent and high-quality sound recording, so I recommend it for your home "recording studio" and not only due to the versatility and affordable price of the microphone.
The Boya BY-M1 microphone is quite compact and easy to carry. For these purposes, there is a special soft case in the kit.
Rode Stereo VideoMic Pro Rycote
Rode Stereo VideoMic Pro Rycote is a high-quality camera-based condenser stereo microphone, designed to work with video cameras and DSLR. Ideal for professional video recording and music recording, it retains the feeling of a realistic atmosphere.
Features and Performance
Rode Stereo VideoMic Pro Rycote allows you to record a stereo image of the natural depth and studio quality. The characteristics of the model are based on the VideoMic Pro feature set, with a new ergonomic form factor. It's ideally suited for DSLR cameras and semi-professional camcorders.
This microphone has an internal shock mounting system that isolates the microphone from vibrations and mechanical noise, which otherwise could significantly impair recording quality. In addition, a light but durable Kevlar reinforced braided cable provides excellent acoustic decoupling from a camera with a lower noise level than a traditional audio cable.
On the back of the microphone, control elements are conveniently located: indicators of sound level and battery charge, low-pass filter 80 Hz, which cuts low-frequency noise, such as noise from air conditioners, city noise, and other unwanted noise. The model allows you to record loud sources of sound, such as live music, car racing or an interview very close to the camera.
Rode Stereo VideoMic has a 20 dB switch specifically designed to boost the signal level to a DSLR camera (preamplifiers for DSLR cameras are usually of low quality), which results in lower noise and more accurate recording.
To sum up
Rode Stereo VideoMic Pro Rycote has the strongest position in the camera microphones category and provides another tool for directors, content creators, and musicians. The sound quality of this microphone is really outstanding.
BOYA BY-MM1
Boya BY-MM1 is the best choice for shooting an event when sound is being recorded from the point where the camera is located, as well as for the situation when the budget doesn't allow to buy additional microphones.
Features and Performance
The microphone will surprise by the high level of sensitivity and accurate transmission of voice and musical instruments. The reverse side of high sensitivity – it's necessary to use windshield in windy weather.
Thanks to its simple design, BY-MM1 "comes into operation" very quickly: all that is needed is installation on the camera and the connection of a single cable. The size of the microphone is quite small – it is very convenient to store and carry it, especially as the case comes with it.
In the kit, besides the microphone itself, there is a windshield (I will say right away, it's rather poorly made), mount on camera shoe, and two wires for connecting a microphone to various devices and a "leather" bag for storing a microphone.
To sum up
I will tell about my impressions. For its price, excellent voice recording quality from various devices. This is the most important thing. The windscreen, though made fairly cheap (as well as the bag), does an excellent job. The microphone is considered to be cardioid (that is, supercardioid), but it records in good quality.
The device perfectly records the voice at a fairly long distance. With the windscreen, all extraneous noise disappears and the range of sound capture almost doesn't change.
For the price, you buy a great device that simply has no competitors in this price range. If you want to start your journey in sound recording, this microphone is perfect for you.
Saramonic Vmic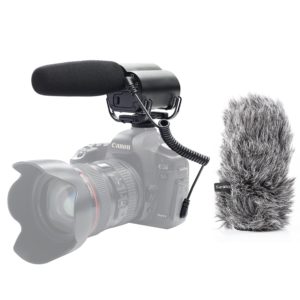 Saramonic Vmic is a high-quality condenser microphone for use with DSLR cameras and video recorders, providing a professional-quality audio recording.
Features and Performance
Equipped with sound level control (-10dB, 0dB, + 20dB), a high-frequency filter (150 Hz) and a high-frequency amplifier (+ 6dB), the Saramonic Vmic provides a wide range of technical capabilities for working in a wide variety of conditions.
The microphone has a detachable cable for transmitting the signal to the camera, a stereo output to the headphones for monitoring the recording and the shock mount system to avoid the occurrence of mechanical noise due to vibration.
The microphone has a lightweight all-metal body. It can work with a wide range of temperatures – from 17 to +57 ºС.
To sum up
Saramonic Vmic is a professional supercardioid condenser microphone for Canon Cameras. This microphone is very easy to control – with just one button and has a standard mount.
FAQ
Which type of microphone is the best for video blog shooting and interviews?
Camera-on microphones. These microphones usually have a form factor that works well when installed directly on the camera, so balance and weight are not a big problem. They are well suited for filming, shooting documentaries, video blogs, and interviews. But keep in mind that such microphones are in fact an advanced version of built-in camera microphones, so don't expect miracles if your subject is too far from you.
Can I use a shotgun microphone with my Canon camera?
Of course. If you are going to shoot a staged video or short film, you should seriously consider buying a decent shotgun microphone. Its distinguishing feature is that it has a cardioid polar pattern, respectively, the mic can capture only sound from the area to which it is directed. It can also be mounted directly on the camera.
They are good in cases where the situation is changing rapidly. With such a microphone, it's convenient to shoot a report. Let's say you need to interview five people in 10 minutes, and there is no way and time to mess around with lavalier mics.
Conveniently, the sound is immediately recorded to the camera. Then the only question is how well your camera processes sound from external microphones. Some cameras do it better, others worse, and we often blame microphones.
There is only one recommendation here, buy well-proven solutions, for example, RODE microphones, and don't buy cheap fakes. They will be no more than a microphone built into the camera.
Is it worth buying a lavalier microphone for interviews?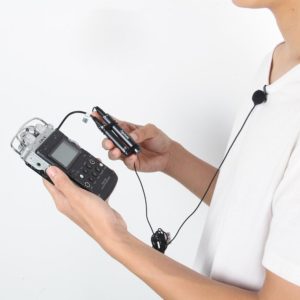 If you are filming an interview or a dialogue with a wide angle, lavalier microphones are truly indispensable. You can choose a wired or wireless system. The wired is usually cheaper and simpler, the latter gives you more mobility and eliminate confusion with the wires.
In my opinion, this is the simplest and most affordable solution.
Even an inexpensive lavalier mic allows you to record a pretty good sound. It's compact and doesn't take up much space in the bag.
Conclusion
So, we can sum up all the microphones that have been described in the review. All of them showed good results, far exceeding the recording quality of the built-in microphone of Canon camera. Besides the fact that all these microphones record high-quality sound, they are lightweight compact, ready to work from the first minute.
The Shure VP83 microphone is a laureate for today's award among other microphones. If you want a stereo sound, then I recommend the microphone of the Australian company Rode – Stereo VideoMic Pro.