When we say "microphone", one of the first things that come into our minds is singing. Really, the image if a microphone has always been tied to vocalists for many obvious reasons. Artists are probably the main target audience for any types of microphones – either these are dynamic or lavalier type.
On the other hand, because microphones are so demanded among vocalists there are dozens of brands producing the equipment for them with various technical characteristics and sound capabilities. How to determine which one is the best? Especially when all these microphones differ in types and price range.
You may also like: Best studio microphones for live vocals
Another thing is that there is a special type of recording microphones, which is different from the classic dynamic type, applicable for live performances. You have probably noticed before that all artists use rounded microphones with pop filters in the studio – these are called condenser microphones.
They have a different specification of sound which is easier to manipulate while editing a recording. However, a dynamic microphone can sometimes be a good recording mic as well. To find out, which microphones are going to be the best for recording vocals in 2020, read the article below.
Product
Details


Audio-Technica AT2035

excellent, crystalline sound, it is detailed and smooth with a bit of warmth;

very faithful and extremely versatile;




very low noise;




excellent quality/price ratio. It rivals microphones 3 times more expensive.

very easy to set up since its a plug and play;


Shure SM7B

mic is clean and crisp, very clear and natural sounding;

thick low-mids, a nice presence bump, and an agreeable proximity effect;
off-axis noise rejection makes this a good choice for live room recording;


Blue Yeti USB

solid metal construction;

amazing sound quality;

supports a variety of suspension arms;


provided USB cable is long enough.
1. Warm Audio WA47 Large-Diaphragm Tube Condenser Microphone
You probably expected some famous brands like Sennheiser or Neumann to stand this position, but here goes something interesting and fresh. It is a condenser microphone by WA company which is not so well-known on the market yet, but that's actually why the price of their microphones is not incredibly high yet.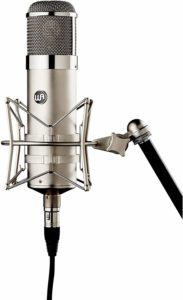 It is a super-cardioid vocal microphone bundle with a microphone boom stand and 15 inches XLR cable. Both the beginners and professional singers will not regret buying since it really provides a warm, clear and high-end sound.
The microphone has 9 polar patterns, and if you would like to record your vocals really professionally, you can choose a set, where there is not only WA57 mic only but also a stand for it together with a pop filter. A set like this will allow you to reach the best quality of the record possible.
The sound that it provides really reminds of that one by the legendary U47 mic. Large-diaphragm applied to all microphones whose capsule's diaphragm, or membrane is an inch or more in diameter. The WA47 can be chosen from the external power supply and this is why this item provides great versatility in sounds.
Considering the design of this item, you can see that it has more of a style of a retro mic. The capsule features dual gold touched Mylar diaphragms attached to a single backplate. Even the 7-pin cable is specifically chosen for the microphone.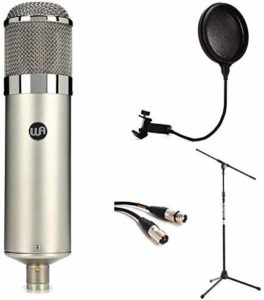 This meticulous approach to details of this product cannot pass unappreciated. It is fair enough to say, the manufacturers really did their best on this one. An interesting fact about this mic is that has a unique capsule hole pattern and frequency response of a classic U47 and the Australian company has recreated this vital part of the microphone.
The lower-gain tube reduced the background noise and enhances the sonics of the transformer and the capsule. And an American made transformer with laminations that have been imported from Germany is used to smooths over the top end and to add power to the bottom.
The microphone weighs around 14 pounds. In most cases, the microphone comes with a set for external power supply. So if the brand is not that important for you and you want to have something that will last for years WA47 is going to become your choice in 2020.
You may also like: 7 Best voice changing microphones
2. Neumann TLM 102
However, no musician can resist the old classic which has proven to be effective throughout the years. There is one interesting feature of all high-quality popular microphones – with years, they don't get cheaper, they actually become more expensive.
That's why you can see so many resellers with this item on Amazin and prices vary from $700 to $1000 depending on how rare is the version. Neumann TLM 102 is a large-diaphragm condenser with 132dB of dynamic range and a presence boost above 6kHz in a cardioid pickup pattern.
And of course, the factor, mainly determining the price is the name of Neumann company. It is a legend in the sound equipment industry, also the one which produced the famous U47 model that has already been mentioned above. With this model, you can not only record vocals but also instruments, including percussions and drums.
So if you want to also record acoustic instruments the quality is not going to suffer because the mic has the exceptionally fast transient response of the TLM 102. Where the TLM102 really shines is with vocals and speech. It has a slight boost above 6 kHz providing an excellent vocal presence in an overall mix.
Up to 6 kHz, the frequency response is extremely linear, ensuring minimal coloration and a clearly defined, extended bass range. The capsule has an elastic suspension system reducing handling and structure-borne noise. A pop screen integrated into the grille serves to suppress plosives in vocal and speech recording.
All the features mentioned above make this Neumann TLM102 great mic also for your home studio – so you can just install it in your room and enjoy the high-end recordings. Another cool feature of its design is that it is a quite compact microphone. The mic is powered via XLR cable.
3. Rode NT1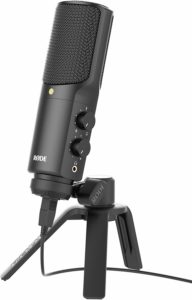 Another giant of the vocal recording industry is Rode NT1. And, comparing it to the last microphone that we observed, it has a significant advantage – it is much more affordable, providing almost the same quality of the recording. Just this model hasn't been on the maker as long as Neumann, but it surely provides a high-end sound.
The manufacturer here gives a 10-year warranty. Rode NT1 has a low self-noise level of 4.5 dBA and uses a cardioid polar pattern which is ideal for vocal recording. In most cases on Amazon, it is presented in a full kit including a pop filter, a shock stand mound and a bag for a mic. It is actually more profitable to buy this mic in a kit.
Rode NT1 has a wide dynamic range. It has a directional cardioid pattern and a frequency range of 20 Hz-20 kHz. Even if during the recording you got some noise on the background, it will be reduced by the filters in the microphone. It also has gold plated output contacts.
The only questionable aspect of it might be its stand since it is known to be not very stable. However, this is not a problem that anyhow influences the quality of the sound for this item. It's up to you to decide whether to buy this microphone in a kit with a shock mount stand or not.
4. Audio-Technica AT2035 Cardioid Condenser Microphone
This company is known for making the best microphones as well. It is a quite versatile microphone that can be used in a number of ways, including for home studio or professional studio. A distinctive feature of Audio-Technica AT2035 is that is it much more affordable than previous items. Premium sound at a pleasant price.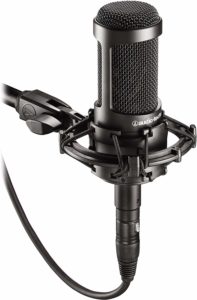 Its cardioid polar pattern reduces pickup of sounds from the sides and rear, improving isolation of the desired sound source. The microphone has a large diagram that provides the smooth recording of the voice along with the noise and distortion reduction.
Another feature that this item has is a high SPL handling and wide dynamic range provide excellent versatility. A custom shock mount provides superior isolation and prevents the mic from shaking. The frequency range of the mic is 20-20,000 Hz, and it also requires the phantom power for working (like almost all professional microphones).
Along with its rugged construction and high-performance specifications, the AT2035 provides an exceptional level of consistency. Audio-Technica AT 2035 is superb not only in the studio but also on stage. It attracts a low level of feedback thanks to its cardioid pattern.
It reduces the sound that comes from the side sources, focusing only on the direct sources, which makes the end sound more prominent. The pad switch removes 10dB, which allows more headroom when signals peak and may cause distortion.
In general, don't put your expectations too high about the sound quality of this mic, since it rather cannot compete with the most expensive ones, but still, from buying this item you will get a premium quality sound.
5. Shure SM7B
It's obvious that we couldn't just exclude Shure from this list. One of the best microphones ever, it still in trend in 2020. It has a flat, wide-range frequency response for exceptionally clean and natural reproduction of both music and speech recording.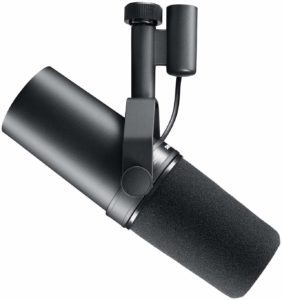 Bass roll-off and mid-range emphasis control with graphic display of response setting. The mic also got a function of extra isolation of any hum caused by digital distortion. Now you can stop worrying that if your mic is placed too close to a computer, the quality of the record is going to be damaged.
The mic comes together with a pop filter that can be put straight on it thus you don't need to spend time to install the pop filter separately. It will protect the record from any plausive sounds even for close-up vocals or narration. Moreover, Shure SM7B now has a detachable windscreen, that gives a warmer tone for close-talk vocals.
What is more, with it's stood the microphone is easy to adjust to a desirable position. The ending sounds either of vocals or music turn out to be warm and high-end because of the frequency response. The mic's constructions and the sturdy materials that it is made of is great for protecting it from external damages.
Shure is a perfect microphone for studio usage. It can reproduce the great sound in any environment. However, the one thing that you need to keep in mind is that this item is more power-consuming than the previous ones so it requires a bigger amount of phantom power.
And even though Shure SM7B rather belongs to the affordable category, you can see it being used by many top world recording artists. It has a specific work that will not fit every single artist, but as long as you are happy with it, it can become one of your best mics ever.
6. Sennheiser MD 421
No doubts that Sennheiser remains one of the top leaders in the microphone industry. There are a lot of microphones on the market but only a few of them you can constantly see in the recording studios all around the world and MD 421 is one of them. Perfect manufacturer and German quality of details make this item stand out from others.
It is suitable for completely different recording conditions. The large diaphragm, dynamic element handles high sound pressure levels, making it a natural for recording instruments, such as guitars and drums.
The full-bodied cardioid pattern and five-position bass control of this microphone make it an excellent choice for most recording situations, as well as group vocals or radio broadcast announcers. Moreover, it is dust and humidity resistant.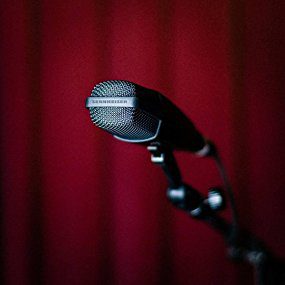 An effective feedback rejection will make the ending sound be more clear and crispy. The MD 421 features a dynamic capsule, resulting in even signal response in close and reasonable distances as well as the capacity to handle high SPL levels.
The cardioid polar pattern is effective in attenuating off-axis noise and ambiance. By the way, the reason why the mc is so versatile is because it has the 5-position low-frequency roll-off switch that offers flexible bass attenuation. It also includes a glass composite housing and hardened stainless steel basket for rugged and durable performance in the studio or in the live concert.
The frequency response 30-17,000 Hz. And considering the quality of this mic, the price is just amazing. No musician would miss a chance to own a microphone by such a famous and respectable company as Sennheiser.
7. Blue Yeti USB Mic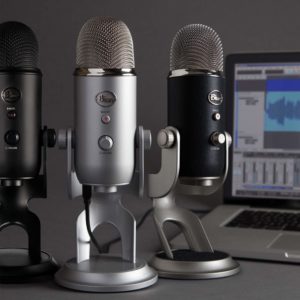 Blue Yeti has confidently entered the sound industry and it's not going anywhere in 2020. Thousands of musicians (and not only musicians) around the world choose this mic today. One of the reasons for that is its simplicity of functioning when you don't need any extra appliances to make it work properly.
At the same time, the quality of sound is comparable with all the most professional items on the market. Blue has, with the latest Yeti USB, used a tri-capsule design that gives you numerous options for capturing audio. Depending on the sound source, you can choose from a stereo, omnidirectional, cardioid, or bi-directional recording.
The frequency response of this microphone is 20Hz – 20kHz. Once again, the control of the microphone's input is one of the advantages of this item. You can find the volume button on the front side of the mic, along with a mute button. The power output is 130mW.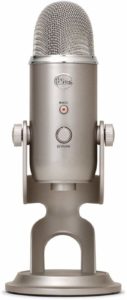 And it is good not only for vocals recording (though it is more than suitable for that) but for recording the musical instruments, podcasting, voiceovers, interviews, field recordings, conference calls. It is compatible with almost all the operating systems of modern PC, Windows, Mac, and Linux.
However, sometimes the installation of additional software may be required so the Yeti could work properly. The included stand allows you to pivot the angle to exactly the best position for recording, and this is an added bonus as it can be folded away after use. Blue Yeti is connectable to a PC via USB cable – there is nothing easier.

The 3.5mm headphone jack allows you to listen to your recording in real-time without latency, and the volume of the headphones can be adjusted from the microphone. The sound quality is balanced and even, and because it can be set up in the best position for recording, it will produce great results.
One of the key aspects to achieving the best sound of this microphone is the right set of it, so pay extra attention to that. In general, Blue Yeti cannot compete with other professional "oldies" of the industry in terms of being able to work in any environment, but for such an affordable price it is capable of truly a lot of things.
All these superb features not only make it one of the best microphones Youtubers, but also one of the best USB microphones you can buy. Again, sound management, directional options – the key advantages of Blue Yeti. The only thing – watch out when you are typing the keyboards while recording with this mic – it picks up the sound of it quite good.
FAQ for the vocal microphone buyers
1. How do I decide which vocal microphone is the best for me? 
Depending on what are you planning to use it for. It will also influence the profitability of your purchase. For example, if you need only the mic for the studio recordings, then you can choose a condenser microphone – one of which is listed above. If you want to also use your microphone for live performances, you should probably check out one of the Sennheiser mics or go for a dynamic one – they are also more affordable.
2. How do I connect the microphone to my computer? 
It also depends on the microphone you have. If you bought a professional microphone such as Shure or Neumann, you will need an additional transmitter to actually connect it to your PC and make it work. But in case, for instance, with Blue Yeti you can simply plug it in using the USB cable – through the quality of this mic is slightly lower than of those requiring the extra gear for their work.
3. Are the most expensive microphones the best ones? 
Not always. If you check it on Amazon, you will see that in most cases, the highest prices for microphones explained by their rareness and the far year of manufacturing (like 20 years ago). You can always find the latest releases and choose much more affordable, yet same powerful model among these.
4. Which frequencies of the microphone are the best for the vocal recordings? 
A microphone with a frequency response range of around 80 Hz to 15 kHz would make a good choice for a vocal mic.
5. How long a vocal microphone should live? 
If it's an expensive microphone – not less than 10 years.
You may also like: How to choose the microphone that perfectly suits you