The ribbon microphone is a special kind of microphone that you may not have heard of before. It is a rare type than other mics, so it is logical some of the audience might have questions about what these actually are. In its full definition, a ribbon microphone is a type of microphone that uses a thin aluminum, duraluminum, or nanofilm of electrically conductive ribbon placed between the poles of a magnet to produce a voltage by electromagnetic induction.
By the way, check our top picks for Best Ribbon Microphones in 2023
It operates in a different way than a regular microphone does, and it is rather a retro-style microphone. First, it was invented in 1932. The advantage of the ribbon microphone is that the light ribbon had a much higher natural resonant frequency than diaphragms in existing microphones, above the hearing range, so it had a flatter response at high frequencies.
You may also like: Best ribbon microphones 2019
What is more, the price range of such microphones is higher than of any other. It provides the most natural sound possible and it has 8 polar patterns. Ribbon mics are especially good to record instruments, rather than voice. By the way, in the middle of the 20th century, these mics seemed to had lost their popularity due to the invention of condenser microphones.
But in the 1990s there were back and now there is quite a choice of them in the market. However, because people are not that aware of the principles of their work and because of the high price range choosing the right mic may be tricky. In this article, you will discover the best ribbon mics in 2020, which you can use as examples of quality when choosing the right one for you.
Product
Details


MXL R144

wonderful studio tool;

sounds great and comes with a extreamly sturdy carrying case;

warm with a dimensional top, no harshness;

great for a piano and some others instruments.


Royer Labs R-121

the sound is incredible;

retains all the warmth and naturalness for which ribbon microphones are so fond of;
has a compact body with light weight;
suitable for a wide range of tasks, whether recording electric guitars, wind or percussion instruments.


Shure KSM313

adds a unique quality to your guitar and vocal recordings;

also good for podcasting and radio vocals;

sounds very warm and smooth;

much less sensitive to mouth noise;

fits perfectly in any generic shock mount that will hold a 44mm mic.
1. MXL R144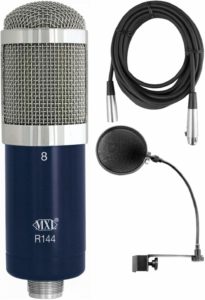 According to numerous sources and users' opinions, this model of a ribbon microphone is one of the best models ever. It comes together in the set with a pop filter and XLR cable. By the way, the price is quite nice here. MXL R144 figures 8 polar patterns for outstanding side rejection and precise directivity.
The mic also has a high SPL capability and it provides an extremely natural sound both for vocals and instruments recording. The body of a microphone is made out of chrome metal. It's an excellent microphone for broadcast applications.
The first model of this microphone was launched decades ago and it is still popular among its fans (no only). In Amazon, you can find both retro-models and newly released items – they are all great in quality, but the latte ones are much more affordable.
After you experience the R144 for the first time, it will expand your sonic palate and be a valuable addition to your microphone collection. The frequency range of this mic is 20Hz -17kHz. The ribbon itself is made of aluminum and is 47mm in length and only 1.8 microns in thickness.
You may also like: 5 Best Sennheiser microphones for vocals & instruments
2. Avantone CR-14
This is a rare item, so be ready that it won't be so easy to get this microphone. The first thing about this microphone that catches the eye is its unusual rectangular design. A microphone like this will add the charm to any studio. It is really easy to work with and it will bring a smooth and warm sound.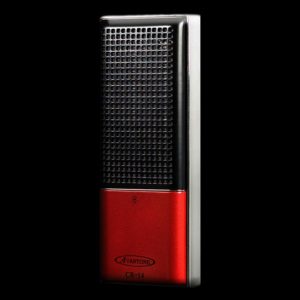 The item is especially great to work with in the studio. The CR-14 is constructed with top-notch components, from the machined brass body to the low-mass dual ribbon elements. The materials which the body of this microphone is made of, are also the highest quality.
The CR-14's dual, low-mass ribbon element which enables a much better sensitivity rating than most single ribbon designs. Because of the way it is designed, the mic lends to a fast and accurate transient response, ultra-high 148 dB SPL capability, and overall stunning realism.
It has a figure-8 audio directionality pickup pattern via front and rear, with extended sweet spots (as compared to Large Diaphragm condenser mics and single ribbon designs). Moreover, one feature that distinguishes it from other ribbon microphone is that it has an advanced noise reduction with no internal active electronics to overload or produce distortion.
No power supply is required. Sometimes CR-14 can replace even the much more expensive microphones and bring the same level quality for less money.
3. Golden Age Project R1 ST
This item will be perfect for those who prefer retro-style microphones. It has great reviews from all the users on Amazon that proves the high reliability of its work. It also can bring to you a clear, natural and warm sound. This is a kind of sound that you are looking for when choosing one of the classic microphones.
Golden Age Project R1 ST will be great for recording both acoustic instruments and vocals. Numerous features of this microphone make it stand out from its competitors. t has a warm and smooth tone that is backed up by ultimate clarity of sound.
The Figure-8 pattern of the R1 MKII gives you the ability to separate sound sources by placing the unwanted ones in the side zero pick-up directions. Placing the unwanted ones towards the sides of the R1 MKII will remove most of the direct sound from the sound source.
By the way, an interesting fact about this mic is that it is getting sold out very quickly. And it is not a surprise because the price range of this microphone totally proves all its capabilities – that's why all its users are more than satisfied with the result.
4. Royer Labs R-121

Now, this is something more serious and for those part of the audience who feels ready to really invest in a ribbon microphone. Royer Labs R-121 was first introduced to the market in 2009 and has gained huge popularity since then. It includes many fine technical features, for example, it is able to handle the high-frequency range without distorting the sound that comes through in any way, shape or form.
This microphone promises to have an extremely long life since it is not affected by humidity or heat. The residual noise that is leftover will be kept at a bare minimum and have you be surprised at the accuracy of the reproduction of the sounds.
The design of this microphone is also quite eye-catching and looks quite futuristic. It will be looking good on videos if you are planning to film covers, for example. This ribbon mic possesses no inside electronics that could interrupt or distort your sessions, either.
Royer Labs R-121 mic helps to prevent any sound distortion coming either from electromagnetic waves from electronics around or noises from the background. In the world of ribbon microphones, this item one of the idols of this industry. Whenever you want to record – electric guitar or brass – the sound will always turn to be natural and warm.
Frequency response is 30 -15,000 Hz +/- 3dB, sensitivity is -50 dBv Re. 1v/pa. In general, this microphone is a good example of how a manufacturer can combine the best tech characteristics of the old school together with modern technologies and receive something completely authentic.
5. Beyerdynamic M160
A brand that you have probably never heard of before, though, there are no reasons to mistrust it – its ribbon microphones are more than decent. This particular mic has a hypercardioid polar pattern, extended frequency response,  transparency and transient response, and compact and rugged design.
This microphone is extremely versatile – compatible with amplifiers, drums, and vocals. By the way, you probably didn't' know it before, but this microphone was used by many top stars of the industry, especially the old school ones. The microphone is produced in Germany.
This brand makes classic products that are still as good as they ever were and they have a fantastic transmission quality. It's perfect for recording stringed instruments, like a guitar or a violin, or even pianos and even a microphone for drums.
The microphone is beneficial to use both in-studio and during live performances – it doesn't occupy much space because of its shape and looks coherent and elegant because of its unusual design.
Anyone who is looking forward to enriching their studio spaces with some warm and rich sounds like that of a ribbon microphone – you should pay your attention to the Beyerdynamic brand. It has lasted the longest on the music market and provides us with some of the ideal gear for both performing and recording purposes.
The transmission quality is simply fantastic. The price of the mic is rather high, but it's a long-term investment for professional musicians.
6. AEA Microphones N22
The design if this microphone is similar to the Royer's – that's the first thing that comes to your mind when you see this item. Well, it is fair enough to claim that these two microphones are really similar to each other. Even in terms of the price range.

The feature of AEA N22 is the one that makes it sound stand out from other microphones making it perfect in close-mic applications like acoustic and electric guitars, piano, vocals, and drums. The mic works through phantom power. It provides an additional 12dB of output.
It gives you a chance to get great performance with a wide range of preamps including USB or Firewire audio interfaces in-home studio setups. The protective ribbon of AEA N22 is made out of aluminum that protects it from any unwanted sound, so you don't even need the pop filter for it.
The overall construction and design of details of this product promise to last a lifetime and payback its price. Specs include 20Hz – 20kHz frequency response, 141dB max SPL, bidirectional pickup pattern, and a 3-year warranty when registered. By the way, considering the price – for such tech characteristics, it seems to be not that much.
Usually, items of this level tend to cost at least 30 percent more, but here the manufacturers of AEA N22 managed to improve the standards without the price increase. This mic also has the off-axis cancellation at 90 degrees is almost perfect with around 90dB of rejection.
But just be careful that any ribbon mic can pick up hum from nearby transformers, so you need to be aware of that when positioning the mic. Except for that aspect, the standard of construction is excellent, while the ribbon-meets-capacitor tonal character means the mic can be used in a larger variety of ways than a conventional ribbon microphone can.
7. Shure KSM313/NE
As we can see, Shure makes ribbon types of microphones as well and one of their products even ended up on our list. This mic has a bi-directional polar pattern that provides the high-end sound and superior off-axis rejection.
An interesting fact that Shure KSM313/NE uses a dual-voice technology, that allows better set the mode of recording according to the source of the sound – whether it is going to be warm and full sound for amplifiers, or swivel for bright and flattering sound for vocals.

The revolutionary Roswell site proprietary ribbon material here is able to replace traditional foil ribbons with high tensile strength, toughness, and shape memory that provides superior resilience at extreme SPL. The mic has custom-sourced components for superior presence, minimized signal loss, and maximized output.
Along with those aspects, 146 dB SPL across 30 -15, 000 Hz frequency response will be perfect for capturing fast transients in vocals, acoustic instruments, and concert halls. The design of Shure KSM313/NE is outstanding as well. It's bright metal windscreen both protects the item form possible damages and looks great.
The front side is warmer, thicker, richer – like a more common ribbon sound. The backside, however, offers a much more open and brighter sound. The fit and finish are well done in a way that the pictures online do not do justice, and the thing itself seems like it could really take a beating.
The only disadvantage of this mic is that its shock stand mount is not that high quality as the mic itself. You may have a hard time adjusting it because it is quite tough. In other aspects, this ribbon microphone by Shure is more than OK and you will never regret making this investment.
FAQ for ribbon microphones buyers
1. What is the main feature of ribbon microphones that differs from others?
It is a warm and natural sound that they provide.
2. Does a ribbon microphone require some specific source of power?
The sources of power for a ribbon microphone don't really differ from the regular ones. The only aspect, most of the ribbon microphones work on phantom power.
3. Where can I use this microphone? 
Ribbon mics are perfect for usage on various gigs with acoustic instruments. They might be not the best in terms of providing the crispiest sound, but they are for sure sound the most natural to human's ear.
4. What is the main difference between condenser and ribbon microphones?
Condenser mics run on electric power, while ribbon ones use electromagnetic induction and thus, no power supply is needed.
You may also like: 10 Best conference microphones