Picking up a microphone that will meet all of your personal requirements is not an easy task despite the widening range of models. Experienced gamers and streamers know that reliable mics of high quality shouldn't necessarily have a high price since even expensive models can sometimes fail your expectations.
The popularity of video games doesn't seem to go anywhere – video games are still popular as ever and what is more important, they even received a new life thanks to YouTube. There is a whole gaming industry where gamer film how they walk thought a certain game, make the observation of the latest releases of popular games, play together in online mode and so on.
You may also like: Best microphones compatible with Xbox
Sometimes, gaming videos collect millions of views that prove one more time that people are enjoying watching video games even they are not the ones playing it. But in order to film a qualitative walkthrough or just a game review, you will not only need good skills, but also a microphone of decent quality, that won't stand between you and the gaming process.
In this article we tried to cover 7 best microphones for gaming 2020, starting from the budget mics and going up to more pricy models. Stay tuned!
Product
Details

CMTECK USB Mic

decent audio recording/transmission quality (Voice/Sound);

USB connection, meaning the microphone is full-duplex;

best value for the money, sturdy constructs;


the flexible goose-neck design allows for user comfort and holds it place well.


Samson Meteor

 versatile - easy to set up on your desk with the foldable legs and a threaded mount for mic stands or tripods;

great build quality - mostly metal, not plastic - very solid;

fantastic audio quality for the price;

audio out (i.e. headphone jack) for live monitoring along with physical volume dial;

plug & play - no drivers or software install needed.


FIFINE Usb mic

light and easy to travel with;


plug and Play - self-installing drivers (both Mac and PC);

pretty good ambient noise cancelling;

amazingly clear sound and comparable to more expensive microphones;

comes with Wind Screen;

nice Long and sturdy Cord;


good tilt adjustability.
1. Plug & Play Desktop Omnidirectional Condenser PC Laptop Mic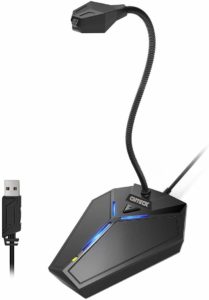 This budgetary mic has recommended itself as a compact, easy to use option for gamers. The height of the mic is adjustable to your needs and preferences. It is lightweight and won't take much space on your desk.
The clear sound that this mic brings is what all gamers would need in a microphone and this model is pretty good at providing smooth clear sound along with blocking background noises. Besides, the mic is able to capture the sounds from various angles, so you don't have to worry about your movements during the recording process.
The length of the cable is 1.5 meters. This microphone contains a built-in sound card and what's more, you won't have to install any additional drivers. You can easily mute and unmute the microphone with one button placed in its basement. The mic is equipped with the LED indicator which is intended to show the working status of the gear. It has blue LED lights on the base, which you can turn off anytime you want.
It is well compatible with Windows 7, 8, 10, Mac OS and PS4 and is a good option for everyone looking for decent sound quality and reasonable price range.
You may also like: 8 Best microphones compatible with PS4
2. TONOR USB Microphone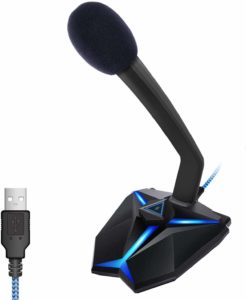 This mic is a little bit more expensive than the previous one. It is extremely easy to connect to any PC – all you have to do is to plug it into the USB port. No additional drivers are required. It is equipped with an updated digital chip and condenser capsules. The sound is captured from all directions due to the omnidirectional pickup pattern.
Its visual characteristics have something in common with the previously described model. It has glaring blue LED lights on the surface giving you that game atmosphere, which you can switch off whenever you want. It is especially beneficial for video gaming streams. You can also adjust the volume and mute/unmute the mic with one button.
Constructed from reinforced plastic, it promises to serve a long life. The mic is quite durable and recommended itself as one of those devices which are not easy to break.
Moreover, it is compatible with Windows and Mac operating systems. This microphone is one of the frequently chosen gears for gaming by everyone who finds themselves on a budget, but still, wants a properly working device that can provide clear and distinct sound.
3. Fifine Plug & Play Home Studio USB Condenser Microphone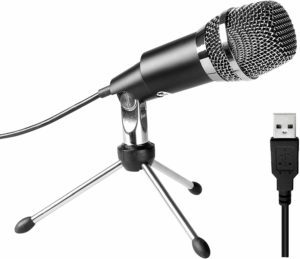 Another cool microphone for gaming which already looks a little bit more serious, and probably will be suitable for those who don't need any extra wires and details but need quality.
It's easy in use, all you have to do is to just plug it into any available USB port on your laptop or PC, choose it as an input in the software settings and you're ready to go, whatever goal you have in your mind. It is a cool option not only for gaming but also for YouTube recordings, vocals, and streaming.
Moreover, this microphone has an extended frequency response. Being a good item for gaming streams, it provides a clear and decent sound and gives your voice more clarity and definition.
Besides its technical characteristics, the mic has a cool outer design. It has a metal tripod base, which makes the gear look rather sturdy, although careful fixation will not be extra here due to the proportions of the device. The cable is made to be quite lengthy and it cannot be removed. The microphone doesn't have a mute button and a headphone jack for monitoring, but it surely won't make your experience any worse as all the adjustments are possible through the operating system.
It is well compatible with both Windows and Mac OS operating systems. Consider this option if you are looking for a decent inexpensive mic for home-based non-professional use.
4. SUDOTACK professional 192KHZ/24Bit Studio Cardioid Condenser
You can tell from the first sight, this microphone is from a bit higher price range, that will make you feel almost like a pro. It is designed to provide brilliant sound and make your voice sound crystal clear due to a wide frequency response (30 Hz to 16khz) and a sample rate up to 24bit/192khz bit.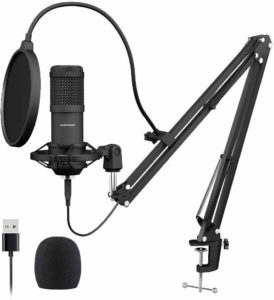 But even if it looks more complicated and has more advanced characteristics, it is still quite easy to use. First of all, it requires no additional drivers on your PC. It is capable of working automatically with Windows or Mac, just plug the USB into the port of your computer.
The mic is effective at providing smooth natural sound. The device contains a microphone stand, shock mount, table clamp, anti-wind foam cap, USB a cable, and a pop filter. Sound is captured directly in front of the mic, so you won't deal with any unwanted problems with background noises.
The visual design of this gear will surely hit the taste of the more picky consumers. The microphone is dark-colored with metal details, and it looks pretty up-to-date and will definitely make you enjoy your experience.
Another cool feature here is that you can easily use this microphone even for a smartphone.
5. Samson Meteor Mic USB Studio Microphone
It's a portable variant of USB studio condenser microphone. And as you could probably understand from the main characteristics of good gaming mics, this one won't occupy much space of your desk as well.
The device is created by Samson, the pioneer in wireless microphone technology, which paved its way to becoming the leader in professional audio gears due to the reliability and high quality of their products.
Despite its modest size, it is equipped with one of the largest condenser diaphragms of any USB microphone out there. The microphone is cardioid and picks the sound unidirectionally. It will give you a CD sound quality, making your voice sound flat and rich.
It has an indicator for Power, Peak and Mute modes. You can mute the mic with the physical button on the surface. It also comes with a pretty lengthy cable, which gives you more comfort. The mic looks pretty sturdy and durable, it has a fold-back leg design that promotes the steady and easy positioning of the microphone. Besides, it's probably one of the easiest mics in transportation.
6. UHURU Professional PC Streaming Cardioid Microphone Kit
Another device with pretty much likable visual design. The mic comes with a USB condenser microphone, suspension scissor arm, metal shock mount, double-layer pop filter, and windscreen.
The scissor arm stand is made of steel and can be adjusted the way you want to, so it promises to be both steady and flexible. Since it is a gaming microphone, you can just plug it into your computer and easily use it without any additional software.
The sound quality is more than decent, its sampling rate goes up to 192KHz/24bi, and the mic itself has an advanced chipset. So in case if you were looking for smoother and clearer sound reproduction, this gear may be your choice.
The sound is captured mainly from the front side, because of that make sure to position the mic the right way to advance its performance. Due to the cardioid polar pattern, the pickup of background noise or other unnecessary sounds is effectively reduced.
It is also a great competitive option for YouTube, streaming, and broadcasting. The microphone is compatible with PC and a laptop, Windows, Linux. Overall, it is a pretty decent option for the price and will help you raise your sound quality to the next level.
7. HyperX QuadCast – USB Condenser Gaming Microphone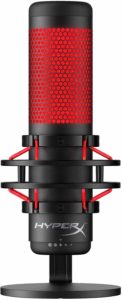 The model that you could already see in our other articles. And it's not even surprising since it has recommended itself as one of the best gears for streamers and gamers. The whole deal is at the details of this microphone.
It truly delivers an impressive sound quality. The mic contains a built-in pop filter, which is aimed to reduce unnecessary sounds. And with the help of anti-vibration shock mount, the sound of movements will be lowered as well.
The microphone has a LED indicator showing the working model of the device, you can easily mute and unmute the mic by pressing on the top. It includes a mount adapter compatible with most microphone stands. The length of the cable is 3 meters, which also adds to the comfort in exploitation.
Another cool feature of this model is that it gives you the possibility to choose between four polar patterns – cardioid, omnidirectional, bidirectional and stereo. So you can adjust the mic to every situation you might have and still have the best performance without losing in quality of the sound.
The device was certified by Discord and TeamSpeak, so its ability to broadcast clearly and distinctly for your listeners is under no doubt. It is compatible with Windows 7, 8, 8.1, 10, PS4, Mac, Skype, Mumble, XSplit. Overall, it's a pretty decent model that will make you sound outstandingly good.
You may also like: 10 Best microphone cases & bags
FAQ for gaming microphones buyers
1. How important is the quality of the sound in gaming? 
It depends on which gaming process fo you have. If you need a microphone to just play online games together with friends then you don't need that high-end quality of the sound. But if you want to become a gaming streamer, make your own YouTube gaming videos, then, of course, the quality of your whole content, including the sound, matters.
2. Should I buy an expensive microphone for gaming?
Not necessarily, especially if you are only the beginner. The quality of the most gaming microphones is acceptable and only advanced streamers need superior quality microphones.
3. What should I do if the microphone is not compatible with my computer? 
Go to the sound panel and then go to the settings section. Then choose "input devices" and check if the mic is displayed there. In most cases, you will have only to increase the volume of input or to allow the system to use the newly connected device. If your device is still not recognized, check the state of the cable and the state of your operating system. The microphone must connect to a PC, otherwise, it is probably defected – try to return it to the seller.
4. Is it better to use the gaming microphone with a headset? 
Definitely yes. Thus, you will be isolated from any distracting sounds and, if you are playing together with others, you will be able to better hear them. Moreover, the headset gives a better feeling of presence in the game.