Nowadays podcasts are getting more and more popular. Actually, there is a logical reason begin that – we don't possess much time to get the new information so it is much easier for us to either push this activity aside or mix it together with something else. And the multi-tasking has worked greatly in this sense, since listening to a podcast allows do something else and obtain the new knowledge.
There is a great variety of podcasts about everything now. People can listen to them in the car, in the gym, at work and so on. New platforms of audiobooks and podcasts like Audible occurred. And the best thing about podcasts is that everyone actually can make their own podcast – you just need a topic to speak about and a microphone.
You may also like: Best microphones for Youtube vloggers
Speaking about microphones. There are certain kinds of them, that are eligible specifically for podcasting, which will make even the creepiest voice sound warm and soft. Want to know which ones are going to be the best podcast mics in 2020? Here is the list for you.
Product
Details


Samson Q2U USB

perfect microphone for anyone wanting to make gaming videos or do live-streams;

the quality of recording is unreal;

captures absolutely no room noise;

very versatile with both an XLR and USB output.


Audio-Technica ATR2100-USB

amazing quality;

doesn't pick up a lot of outsides noises;

has both XLR and USB connections;

easy set up.


Rode smartLav+

audio quality is great even in outdoor conditions;

easy to use;

awesome for vlogging at home;

picks up even quiet voices from the collar and doesn't need to be right in front of the mouth.
1. Samson Q2U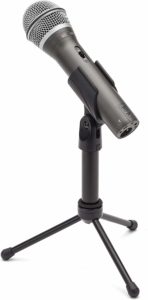 Cheap and simple, this microphone will be beneficial both for beginners and pros. It is a dynamic microphone with USB digital output. You can easily connect it with a computer, mixer, audio interface or portable PA system.
This is a cardioid pickup pattern which means it records very well all the sounds that come from the sources that are in front of the microphone along with suppressing the noise that may come from the sides. And this is the feature that makes this item especially good for podcasting – it will automatically isolate your voice from other sounds and you won't even need the additional editing.
It also reduces possible feedback in live performance settings. 1/8 inches headphone jack allows for zero-latency monitoring so you are going to hear yourself clearly and without any delays. Even if you have an audio playback on your PC while recording your podcasts, the sounds of it will not be recognized on the record.
Considering the outer design, the mic has a solid, die-cast construction with a heavy gauge mesh grille. For start a recording you won't need to install any additional software on your PC or any extra appliances – it's a kind of a plug and play microphone, that you can connect to a computer and start recording immediately.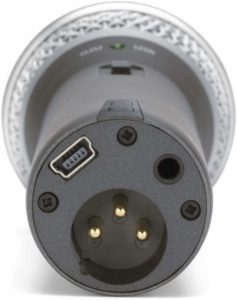 Samson Q2U comes in a package with an extended desktop stand with a mic clip that positions the microphone close to the sound source, a pop-filter for reducing p-pops, and USB and XLR cables. Its frequency response is 50Hz–15kHz, sensitivity is -54dBV/Pa, and the sample rate is 44.1kHz/48kHz.
And don't worry that it may not be compatible with your computer, because this model works great with almost all the existing PCs. Delivering high-quality audio effortlessly with minimal setup, the Q2U is an ideal choice whether you're on stage, in the studio or on the go.
The only possible disadvantage if that can be called so, is its stand. It is not the highest quality and quite shaky, so if you want more stability for your microphone you should buy a separate one. Still, for such a price it is a great mic.
You may also like: 12 Best voice over microphones
2. Audio-Technica ATR2100-USB Cardioid Dynamic USB/XLR Microphone
The fact that the microphone for podcasts from such a famous company comes at such an affordable price is great. Audio-Technica is a well-known brand of audio electronics, and you can find its products in many of our other articles.
Here we have a handheld dynamic microphone with USB digital output and XLR analog output. It means you got two possible way to work with it: first, you can plug it into your computer and use as a PC microphone, or you can plug it to speakers or any other amplifiers/audio gear using the XLR cable.
And yes, it means that you can not only use this microphone for podcasts, but also in live performances. Now you might think that such a way of usage is relatable to singers, but actually, it can be used by many creative people. For example, if you are a motivational speaker, an influencer you can have this mic for recording podcasts and take it with you to your public speaking.
Its smooth, extended frequency response ideally suited for podcasting, home studio recording, field recording, voiceover, and usage on stage. A built-in headphone jack allows you to directly monitor your microphone output without audible delay.
And this microphone by Audio-Technical also has a cardioid pickup pattern that captures well the sound from the source in front of it ignoring the sounds from the sides. The low-mass diaphragm of ATR2100 provides excellent frequency response ideally suited for podcasting.
Another aspect of this microphone that will probably be appreciated by all the old-school guys is that it has the on/off button on the front side of monitor's body – thus you can always easily switch it on/off. Another great thing about this model is that it's ideal for heading out and about, capturing live audio interviews.
3. Rode smartLav+ Omnidirectional Lavalier Microphone
Let's pay our attention to an alternative type of microphones and notice that lavalier ones can also play a great role as podcast mics. Rode is also a known company and even a lavalier microphone produced by it promises to be a decent quality item.
Actually, the smartLav+ is a broadcast-grade wearable microphone designed for use in a wide range of film, television and broadcast scenarios, or wherever broadcast quality audio is required in a discreet, portable format without the complication and expense of additional wireless equipment.
So you can leave any doubts that if you decide to record a podcast with it it's going to be anyhow worse than in the case with a dynamic mic, for instance. Another advantage of Rode smartLav+ is that it can be easily connected to any device – either it is a computer or your smartphone.
It picks up sound equally from all around the microphone, allowing for versatility when mounting and ensuring a high degree of user-friendly operation. The mic also has a pop-filter that reduces any plausive sounds which may occur when you hold it too close to your month.
It has an omnidirectional polar pattern. Its frequency range is 60Hz – 18kHz, sensitivity is -35.0dB re 1 Volt/Pascal (17.80mV @ 94 dB SPL) +/- 2 dB @ 1kHz, maximum output is 189.0mV. Rode smartLav+ comes with a 12-month warranty and this is an additional advantage.
The usage of this microphone for podcasting is just a matter of taste. In case you don't feel comfortable with massive dynamic mics the lavalier microphone will be a cool option for you.
4. Rode Procaster Broadcast Dynamic Vocal Microphone
Moving on, here we have a more serious product by Rode. This item will probably fit the needs of those who are doing the podcast semi-professionally or professionally since its price range is almost above the middle. Or, it can be suitable for various media influencers who possess a certain budget and know that their podcasts are going to payback.

Rode Procaster has a tight polar pattern and tailored-for-voice frequency response. It is a rugged constructed mic with superior ambient noise, perfect for every application with great sounding. The microphone also includes an internal shock mounting of capsule for low handling noise.
And by the way, with this microphone, you won't even need to buy the pop filter separately – it already has the one inside the microphone's body that reduces the plausive sounds. In the set that comes together with the Rode Procaster, there is a stand mount, 3/8 inch adaptor, and a zip pouch.
As you have probably already guessed, this model was manufactured specifically for broadcasting and podcasting so you can be sure that you won't miss with this one. It offers no-compromise performance for voice applications in the broadcast environment.
Its high output dynamic capsule and balanced low impedance output make it an ideal broadcast and voice over microphone. Moreover, Rode is an international company that has its base in Australia and developers all around the world, so it is fair enough to say that the company delivers the highest quality at the world's standards.
Rode Procaster is a USB dynamic microphone, using which you will never need any mixer or a digital recorder. However, because it is a dynamic type, remember that it has a tendency to pick up various background noises – you will probably need a quiet room for recording. If you want to have fewer background sounds on your mic you should go for a condenser microphone.
5. Blue Yeti USB Mic for Recording & Streaming
For sure you can find the Blue Yeti microphone almost at any of our lists. This model is highly versatile so it is great for many purposes, including recording the podcasts. In 202 it will still dominate the market and you can always invest in it knowing the quality will justify the price. By the way, the price here is rather affordable.
The prominent feature of Blue Yeti is its multiple pattern selection it includes the cardioid, bidirectional, omnidirectional and stereo patterns. Its frequency response is 20Hz – 20kHz. Yes, the microphone includes 3 condenser capsules that are suitable for recording anything – whether you are recording your voiceover, podcasts, vocals or instruments.
For the extra convenience, there are regulation buttons placed right on the mic, where you can regulate the volume, mute the microphone and switch it on/off. It is compatible with most of the computer operating systems that we have today: Windows 7, 8 and 10, Mac and Linux.
Considering the design of Blue Yeti, you can see on Amazon that it comes in a variety of different colors and you can choose literally anything you can imagine. The mic looks great on any videos and many bloggers have already chosen this model for their usage. But it's not only for the looks, but it is also for the quality.
So no doubt that your podcasts are going to sound great with this microphone – moreover, it is so affordable. The Yeti might not quite match the MXL990 or the Rode mics for sheer quality, but the ease of use and the fact that it's entirely standalone make it a really serious choice at this level.
For an exceptional quality of the sound that it provides, it is going to pay itself back very fast. The product has one of the highest-ranking among all the microphones on Amazon which confirms one more time that Blue Yeti is to stay with us years ahead.
6. MXL 990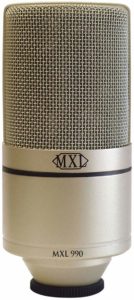 A condenser microphone that delivers the silky sweet high-end sound with tight low and mids. The 990 microphones can handle up to 130dB SPL. It makes this microphone beneficial not only for podcasting, but also for recording the acoustic instruments.
It has a cardioid polar pattern, that picks up sounds in front of the mic capsule while blocking unwanted noise from the sides and rear. MXL 990 also includes a preamp and large-diaphragm deliver a nicely balanced sound with a hint of high-end sizzle and lower noise floor.
Your podcasts are going to sound smooth and crispy with this microphone. Also, if you are planning to interview people on your podcasts and conduct broadcasts with live music – it is a great choice for these purposes. The frequency range of this microphone is 30Hz~20kHz, impedance is 200 Ohm, sensitivity is 15mV/Pa.
The only thing is that this mic looks not really aesthetic but, as they say, tastes differ. So especially you're not going to record videos with this mic, it will deliver a high-end sound and, what is more, it has a very attractive price. And even if it is a condenser microphone, it is still able to record even in an office room without picking up too much of the room noise.
7. Shure SM48-LC
And the model that is going to close our list today is Shure SM48-LC. You may have heard of it as a great microphone for vocalists because it is a dynamic microphone, but in fact, it is also extremely good for recording the podcasts. Moreover, among all the mics presented on this list, it has probably the lowest price, so it is super affordable.

Its cardioid pickup pattern rejects off-axis sound and provides superior gain before feedback. Brightened midrange and bass roll-off control the proximity effect, adjusting your voice automatically to the necessary level of volume and clarity. There is also a shock-mounted cartridge for exceptional ruggedness and reduced handling noise.
Shure SM48-LC has a built-in pop filter as well, which means everything is already included and the sound is going to be less distorted from any noisy sounds. Another advantage of this microphone is its flexibility. Being more precise, you can choose if you want to place this mic on a stand mount or just hold it in your hand.
You can also take this microphone everywhere with you and record podcasts at any spot in the world. If you are recording an interview there is nothing easier than just hand over the microphone to each other (especially for budget podcasts).
Of course, you don't expect a superior sound from a microphone at this price range, so you will have to be careful to stay in a quiet surrounding and keep the mic away from electronic gadgets. If you are following all these recommendations, the quality is going to be quite decent.
You may also like: 7 Best studio microphones for live vocals
FAQ for podcasting microphones buyers
1. Are dynamic or condenser microphones are better for podcasting?
If you have notices, the majority of people making podcasts use dynamic microphones. The reason for that is that they provide a more lively and crispy sound. Moreover, dynamic microphones have a feature of hiding some imperfections of the voice making it sound better, while condenser microphones are made for studio recordings and capture all the sounds with high precision.
2. Should my podcasting microphone have a pop-filter? 
It should. In order to avoid any sound distortion and distracting sounds, it is always better to get a pop-filter so the whole podcast sounds more pleasant to the ear. It is especially beneficial for the interviews for which emotional conversations are typical.
3. Should a podcast mic be omni-directional, bi-directional or cardioid one? 
Omni-directional mics are only good in case if you are going to record interviews, Though, for those purposes, it is recommended to better acquire a second mic, without trying to share just one. The same thing is with the bi-directional microphone. The best option here is the cardioid one, which picks up sounds only from one direction.
4. Are ribbon microphones good for podcasting? 
Actually yes, and an advantage of those mics is that it can be easily connected also to smartphones. Just keep in mind that ribbon microphones usually have a higher price range.
5. What does an Audio mixer do?
An Audio Mixer or soundboard is another equipment used by top-rated podcasters like Smart Passive Income, and they use it to combine multiple tracks of music into a single track. It provides options like adjusting equalization, audio distribution, and audio level adjustments all use to really get that studio like the sound from a simple setup and small investment.