Well, it seems like it's all about the microphone, but what about the microphone stands? It may seem insignificant, but in fact, it can play a huge role for you as a performer, and for the quality of sound you will get at the end.
Real professionals always have their on microphone stand so they can be sure everything is in order. A good one prevents the mic from shaking, and, in some cases, even from falling. And, obviously, the microphone stand is needed to place the mic into a position comfortable for you and perfect for the sound capture.
There is a wide choice of mic stands nowadays on the market. And it makes it even harder to determine which one is better. Well, many microphone manufacturers actually provide the full microphone sets where the shock mount stand is already included.
But sometimes, especially if you acquire a budget microphone, the quality of it is about to wish for the better – probably because some companies tend to think that people will not pay any attention to the shock mount stand.
And they wrong about it – when having a microphone, you want to have a complete feeling of a high-quality item and be surrounded by high-end products in general. You may have the best microphone in the world, like Shure or Sennheiser, but in case you have the cheapest and shakiest stand for it the overall impression is going to be ruined.
ANd if you need not only a mic stand, but also a microphone to perform in front of big audience, check out this article.
So here goes the list of microphone stands, choosing from which you will definitely won't feel like it was said before!
Product
Details


OnStage MS7201B

nice, heavy, solid and sturdy;

the base is heavy enough;

works great and it is quite adjustable;


Hercules MS533B

easy to adjust, folds up nicely;

build quality is great and it is very sturdy; 

the design is awesome;

no need to do a bunch of unscrewing and screwing;


K & M Microphone Stand

stand is quality;

has a good amount of weight in the base for stability;

legs are solid and very heavy.
1. On Stage MS7201B Round Base Microphone Stand
A classic microphone stand, 34-60 inches high. The base diameter is 10 inches, and the overall construction is made of a professional quality die-cast zinc clutch. This model has actually been one of the most popular items on Amazon for a long time already.
This classic design has several added features available only from On-Stage, including the 7-lb. a sand-cast base which is sturdy enough for road abuse yet light enough to carry. It is available in black, silver and white colors. With a stand like this, you will always look attractive on a stage.
Moreover, the presence of a shock mount stand gives your performances an additional piece of charm. The internal counter clutch holds the upper shaft in place. You can always adjust the height range of the stand to your liking, which is, as it was mentioned before, from 34 inches to 60 inches.
The base weight is 7 lbs, so it is quite easy to replace it on stage or in the studio. You can match this stand with other professional equipment that you have on the stage and then your performance is going to look way more professional and stylish.
You may also like: 13 Best microphones for PC gaming & streaming
2. Atlas Sound Microphone Stand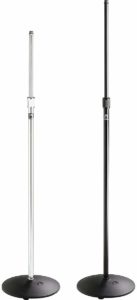 Another great option on our list, which comes in two colors – black and silver, as you can see on the picture. It has a round base (no measurements are given), and it is chrome plated. If you are that kind of a person who doesn't like to take too much care about your equipment, but you want it to be break-proof and served you a long life then this stand is definitely your choice.
As for the height, it can easily be adjusted between 35 inches to 64 inches. Since it is so easy to adjust the height here, the model can be used during the concerts or award, where you have to constantly change it. It works perfectly for most of the microphones and it costs less than 50 dollars.
Moreover, Atlas Sound is a pretty famous brand of music equipment and it's well-known for its quality of products. So when buying this item, you can be sure that it is going to pay itself back in no time.
3. Ultimate Support PRO-ST Pro Mic Stand
This microphone stand is made of steel, with powder-coated tubing.  This model contains the mic shaft is interchangeable with all Pro Series R mic bases. Patented clutch takes only a quarter turn to adjust. The base of the stand is round and quite heavy.
However, it releases quickly so when you are in the groove and want to move on stage you can easily do so. Still, it is compatible with most microphones because of its patented universal attachment. The unusual feature of this stand is that it has a heavy-duty clutch as a base.
It is very secure and many components of it are replaceable. So for those who like to prolong the life of their assets by replacing the spare parts of it – this is your choice. Moreover, the stand is extremely stable because of its mechanism of fixation. Even in case you drop it, it will sustain most of the bump without any damage.
And one more great advantage of this stand is that it is compatible almost with any microphone. To plug in a mic here is a one-second task. There are many items on the market that are just too specific to be adjusted to any microphone. This model will save you from the pain when the mic isn't fitting the stand.
You may also like: Best XLR cables
4. Hercules MS533B Hideaway Boom Stand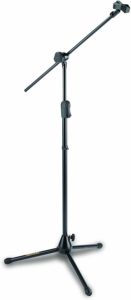 This is a truly old-school type model of a microphone stand. Well, to be fair enough, we need to say that it costs quite more than all the items listed below. But it is a more voluminous microphone stand, which will be suitable not only for vocalists but for instrumental musicians as well, as well as for the orchestra. The stand can also serve well in the studio.
The height of it is 42.1-94.5 inches, the weight is5.7 lbs. The base radius is 13.4, the boom length is 30.7 inches. In order to quickly attach a microphone, simply push the lever up or down to quickly mount the Quik-N-EZ Adaptor to the mic stand. It can be left attached to the mic clip for speedy setups.
The new version which is claimed to be a 2-in-1 type, the boom clamp adjusts the boom length and angle at the same time. Simply loosen the knob and adjust to your desired position. You can always attach and detach the boom at one moment.
This makes it an ideal stand for those hurried setups where you do not have a lot of time to fix equipment. Those people, who prefer the basement in the shape of a tripod, will probably like this item. The tripod base has a die-cast aluminum housing and legs that fold out to form a wide, stable base.
The only disadvantage of it is very classical for the stands of this type – some booms may not work properly and break over time. Moreover, the model is available in just one color – black.
5. Konig & Meyer K&M 254B Tripod Microphone Boom Stand

If you are looking for a more affordable option there you go. The shape of this stand is the same as in the previous item, but if you feel like you are not ready to make such an investment yet or that it will pay itself back then you can always go for this model.
However, just the fact that it is cheaper doesn't mean it is going to be worse. The main difference is in the brand and in the material of the stand. As a result, it is very lightweight and it allows singers to carry it across the stage during the performance. So if you have always dreamt of rocking it and roaming around the stage, then this is your real chance.
So express your energy with this stand by Konig & Meyer company. It is very simple, classic stand without any extra details and you will not regret buying it. By the way, be attentive while choosing this item on Amazon – some resellers include huge taxes/additional expenses so the initial price may double or even triple. Just spend some time on research and you will surely find an affordable option.
6. DR Pro Tripod Mic Stand with Telescoping Boom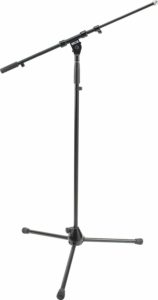 An interesting model that will surely catch your eye when you will be choosing a stand for your microphone. Some resellers on Amazon sell this item in 2-package, so you will have to search thoroughly before you will find a single-package version.
Its support gear is strong, lightweight, and uses a durable powder-coated finish paint, tougher tubing, and precision mechanical parts. The boom is 19 inches, extends to 31 inches in length. You can also adjust the height from 40 inches to 69 inches.
This model claims to be dedicated to manufacturing premium stands for professional studio musicians. It is actually quite versatile. You can use it for public speaking, at a school, concert stage or church. The finish on the stand is powder-coated to make it durable and resistant to dirt.
It is built using industry standards that ensure the product is well suited for professional use. Taking into considerations all the aspects mentioned above it is possible to say that the item definitely justifies its price.
7. K & M Microphone Stand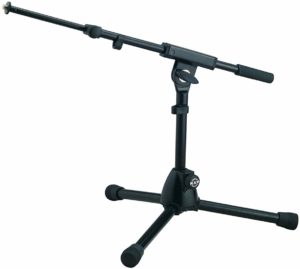 The last but not least item on our list differs from all the ones mentioned above. You can understand it even from the name of it – it is a very low microphone stand. Well, models like this are demanded on the market as well. In fact, it is a perfect stand for bass drum or specialty use.
Its short base is extremely stable despite it may not look so. The materials of the stand are of high quality and feel heavy and sturdy, so you don't need to worry if it falls once or twice. Moreover, the legs of this stand are foldable which makes it super easy to transport it from place to place.
It includes a two-piece boom arm. First-rate materials and optimized product processing result in tangible manufacturing quality right down to the smallest details.  In fact, the whole construction is made out of steel. Metal and plastic parts are manufactured in-house.
Another advantage of this model is that it occupies less space than the regular microphone stands. This low-level stand is particularly suitable for bass drums, bass amplifiers, monitors, etc. The stand features an adjustable height between 14 – 25 inches. The overall quality of this item is high, you can be sure it will serve you for years.
FAQ for microphone stands buyers
1. Do I need any special equipment or tools to set up a stand for a microphone?
In most cases, you don't. Exceptions are only elaborate and highly-professional microphone stands, but these usually make no sense. As a rule, the items requiring additional tools for their installation are obsolete models.
2. Which base of a microphone stand is the most stable? 
If you want the extra stability, then the round heavy base is your choice. You can be sure that nothing can bring a stand like this down. Moreover, such models often have additional fixators in their basement for extra stabilization.
3. Are expensive microphone stands worth their money? Or am I paying just for the brand? 
Like in cases with the most of music equipment the quality of materials can increase or decrease the price. However, depending on the budget you have, you can always settle down for cheaper options, moreover, many expensive metals have cheaper analogs which are not less in robustness and durability.
4. What should I do if my microphone doesn't fit in the stand?
Well, if you're not sure you can always ask the seller on Amazon before actually buying the product. If you have already made your purchase and discover such an unpleasant thing, you can always try to return it or substitute for another. In situations when the return is impossible there is almost nothing that can be done. By adjusting the hold for the mic by mechanical intervention, you risk breaking the stand completely.
You may also like: 7 Best microphones for recording electric bass guitar