Live broadcasting (or streaming) was definitely one of the biggest trends of 2019, and it will surely keep its positions in 2020. Nowadays, almost every 5th person aged under 25 has to do something with this type of activity, whether it is gaming, live chats, blogs, vlogs and so on.
What is more interesting, for some people streaming becomes the main source of income when their followers and fans start donating considerable sums of money.
You may also like: Best microphones for PC gamers
However, success doesn't happen overnight. In order to make your streams more qualitative and interesting, you need to acquire better equipment that will take you to the next level – including both the picture and the sound.
Do you know actually which microphones are going to rock it in the streaming industry in 2020? Check out this article where we have gathered the best streaming mic for you. You will see, that high quality doesn't always mean tons of money in exchange and that the market offers extremely decent goods at various prices.
Product
Details


Samson G-Track Pro

really nice sound quality even with minimal messing around;

picks up everything crystal clear;

build quality its incredibly good;

very accurate recordings with plenty of manual adjustments.


Razer Seiren X USB

studio quality without the studio;

superb for streaming, voice recording and chatting with your audience;

compact, futuristic good looks;

high pass filter (reduced background noise);

easy setup (plug and play).


Samson Q2U USB

sturdy build, mic quality is amazing;

sounds like a dream and is completely plug and play;

very versatile with both an XLR and USB output;

perfect for podcast.
1. Samson G-Track Pro
This is a universal microphone which would be perfect both for experienced streamers and beginners. It is a professional microphone that works via USB. One of the best features of this item is its price. We all know how expensive it can be to buy a high-quality microphone that would pay itself back, and Samson is an excellent solution in this case.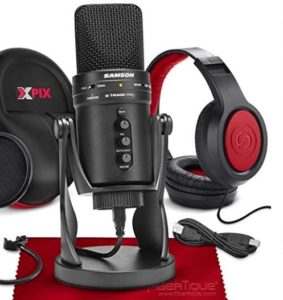 It is equipped with a 24-bit / 96 kHz audio interface, 1/4' mono instrument input for connecting a guitar, bass, or line-level devices such as drum machine or synth. You will notice during listening to the recordings that it is able to capture even the smallest sounds with precision and natural effect.
So when you are doing your live broadcast, you can be sure that your voice is going to have a clear sound, and, in case you are playing some sort of instrument – the quality is going to be great as well. Samson G-Track Pro can record the sounds of the instrument as good as it is capable of recording the voice.
No need to worry that instruments are going to overwhelm the mic and sound distorted – the frequency range if this mic and its sensitivity fully allow you to play at any volume your favorite instruments on live streaming. It is a condenser capsule type of microphone.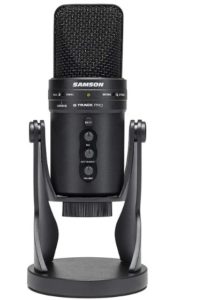 G-Track Pro USB microphone is ideal for podcasting, gaming, streaming, and recording music as well. The frequency range of it is 20 Hz to 20 kHz.
You can also notice that the mic has the leverages for the sound adjusting on its front side. It is also very convenient since it gives you the possibility to change the setting right during the live stream, in case you realize in the process you need to improve the quality.
There are 3 leverages, which regulate volume, level of microphone intake and the level of an instrument's intake, so you can always achieve the highest precision on your broadcast in terms of sound. It is a plug-and-play microphone which means it is extremely easy to just connect it to your PC or smartphone and start a live broadcast wherever you are.
Pay attention that there are different versions of this item presented on Amazon. The product, linked below is a single-package item, but you definitely can find other versions, where the set includes also Samson headphones for streamers and a microphone pop filter. Accessories attached can vary depending on the seller.
You may also like: 8 Best wireless microphones for events
2. Blue Yeti USB Mic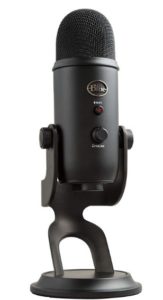 It could be 2018. 2019 or 2021 year, but for sure, we would have Blue Yeti there as one of the best streaming microphones. This item has been keeping its positions as the best streaming microphone (and one of the best plug-and-play type of mic in general) on the market.
You can see the numerous bloggers and streamers use Blue Yeti on their videos. And there is a bunch of reasons behind that. First of all, it has 3 condenser capsules that are suitable for recording basically any situations – whether you are recording your voiceover, podcasts, vocals or instruments.
Another prominent feature of Blue Yeti is its multiple pattern selection it includes the cardioid, bidirectional, omnidirectional and stereo patterns. Its frequency response is 20Hz – 20kHz.
Before and during the streaming, you can make the precise sound adjustments with the leverages which are placed right on the mic. Set up the gain level, mute the microphone when you need it in a second, use headphones together with the mic without worrying you might have a latency.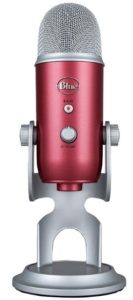 Another useful feature of Blue Yeti that streamers will find useful is that it is compatible with most of the computer operating systems that we have today: Windows 7, 8 and 10, Mac and Linux. You can use this microphone with your smartphone as well. Just make sure all the input requirements will be met.
Moreover, the design of the mic also catches the eye and looks pretty on videos. In case you are doing video streams you can be sure that Blue Yeti will become another captivating accessory on the picture.
The item is presented in a number of color variations and you can easily choose the one you like the most – blue, red, grey, traditional black or white and so on.
And, of course, one of the best advantages of the Blue Yeti microphone is that its price is extremely affordable. For an exceptional quality of the sound that it provides, it is going to pay itself back very fast. The product has one of the highest-ranking among all the microphones on Amazon which confirms one more time that Blue Yeti is to stay with us years ahead.
3. HyperX QuadCast
An eye-catching item that can make a competition for Blue Yeti. However, the feature of this microphone that distinguishes it from the latter is that the HyperX microphone was created especially for game streamers.
It is coming together with an anti-shaking stand mount which is important when you are making the active movements during the videogame, and also it has a mute button, so you can easily turn the volume down. HeprX has 4 selectable polar patterns (this is really impressive) that allow you to adjust the sound in the optimal direction during your stream.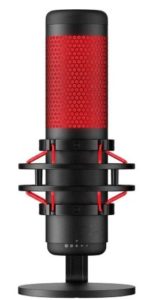 Another interesting feature of this microphone is that it is actually wireless. And don't worry, the battery promises a good life. But, in case you need it, you can always plug this microphone to your PC using the USB cable. In terms of price, it is more expensive than Blue Yeti, but it certainly possesses some prominent tech characteristics. Moreover, the price-increasing factor here is that this mic is a specific type, and they always cost more. In the end, it's up to you to decide.
Considering the quality of the sound you can be sure that HyperX will perpetuate all the range of sounds – from deep lows to squeaky highest notes. In the end, the quality of the sound that it provides feels truly rich and vivid. The enhanced bass-reproduction provides a gaming experience Unique to the cloud flight headset. It features 50-millimeter drivers as well as a closed cup design to provide the best sound quality available.
The microphone is compatible not only with smartphones and computers but also with PS4 and PS4 Pro. Considering the design, at the moment it's presented only in red color, but it looks nice on videos. The frequency response is 20Hz – 20kHz, sensitivity is -36db.
It gives a nice warm sound on the record. It best works with speech voice, which is not surprising, since HyperX is a creation for streaming only. However, in order to achieve the best sound effect while using this microphone, you better acquire a pop filter and aftermarket boom arm.
4. Razer Seiren Elite
This microphone Razer Seiren looks similar to the previous one from the outside, but it actually has significant differences to it. First of all, it is much more affordable.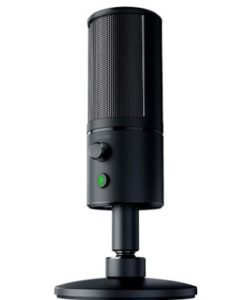 Because of that, the tech characteristics of this model are going to be slightly lower, for example, here you got only one super-cardioid pickup pattern, which should be enough for streaming anyways, especially if you are a beginner or intermediate.
The design of Raze Seiren looks much more simple, but it's only for this standard model. There are other versions of it on the market, that include interesting design features, such as emojis painted on its windscreen – but be ready they are going to cost up to 30% higher.
The sound that this mic provides is also more than decent and will suit the demands of a regular streamer. It has the ability to reduce the background noise and give crispy clear audio. Another feature that this mic has, just like the previous one (despite someone might like it or not) is that it comes together with a shock mount as a stand.
Thus, it helps to protect the microphone from any fluctuations and vibrations during the recording process. The frequency response of the mic is 20Hz – 20Khz. Moreover, Razer Seiren allows you to perfectly monitor all your sounds while talking to your audience so you can hear yourself in the way they hear you.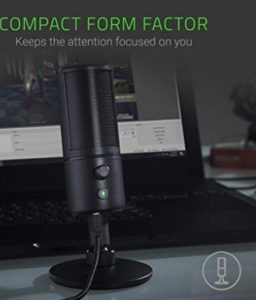 Another aspect of this item, again, someone might like it, someone, not, but this is quite a small microphone and it feels really compact on the table without occupating too much space. So you can easily place it in front of you even if you don't have a wide desk in front.
As it is a condenser mic, it has a transient response, which swiftly picks up different levels of sound. This allows the mic to pick up a wider range of nuances so your voice is clearly and precisely captured—making your stream more professional-sounding.
Besides, the microphone is easily portable. It is plug-and-play USB mic so you can easily take it with you, replace it, use it while traveling by plugging to your PC or smartphone everywhere. The only negative feature of the Razer Seiren microphone is that it is pretty hard to set up so it would record without any noises, distortions and so on.
5. Blue Yeti Nano
It is a common case when a product that has such a tremendous success gets re-released in numerous alternative versions. It is a case of Blue Yeti as well. Not that it is a bad thing – once a product really has a decent quality it is worth to be paid for.
You might have already guessed that this is a smaller version of a classic Blue Yeti microphone model. Moreover, if the original Blue Yeti was created with an intention to be used as a general microphone, e.g. for voice recordings, instrument recordings, podcasts and so on, then this item was developed specifically to meet the needs of streamers.
A small shape also makes it easier to carry the microphone with you – no matter where you are and where you going, take Blue Yeti Nano with you and get the high-quality sound on your streams everywhere.
That's why it has a size like this – with a minimum space it captures the maximum of the sound giving you total freedom of movement that you can even forget you have a microphone on your table. It is especially beneficial for gaming streamers. As usual, the microphone works via USB cable.
The model has a no-latency headphone output. All the features of a standard version are included – you will find the volume controller on the mic's front side and the mute button in the same place. It has the omnidirectional cardioid pickup pattern and a sample rate of 48kHz.
The microphone can be also used for important Skype calls and online presentations. There are some situations where you need to make an impression so it is safe to have something better than a standard PC mic, so Blue Yeti Nano will be a perfect solution for that as well. Not speaking about YouTube content production, which will be great with this item.
The only dubious aspect is the price pf this mic. If you notice, the original version cost not much more than a nano one. So does it make sense to pay almost the same price for a smaller version when you can have a standard one? Moreover, some recording patterns are lost because of the re-sizing of this model.
6. MAONO AU-A04 USB Microphone Kit
So in case, you are looking for a cheaper option of a streaming microphone, this one might be your choice. This is a condenser microphone with a full set of professional accessories that will provide a high-end sound to your streams.
The adjustable shock mount stand will allow you to place this item at any place you need and the pop filter will eliminate any overwhelming and explosive sounds from the recording. It is a USB microphone, so it can be connected to any computer.
The sampling rate is 192kHz/24bit. Moreover, the mic has the extended frequency response of 30Hz-16kHz, which is efficient not only for talking but for singing as well, in case you are doing music streams. The feature of this mic is that it gives you a strong bass response on the output and a crispy clear sound.
Maono AU-A04 is compatible with every PC operating system, including Linux. Another function of it is that it includes a low self-noise function. And the best advantage of this mic is probably its price. It is more than affordable, and for paying that little, you will get a full recording set like in the professional studio.
The only aspect there is no onboard controls for volume or zero-latency monitoring. But for its price, it is not even a disadvantage. Since Maono is not a very famous brand comparing to previous ones it comes up with beneficial proposals like this on the market.
7. Blue Snowball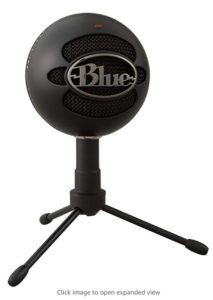 Another product by a famous company with an interesting rounded design. You can also notice, that comparing it to the Blue Yeti microphone, this one definitely has a lower price. And yes, it is lacking features of Blue Yeti, so it is more suitable for online calls and podcasts – though still can be used as a mic for streaming.
The frequency response of this microphone is 40 –18 kHz which is completely enough, especially if you are a beginner. It is a plug and play type of a mic, so it can easily be connected to your PC. No drivers are required for installation.
It is a really good investment if you only plan to try yourself at streaming and don't know how it's going to go. So even if you don't stream in the future, you will still be able to use Blue Snowball for calls and presentations. It is still capable of catching the voice very well, you just need to stay aware of its pickup pattern. Anyway, better than using your standard PC mic.
8. Audio-Technica AT2020
It is a quite popular microphone so maybe you have heard of it before. It has all the features of a high-quality mic that will allow you to record not only speech but also vocals and instruments. Despite how it looks, it is a condenser microphone. You can use it to turn your home into a little studio.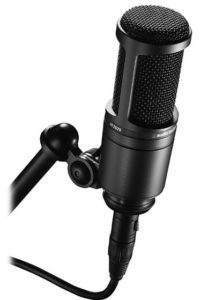 The noise level is 20 dB SPL, a custom-engineered low mass diaphragm provides extended frequency response and superior transient response. But unlike the previous models, this one is XLR type microphone. A cardioid polar pattern reduces pickup of sounds from the sides and rear, improving isolation of desired sound source.
The microphone was developed specifically with the intention to make the studio quality of microphone affordable for the wide public. And looking at the tech characteristics of AT2020 it is possible to say that the developers were quite successful with their project.
But once again, in terms of convenience, it might be tricky because it's not a standard plug-and-play microphone. You'll need to plug it into a mixing board, and also buy the aforementioned cable, so it's more of a pro set up than the mics above, but if you're looking to something more advanced the AT2020 is a great way to get started.
You may see that because of its structure with the shock mount stand and overall characteristics this is not the best microphone for streaming specifically, but it is really good for podcasting and vocal/ instrument recording/streaming.
9. Blue Microphones Ember
You might say it's cool, you might say "not again", but one more time we have a microphone by Blue company on our list. Well, these are too good so we were obliged to include them on the list, and here we have another version which is called Blue Ember microphone.
You can see it differs from Capsule and Yeti microphone – from the first sight it might seem like it's a dynamic microphone, but it is a condenser one. It delivers an open and detailed sound.

The price is typical for Blue mics and it's fair to say it is rather affordable. Blue Ember has a cardioid polar pattern with a feature of reduced noise suppression. But the core feature of this particular model is its design.
You can see that it is much more compact than other models by this company and it will fit the specific needs of streamers, who, for instance, make singing broadcasts or make podcasts. The mic can also be good for the interviews because of its mobility.
Inside the SoundEmber's precise cardioid polar pattern and custom-designed phantom power circuitry ensure remarkably consistent frequency response with ultra-low noise for a rich, smooth vocal sound. Clean, high-output gain ensures impressive headroom for up-front instruments and commanding vocals.
Because of the microphone's shape, it is easy to place it closer to the source of the sound, and then the feature when the captivity of a microphone is not so high becomes insignificant. Blue Ember also looks quite good on camera in case you are doing video streams.
The only dubious aspect of this item is that it comes without the shock mount stand and without it, the usage of the mic can be quite tricky. The problem is, the shock stand mount suggested by the Blue company costs nearly the same as the mic does, so in case you don't want to pay that sum, you will have to spend time looking for one that specifically fits this mic.
10. Shure SM58-LC

If by any chance you are tired of reading about Blue microphones, here goes the alternative that might be not so famous, but has the same (if not the better) quality.
In fact, this mic by Sure is going to be different from all the other microphones on our list, since it is a classic dynamic microphone, which, nevertheless, you can use as a streaming mic. First things first, so it is really better for doing vocal streaming since its frequency response is really better for music streams.
Its frequency response is 50 to 15,000 Hz. The uniform cardioid pickup pattern isolates the main sound source and minimizes background noise. Moreover, besides its technical characteristics, the model stands out with the fact that it has been on the market for a long time already, thus proving its reliability and durability.
As you already understood, the mic was created for vocals. But you can use it for the speech streams as well. It has an advanced function of reducing the background noise which is great for podcasting and interview genre. The mic has rugged construction for extreme reliability in demanding applications, and an effective, built-in spherical wind and pop filter together in the set.
The mic is supplied with break-resistant stand adapter which rotates 180 degrees. When the sound source is less than 1/4 inch from the microphone, the microphone boosts bass frequencies (by 6 to 10 dB at 100 Hz), creating a warmer and richer bass sound than when farther away.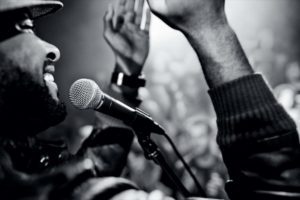 This effect, known as proximity effect, happens only in unidirectional dynamic microphones like the Shure SM58. The quality of a sound that Shure SM-56LC provides has become a world standard a long time ago, so in case you're not sure which mic to choose you could always invest in this item – you will always be able to resell it.
The dark gray, enamel-painted, die-cast metal case has legendary looks and – paired with the mesh grille – legendary toughness.
Moreover, this mic by Shure has a significant advantage compared to previous Blue Yeti mic in terms of larger frequency and better suitability for vocals – but their price is the same. If you read the reviews on Amazon, you will see than 99,7% are fully positive.
11. Samson Q2U
Another great and affordable option for beginners (and not only). This is a perfect compact classical microphone that provides high-end sound and is a USB mic that is easy to plug to your computer at the same time.
It is a dynamic microphone with a cardioid pickup pattern that captures sound from in front of the microphone and less from the side and rear, minimizing ambient sounds and other room noises for podcasting, home recording or voiceover work, which is great for streaming purposes. It also reduces possible feedback in live performance settings.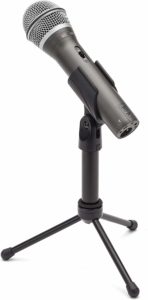 The 1/8″  headphone jack allows for zero-latency monitoring, so you can hear yourself without any delay or echo, plus a mix of your computer audio playback. Considering the outer design, the mic has a solid, die-cast construction with a heavy gauge mesh grille.
It is a plug and play type of microphone which means you don't need any additional drivers on your computer to make this item work. What is cooler is that you can connect a dynamic mic to your PC so quickly. The microphone comes in a set that includes the shock mount and a pop filter that will reduce all the plausive sounds from the recording/streaming.
The mic has a high-quality A/D converter with a 16-bit, 48kHz sampling rate, and 50Hz–15kHz frequency response. Samson Q2U is really great for podcasts. One of the best features of it is, of course, its price which is almost double less than in the previous cases.
The only thing you will need to think about is adjusting the sound settings so the mic would sound in the way you need and also the stability of a shock mount stand – to be honest, it is not the best quality.
You may also like: 12 Best voice over microphones