If you have been dreaming of a career as a reporter or about having your own show, there are all the possibilities for it nowadays. All you need is a camera and a good microphone.
You may also like: Best microphones for podcasting
You organize your content yourself, trying to interview interesting people who are loved by your audience. And the mics listed above will help you with creating the best quality content for your subscribers.
Product
Details


Rode VideoMicPro

has different levels for sound recording;

you can adjust the level to within a good range for your camera setup;

makes the voice sound really crisp and adds some nice bass to your voice;

the sound is good and has a warm tone to it. 


Sennheiser MKE 400

small size, flexible mounting to other devices (does not create unnecessary noise);

due to its compactness it is an excellent accessory for modern camcorders;

catches perfectly, no interference, extraneous noise.


Movo HM-M2

the noise cancellation is excellent;

good rejection for background noise and quality pick up of near voices;

the sound capture is very clear as well;

durable construction.
1.
Rode VideoMicPro
Shotgun microphones are known to be the best microphones to make interviews, and this one has been keeping the position of a leader for many years now. A compact, but extremely versatile and powerful Rode VideoMicPro will help your interviews sound amazing.
People often underestimate the role of quality sound in videos but actually, it is what makes a viewer watch a video till the end.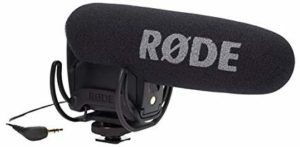 Rode VideoMicPro is a great microphone for use with camcorders, DSLR cameras, and portable audio recorders as a source of primary and reference audio.
Moreover, this particular model comes together with a chock mount so it is easier to fix it on a camera, table and anywhere you want.
Another cool thing about this microphone is that it is wireless and works on a battery. Don't think that you will have any problems with that, because the charge will last up to 70 hours of work recording from a single 9V battery.
Rode VideoMicPro also has an upgraded capsule that can lower the noise and has a higher sensibility.
It is a condenser microphone, and a condenser type is the best one for recording interviews.
You will be fully glad about the professional quality of sound that it will bring to you. What is more, it has an integrated foam windscreen that blocks any unwanted movements of air and provides a better range of sound captivity.
On the rear side of the microphone, you will find the power, filter, and level controls that are easy to access.
In addition to the microphone's native 40Hz-20kHz response, a selectable high-pass filter at 80Hz is available, which will prevent low-end noise such as air conditioners and traffic from being recorded.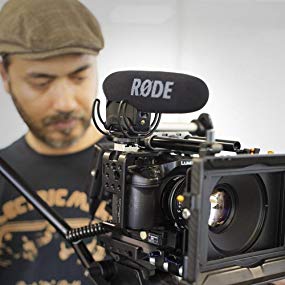 Here it is essential to mention that level control settings help greatly in adjusting the sound to the desired level making it sound professional.
In case if you are planning to record an interview in a place with loud sounds (or if you are planning to record a video including only the loud sounds) such as live concerts, bike races, and others, then you better use the -10dB level attenuation (or PAD) mode.
For traditional interviews in the studio, with DSLR cameras, you can use the mode of +20dB level boost, allowing the user to reduce the camera's preamp level (or mic-input level), effectively reducing the amount of noise generated by the camera's comparatively low quality audio circuitry.
Just remember that this particular model of microphone works best with high-end cameras and professional recording equipment. You can, however, try to use it on your smartphone or other simple devices, but there is no guarantee it is going to work.
You may also like: 9 Best XLR audio-cables for microphones
2.
Sennheiser MKE 400
A similar microphone offers a great quality recording at a reasonable price. Sennheiser MKE 400 also has a wireless mode of working, with its AAA Alkaline Battery. In this particular model, it has the 4 batteries with it so when you first buy it you don't have to think where to get those.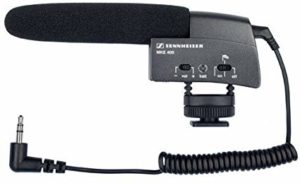 Another pleasant point of this product is that it has a 2-year warranty by a manufacturer. It is a super-cardioid shotgun condenser microphone with 1/8″ (3.5mm) TRS mini cable, so it is really versatile when it comes to plugging.
Moreover, the mic comes together with an additional windscreen, that helps even better to protect the quality of sound from any unwanted noises.
Sennheiser MKE 400 also has a filter control so you could adjust the sound quality for the conditions you are recording in.
The only dubious aspect of this mic is that it doesn't always work well with DSLR cameras. You need to pay extra attention to settings otherwise, the quality of sound may vary.
Probably, the biggest advantage of this mic is that it has a battery that lasts a very long time and can work more than 100 hours. There is an indicator that will tell you when it is time to get a new battery.
You may also like: Best microphones for streaming
3.
Sennheiser MKE 600
The first thing with which this mic attracts your attention is its unusual shape. The idea of it is explained by the fact that maybe this way some people find it is easier to fix on cameras and shock stand mounts.
Moreover, the mic itself has a rounded polar pattern which is, because of its shape, it capable to catch sound from all directions, which works great with interviews.

And even though the price of this microphone is higher than the one of its predecessors, it definitely has better quality and is best compatible with DSLR cameras to bring you high-end sound.
Even when you are lowering the camera's preamps, the mic maintains its quality and adjusts to the environment of a sound.
Among the possible disadvantages of this item, you can find that it has a switch on and off button. If you are a reckless person who might forget to turn it off then the battery of this mic will drain very quickly. Even worse, if you want to start recording your voice ad forgot to switch on the mic.
But among the advantages of the Sennheiser MKE 600 you will find that, first, like a shotgun microphone it captures the sound very precisely and, secondly, it has a furry windscreen with it, that works great outdoors.
Another good thing is it works on AA type battery which is the easiest to find, unlike the AAA type. Or, the mic can run with phantom power via an XLR cable.
The body of the microphone is made out of metal which gives this item a luxurious feeling. Sennheiser MKE 600 works best with camcorders and DSLR cameras.
4. Rode NTG-2
Another microphone that looks similar and, probably, even more exotic. But this time it is an item by another manufacturer that we all well know – Rode.
The main feature of this item is that it is incredibly lightweight – you will feel it as soon as you hold the mic. Rode NTG 2 will be a perfect choice for those who work in an environment that require lots of movement.
Its full frequency response, low noise, and audio transparency make it an ideal film, video, and voice-over microphone, while its low weight makes it an ideal boom microphone.
The frequency response here is 20Hz-20kHz. Moreover, the selectable high-pass filter at 80Hz is available. It includes the ability to suppress background noise, such as tech or traffic.
Rode NTG 2 requires an AA-type battery for working. Or, you can use phantom power, which can be provided by professional cameras, audio recorders, and power supplies.
The battery power option makes the NTG2 ideal for scenarios where the camera does not supply phantom power such as DSLR video.
You can also see that the microphone comes together with a separate windscreen which can be used in places with an accelerated noise level. It is also convenient if you are recording the voice standing close to the microphone – it helps to avoid the plausive sounds.
The only possible disadvantage of this mic is that it provides a quite specific kind of sound. It might sound dry if you are not used to it. So keep that in mind before actually buying this item.
5. Movo HM-M2
Now let's step back from the shotgun microphones and see which other options the market has to offer us. Move may have a lower price than all the previous mics, but first, it is a separate category of microphones, and, second, it may not be less quality than all the mic mentioned above.
It is a perfect option for outdoor interviews. For everybody who's working as a correspondent, Movo HM-M2 would be a great solution, especially for beginners.
This item was made especially for interviews – it is specialized for voice reproduction to maximize clarity, reduce plosives, and wind noise, and limit low-frequency noise.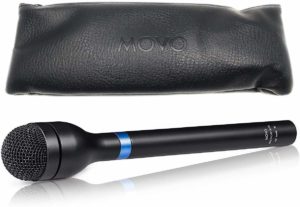 This is a dynamic type microphone, so here you don't have to be that afraid of plausive sound since the dynamic mic is less sensitive to it than condenser ones.
However, they can give a more distant and "cold" sound. Another advantage of it is that it doesn't require phantom power, and all the appliances necessary to get this working comes together in a pouch.
However, the pouch of Movo-HM-M2 may become one of the disadvantages of this mic (in case you are picky esthetically).
From the practical point of view, it is not safe to keep your mic in a soft pouch because it doesn't protect it from bumps, and, what is less important, but still, it looks not appealing at all.
The mic itself comes with a 1-year warranty. You can use it to record interviews, podcasts, reports, presentations, and social media videos.
The design of Movo HM-M2 is also eye-catching with an elegant body that will surely look good in videos. What is more, it is convenient to hand it over to another person and back this way.
It is also good to use during presentations since it doesn't look too concert-style like traditional dynamic microphones. The mic is omnidirectional and catches the sound no matter which side of the speaker you are holding it.
The frequency range is 70Hz – 15kHz, the output impedance 200 Ohms, sensitivity is -56dB. Moreover, Movo HM-M2 is very lightweight. The body is made of aluminum with a black matte finish. The microphone has an XLR jack.
6.
Alvoxcon Dual Wireless Lapel Mic
Did you know that lavalier microphones can also play a good role as interview microphones? They seem to be less powerful and professional, but in reality, they can turn out to be much handier and easier to carry around than any other type of microphone.
You have probably seen it in someone's vlogs or broadcast how they interview people on the street with a lavalier microphone.
And actually, a small compact mic doesn't look so official as the traditional shotgun interview microphone and sometimes it confuses people significantly less, making them feel more confident and open since they don't feel it's a serious interview.
This lavalier microphone by Alvoxcon is one of the best items presented on the market, especially in terms of technical characteristics.
There is a decent choice of different wireless mic of this type right now but this particular one has advanced receivers with cool digital screens and powerful and nicely designed mics.
The sound control is also extended here – you can adjust the volume, reduce the noise or set a certain mode using the controller on receivers. Because it has a digital screen, all the settings are displayed on it and you can see all the levels.
These receivers offer a noise-canceling transmission range up to 40ft without feedback or distortion. Wireless receiver with universal 1/4" plug works with mixer, PA speaker w/ 1/4 MIC IN Jack, also fit for DSLR camera and smartphone with proper adapters included.
The only thing you need to remember is that the system does not work with Bluetooth speakers or computers.
However, it is a great choice to use even together with your smartphone. This is another advantage of this mic – it is capable to work productively both with smartphones and professional cameras.
It is preset with 902- 928 MHz frequency. It is also compatible with mixers, PA systems, loudspeakers, voice amplifiers, and even karaoke machines.
7.
Rode NTG3
Now let's go back to our favorite shotgun-type interview microphones. This item is much pricier than all the previous ones, but only because it is coming in a full set of accessories and appliances. Unfortunately, another version of this microphone by Rode is not presented on Amazon.
But anyway, it is a nice set for acquiring professional work (because this type of investment probably only makes sense if you are planning of doing professionally recorded interviews).

Rode NTG3 is a high-quality tool in a Rode's line and it will bring to you a high-end kind of sound. It was created especially to meet the needs of broadcast audio engineers and boom operators.
The microphone features radio-frequency interference properties that avoid annoying noise and interference caused when the mic is placed close to sources such as radio antennas, WiFi networks, internet devices, power lines, etc.
Moreover, this microphone is constructed in a way that it can withstand various harsh weather conditions. With Auray WSS Series Professional Windshields deliver superior 360° wind protection with acoustic transparency.
Besides, Rode NTG3 has a black Kopul Premium Performance 3000 Series XLR M to Angled XLR F Microphone Cable which is designed to work extremely quietly and this flexible cable is ideal for the most demanding live sound and performance applications.
The item comes with a 10-year warranty which is quite impressive. In a set that comes together with a microphone, you will find a windscreen, a shock stand mount, a microphone clip, a zip pouch, and a water-resistant aluminum storage case.
The frequency range is 40Hz to 20kHz and this professional mic works only on phantom power. Moreover, it is quite lightweight, and its elegant design makes it convenient to present on videos and fixing it on video cameras.
8.
Azden SGM-250CX
In contrary to the previous one, this microphone is quite affordable. Not that it is just a couple of dozens of dollars as some of the mics presented on the market, but it provides professional-quality audio for a low price.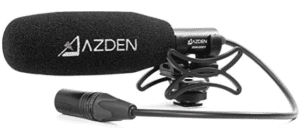 In fact, it is a classical microphone for use together with regular cameras and DSLR cameras.
The sound that it gives at the end is also soft and deep, perfect to use in interview videos and broadcasts. The mic is equipped with XLR adapters.
Azden SGM-250CX is just 6 inches in length which makes this microphone very easy to carry around and fix any object. Integrated into the microphone's design is a hardwired, 13-inch XLR cable for convenient connection to camera microphone inputs.
Azden microphone is distinguished by a high level of sensitivity, it is a condenser microphone that is powered by standard 48 V phantom power, which most XLR microphone inputs can provide.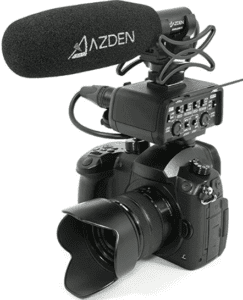 The SGM-250CX includes Azden's SMH-X shock mount which mounts to standard-size camera shoe slots, as well as ¼"- 20 threaded mounts and tripods.
The mic also comes together with diameter expander sheets for universal compatibility with ring-clamp-style microphone mounts.
The shape of the microphone is ideal to be used with mirrorless cameras.
The polar cardioid pattern reduces the background noise, the wide frequency response helps to maintain the accuracy of the sound. The case of Azden SGM-250CX is made of alloy.
Another distinctive feature of this microphone that makes it so good specifically for interviews is that it is not constructed to catch more bass frequencies like many other mics.
Capturing too much bass while talking can make the overall sound muddy and it will lose its crispiness. Azden mic will perpetuate the sound as it is and all the necessary editing you are able to add later on.
9. Sennheiser ME 2-II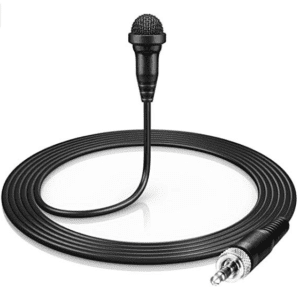 Another cool lavalier microphone for the interviews. Take a look at its elegant shape, which will surely look good on videos.
Easy to carry around, effective to use – great features for an interview microphone. Actually, Sennheiser has been known for producing almost the best mics on the market so it is fair to claim that almost all the articles by this brand are going to have great quality.
This microphone is omnidirectional and easy to fix on your clothes. Thus, you can hold a conversation without even remembering you got a mic on you (just make sure that another person has it as well).
Moreover, it includes a mini-jack for bodypack transmitters from the evolution wireless series.
In a sphere of lavalier mic, the price of this one is relatively high, but the quality of the sound that it provides and the range of its captivity is considerably higher as well.
The only disadvantage of this mic is that it is not exactly a long-lasting item. As statistic shows, it works stable from 9 months to 2 years and then the quality starts to decrease until it's fully broken so you have to acquire a new one. The manufacturer gives no warranties.
10. Sennheiser MD 46
Let's turn our eye to another mic by Sennheiser but this time it is going to be a classic dynamic microphone that you can use for interviews as well. Designed to deliver low handling and wind noise, and to eliminate vocal popping, this microphone can become a perfect tool for that.
Sennheiser MD 46 has a cardioid pickup pattern, 40 – 18 000 Hz frequency response, and the ability to work without phantom power.
Besides, its windscreen is made of a double-layer grill basket that provides an extra shield in dangerous situations.
Moreover, the mic is capable of effectively reducing the background noise. It is perfect for recording podcasts as well. So if you feel comfortable working specifically with a microphone of a dynamic type, this item is your choice.
And even though there is no leverage for setting up the balance on this mic, it still provides a very decent quality of sound in many situations with various weather conditions.
For its relatively low price, it gives quite good quality and that's why many sound engineers and people working in the media industry keep choosing it over and over over the decades.
You may also like: 10 Best condenser microphones for every budget
11. Tascam DR-10X
And last but not least microphone which would be perfect for interviews is Tascam DR-10X. From the very first sight, you can tell that it looks really exotic. However, you have probably seen a model like this used in television interviews.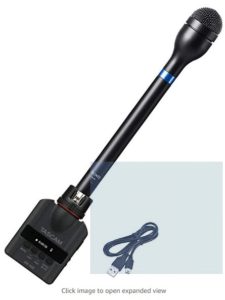 It is a wireless microphone system. Well, this is not even exactly the microphone only, it is a microphone and a recorder compiled together, and that is what distinguishes this model from all the previous ones.
It is capable of recording a safety track at a lower volume simultaneously to prevent distortion.
With its omnidirectional polar patterns, the frequency range of 70Hz – 15kHzand the AAA type battery, Tascam DR-10X is capable to meet all the demands of a good interview audio recorder.
What is more remarkable, the price for a microphone of this tech level and such high-end sound is relatively low, and that's the reason why this item is almost always sold out.
The only aspect you need to pay attention to is that sometimes you need to acquire a separate license to use this mic in terms of privacy and copyrights. Purchasers should also be aware that the FCC is currently evaluating the use of wireless microphone systems, and these rules are subject to change.