The sound quality is more important than the image quality: the flaws of video shooting we statistically forgive more easily, then disgusting noise instead of sound.
If you are looking to make beautiful and high-quality sound on your device, and not spend your last savings – follow this top-9 best microphones for iOS in ascending order of price, and choose the most suitable option for you!
And more iOS microphones, including those for iPad you can find in this article.
We recommend:
Our Top Pick

Zoom iQ6 Stereo X/Y

This option might be a little bit pricy, but it will give you the best audio quality possible. It is compatible with all the iPhone models. Moreover, this model is lightweight and compact. 

See
Best
Price
Other great mics for iOS devices:
| Item | Dimensions | Weight | Noise level | Power source | |
| --- | --- | --- | --- | --- | --- |
| TASCAM iM2W | 3 x 1.5 x 4.75 inches | 2.39 ounces | 125dB | Apple dock connector | See Best Price |
| Inscape Data | 5.59 x 3.54 x 0.94 inches | 1.27 ounces | Not Specified | Not Specified | See Best Price |
| BOYA by-M1 | 5.12 x 3.62 x 1.42 inches | 4.2 ounces |  74 dB | Battery Powered | See Best Price |
| Saramonic SmartMic | 1.18 x 1.18 x 2.72 inches | 2.08 ounces | 74 dB | Battery Powered | See Best Price |
| Movo | 6.22 x 6.14 x 1.97 inches | 5.8 ounces | 74dB | Not Specified | See Best Price |
| Rode VideoMic Me | 3.15 x 0.83 x 1.5 inches | 1.2 ounces | 20 dB | Supplied by device | See Best Price |
| Rode SmartLav+ | 5 x 1 x 3 inches | 0.212 ounces | 67 dB | Wired | See Best Price |
| IK Multimedia iRig Mic | 6.3 x 6.8 x 2.2 inches | 1.06 ounces | Not specified | Not Specified | See Best Price |
1.TASCAM iM2W Channel Portable Digital Recorder
Condenser stereo microphone to record the most deafening performances!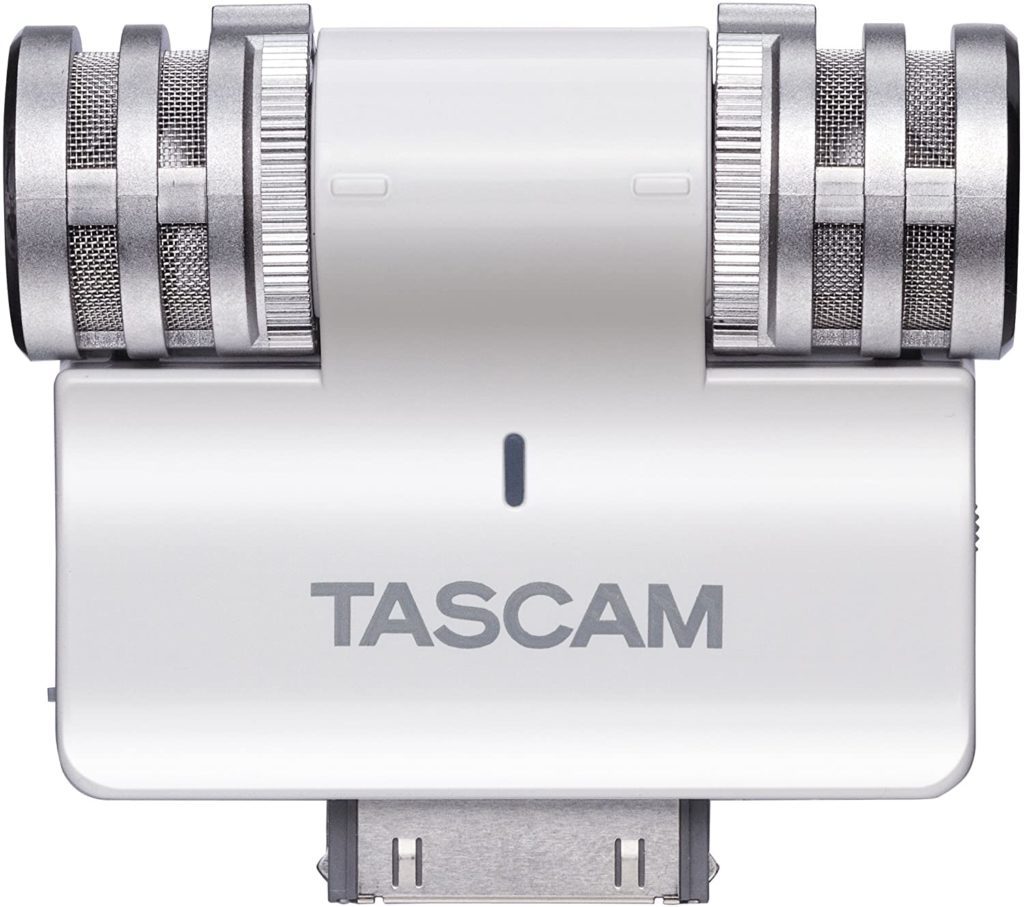 TASCAM is a pioneer of low-cost recording devices for musicians. With a rich history, TASCAM is well-known for its portable handheld recorders. These are not dictaphones, but devices for high-quality recording in LPCM 16-bit 44.1 kHz format.
TASCAM iM2W mic meets the expectations of specialists, as it is one of the one of the representatives of the Tascam DR series for professionals.
You can rotate its unidirectional diagram 180 degrees so you can work with the different structures of the sound. With this mic, it is possible to cope with up to 125dB so that you can catch your deafening vocals successfully.
TASCAM iM2W recorder also contains a microphone preamplifier and an analogue-to-digital converter, so there is no need to use the smartphone's built-in preamp.
The body has an on/off button, a turn limiter, an input level wheel and a USB input. You can use the last one to charge your iOS device during long-term recording (which is a great option).
From the AppStore, you can download the free Tascam PCM Recorder app for dual track recording. Tascam released its iM2W in two colours: black and white, so the Apple users can choose the preferred one between two suitable options.
If you decided to purchase it, pay attention: the Tascam iM2W does not have a lightning jack, so you have to buy an additional Apple Lightning for the 30-pin adapter.
You may also like: best XLR cable for the microphones
2. Professional Omnidirectional Lavalier Microphone
Just a microphone and nothing extra. Good compact sound for the compact price
This simple lavalier microphone is a bestseller for everyday use. It gives satisfactory sound, which is more than enough for simple daily tasks such as online gaming and video calling. Due to noise suppression, it does not capture any extraneous sounds, but distorts the voice slightly: it sounds a little higher than in real life. If you want to buy it as your video recording equipment, you better not.
This lapel mic is representative of not-bad quality for a reasonable price.
In reviews, buyers note a strong clip that attaches to clothing and a mic's strong case. The flaw is that the wire seems to be too flimsy. If you accidentally pull on it, the wire or contacts at the microphone may easily break.
3. BOYA BY-M1
Multifunctional strong baby with additional pleasant bonuses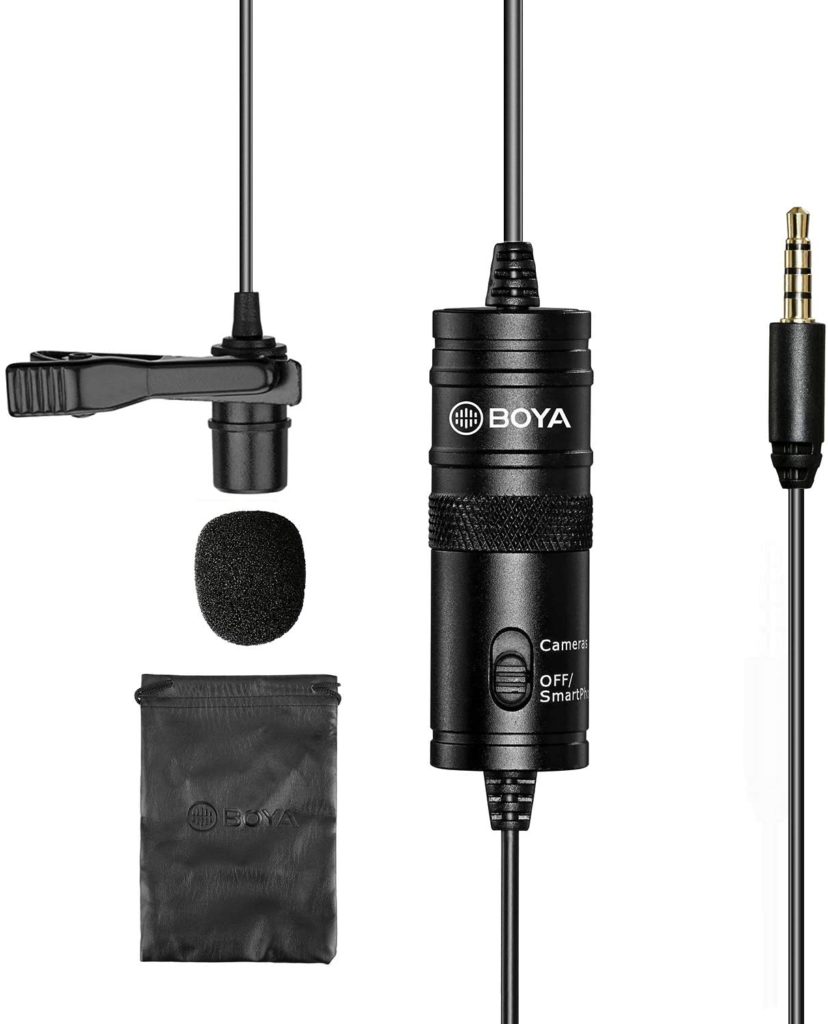 Boya BY-M1 microphone is a simple but handy instrument. Paired with a smartphone, it is well suited for a vlogger who does not burden himself with bulky equipment.
It is also good for a journalist to record interviews with suitable quality for broadcast, for novice or professional filmmakers.
Microphone BY-M1 connects with a very long 3.5mm jack cable. There is a switch "camera" / "smartphone / off" and a clip for attaching to clothes or other thin objects on the body of the mic.
The switch is required to work with a variety of devices. Use "camera" position with those that need a phantom-powered mic. The "Smartphone/off" mode of the switch is for devices that do not require power.
In "camera" mode, an LR44 battery power the mic that can last for a long time. If you use Boya BY-M1 only with a smartphone, then there is no need to insert a battery at all.
A few more pluses: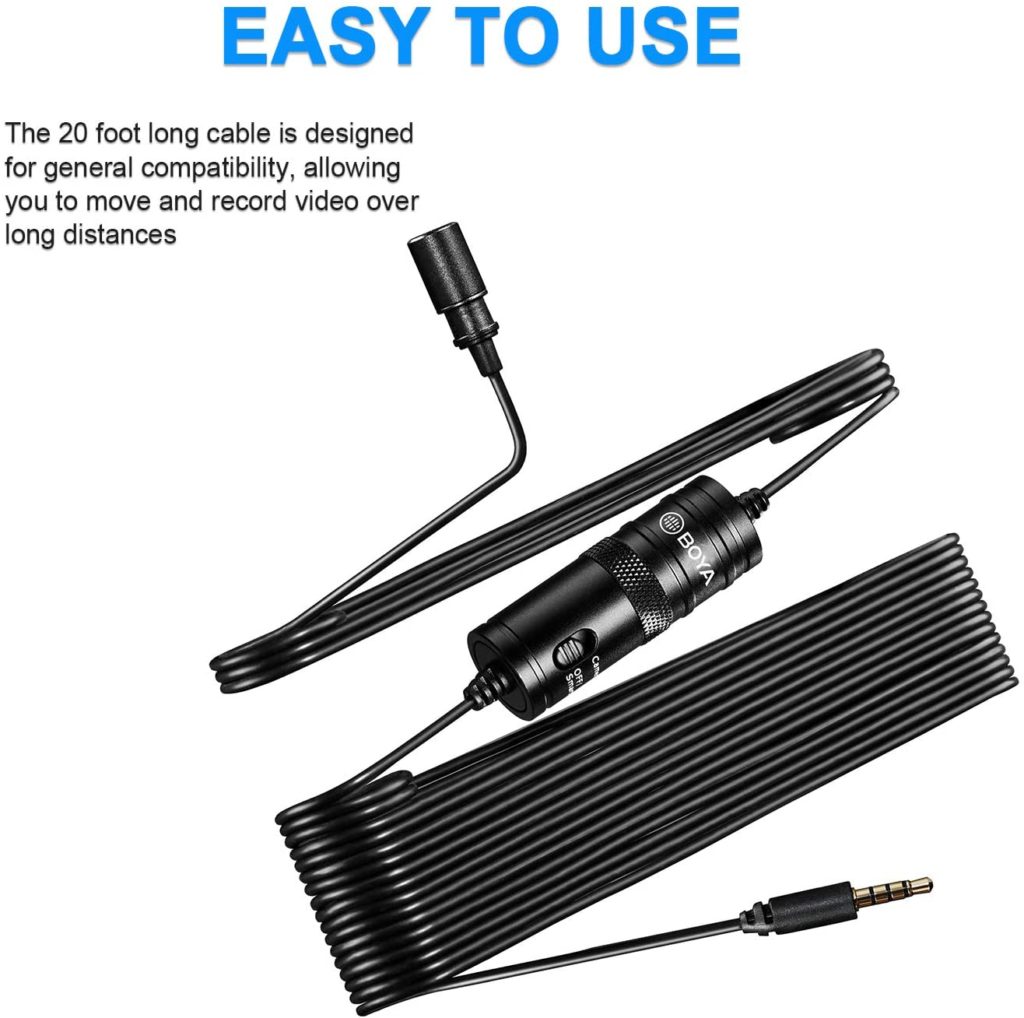 the cable is quite strong and, it seems, can withstand years of use
the kit includes an adapter for a large 6.3 mm plug, which makes the Boya BY-M1 compatible with a wide range of devices
A case is included with the microphone. This bonus greatly simplifies the task of storing and transporting the microphone.
Boya BY-M1 is best used in all cases when there is no great need for a radio system, and you can afford to lay out the wires. Boya BY-M1 is a great microphone to start your video career with.
4. Saramonic SmartMic
Portable condenser omnidirectional electric mic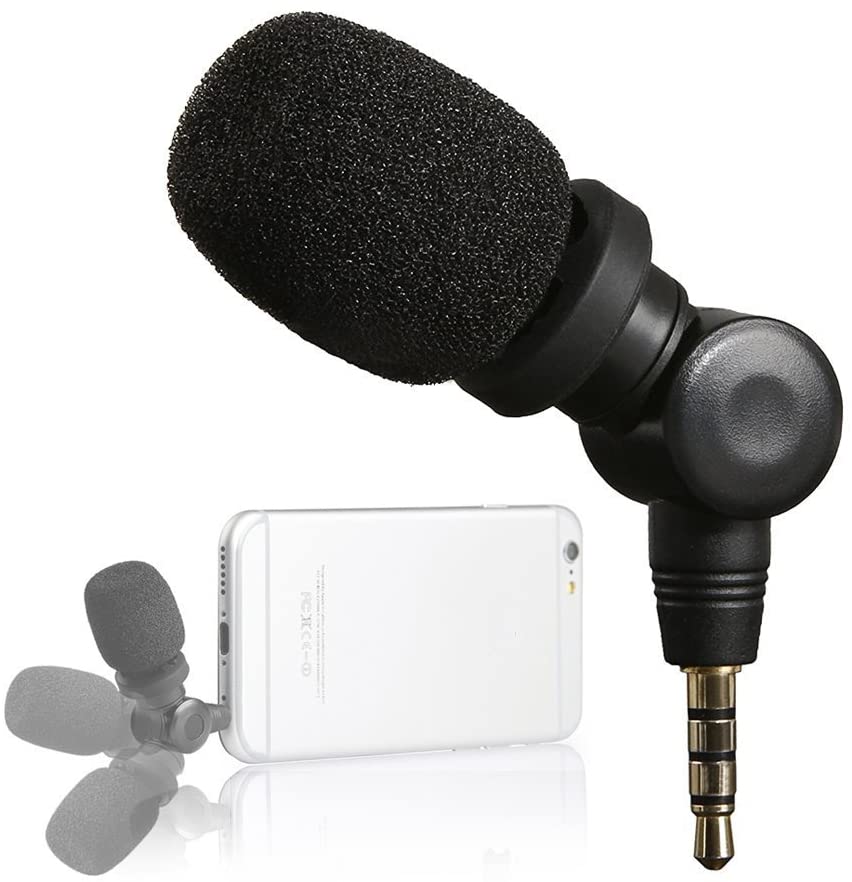 Saramonic SmartMic for iOS is a professional mic specially released to be used by Apple users. It is noticeably more sensitive compared to the built-in mic. Saramonic SmartMic is ideal for use when recording video: low noise level makes this mic suitable for recording video soundtracks.
The omnidirectional diagram of the microphone allows you using your iOS device in almost any situation and turns it into a piece of professional-grade equipment.
A nice bonus: Saramonic SmartMic is also compatible with Android-based devices. You only have to install suitable app that allows you to record sound from an external mic.
The microphone head allows you to tilt the microphone up to 90 degrees. There is a 3.5mm headphone jack on the case for better control over the audio recording process. The model is compact: there are no wires, only the plug and the microphone itself.
Of the pros: noise reduction, price-quality ratio, head swivel mechanism.
Of the minuses: sound features. You'd better use this microphone close to the sound source. Besides, the windscreen is made of cheap materials and is extremely easy to deteriorate.
5. MOVO Smartphone Video Grip Handle Rig with a stereo microphone
You will cope with more than just a mic!
Meet unusual and convenient device kit with a microphone that can simultaneously handle a smartphone and a mic.
The Movo Smartphone Grip can hold smartphones sized from 2.2″ to 3.6″. There is a connector on the top of the device especially for a mic, LED video signal, lights or wireless transmitters.
This MOVO device has flexible setting that uses three 1⁄4″ tripods and a built-in spirit level for the perfect level position. Besides, the grip is detachable and convenient with soft padding. It helps stabilize video and relieve fatigue while shooting.
The adjustable hand strap helps additionally to hold the device firmly while preventing accidental falls.
This kit includes the MOVO VXR260 X / Y Condenser Shotgun Microphone attached to the top of this headset. Audio capture angles are 90 and 120 degrees.
Only one LR44 rechargeable battery can power the mic. The package also includes a windshield and a fluffy windshield for shooting in windy conditions.
You may also like: best micrphones for interviews
6. RODE VideoMic Me
Meet an inexpensive representative from the well-known Australian manufacturer RODE that makes extremely high-quality mics and other sound equipment
Rode makes rightfully one of the best mics worldwide and Rode VideoMic Me became a confirmation of the trend.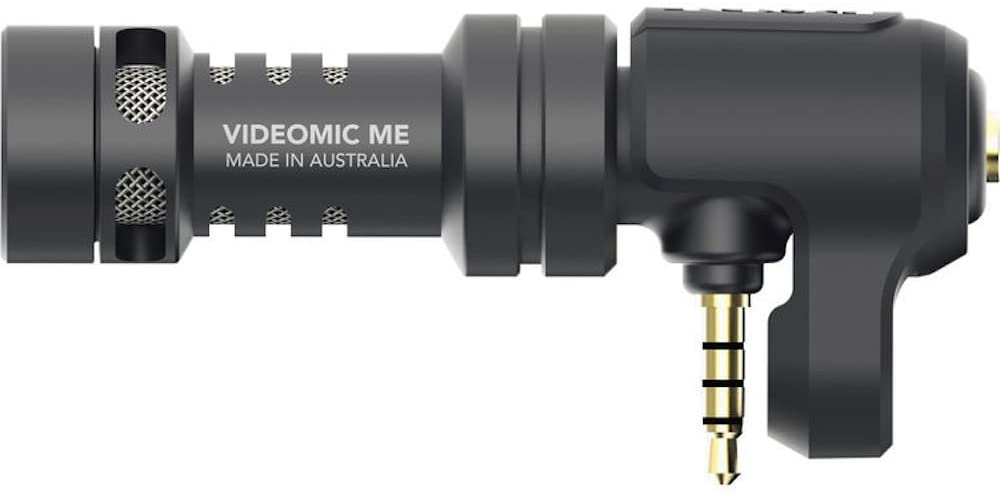 This mic is a relatively low-cost and small gadget for Apple users' devices that records high-quality sound and works like handheld microphones (capturing the sound in front of the mic and silencing it in the back).
Rode VideoMic Me has an adjustment clip and can connect to your iPhone, iPod or iPad via the TRRS jack. The body of the mic is aluminum covered with a ceramic anti-reflective layer. Besides, there is an output for headphones to monitor directly while recording audio.
Besides, this Australian mic works in an excellent frequency range from 100 Hz to 20 kHz (these frequency indicators are ideal as frequencies below 100 Hz are considered unfavourable).
The full package of this mic includes a fluffy windscreen for successful recording outdoors or in bad weather conditions.
Rode VideoMic Me has 1,500+ positive reviews in the Amazon and one of the best price-quality ratio.
Unfortunately, Rode VideoMic Me has a significant drawback: it does not support iPhone 7 and subsequent versions of iPhones and other Apple products, because they do not have a suitable built-in input jack.
7. RODE Smartlav+
A lavalier omnidirectional condenser mic
This mic is one more professional elaboration of the Australian company RØDE, the world-renowned audio equipment manufacturer.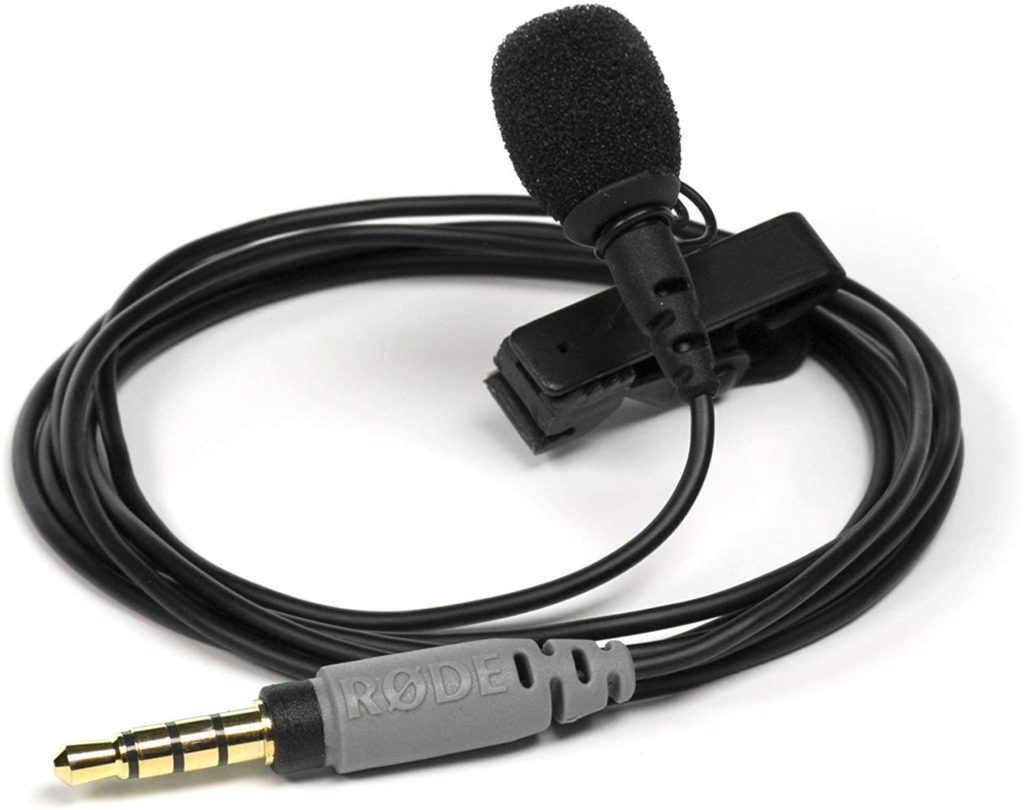 You can apply RØDE Smartlav+when recording blogs, interviews and use as a cheaper replacement for audio equipment for shooting video.
RØDE Smartlav+ is generally used for high-quality sound recording on a smartphone, but it can be connected to other recorders or cameras using a special adapter. The mic itself connects to Apple devices with a 3.5 mm mini-jack.
This microphone is designed to work with the Rode Rec. iOS app but is compatible with any audio app for the iOS that works with the headset interface signal.
With its equalizer, you can customize the sound for a wide variety of environments, and share your recordings instantly with Dropbox and SoundCloud.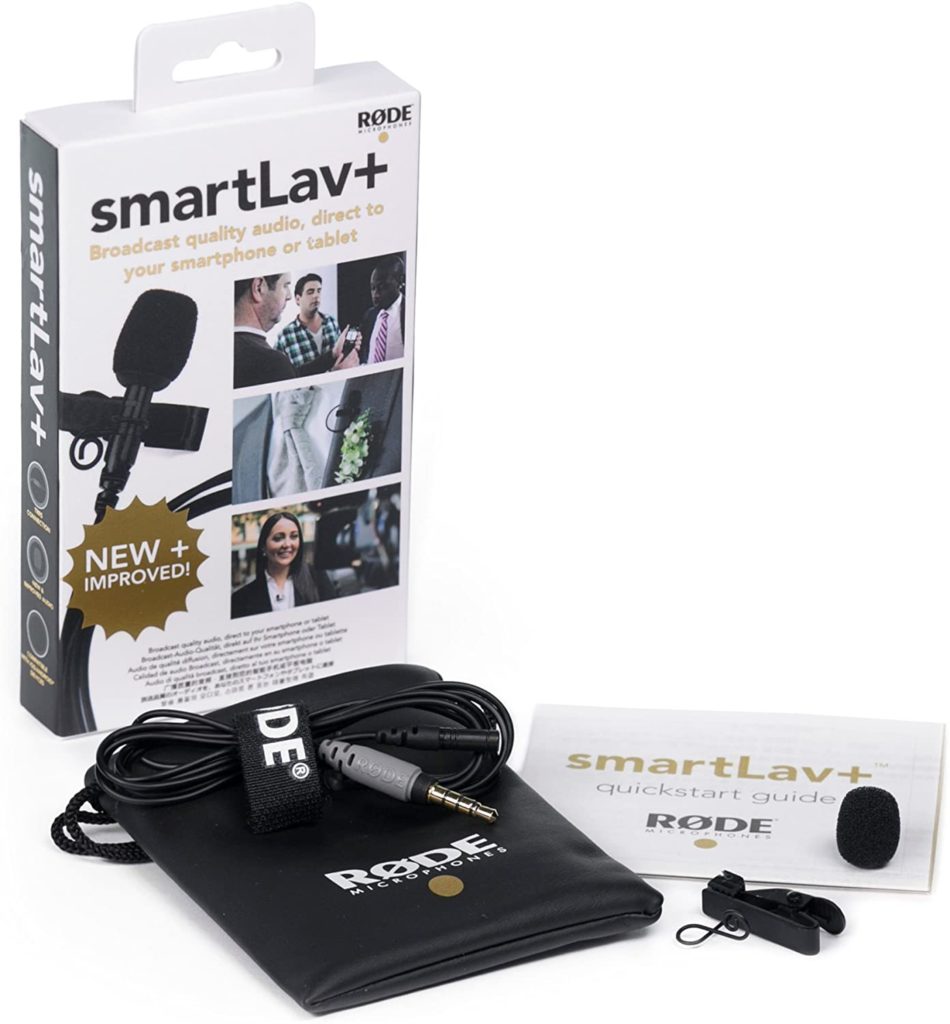 The Rode Smartlav+ microphone produces highly professional content for broadcasting, television and even cinema. The compact size of this microphone is indispensable when it is impossible to use large equipment.
The microphone has a circular pattern capsule so that it can pick up sound from any direction. The microphone is capable of operating with a frequency range of 20 Hz to 20 kHz. Sensitivity – 25 mV / Pa.
Windscreen minimizes distortion and softens "explosive" voice sounds. There is a strong clip with cable management. Reinforced cable significantly extends the life of the microphone.
Bonus: Rode Smartlav+ matches with most Android devices with headset input.
8. IK Multimedia iRig MIC Field
The last but not the least: meet professional, compact and weightless condenser stereo mic for using in any conditions: from a quiet conversation to a classic rock concert
Zoom iQ6 became the first in the world that has X / Y stereo mic using Lightning jack.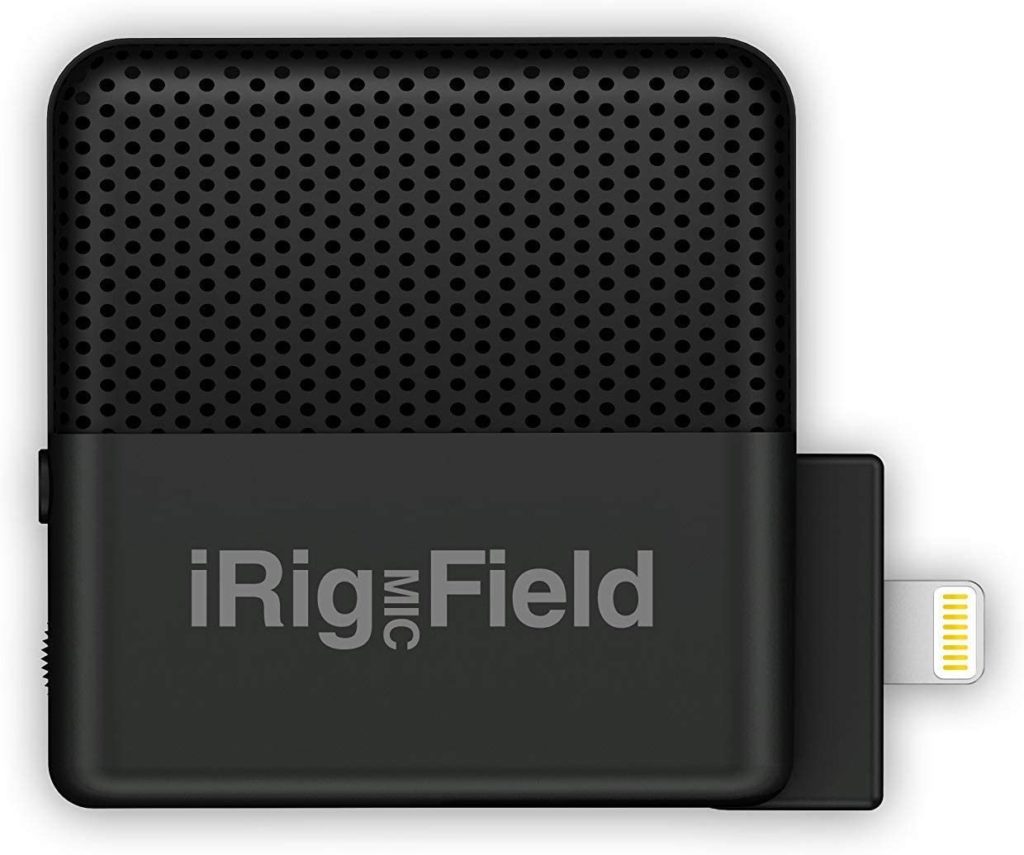 With Zoom iQ6, it becomes quite simple and familiar to record loud concerts, conversations, vocals and interviews in full accordance with the original and share what you have recorded.
With this small and lightweight mic you can record high-quality audio wherever you are. To start your podcast in any moment, record spontaneous concert or soundtrack for your vlog, capture an important event is a tiny part of what Zoom iQ6 mic can handle.
An X / Y stereo system of the microphone is versatile and realistic. It has two sensitive multi-directional capacitive mics in an opposite X / Y position. It forms the basis of the worldwide popular H4n Handy Recorder digital audio recorder.
X / Y Stereo Recording System can record and then reproduce surround sounds with superb accuracy and clarity. You can also change the angle of mutual placement for both mics from 90 to 120 to focus and record wideband stereo. An analogue recording MIC GAIN dial and tri-colour divided LED indicator help you be sure this mic by Zoom is in perfect tune.
A special headphone input on the case of the mic with full duplication of the output signal allows monitoring the sound during the process.
The manufacturer designed Zoom IQ6 with an extended 8-pin Lightning jack with a removable gasket, which allows using this digital recorder with most iOS devices. Just plug the iQ6 into a standard jack and you can start recording.
Minuses: sometimes, a removable gasket can interfere with the correct connection between devices.
Zoom iQ6 system suits perfectly the Apple Voice Memo and Garageband audio apps. Besides, most part of all apps support an external microphone interface. You can use Zoom iQ6 mic with them if you want to:
recognize speech and convert it into high quality audio recording;
broadcast live performances with audio streams;
record vocals and instrumental parts in the entire stereo range.
9. Zoom iQ6
For Apple users, the iRig released an electret stereo representative of high-quality construction of the body in combination with the compact and stylish design of its case. Mobility, universality, and convenience are its mottoes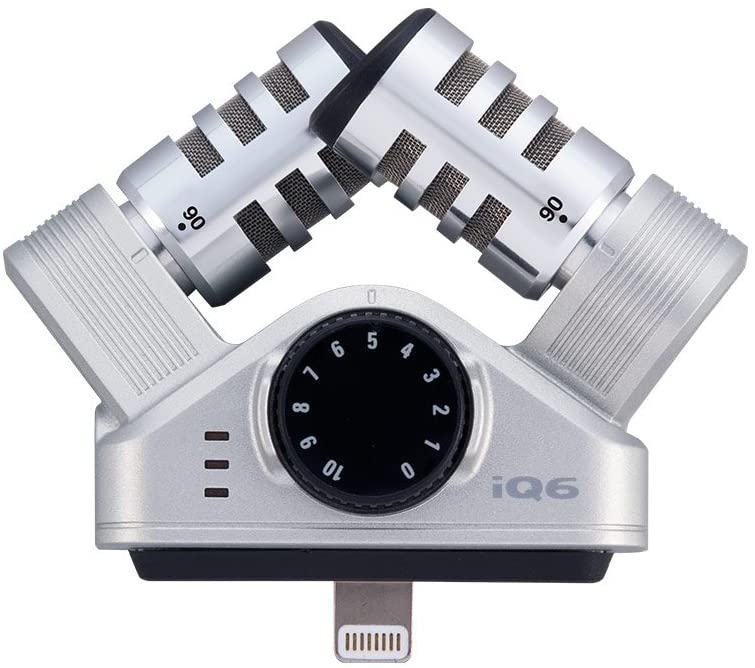 This special mic embodies all the requirements of audiophiles. iRig Mic Field includes in its compact body a 24-bit A / D converter, 115dB SPL, low-noise preamp, and supports 44.1 / 48kHz sampling rates.
With this mic, you can work in portrait mode to record interviews, conversations, lectures, and immediately switch to landscape mode as far as you need to capture surroung sounds. This feature is extremely useful for both professionals like vloggers, streamers, YouTubers, operators and usual users to apply this microphone on the daily basis.
Included with the microphone, you also purchase a case for storing and carrying the microphone, as well as free access to the app for processing sound recorded from the microphone iRig Recorder app. Is not it nice?
FAQ for microphones for iOS buyers:
What are the first things to look for when buying a microphone?
Whether the mic is directional or omnidirectional. The directional type of the microphone records sound only from one side, that is, you must speak strictly into the microphone while holding it in front of you. Omnidirectional is capable of picking up sound from all directions.
Connection method. Choose a connector according to your device. You can also always purchase a microphone and an adapter to it.
Decibel indicator. The higher this indicator, the better the recorded soundtrack would be.
2. What characteristics to look for when choosing a lavalier microphone?
Almost all the characteristics of the models are the same. The frequency range (and a couple more details) may differ, but this is not essential. The most important thing is the size of the lapel mic and what you can power it from.
3. Is it possible to edit the recording from the microphone directly on my device?
Of course, it is. A significant advantage of iOS external microphones is the additional audio recording software from the AppStore. Many recording apps in the AppStore are compatible with the microphones on our list. You will not have a problem choosing an app with a user-friendly interface, toolset and customization. For example, there is a special application RØDE Rec. for Rode microphones, which has many audio editing tools.
4. What types of microphones' connection are possible for iPhone?
There are studio-grade USB microphones, lavalier microphones, Lightning microphones, and 3.5 Jack. For USB microphones, you need to purchase the Apple Camera Connection Kit. There are iOS USB microphones that can connect via Lightning connector without an adapter. Lavalier mics usually relate to the device via a 3.5 mm jack.