Did you know that the predecessors of the modern acoustic guitar take their roots down to more than 4000 years ago? Actually, there are lots of theories when and how this instrument was invented. It has often been claimed that the guitar is a development of the medieval instrument vihuela, which evolved from the ancient lute.
But you have probably seen all those depictions of string instruments at those famous pictures, where servants were playing musical instruments to entertain the royalty in castles. Modern guitar shaped instruments were not seen until the Renaissance era when the body and size began to take a guitar-like shape.
You may also like: 7 Best microphones for recording electric bass guitar
Nowadays, the acoustic guitar is still one of the most popular instruments to play in the whole world.  An acoustic guitar can be used as part of the band instruments, it can be used as a single instrument to make the acoustic cover of songs, it can be used to gather people around you and sing your favorite songs together.
And of course, you can always record the sound of your favorite instrument. But then you face a number of issues: how to record a guitar so it would sound like a primary source on the record? Which room would you need for that? What type of microphone you should choose in order to get the best quality of the recording? Considering the last question, on this list, you will find all the answers you need.
Product
Details


Aston Microphones

48V phantom power detection function;
unique internal capsule fixing system;
can be used with most musical instruments;
perfectly opens with an acoustic guitar and vocals;
natural and transparent sound when recording.

 

Rode NT1-A 

great for recording male and female vocals, vocal groups, acoustic and electric guitars;
ultralow level of own noise;
sound quality is fantastic and professional;

 

Shure SM-57

great for working with ensembles, acoustic and electric guitars, banjos, brass and woodwinds, electric pianos;

promotes a clean reproduction of instrumental sounds and rich sounding of vocals;
high level of reliability when operating in non-standard conditions.
1. Shure SM-57 Cardioid Dynamic Instrument Microphone
The name of this mic speaks for itself. This microphone was engineered specifically for recording acoustic instruments, and even if you were choosing the mic only by the name and would go for this one you wouldn't go wrong. It is a cardioid dynamic mic, which is the best for recording vocals, instruments, drums and so on.

It has a frequency response of 40 to 15,000 Hz. Shure SM-57 will bring the studio sound quality to your recordings, capturing the sound directly from the source and having the extra sensitivity for recording it.
Due to the high-frequency response and higher SPL of over 180, they are predominantly known for recording louder sound sources such as guitar cabs and snare drums, however the fact that the SM57 isolates the sound source and reduces unwanted background noise makes it a great option for recording acoustic guitars as it cuts out anything you don't need and completely concentrates on the sound of your acoustic guitar.
Moreover, the microphone itself is very compact and easy to replace. You can always purchase the stand mount separately if you want to fix it during your recordings. Considering the price it is possible to say that it is close to a budget mic. It's one of the most popular items on the market with mainly positive reviews.
You may also like: 13 Best microphones for PC gaming & streaming
2. sE Electronics X1S Vocal Pack
An unusual item that you have probably never heard of before. But that's the reason to love such models, which are manufactured by not the most popular brands and because of that, they cost adequately and sometimes even have the premium quality in their set.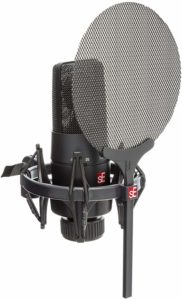 This mic by sE electronics has a high dynamic range and SPL handling. A top quality cable, shock mount, and Reflexion Filter X are coming together in a set. This is actually a renewed version of the bestseller of this company.
At just over $100 you get a refined and highly tuned microphone with a hand-crafted and individually-tuned 1″ capsule and the highest dynamic range and SPL handling capabilities in its class. It is extremely beneficial for recording the acoustic instruments, including the guitar since it has the highest sensitivity so no sound will be lost during the record.
Especially, if you are making your recordings at home, you'll appreciate the two switchable low cut filters at 80Hz or 160Hz which are used to filter rumble and foot-fall noise or compensate for proximity effect. The -10 dB and -20 dB pad switches allow you to make use of the extended dynamic range and record louder sound sources.
The microphone is better to buy in a full kit, together with a stand mount and a pop filter – this way it will be more profitable and bring you the better quality of the sound.
3. Rode NT1-A Anniversary Vocal Cardioid Condenser Microphone Package
Another item which is better be bought in the full package. You probably know this microphone – Rode NT1-A has recommended itself as the high-quality mic, especially for recording instruments. In this package, you get an industry-standard Rode NT1-A microphone which has been constructed with a large 1" capsule and gold-plated diaphragm for extra sensitivity.
The cardioid polar pattern ensures superb off-axis rejection and the internal capsule shock mounting ensures you're minimizing any unwanted mechanical noise or any damage to the capsule whilst you're transporting the microphone. So the recordings of your acoustic guitar are going to sound as crispy and clear as possible.
The self-noise of the microphone is quite low, only 5Db and that fact make it one of the quietest microphones on the market. Recording your acoustic guitar with RodeNT1-A you will be safe from any unwanted noise creeping into your mix. The frequency range of 20Hz – 20kHz ensures you pick up all the nuances of your playing.
What is more, this microphone comes together with a 10-year warranty from the manufacturer. The price is rather mid-range but you unlikely can call this microphone a budget one. However, it will surely capture all the sounds of your instrument so it will sound like a primary source of the record.
This series of the microphone by Rode also includes more powerful mics, such as Rode NT1-A-MP, but of course, they are going to cost way more than this one. In general, Rode is one of the best manufacturers in this industry, distributing the high-end gear form Australia, where the headquarters of this company is located.
The only possible drawback of Rode NT1-A is that sometimes its settings go off for unknown reasons, especially if you haven't been using a microphone for a while. It can be extremely tricky to get them in a normal state. But in this case, you can always apply to the manufacturer to get your warranty refund.
4. Aston Microphones Origin Large Diaphragm Cardioid Condenser Microphone
Another curious model on our list. You can notice that the microphones for recording acoustic instruments tend to be slightly different from those which are meant for recording vocals and podcasts. For example, you have probably never heard of this microphone but in the instrument recording industry, this is a heavy-weight player.
One of the first things that manufacturers claim is that Aston is made in the UK. It is a high-performance cardioid condenser microphone utilizing a one-inch gold evaporated capsule. Because of its amazing versatility, it is able to record all kinds of instruments including the acoustic guitar.
The mic can also be used for the recording of the vocals. Its hand-selected capsule is teamed with high-end transformer-less circuitry using only the best components. The sound that Aston mic records turn out to be smooth and natural.
Another cool feature of this item is that you won't have to buy any additional kits in order to improve the quality of its work. It already has a built-in pop filter that is made using the latest stainless steel mesh knit technology.
The overall design of the mic is simple, but how the manufacturers say, its the advantage of the mic. Actually it is fair to say that the outside of the mic looks quite interesting despite its simplicity. It also has a harmonized circuit stage arrangement for easy integration from phantom power input circuitry to capsule voltage bias.
The shock-resistant wave-form design allows the head of the mic to distort if given a heavy knock and then return to its normal position, without any damage at all. It also offers a degree of off-axis rejection, helping to eliminate unwanted artifacts from your recordings.
The frequency range of this mic is 20Hz – 20kHz (+/-3dB), sensitivity is at 1kHz into 1kohm: 23.7mV/Pa. All the aspects of the music you play will be covered and recorded with this item. And even though the price of this mic may seem higher than in all previous cases, the quality that this Aston mic brings is truly exceptional with a bunch of bonuses.
5. Sennheiser MK 4
Sennheiser definitely rocks it in the world of microphones. Each time you see this brand, you can be sure that this is a superior quality recording gear. Yea, the prices for their product is also quite high, but for the people who are really into their craft, this investment will pay itself nack very soon.
The MK 4 digital unites the high-resolution sound of a true condenser mic with the simplicity and finesse of digital solutions. The high-end technology of this mic provides the sensitive A/D conversion. Another bonus feature if this microphone is that it is quite easy in usage and also is compatible with almost all computers including Macs.
Sennheiser MK4 has a cardioid polar pattern with the frequency range of 20 Hz to 20 kHz. The mic also comes with a two-year warranty. The integrated PureDigital technology with 24 bit / 96 kHz resolution is another feature that makes this mic a professional tool and provides the excellent quality of its sound.
And since it is a condenser mic, the heart of the MK 4 digital is the gold-plated 1-inch large true condenser capsule. It's on this membrane where the characteristic warmth and fine brilliance begins that is so typical for recordings made with well-adjusted condenser microphones.
The MK 4 digital supplies its high-quality signal current directly to all devices and common programs, to small apps and large audio software. So whenever recording software you are currently using, this mic will probably be compatible with it and you will be able to get the best record possible.
These features make Sennheiser MK4 extremely versatile for recording any situations, including the acoustic guitar. No sound will be missed. The accuracy of the tone is also at a decent level. The only possible problem that you can have with this model is that it is not so easy to find a stand for it, and, it works not with all the adaptors.
6. Blue Hummingbird Condenser Mic
You've surely heard of the Blue microphones, but highly unlikely seen this particular model. It is completely authentic and doesn't look like typical Blue mics. Sometimes it is even hard for the people to tell from the first sight that this is an actual microphone.
But it is, and one of the best. The recording quality that it provides is really exceptional and that's why it is suitable for recording the acoustic guitar – whenever instrument you decide to record here, all the tiniest sounds will be perpetuated in their natural shape.
The 20hz – 20khz frequency response, high sensitivity and SPL of 130dB means you can record a variety of different guitar styles, whether you're gently plucking away or busting out the big country acoustic chorus lines.
Moreover, another significant advantage that this mic has especially for recording the acoustic guitar is its ability to turn around at 180 degrees, so wherever you would've placed your instrument you can always adjust the screen of this microphone in the way so it will capture all the sounds anyway.
The vocal is good both for recording vocals and instruments so you can record all your acoustic covers with this gear. It is a little bit pricy, but for the guitar recordings it is highly recommended, so if you want to get top-class content with your instrument, then invest in Blue Humminbird.
7. Aston Starlight
The last item on our list an probably the most pricy one. It is another microphone from Aston. It's a condenser mic, and it's also known as one of the best models for recording the acoustic guitar specifically.

The guitar owners probably know that the main problem when recording your guitar is to find the right placement of a mic. It will determine the quality of the whole record. And because of that, the main feature of Aston Starlight is its built-in 2 Class laser.
The principle of its work is the following: you can find the perfect placement, point the laser at it, mark the guitar with a bit of tape or chalk and record multiple times comfortable in the knowledge that you're replicating the same sound.
Moreover, the mic itself looks intricate and stylish so it for sire will be looking good on every music video. Aston Starlight has 3 different circuit paths, effectively making it 3 microphones in one. Among its settings, you will find the Vintage, Modern and Hybrid modes from which you can choose.
Thus you will get 3 different voices to your recordings, along with the perfectly linear off-axis response, Low-Cut Filters which allow you to change from 80Hz to 140Hz and a pad switch which you can use to cut the input down by -20dB/-10dB or leave it at 0dB.
Aston microphone is not the easiest one to get in the US but they are still presented on the Amazon. In the worst scenario, you can order it from Amazon UK.
But this particular model is made for professional musicians who need to manipulate the sound and have the best quality possible when recording the acoustic guitar. If you are a beginner, you don't really need to spend that much on a microphone for an acoustic guitar, since you can find much cheaper options.
FAQ for microphones for acoustic guitar buyers
1. Do I really need a separate microphone just to record my guitar?
It is possible that the microphone that you already have is enough for recording the acoustic guitar. But what it takes from the mic to be suitable for recording acoustic instruments is its high level of sensitivity. Otherwise, the sound won't be captured at its fullest.
2. How close should the microphone be placed to the instrument? 
As close as possible. But better take into consideration the placement of the source of the sound and the overall quality of your instrument. It can be sometimes that the strings of the guitar vibrate while playing, and if you want to avoid that, don't place the mic too close to the center of the guitar.
3. Can I record vocals and guitar simultaneously? 
Yes, you can, there are fine options on the market that are perfect both for recording the vocals and instruments. You could read about them in the list above. All you have to do is to find the optimal placement for the mic.
You may also like: 9 Best choir microphones