Well, let's be honest, having your own professional microphone and the highest quality of the sound on your recordings may be cool, but how many people do you know who actually turned their dwellings into a professional recording studio?
Probably, not many since it costs a significant amount of money and having the top-quality is absolutely unnecessary for the majority of people. They would be just happy for the quality of a sound that would suit their needs.
You may also like: Best microphones for PC streaming & gaming
We can get in a variety of situations where we would need to record something – starting from the birthday wish for your boss to the digital diary based on your voice recordings. Or maybe you need to record a song for a special case.
The first thought of you might be to go to the studio, but you absolutely unnecessary to do that when you can acquire a great computer mic and get almost the same qualitative record on your own. And, of course, decent computer microphones are essential for game streamers and live broadcasters.
Different questions might occur while choosing the best mic for your PC. Which one do you need: for Windows or Mac? What if the mic won't be compatible with one of them? Which one is more convenient – a gooseneck or a stand mount dynamic microphone? Or a condenser one? In this article, which trends in microphone trends for computers will prevail in 2020.
Product
Details


Blue Yeti USB Mic

the provided mount is solid and will not tip over.

the gain range is massive and the different pickup modes allow for great versatility;

a cheap pop filter designed to fit around a round portion of a Microphone will happily clamp onto the side of the sturdy Blue Yeti frame;

having a mute button is very handy when you need to mute the microphone .


Samson Go Mic

great sound quality;

provides the ample volume and clarity

even in larger rooms and noisier settings;
quick plug & play, virtually no setup.


Shure MV5

awesome quality, great sound;

connects directly to your ipad/iphone;

great for podcasts, webinars, narrations or overdubbes;

software is user friendly.
1. Blue Yeti
Let's hope you're not sick of seeing this microphone in almost every single list of the best mics because we are totally not. And this is actually what Blue Yeti was made for – for computer recordings! It works flawlessly with any PC and operating system, it is easily plugged via USB cable, and, in most cases, you don't even need any additional driers to run it.

Once having it connected to your computer, you can make various recordings for different purposes – vocals, podcasts, streams – all the sound will be in the highest quality. Blue Yeti has always been acknowledged for its top-quality sound and all the simplicity of its usage.
The item is presented in a wide range of colors, which, undoubtedly, gives this model even more credit while choosing it for computer recordings. Blue Yeti will be a nice accessory to any type of decoration. The frequency response of the mic is 20Hz – 20kHz. Moreover, Blue Yeti is a 3 capsule condenser microphone.
All the controls are placed on the front body of the microphone: mute and volume output button. It is compatible with Windows 10, Windows 8 (including 8.1), Windows 7, Windows Vista, Windows XP (Home and Professional), and Mac OS X (10.4.11 or higher), and requires a minimum of 64 MB of RAM (remove existing and upload).
The most prominent feature of this item, probably is that it has a cardioid, omni, bidirectional, and stereo pickup patterns.  That's why this model offers incredible flexibility, allowing you to record in ways that would normally require multiple microphones. Here you can have everything in just one.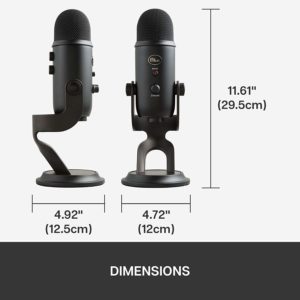 What is more, the price will probably be a pleasant surprise for your budget. The mic is also customizable in the sense of accessories. You can buy different shock mount stands for it, for example. Besides, the computer mic Blue Yeti is presented in several variations on the market.
There are also such models as Snowball iCE, Snowball and Blue Yeti Nano, which will be perfect for conference calls and online presentations. But the main original version of this mic is still at the top. Millions of people around the world, beginners and pros, bloggers and businessmen – all acknowledge the high quality of Blue Yeti.
It is fair enough to say that Blue Yeti doesn't have any significant disadvantages that may draw a customer from it. The only tricky aspect might be the price. Just in case if you are looking for a super simple computer mic just for talking and nothing more, then, acquiring Blue Yeti for those purposes may be quite a strong step.
You may also like: 5 Best Sennheiser microphones for vocals & instruments
2. Samson Go Mic Portable USB Condenser Microphone
If in the previous case the price could be your concern, then this is a more suitable version for you. Moreover, it is a high-quality item from a famous company which is also easy to carry around with you. It is a portable USB condenser mic, with a unique, fold-up design with an integral clip.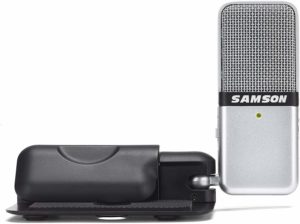 So those who always have to record in unpredictable conditions especially travel bloggers or expats will find this item extremely valuable and comfortable in usage. Samson Go has selectable dual-pickup patterns: cardioid and omnidirectional. This fact makes it ideal for recording voice, conferences, acoustic instruments and just about any other sound source.
There is also an onboard headphone amplifier that is included in the microphone's structure and which allows you to listen to your recording directly from the microphone, plus you can use the output to connect powered speakers. A computer-controlled analog input gain with peak LED makes it easy to set the proper level and get a clean signal.
The microphone is compatible with all computer operating systems: Windows and Mac. It is a USB microphone which means you can easily plug into a PC and start recording immediately. What is more, Samson Go mic works not only with computers but also with cell phones.
You are always able to connect it to your Android or iPhone and record the sound right from your gadget. With a frequency response of 20Hz – 18kHz and a resolution of 16-bit/44.1kHz, you can be sure you're getting professional audio specs in a compact, multi-purpose design.
Cardioid and omnidirectional pickup patterns are switchable. Since this item is so compact you can place it literally everywhere – it is especially useful if you are a game blogger and you need to record your let's plays. However, this might become also a disadvantage of this mic, since it doesn't include any stand in the set – you will have to buy a separate one which is not that easy to find for this model.
3.
Razer Seiren X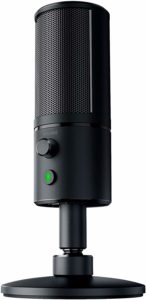 Another model that you may have seen somewhere before. Unlike the previous item, this one is rather similar to a Blue Yeti model, however, it is just a general similarity considering the shape. You can be sure that Razer Seiren X is a separate and interesting mic to have.
So what is it remarkable for? First of all, the construction of it is simply excellent and promises you a luxury feeling with a long-lasting life. The stand and body of Razer Seiren X can prevent any shaking of the mic during the recording so the quality of the sound will stay untouched.
Another advantage of this microphone is that it is totally suitable for recording and streaming in different surroundings – it is resilient to external noises and has a good sound filter to make the sound of your voice crisp and clear. It is a USB mic which means it is easy to connect to your computer or laptop.
By the way, here goes another similarity of this microphone to Yeti – it allows you to use four different polar pattern recording configurations thanks to three custom-tuned condenser capsules inside of the unit. But the price is lower so you can always save up a little bit by buying this not so hyped item instead of Yeti.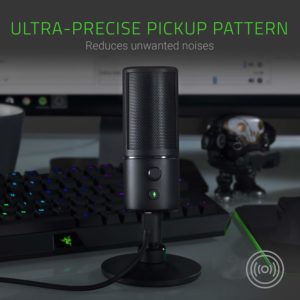 Its super-cardioid pickup pattern sound is recorded at a tighter angle, reducing unwanted background noise and providing crisp clear audio. Razer Seiren X also has zero-latency monitoring and a frequency response of 20Hz – 20Khz. The model is compatible with any computer and the cases when it wasn't working with a certain PC are not known.
Paired up with the base, there is also a shock mount feature to minimize the noise and further improve the longevity of your investment. Another reason why you should acquire this mic as your computer microphone is that Razer Serein X is gaining popularity pretty fast – and there is a high chance it is going to increase in price soon.
The possible drawback of this model is that it can bee way too sensitive and pick up unwanted sounds (especially if you are in a noisy room) therefore, giving you distorted audio. The usage of this mic by beginners may be tricky since if you didn't have the experience with condenser microphones before you may do several mistakes.
Moreover, some adapters and cable coming together in a set with a microphone may not be compatible with your PC or simply don't work.
4. Floureon BM-800
Unlike the items listed before this one is rather rare, so you will have to really dig deeper in order to find it on Amazon. Still, it is possible. Moreover, this fact even makes this model even more interesting to observe. This is a condenser microphone with excellent sound quality.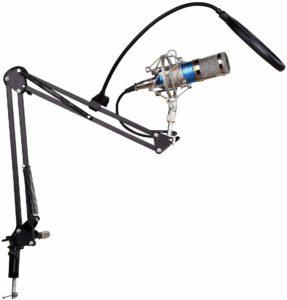 And the meaning of expression "excellent sound quality" here truly justifies itself – considering sound characteristics, the microphone exceeds basic parameters and can be categorized rather as a semi-professional mic. The great feature of it is that it is also a computer mic.
When you buy Floureon BM-800 it comes in a pack together with a shock mount that allows you to safely fix it nearby your PC and isolates the mic from any shaking and prevents it from falling. Moreover, pay attention to the design of this mic. It looks really stylish and for sure will be looking good on videos.
With 20 Hz – 20 kHz and a sensitivity of 45 dB plus\minus 1 dB, it won't be bringing you professionally or even semi-pro recordings but at least the essential needs of these specific specs. This computer mic is good for recording vocals and acoustic instruments. So if you'd like to have your own small home recording studio, investment in this item will definitely help you with that.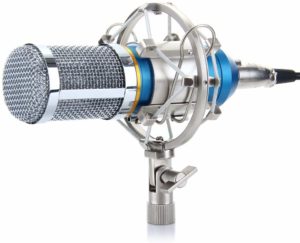 Considering the sound isolation, Floureon BM-800 also does a great job. It filters out all the distorting sounds, including those caused by any electronic devices, placed nearby. The construction of the mic brings a luxury feeling and the body is made out of steel – so it is really hard to break anyway.
However, keep in mind, that this mic is going to be a little more difficult in usage than all the previous mic – for work, it requires 48V phantom power supply. It has a unidirectional polar pattern. The frequency response is 20Hz-20kHz, sensitivity is 45dB±1dB.
It is rather lightweight, so you can always easily replace the mic. By the way, before buying this model, check the soundcard of your PC. Since this item is more powerful than a regular computer microphone it can be compatible not with all the PC.
Another advantage of this mic is that it costs not so much and still brings excellent quality. But, of course, Floureon BM-800 is more complicated to use than other mics. If you are looking for simplicity and convenience this may not be your first choice.
5. Shure MV5
An interesting item by Shure. It is a compact computer microphone, which is, nevertheless, will be more than good for recording vocals. It is manufactured specifically to be compatible with all the computers so you won't need any additional driver while connecting this mic to your PC.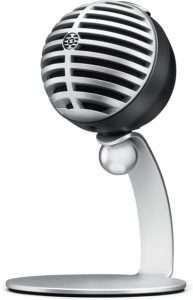 An interesting feature of this mic is that it adjusts its gain and equalizer automatically for the best recording quality. This custom-tuned microphone capsule provides best-in-class audio. Considering the design, the mic also comes in two colors: grey and black.
This mic is a great choice if you are looking for a high-quality USB condenser microphone that has the versatility to record audio, instruments, podcasting, video chatting and more. And yes, maybe its stand is not that stable as in previous items, but it is still made out of aluminum which guarantees a long service of this product.
It comes with three DSP modes, and with a max sample rate of 24-bit 48 kHz, which means that your recording will be comparable with such models as Yeti and Seiren Elite. Moreover, Shure is a famous company which keeps its reputation so in this case, you can always be sure you buy a high-end product.
This model is relatively new on the market so it is not really clear what disadvantages it might have. Maybe only materials of this mic will become not a pleasant surprise for a consumer – some elements made of cheap plastic. For the price that this microphone has, well, yes, it could've had something better to offer.
So be careful not to drop this mic when you take it from place to place – the construction is quite fragile.
6. Blue Snowball iCE USB Mic
We have already mentioned this item on this list as a Blue Yeti's successor. However, you can see from the first sight that even though these items are manufactured by the same brand, they don't have too much in common.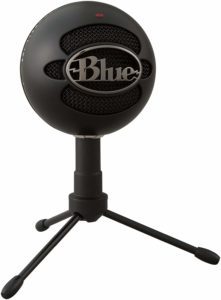 First of all, this mic is much more adapted for working with computers than Yeti. It is not surprising since it was created especially for computers. And at the same time, it offers a much lower price, though, it possesses less powerful characteristics than the original Blue Yeti.
Snowball iCE is perfect for Skype calls, Messages, and FaceTime. It is a condenser microphone. You can still use this mic for recording vocals and podcasts – the frequency of it is 40 –18 kHz. The microphone is compatible with all the computers, including Macs.
Snowball iCE is a USB 2.0 device (USB 3.0 compatible as per USB 3.0 backward compatibility specification). Its sample/word rate is 44.1 kHz/16 bit. This is a great option for live broadcasts. It's affordable and provides a decent quality of the sound at the same time. Maybe, for the instruments recording it will be not that beneficial, but for speech – perfect tool.
The design of Snowball iCE is extremely eye-catching and unusual. Moreover, the microphone itself is pretty tiny in size so it is quite easy to transport it. However, don't expect that it will be a full-size studio microphone. It is a compact, perfect example of a computer mic.
7. SYBA CL-ME-606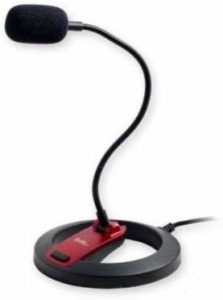 Now let's pay our attention to not so popular, nevertheless, a good mic for computer recordings. Syba is a gooseneck microphone which looks close to the classical computer mics. But the quality of its work still on a decent level. It is not that affordable as regular gooseneck PC microphones, but its because it will bring better quality to you.
This omnidirectional condenser microphone is portable and simple in usage. It comes with a convenient plug and play feature, which means you can use it on different devices without the need to download any additional drivers or software.
The mic also comes with a 3.5 mm stereo plug that is appropriate for the majority of laptops and PCs. With -38 dB +/- 2 dB sensitivity and a frequency range of 100 Hz – 16000 Hz, the Syba CL-Me-606 does just what a simple microphone should do — hook up to our computers easily and record\portray some sound to others.
So if you just need a standard microphone for your PC and you don't want to spend either your time or budget buying the mics the feature of those you are never going to need, this is the choice for you.
FAQ for microphones for computer recordings buyers
1. Is any USB microphone compatible with my PC? 
In most cases yes, except extreme ones. For example, you have bought a super-powerful computer microphone which works on phantom power. And the PC that you have was released around 10 years ago and still operates on Windows Vista. Then you may face some difficulties, of course. Another aspect if you have Linux, though it is very rare. Not all the gear works with that OS.
2. Is there any special software that I might need to install before I can actually work with my mic? 
Usually, all you have to do is to go to the soundboard of your computer and simply adjust the settings. But if you want to have some extra control, of course, you can install some additional programs. There are different equalizer programs on the market nowadays and you can choose one of them.
3. What if my microphone isn't working with Mac? 
Well, you should read the description before you buy and item. Though, the best ones are all compatible with it. If an item doesn't work with Mac it is probably something very cheap, so you will need to buy a new mic.
4. Are gooseneck microphones are more breakage proof? 
Not necessarily, it depends on the material. The tricky thing about the gooseneck microphones is that because of the specifics of their shape they are physically hard to break. But they never sound as powerful as a condenser or dynamic mics.
You may also like: 5 Best Shure microphones