It doesn't matter if you're a popular streamer on Twitch or just making your first steps in the gaming and streaming world, it's always important to find the right gaming mic. The better mic guarantees you will be heard by your teammates and viewers.
In the article down below you will find the best microphones for gaming in the current year. And more microphones in this category for the previous years you will find in this article.
Our Top Picks:
| Item | Dimensions | Polar Pattern | Hardware Platform | |
| --- | --- | --- | --- | --- |
| Rode NT-USB+ | 7.24 x 2.48 x 1.97 inches | Unidirectional | PC, laptop | See Best Price |
| Blue Yeti USB | 4.9 x 4.7 x 11.6 inches | Multipattern | PC, Laptop, Smartphone | See Best Price |
| Blgato Wave:3 | 6 x 2.6 x 1.6 inches | Multipattern | Laptop, Smartphone, PC | See Best Price |
Rode NT-USB+ USB Condenser Microphone
Currently, this is one of the sturdiest microphones on the market with a professional design just like its predecessor. It includes some impressive upgrades including the enhanced circuitry and Rode's virtue technology, and it also has an internal DSP.
The microphone has the USB connector type, so you can easily plug it into your PC while gaming. This is a condenser type of microphone and it can also produce excellent vocals.
Another thing is that it has a solid low end and a little self-noise so the overall quality will be of a broadcast level and that is simply perfect for gaming and specialist streaming.
This microphone is a full plug-in-play package. The microphone comes with a plastic tripod desktop stand which is really convenient. It also has a detachable metal mesh pop sheet and it is attachable ring bound.
We're not going to mention other minor specifications that the kit of this microphone includes but it has all that is required for comfortable usage.
The internal DSP of this microphone will allow you to do the advanced audio processing and for that, you can use one of the Rode's apps.
It will easily allow you to chat with teammates, or stream over twitch, and as we already said this is a perfect choice for a gamer.
Pros:
Sturdy and durable
Comes with a detachable pop filter
Great sound quality
Cons:
No on-mic gain control
Louder audio sources still clip
You may also like: 5 Best Blue microphones
Blue Yeti USB
It doesn't matter if you're a streamer, a singer, or any type of content creator – the venerable Blue Yeti was there at the birth of the streaming boom, and it's still a ubiquitous desktop feature on Twitch.

The main reason why Blue Yeti is so much loved is due to its easiness and usage and versatility. This microphone also has beautiful looks with its retro aesthetics of the mic capsule and it looks really stylish in any video.
What is more, this microphone has a high stand which is adjustable and it makes this microphone even more convenient to use. Another reason why Blue Yeti is one of the best microphones for gaming is its adjustable controls.
They are so easy to adjust and use while you're streaming. The microphone has a single volume control and a mute button on the front part of the make. That's actually all you really need as a gamer.
And it never happens with this microphone that you are exactly hit the wrong button in the middle of the stream. And the last and one of the best features of the Blue Yeti is that it includes four polar patterns and it provides great versatility.
It makes this microphone suitable for music recording or podcasting because you're not limited by a single cardioid pickup pattern.
Pros:
Stable stand
Crystal clear vocals
Easy control layout
Cons:
Competitors provide better sound quality for the same price
No hi-res recording options
Crunchy audio characteristics
Elgato Wave:3
In case you're looking for something more powerful and more advanced than the Blue Yeti microphone then this mainstream gaming microphone might be an option for you.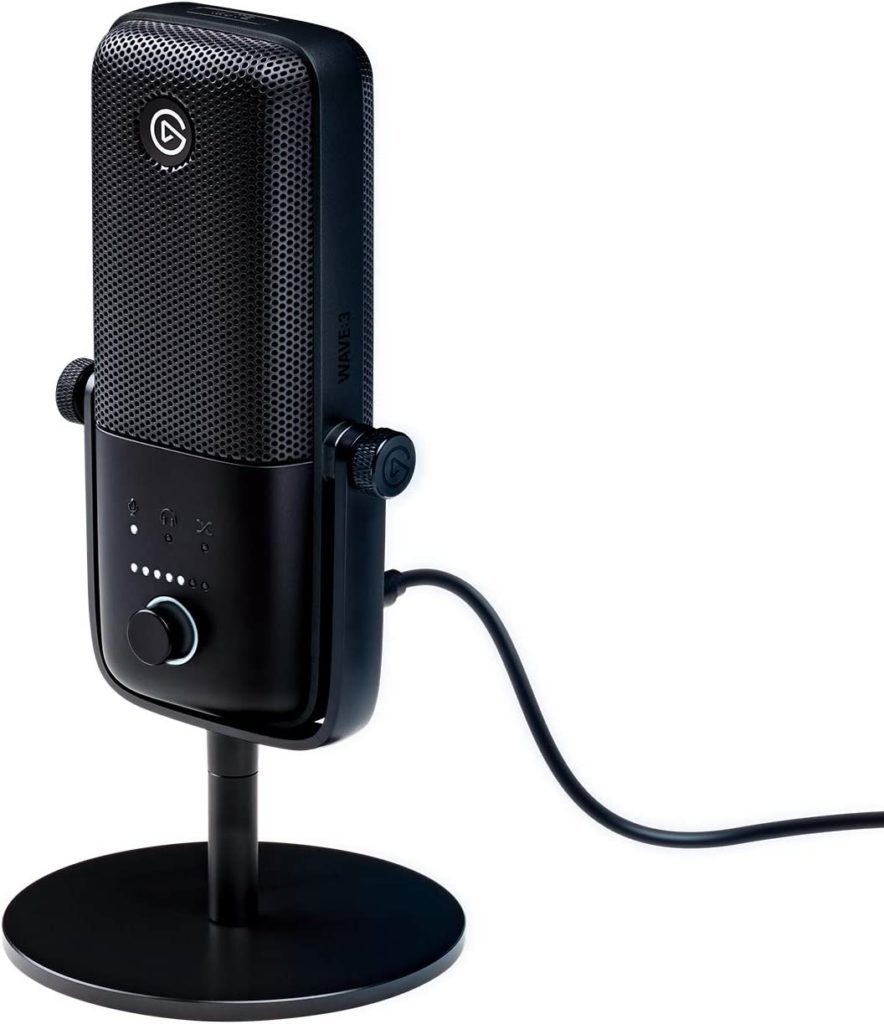 It's an exceptional microphone for Twitch streaming, YouTube compression, and any type of high-resolution audio recording.
In addition to all of that, Wave is also a very compact and easily portable microphone which is also important for a streamer. The price of this microphone is almost the same as in the case of the Blue Yeti.
But take into consideration that this microphone only has one polar pattern type. It means that it will provide a less versatile usage.
Despite all of that, this microphone seems to be more widespread among the gaming community.
It also comes with a vast software and hardware feature set. And it's cute you will find a handy pop shield and other useful accessories that will make your streaming audio quality better.
Pros:
Anti-distortion tech
Easily Portable
The pop shield is built
Cons:
Muted low end
Mute is easy to touch accidentally
Cardioid only
You may also like: 7 Best Rode Microphones
Razer Seiren Mini USB Condenser Microphone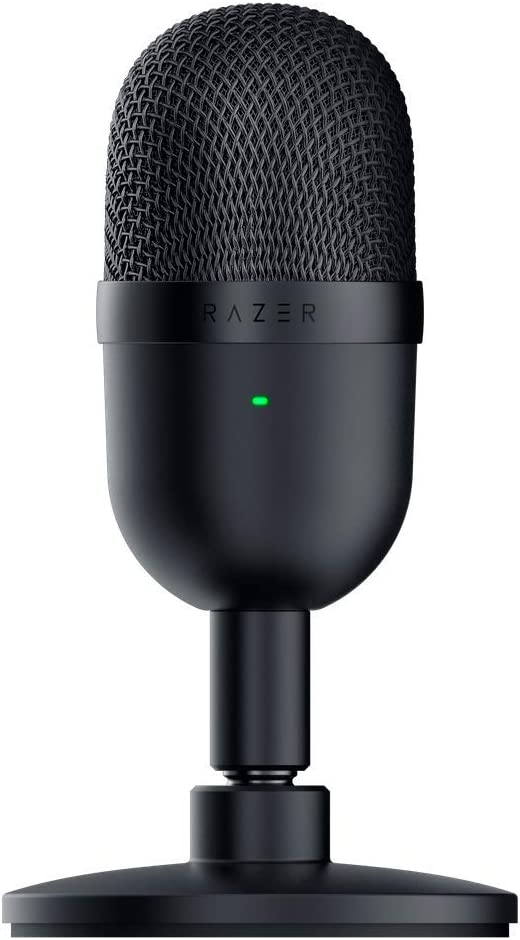 Frankly speaking, not everyone needs multiple category patterns in their streaming microphone. In case you're just a beginner or you just need a best-budget gaming microphone, the razor Serenity is definitely a choice.
One of its advantages is it comes in a set of different colors so it will definitely look cool in your videos. It's one of the most affordable microphones on our list and it actually provides a really decent quality for its price.
Even though it sounds more dry and flat but it will be pleasing to those who prefer less artificial-sounding output.
We didn't find the best sound quality for this price. But again, keep in mind that with this microphone you'll be stuck with a super-cardioid polar pattern only.
And another dubious aspect here is that it doesn't have any special features in it, I mean, this microphone doesn't even have a mute button or a headphone jack. But on the other hand, it's easily portable and it offers simple and nice quality audio.
Pros:
Sound quality is better than its competitors
Comes in various colors, including pink
Cons:
Beyerdynamic FOX
This microphone is made more for musical purposes and if you like to cruise some tunes during or after your Twitch stream, this is a preferable option. Beyerdynamic is quite a respected name in the microphones world.
Unlike the vast majority of its USB interface peers, the FOX offers hi-res 96 KHz/24-bit recording quality, which is an impressive feat for a plug-and-play USB microphone type.
Even though you might not need this extra quality that this microphone provides in case you're doing podcasts or music production on this side, you will find this microphone irreplaceable.
This mic has controls on its main body for mix and volume. It also comes with a headphone mini jack input for inline monitoring.
The preamp that outputs this monitoring signal runs a little hot in our opinion, and it destroys well before the microphone itself does it.
We found it's still a useful feature when the games rolled off. Another convenient feature of this microphone is that you find here the mute button at the top. There's also a high-low game toggle in the rare part of the mic.
As for the construction of this microphone, it has a tardy metallic pop shield that can be clipped on without the need to unscrew anything. You can also angle the microphone.
In general, Beyerdynamic FOX has a number of different features that we could talk about, but its most prominent one is superior audio quality.
Pros:
96 KHz/24-bit quality
Great pop shield design
Studio mic capability
Cons:
Headphone preamp can break up
Only cardioid polar patterns are available
Higher quality bit/sample rate is irrelevant for streaming platforms
Audio-Technica AT2020USB+
Another microphone by a tremendously popular brand in the microphone world Audio-Technica.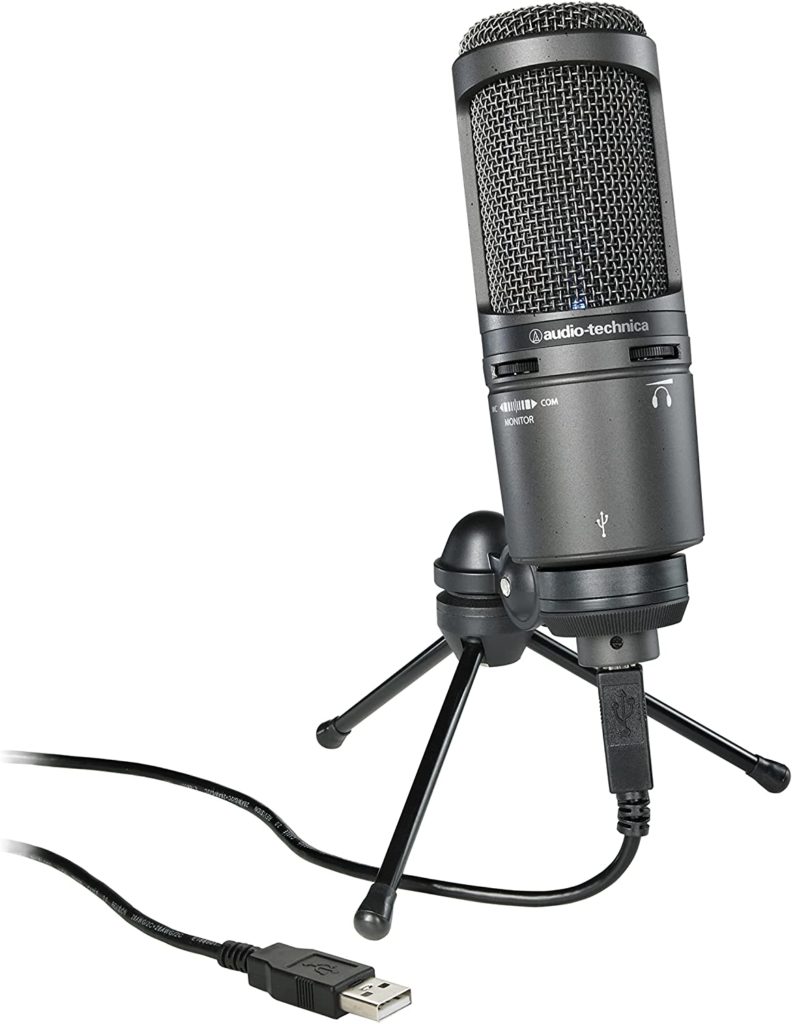 We found this microphone is similar to the previous one in some aspects, this is a medium diaphragm condenser with just a cardioid polar pattern available in it.
And even though it is made for the loan vocal recording, it can still serve you well for gaming or streaming. It provides a warm sound and detailed quality but falls slightly short.
One of the significant features of this microphone by Audio-Technica is the breathiness and high end of the audio recordings. It is also the perfect microphone for spoken vocals.
We wouldn't recommend you buy this microphone without an additional pop shield and a boom arm. It's actually a pity that these accessories are not included in the kit though they are inexpensive to buy.
And the tripod that this model includes felt a little wobbly and during the tests so considering that you would need additional mounting.
Pros:
Very decent sound quality
Handy lag-free monitoring
Brings in pleasant room sound at a distance
Cons:
The tripod stand is shaky
The sound quality is quite flat
Picks up keyboard clicks
You may also like: 8 Best Microphones Compatible with PS4/PS5
Blue Yeti X
This is also one of the best gaming microphones in terms of performance, features, and price. It is an easy-to-use microphone and it's versatile enough for amazing audio performance.

And even though it can be rather categorized as a premium microphone, the Yeti X is actually a lot cheaper than the microphones in this category. This mic has a greater number of condenser capsules that bring a smoother sound and better sensitivity.
In comparison to the standard Yeti microphones of course. The recording quality of it is also improved in comparison to the overall line of the Yeti microphones.
The test results showed that this microphone can articulate a wider dynamic range and it sounds a bit fuller. There's also a dial that can help you to swipe between cardioid, bidirectional, omnidirectional, and stereo-polar patterns.
But one disadvantage that we found is that for some reason, Yeti X dials don't feel that premium even in this price range. And if you have a little extra money to splurge you can go for a Blue Yeti X World of Warcraft Edition which is a perfect option for a gamer.
It has nicer looks and voice modulation that will make you sound like the characters from Warcraft games.
Pros:
Great sound
Useful multi-function dial
Four polar patterns
Cons:
Dials feel a little loose and plastic
Attracts smudges
How to Set Up a Gaming Microphone for Discord
Discord is a popular chat platform for gamers, and having a microphone set up properly can help you make the most of the experience. Here's how to make sure your gaming microphone works with Discord.
Step 1: Connect Your Microphone
Before you start using your gaming microphone, you'll need to make sure it's connected properly. Make sure that your computer recognizes the device. If it's USB-based, plug it into an available port. Your computer should detect it within a few seconds and install any necessary drivers automatically.
Step 2: Check Audio Settings in Discord
Once your gaming microphone is connected, head to Discord and check its settings by clicking on the cog icon at the bottom left of the screen. On the left side of the screen, click on Voice & Video. You should see a dropdown menu; choose Microphone (Traditional). Then, select your microphone from the list. At this point, you should also be able to adjust the volume or other settings if desired.
Step 3: Test Your Microphone
To make sure everything is working correctly, go back to the same page where you set up your voice settings (Voice & Video). Click on Let's Check beside Input Sensitivity and then speak into your mic as prompted; this will measure how loud or soft your voice needs to be for Discord to pick up the right sound. Once complete, click on Done at the bottom right of the window and enjoy chatting with friends!
More gaming mic setup options could be found in the following video: