You might need a voiceover for dozens of different purposes. Just like that, there is a great variety of microphones for that. In the following article down below we will make the selection a little bit easier for you and here you go with the best voice-over microphones this year.
Of course, a single article can't cover them all. That's why you will find more options for voice over microphones in this article.
Our Top Picks:
| Item | Dimensions | Polar Pattern | Hardware Platform | |
| --- | --- | --- | --- | --- |
| Rode NT1A | 15.25 x 4.5 x 11 inches | Unidirectional | PC, audio interface | See Best Price |
| FIFINE Studio Condenser USB Microphone | 16.5 x 9.61 x 2.99 inches |  Unidirectional | PC, Laptop, Smartphone | See Best Price |
| Neuman TLM 103 Microphone | 11.42 x 9.65 x 4.06 inches |  Unidirectional | PC, Audio-Interface | See Best Price |
Rode NT1A
Rode NT1A is a microphone that is one of the most popular and most demanded microphones all over the world. The reason for that is that it has a large diaphragm that is capable of producing clear and detailed sound.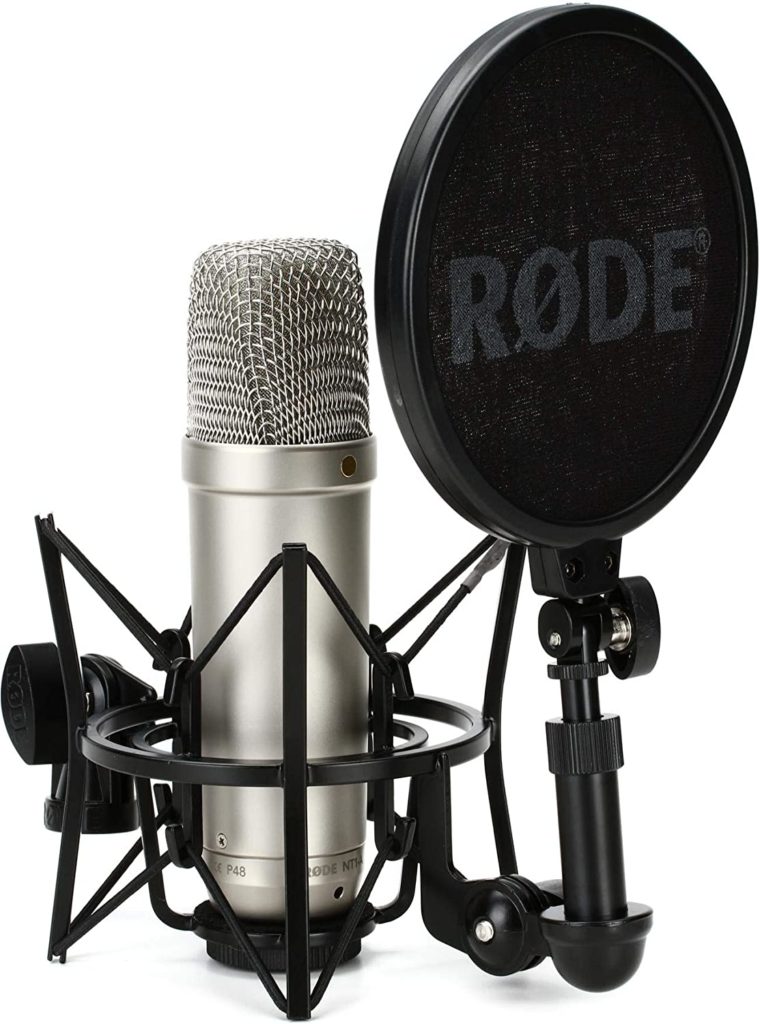 The price for this microphone is so extremely reasonable. In addition to all of that, the microphone has a low noise floor so there won't be any ambient noises that will interfere with your recordings.
Another bonus of Rode NT1A is that it always comes with a shock mount, that will help you to reduce the noise. If you're looking for the premium quality option for the best sound quality for the voiceovers, you should look no further.
Because NT1A has such a wide frequency response it will pick up a wide range of frequencies and will capture even the subtle nuances of the human voice.
This microphone also has a high SPL and that means that it would handle even the highest levels of volume without causing distortion. In case you need to record loud voices or sounds, this is the best solution.
Pros:
Great quality-price match
Versatile
Durable
Cons:
The sound result can still contain noises
You may also like: 11 Best Microphones for Android
FIFINE Studio Condenser USB Microphone
This is another great option for voiceovers and this microphone offers clear and accurate sound reproduction. It is ideal for professional usage.
This microphone also comes with a built-in shock mount and pop filter which is essential when you want to reduce unwanted noises and make sure that your recordings are clean from distractions.
Another great advantage that we discovered here is that it's so easy to set up and use. This factor means that FIFINE will shoot both pros and beginners.
The microphone itself is extremely sensitive and you can be sure that it will pick up even the faintest sound. It is a great microphone for a studio. With its built-in pop filter, the closest will not ruin your recordings.
It's designed in the plug-and-play style and that's why it's so easy to use. It is also cheaper than the previous model. All in all, this microphone will bring to you the best sound quality and it's the perfect option for home studio recordings.
Pros:
High sensitivity
Easy to use
Built-in pop filter
Cons:
The construction is made of cheaper materials
Neuman TLM 103 Microphone
And if you mean that you really needed a microphone for truly professional voice-over recordings, then we should take a look at the Neuman mic. Should we even say that this item will provide excellent sound?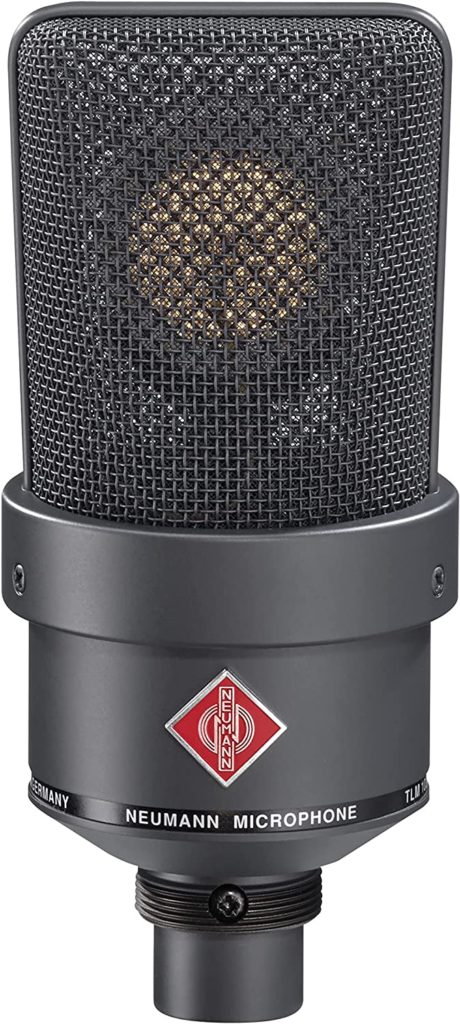 TLM 103 has a wide frequency response and it is capable of capturing the natural timber of your voice. The microphone has a cardioid pattern that will minimize background noises and feedback.
So even if it happens that you're recording the voiceover in a noisy environment, it won't ruin the overall quality of the recordings because the microphone will just erase the distracting sounds.
This microphone also features a low-cut filter that will reduce the low-frequency sounds, for instance, wind or city noise. It is also resistant to popping and sibilance so it will be an ideal choice for use with high-speed sources.
For example, the microphone will provide an excellent sound even if there is an air conditioner working in your room. The off-axis rejection here is simply excellent. The microphone itself is very rugged and will serve you for many years.
Of course, you should expect that this option will be a lot pricier than all the other microphones on this list. It is a perfect microphone for podcasters, musicians, and for all types of studio recordings.
Pros:
Professional audio quality
Will capture clear sounds even in the noisy environments
Extremely durable
Cons:
You may also like: Best Microphones for Voice Recordings
Rode NT USB Microphone
We hope you're not bored because here we have another microphone by the Rode brand. And to be honest, it's a great option if you're looking for high-quality voiceovers.
The aspect that allows this microphone to produce such a good sound is that it has a high-quality condenser capsule that can capture all the sounds clearly and accurately.
And just like in the previous models, here you also will find the built-in pop filter that will reduce all the unnecessary noises. Another great point of this microphone is that it's a USB microphone type so it will be so easy to connect it to your PC.
There are also shock mounts that will ensure that the microphone always stands at its best position. And we also figured out that this microphone has a great response across the entire frequency range.
It will make this microphone one of the best options if you want to capture both low-end and high-end details in recordings.
Your voice here will be isolated from the room's noise because the mixed pattern is directional. And because Rode has a plug-and-play design it will be so easy to set up and start using it.
Pros:
Easy to use
Sturdy shock mount
Great responsiveness
Cons:
The noise reduction is weaker
You may also like: 7 Best microphones for iOS
Marantz Pro MP M1000 Condenser Microphone
And if all the previous microphones seemed to overwhelm you and were a little bit pricey then let's switch to a more affordable microphone for recording your voice.
The best advantage of it is that it has a sleek, professionally looking design and surprisingly, it is able to deliver clear crisp audio quality.
We were also surprised that Marantz Pro MP M1000 is extremely sensitive and it's perfect for recording subtle tones in a voice.
Another bonus here is that it comes with a shock mount and pop filter so you're all set when you buy MP M1000. If you're looking for the best price-quality match, then look no further than this option.
Its capsule is extremely sensitive, this way, every nuance of your performance will be hurt in the recording. The background noise will also be minimal because it has a low-noise floor.
The pop filter will isolate all the explosive sounds to make the editing process easier for you. Therefore, it's a great microphone for beginners or anyone who wants an affordable microphone that would allow them to make podcasts, voiceovers, or even record music.
Pros:
Extremely sensitive
Affordable
Easy to use
Cons:
The sound quality won't be the best one
Mic body is made of the cheaper materials
Shure SM7B Microphone
This microphone by Shure company is also extremely popular and who said you cannot use it for the voiceovers? It features an excellent frequency response and, additionally, high output level.
All of that means that it will be able to capture even the slightest aspects of your voice which is quite important when you do a voice-over.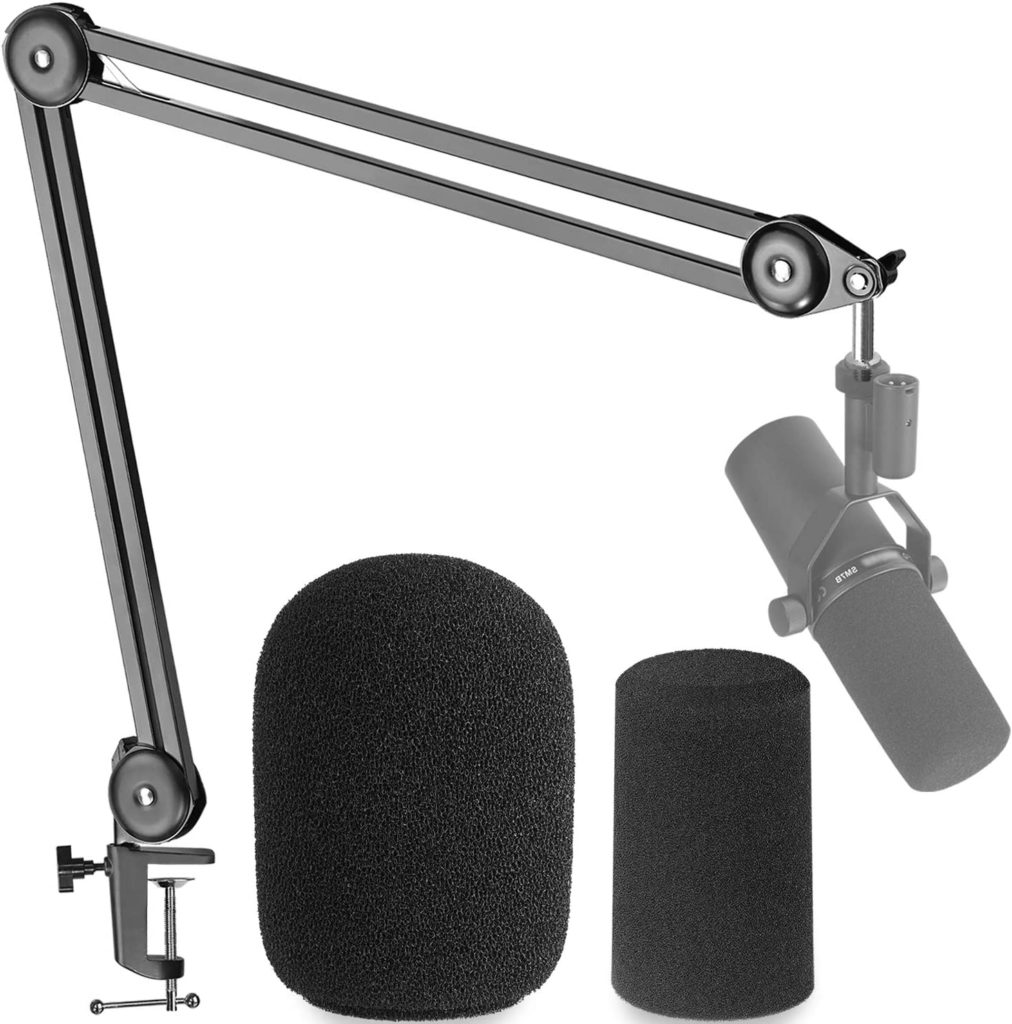 And an interesting fact about sm7b is that it features an internal pop filter and if you were asking where the plosives go, well, the pop filter just swallowed them. Therefore, it is the perfect microphone for recording character dialogues.
And sm7b is also widely known for its rugged construction that makes it resistant to handling noise. This way, the background noise will never creep into your outer tracks.
Do we even need to say that this microphone is extremely versatile, it can be a perfect podcast microphone, any type of voice-over microphone, a music and vocal microphone, a streaming microphone, etc.
The price is one of the best aspects of Shure SM7B as well.
Pros:
Internal pop filter
Sturdy and durable construction
Great versatility
Cons:
You may also like: 11 Best Choir Microphones
Sennheiser MKH 416

Last but not least microphone on our list by Sennheiser is the perfect mic for recording spaces with less soundproofing. It is a shotgun and it comes with a small diaphragm that ensures and narrow scope of directionality.
Therefore, if you want a recording to sound crispy and clear without extra noises and you want the microphone but only captivate your voice, Sennheiser can be an option for you.
It literally can suppress even the noise of the neighborhood and construction workers in case you can adjust the settings correctly. All in all, this is a pressure gradient shotgun make that boasts low self-noise.
It also includes high consonant articulation and feedback rejection. You can discover that this microphone is extremely popular for the recording of dialogues on TV and film stats.
In case you decide to go for Sennheiser MKH 416 remember that it's quite expensive and it's not a microphone for sound recording dummies.
To wrap it up, this microphone includes everything you need in a tube condenser microphone.
Pros:
Able to capture specific sounds
The perfect option for recording dialogues
Cons:
What is the best placement for voice over recording?
The best mic placement will depend on the type of microphone you're using and the environment in which you're recording.
For omnidirectional microphones to capture a balanced, natural sound, the mic should be placed in the center of the room away from any reflective surfaces.
Alternatively, for directional mics like cardioid and shotgun mics, placing them close to the sound source (think: within 1/2 inch) will result in clearer, brighter recordings with less background noise.
Other Frequently Asked Questions For Voice Over Microphone Buyers:
What type of microphone should I get for voice over recordings?
The best microphone for your needs will depend on the sound you're aiming to achieve and your budget. Generally, cardioid and shotgun microphones are the most popular choices among voice over professionals. However, if you're looking to capture a more natural or ambient sound then an omnidirectional microphone may be a better choice.
How do I choose between a dynamic and condenser mic?
You may actually see the visual illustration on this page. Dynamic mics tend to be more affordable and less sensitive than condenser mics. If you're recording in a noisy environment, such as outside or from within a room with lots of reverberation, then a dynamic mic could be a good option since it won't pick up as much unwanted noise.
On the other hand, condenser mics have greater frequency response for capturing nuances in sound and can provide more detailed audio recordings at higher levels of volume.