Binaural microphones or ASMR microphones aren't special types of mics. These are just high-sensitivity microphones that allow the capture of any sound which is essential for Autonomous Sensory Meridian Response. In the following article, you will find the best binaural microphones.
And more information about the best binaural microphones in the previous years can be found in this article.
Our Top Picks:
| Item | Dimensions | Polar Pattern | Hardware Platform | |
| --- | --- | --- | --- | --- |
| Rode NT1 | 15 x 5 x 11 inches | Unidirectional | PC, Audio Interface | See Best Price |
| Audio-Technica AT4022 | 10.31 x 4.49 x 1.69 inches |  Omnidirectional | PC, Audio Interface | See Best Price |
| Blue Yeti | 4.92 x 4.72 x 11.61 inches | Multipattern | Laptop, Smartphone, PC | See Best Price |
Rode NT1
This is the possible best option for binaural microphones because this is an affordable, large diaphragm condenser make that can capture all types of sounds in detail because it has exceptionally low self-noise.
You can record the sounds sitting in front of the microphone, for example tapping noses or clinking glass.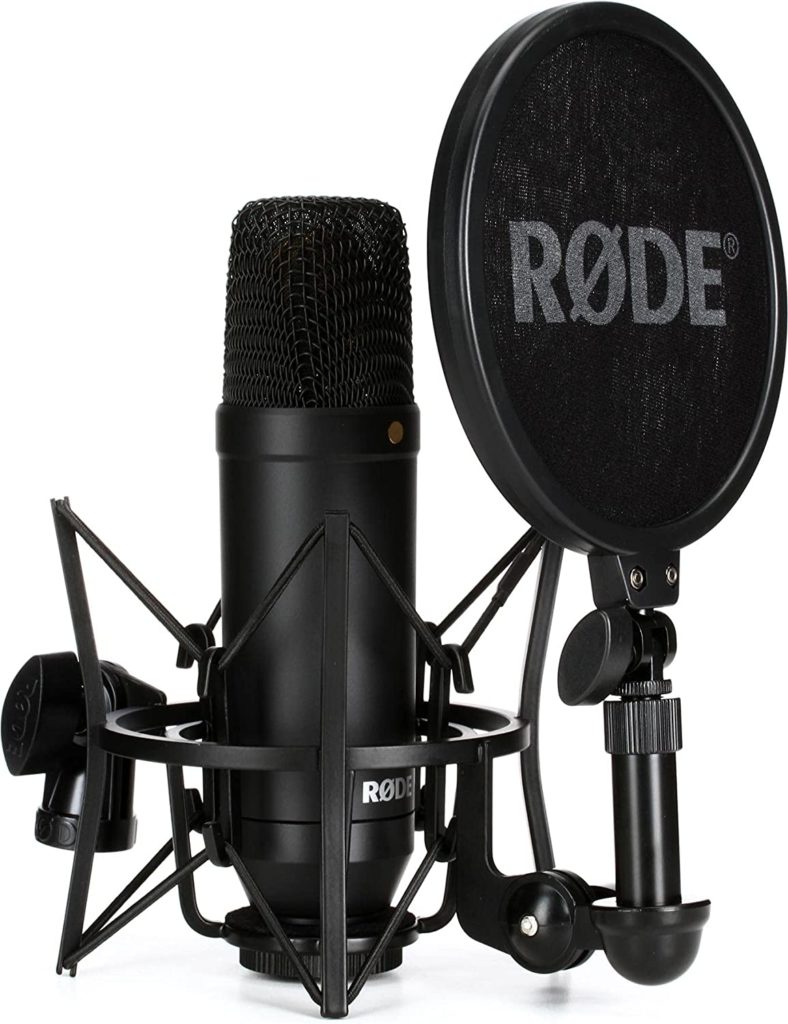 The thing is cardioid polar pattern is designed for capturing the sounds right from the front part of the microphone. It does not capture the sounds from its back.
And because this is a condenser microphone, it can record elaborate quite sounds the dynamic makes simply cannot. In addition to all of that mentioned above, NT1 has a large diaphragm that fills out the sound in a very classical way.
All In all, this is a hugely popular microphone from Rode brand, a company that is an Australian tech giant.
This brand manufactures not only microphones, but also audio interfaces, mixers, and microphone stands, and that means there you can find anything to fit your ASMR studio.
Down below you will find some specifications of this microphone that will help you to understand better whether this may be close to the hardware you got or not.
Specs:
Microphone Type: Large diaphragm condenser
Polar Pattern: Cardioid
Output: XLR
Weight: .97 pounds
Pros:
Self-noise of just 4.5 dBA
Lightweight
Classic sound
Cons:
Unidirectional
Requires a preamp
You may also like: 9 Best 3.5mm Microphones
Audio-Technica AT4022
In case you're looking for an omnidirectional microphone for your smart recordings, look no further than this made by Audio-Technica. It is a small diaphragm condenser microphone and, as we've already mentioned, it includes an omnidirectional polar pattern.
Another interesting aspect of this microphone is that you can use it both indoors and outdoors.
Its technical configurations will make it one of the best omnidirectional mixes for making the best quality highly defined recordings and it's also a really good microphone for recording instruments in case you need it.
Audio Technica AT4022 has a small diaphragm and good responsiveness to low frequencies which is also important in binaural recordings. Not speaking about the fact that it will allow you to record such instruments as a piano or acoustic guitar.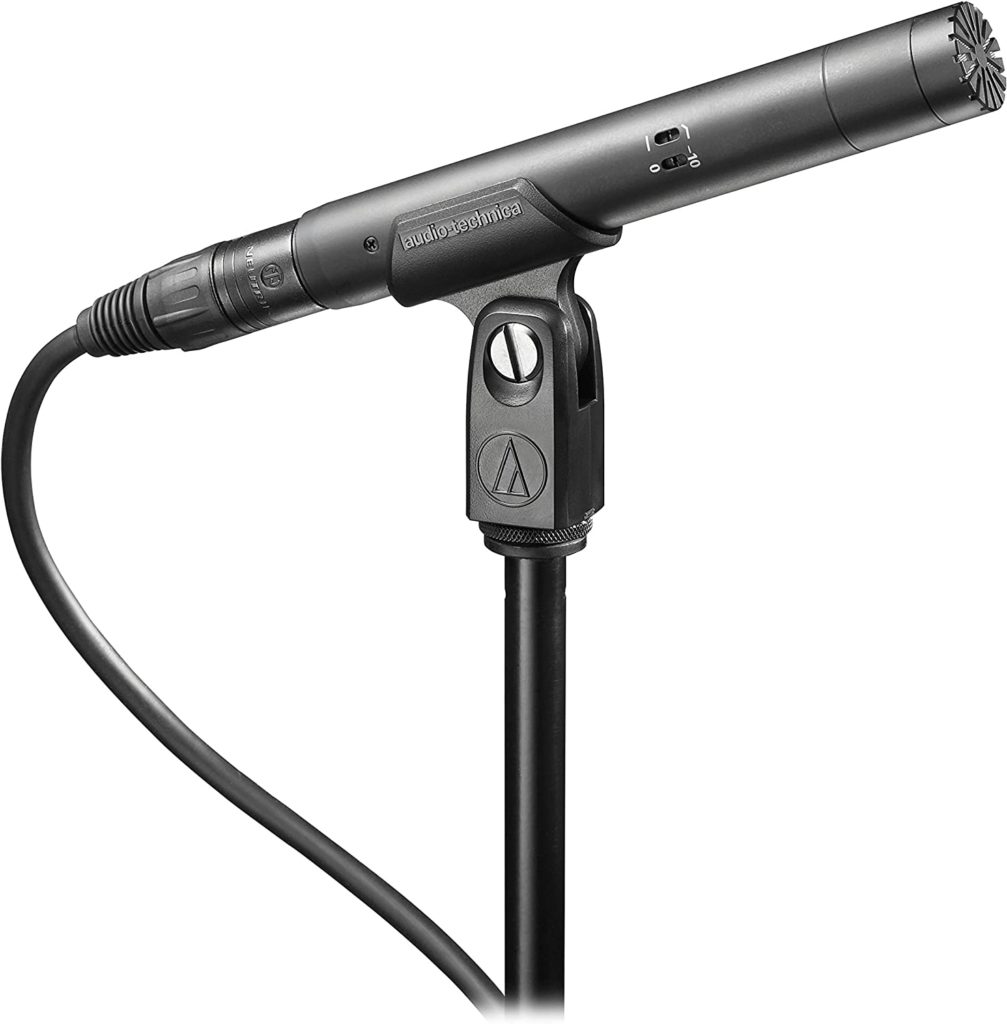 Therefore, with the AT4022 microphone, you will be able to record certain types of ASMR in a natural way. This microphone captures the sounds from all sides and you can even make recordings on the beach by the ocean so all the nature sounds can be captured.
Moreover, if you want to record some objects which are sending not close enough to the microphone, for example, a cat purring or crunching, this is also a cool choice.
Additionally, keep in mind that because mics with an omnidirectional polar pattern pick up sound surrounding the microphone, that doesn't mean they are recording surround sound that replicates how noises appear in space.
If you want to create the most natural ASMR that copies how the sound is perceived naturally by human ears, you should go for a binaural microphone with two omnidirectional mics with stereo positioning instead.
Specs:
Microphone Type: Small diaphragm condenser
Polar Pattern: Omnidirectional
Output: XLR
Weight: .27 pounds
Pros:
Captures all the sounds around you
Low self-noise at 13 dB SPL
Low frequencies are amazing
Cons:
Blue Yeti
If you're going to make recordings with usage of your smartphone, this is the best option to go for. With its affordable price of around $100 and built-in audio interface, this popular microphone is one of the best options for ASMR recordings.
It is especially good for beginners because it's not that expensive and so on. You've probably seen this microphone a million times used by bloggers, bloggers, and all content creators in general.
So let's start with its built-in out interface. Here you can adjust the microphone gain and the volume of the headphones.

The reason why Blue Yeti work so well with smartphones is that you can quickly connect it using the USB cable and started making your smart recordings right away. You all just need to use the software of your choice.
The only thing is that he will need these special USB camera adapters to do so. Of course, it will not provide the same quality of sound as the XLR microphones.
But Blue Yeti allows you to switch between several polar patterns, for example, bi-directional, and omnidirectional which allows creating a number of different ASMR recordings.
Specs:
Microphone Type: Side-address condenser
Polar Pattern: Cardioid, bidirectional (Figure-8), omnidirectional, stereo
Output: USB
Weight: 3.4 pounds including stand
Pros:
Has plug-and-play setup
Multiple polar patterns
Headphone jack
Record directly onto your smartphone
Cons:
Limited audio options with USB
Heavy to carry around
You may also like: 13 Best microphones for PC gaming & streaming
Blue Yeti Nan
In opposite to the previous microphone which was a little bit too heavy to carry around, this one is quite a portable choice. Actually, Blue Yeti Nano includes a surprising amount of features unusual for its small size.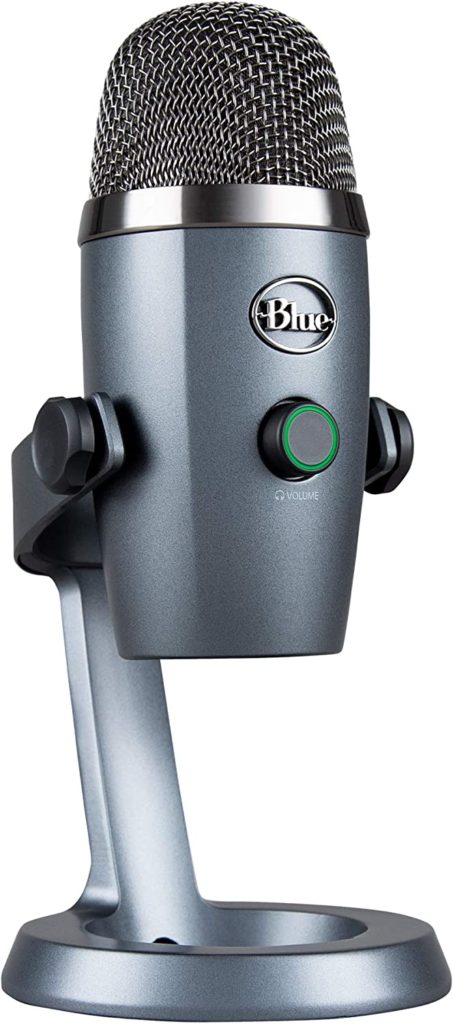 In the line of inexpensive USB microphones, this is not the most affordable one but it provides a headphone jack that will allow you to listen to your recordings in real-time without any latency, that's the main advantage of Nano in front of the cheaper portable USB microphones.
Blue Yeti Nano weighs around 2 lb and it's super easy to carry with you if you are a content creator.
And those creators who won the smallest gear footprint and the possibility to always connect to a smartphone or a laptop for the recordings will find it convenient in between or omnidirectional patterns that this microphone provides.
If you want to record ambient sounds that versatility is quite enough. Of course, Yeti Nano doesn't have all the arrangement of features that the original Blue Yeti has. You will lose the ability to change the bi-directional or serial polar patterns.
Here it's also impossible to adjust the microphone game. But for beginners or for small home studios or those who travel a lot, yet another could be a smart option.
Especially for those who are doing ASMR videos and that's one of the best binaural microphones in the market.
Specs:
Microphone Type: Side-access condenser
Polar Pattern: Cardioid and omnidirectional
Output: USB
Weight: 1.39 pounds including stand
Pros:
Easily portable
Headphone jack
Can be muted
Cons:
No gain control
Does not include bidirectional or stereo-polar patterns
3Dio FS Pro II (FSP2-2B-003)
In the diversity of binaural and ASMR microphones, 3Duo FS is one of the best high-end mics ever. This is an online directional microphone and it provides the ultimate realistic listening experience for any type of content creator.
As you can see in the picture, it consists of two prosthetic ears positioned in the stereo format. The microphone also has two embedded microphone capsules.
This microphone is capable to record the audio sounds exactly in the way the human ears percepts it.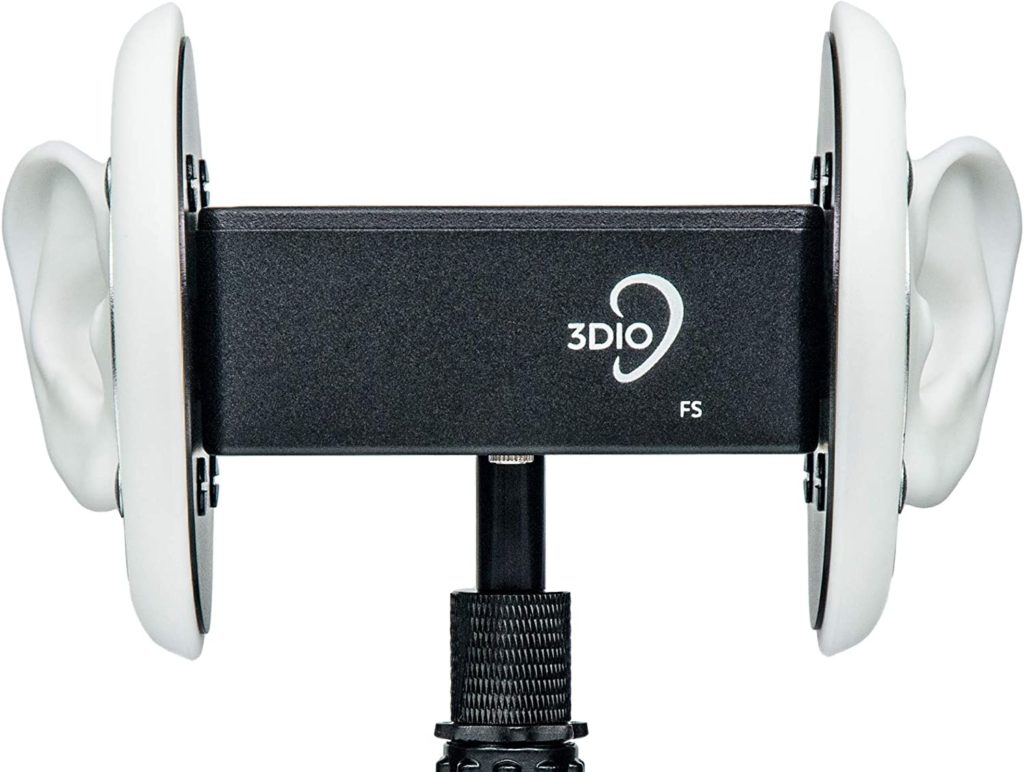 So again, if you want to get the most realistic effect possible, this microphone is certainly your choice. It is especially good for ambient sound recordings.
For example, you can just grab brushes or just use your hands to generate noises that appear to be inside a listener's ear.
The microphone includes capsules with low self-noise and the microphone is powered via two XLR outputs. You will need an audio interface or a preamp before you start the recordings. And it's also one of the most expensive microphones on our list.
Specs:
Microphone Type: Binaural condenser
Polar Pattern: Omnidirectional
Output: Two XLR outputs
Weight: 1.66 pounds
Pros:
The most realistic type of sound
Bass roll-off switch
Pre-installed .62-inch microphone stand adapter
Prosthetic human-shaped ear
Cons:
Sound Professionals LOW NOISE IN-EAR BINAURAL MICROPHONES
This is an interesting type of binaural microphone and these are made in the shape to specifically fit your ear. This microphone, or, better say microphones, has an omnidirectional polar pattern that allows you to capture the sounds from all sides.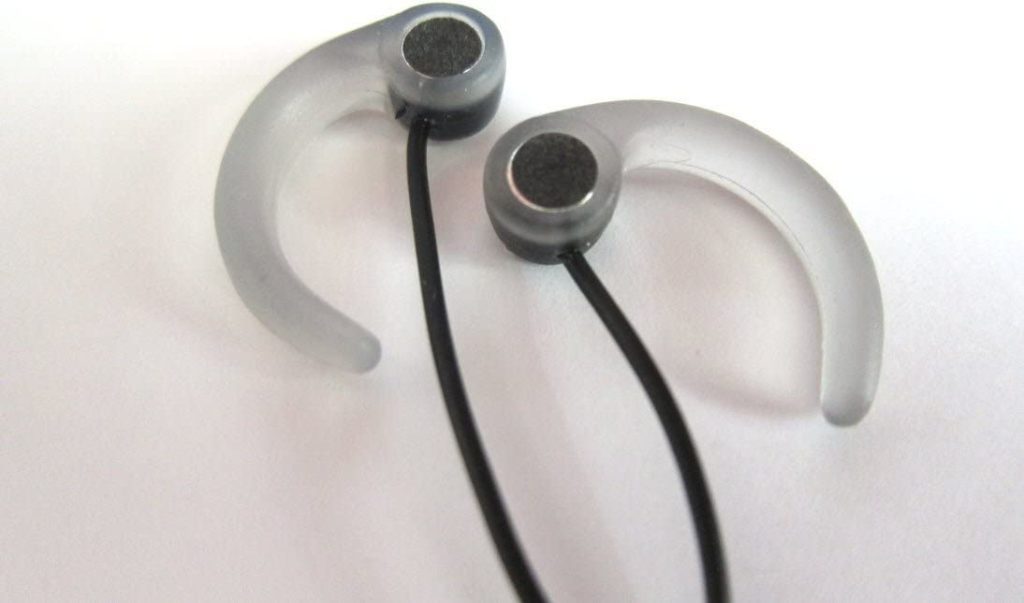 Another obvious advantage of Sound Professionals is that this microphone is super easy to carry around.
Of course, it won't be providing superior sound quality due to its size and flat frequency response, but beginners and content creators who make their ASMR recordings on the go will find these options interesting.
Specs:
Microphone Type: Binaural condenser
Polar Pattern: Omnidirectional
Output: 3.5 mm jack
Weight: 0.58 pounds
Pros
Unique in design
Good sound quality for this low price
Comfortable to wear
Easy to use
No batteries required
Cons
Prone to breaking
Limited types of use
No point in buying if you're not planning to do the recordings outside
You may also like: 5 Best Shure microphones
SonicPresence SP15C
Another similar choice, but this microphone which is also a headphone is less comfortable to wear. But the overall quality that it brings for the ASMR recordings isn't bothered by that fact.
The best advantage of the SonicPresence mic is that it's super affordable and it provides nice quality sounds when you record outdoors.
This is a nice option for a binaural microphone that you can take anywhere with you. What is more, this is a low-profile microphone which means no battery is required.
Specs:
Microphone Type: Binaural condenser
Polar Pattern: Omnidirectional
Output: 3.5 mm jack
Weight: 0.44 pounds
Pros
Decent sound quality
Easy to carry with you
Comfort
Easy to store
No batteries required
Cons
Prone to breaking
No applications outside of portable use
The overall sound quality is average
Steep price range
How to record binaural audio:
First, you'll need two microphones that are designed for binaural recording. These mics should be placed in your ears or on either side of your head in order to capture the sound from both sides. You'll also need an audio interface or recorder that can handle the stereo signal from the mics or just use one of the binaural microphones above.
Once you have your equipment set up, it's time to start recording. Make sure you're in a quiet environment so that any background noise won't interfere with your recording. Then adjust the levels on your recorder so that they're balanced and not too loud or too quiet.
Make sure you're speaking clearly and at a consistent volume throughout the recording process. If possible, try to move around while speaking as this will help create a more realistic 3D soundscape. Once you've finished recording, check the levels again and make sure everything sounds good before moving on to editing and mixing.
Finally, it's time to edit and mix your binaural audio track! This is where you can really get creative with adding effects like reverb and delay or adjusting EQ settings for each channel separately. Once you've finished editing and mixing your track, it's ready for use!
F.A.Q. for binaural microphone buyers:
What is a binaural microphone?
A binaural microphone is a type of microphone that captures sound in two channels, mimicking the way we hear with our ears. It is typically used to record audio for virtual reality applications and ASMR videos.
How do I connect a binaural microphone?
Binaural microphones usually come with an XLR cable that can be connected to an audio interface or mixer. Depending on the model, you may also need an adapter to connect it to your device.