In this article, you will see the best 3.5 mm microphones of 2022. Modern microphones have unique designs and various capabilities. Which one will suit you? These microphones are usually compatible with PC but not with game consoles. That's why we prepared an article about microphones compatible with Xbox. I Hope, the description of the products will help to choose the best option for you. Read below!
We highly recommend:
Our Top Pick

EIVOTOR

A great compromise between quality and the price - this microphone is so easy to use and it brings the impressive sound even when it's just a 3.5 mm condenser type. Compatible with various devices, including PC, tablets, smartphones and so on. 

See
Best
Price
1. Moukey Dynamic Cardioid Home Karaoke Microphone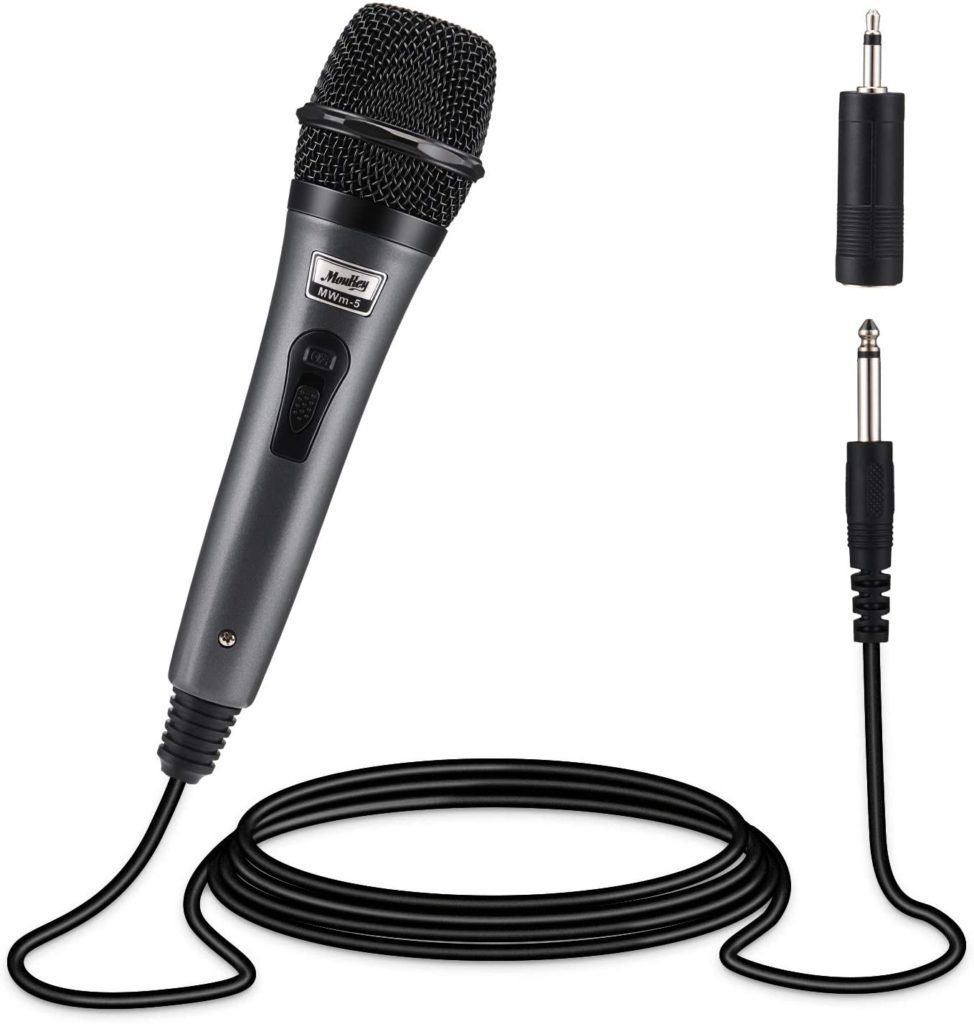 This product is full-size for various vocal use, such as singing, speech, and live stage performance. It is a unidirectional microphone that makes it ideal for such tasks. It pickups only your voice and isolates background noise.
It looks like a professional microphone and demonstrates amazing performance. The sound is quite soft initially with default settings. The device has a wide frequency response of 50-18k Hz and high gain before feedback.
It comes with a long 13.2 ft TRS cable already attached and includes a female 1/4" to male 1/8" adapter that enables you to connect it to more devices like audio-and video-home systems, karaoke, DJ remote, etc, and ensure user-friendliness.
This microphone would also work as a wired mic for podcasters or YouTubers who own an external preamp and a mic stand. The aesthetic design of this microphone will definitely please you.
It has an on-slip mesh head to prevent slipping from various tabletops. The switch slides easily. It is lightweight and fits well in the hand. In general, this is a decent microphone mainly for home use. Many users note, that it is an inexpensive microphone with great sound!
You may also like: Best Choir Microphones
2. EDUTIGE ETM-001 Microphone
ETM-001 is a 3-pole microphone originally designed for PCs and digital voice recorders, however today, this tiny microphone has more applications and functions. The dimensions are only 0.75 x 0.39 x 1.18 inches, and the weight is 0.352 ounces which make it perfect as a lightweight, non-attention-getting microphone.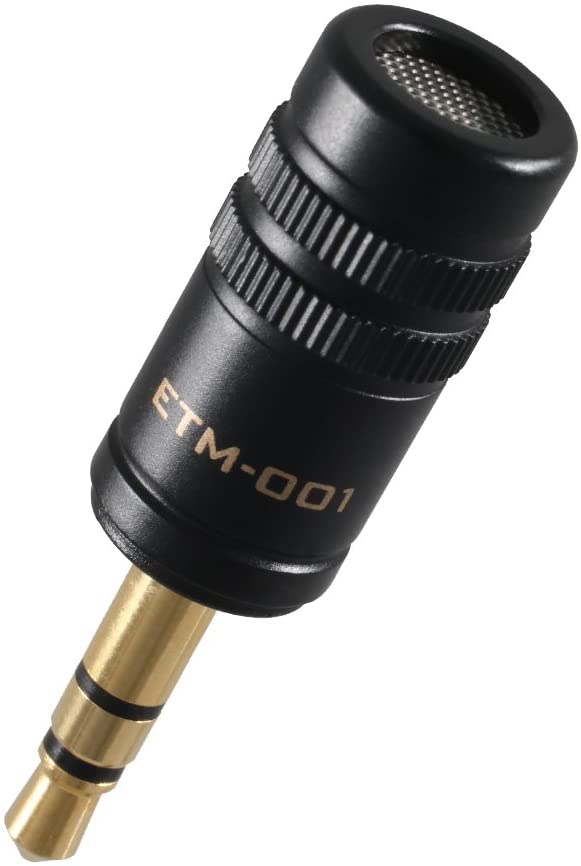 It has no cable, only a gold-plated 3.5mm 3-pole plug. It is so easy to connect it to your device and start to work. It works great with Action cameras (GoPro), DLSR and mirrorless cameras (Canon, Sony), digital audio recorders (Zoom, Tascam), PC, or laptop with a dedicated mic input.
For the GoPro Hero3/3+ and Hero4, you will need the Mini USB adapter. It will become your assistant for recording sound on trips even in subzero temperatures. It is designed with excellent quality. It is sturdy and made of good material.
Despite the size, it shows excellent performance as a microphone. It has high sensitivity (-23dB), which allows it to capture sounds in all directions due to its omnidirectional design. Its frequency response is 50 – 18000Hz, and the signal-to-noise ratio is 58dB +. It allows recording audio with low noise.
It shows excellent sound quality. The sound quality is comparable with the quality of full-size microphones! You will not definitely regret the purchase! Especially, if you are interested in compactness, low weight, and excellent performance at an attractive price!
3. EIVOTOR Condenser Microphone, 3.5mm
This microphone has everything to start working with it instantly and applies to various tasks. It does not require any additional software; simply you need to connect it to your device directly to the 3.5mm jack and select it as the microphone.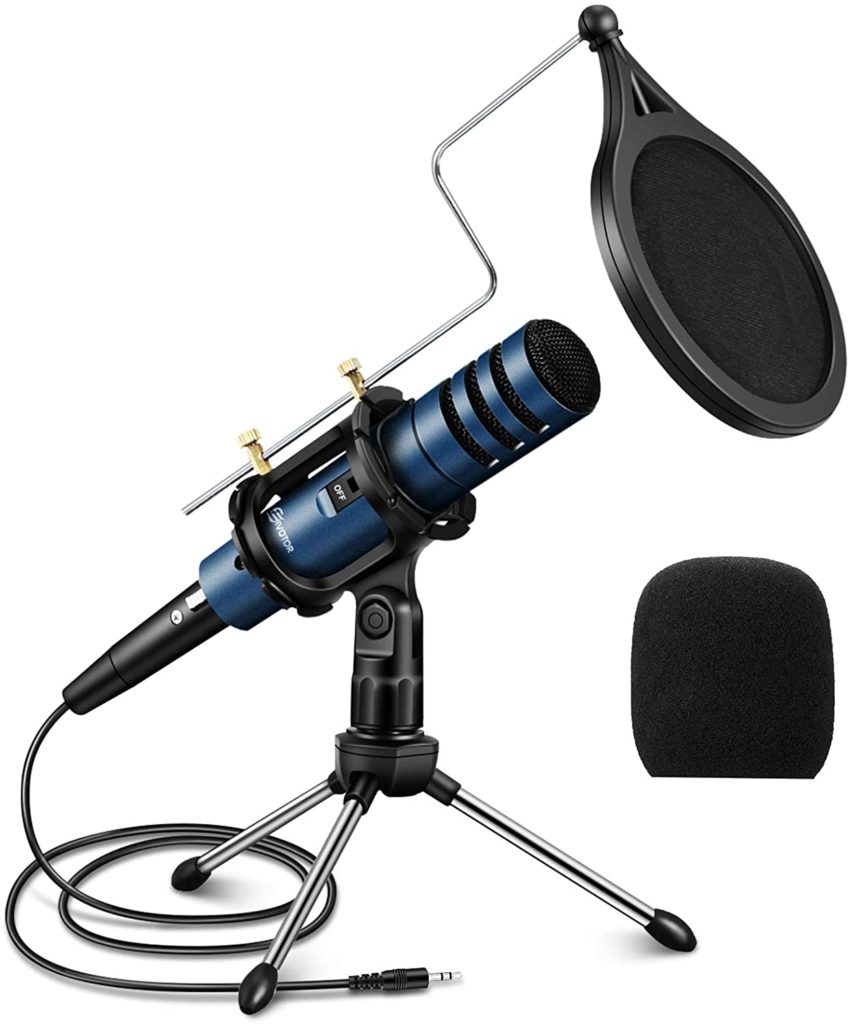 The microphone comes with is an adjustable portable tripod that can be installed at the desired angle, a user manual, a pop filter, and an audio patch cord in case your device has only one connector, you can connect the microphone and headphones using it.
It shows great performance with PCs, iPhones, iPad, Android phones, and other smartphones. The microphone allows you to get a non-distorted sound, close to the original due to a dual-layer pop filter, which enhances voice-recording quality.
It sounds clear and picks up a variety of sounds, so only know that it is very sensitive. This microphone is cardioid, and it is provided with heart-shaped pickup technology thanks to which the side and backside noise can be effectively reduced.
The frequency range is between 100 Hz and 16 kHz and the noise ratio is more than 60 db. You will see its sound quality while singing, recording instruments, radio, podcasting, videoconferencing, Skype, YouTube, etc.
The quality of the materials used is also excellent -it is not made of plastic, but of metal and will last you a long time. The color of the microphone is blue which makes it catchier. Highly recommended!
4. iUKUS PC Microphone with Mic Stand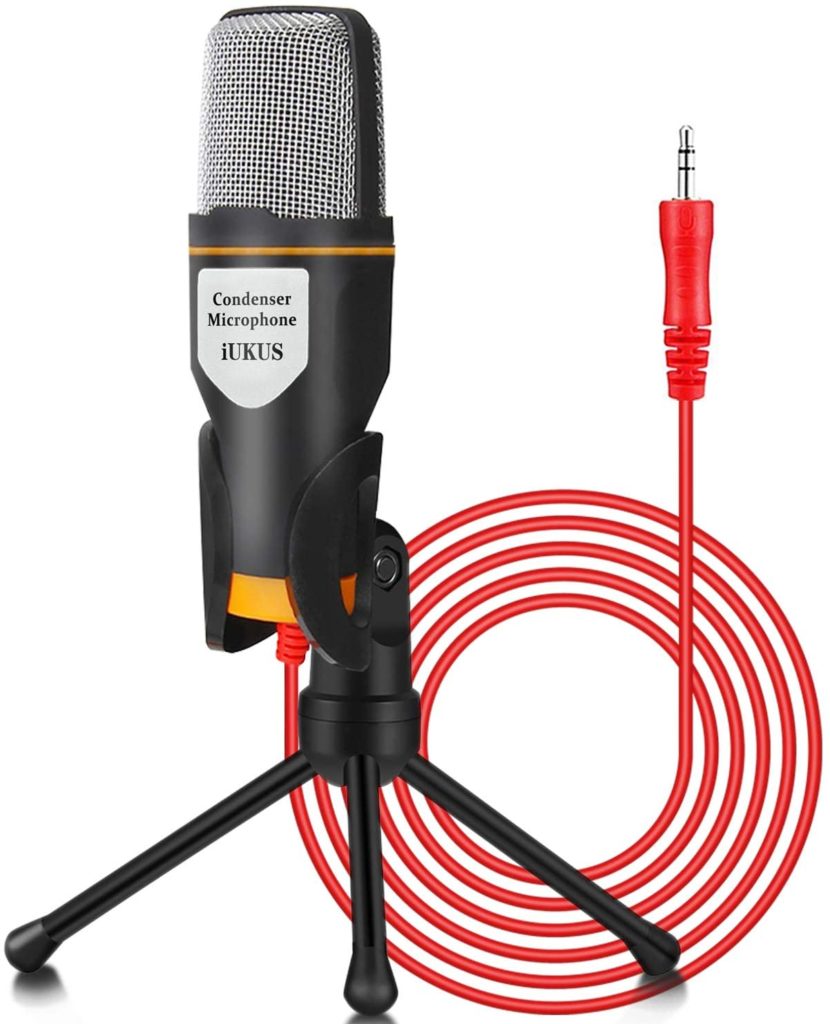 Clear and high-fidelity sound is ensured with this microphone! It has a high output level despite how little voltage it needs to function. This microphone produces warm and rich sounds. You will never complain about static or background noise.
It is provided with a noise-canceling function, which helps to block extraneous sounds and eliminates echo. It can capture sounds at 360 degrees with a frequency of 50Hz-16kHz.
It fits all kinds of PC with a 3.5mm stereo audio jack plug and is compatible with a wide variety of software. It suits for use with your laptop, iPad, iPhone, Mac, or singing recorder.
It is perfect for YouTube, Skype, gaming, video conference, chatting, and vlogging. It comes with a 180-degree adjustable tripod. It is equipped with a stylish three-legged stereo bracket that allows you to set suitable angles while working (it can rotate up to 180 degrees) to ensure that specific sounds are captured.
Each leg is covered with non-slip rubber to prevent knocking down. It is easily adjustable and has a long cord, so your work with it will be much convenient as possible. The package is also included a microphone and headphone splitter adapter.
The appearance of the product is quite simple, the entire microphone has a plastic matte finish, except for the metal mesh, which makes it lightweight. This little inexpensive microphone produces remarkably good audio quality. Check it out now by purchasing it!
5. Condenser Recording Microphone 3.5mm LOOYUAN
LOOYUAN microphone is a versatile microphone for your needs! The product will show its best features when recording, radio studios, dubbing, podcasting, gaming, MSN, Skype, and conference chatting.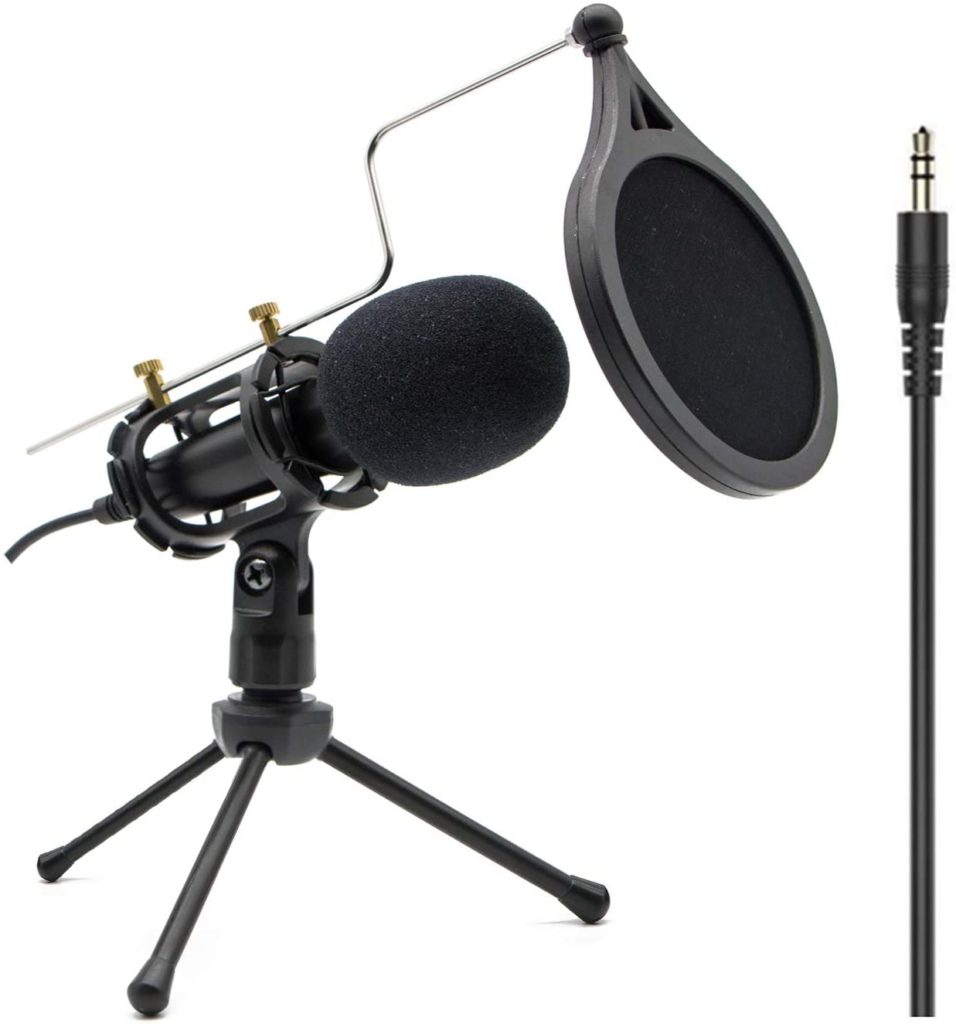 It is compatible with a PC, laptop, or desktop systems (fit for Mac, Windows 7,8,10, Vista, XP), but also with your iPhone (not fit for iPhone 7), iPad, and smartphone devices. It does not require any additional tools, just plug and play!
The microphone has all the indicators of professional equipment. The pickup mode minimizes background noise, isolated from the main sound source.
While singing or talking, your voice will be heard clearly, loudly, and without delay.
The sound quality will be without any distortion, and you will enjoy the original voice. It works at a level that can be seen in professional recording studios. This microphone greatly meets your basic use of communicating in an online game.
For online gamers, the device will become a helper. You can stream on Twitch or other video platforms, and be sure, other viewers or gamers will understand what you are saying. One feature more is its ultra-compact design for maximum portability.
It comes with a foldable and adjustable tripod. You can fix the microphone on the desk with the mini flexible head that is 180 degrees rotatable. Tabletop microphone mount comes with a professional dual-layer acoustic filter to prevent popping and improve vocal recording quality!
6. MANLI Professional Studio Condenser Microphone
This microphone is a professional studio microphone. You do not need any tools and it can get put together in a matter of minutes. The highest quality sound is guaranteed due to the latest technologies. It was designed with a professional sound chipset.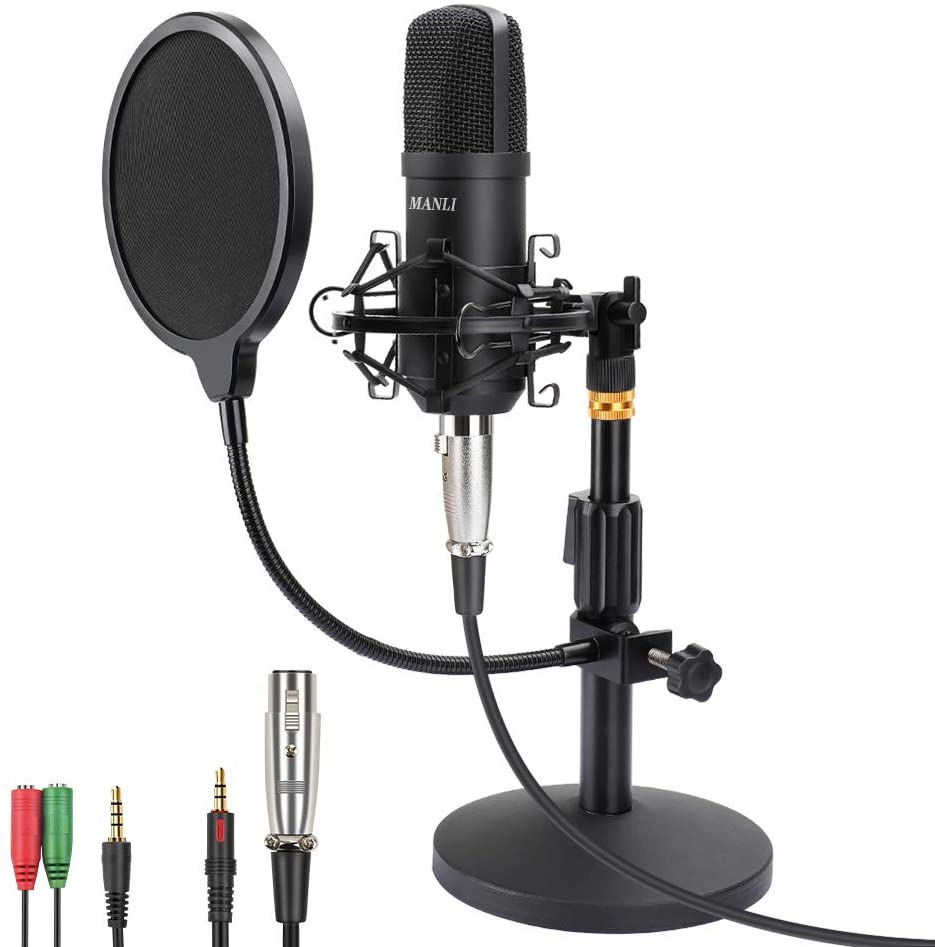 It has a wide frequency response from 30 Hz to 16 kHz, providing excellent sound for high-resolution audio. The microphone holds a high-resolution sampling rate of 192kHz/24bit.
It has the design of a cardioid microphone, which allows reducing pickup of sounds from the sides and improves the isolation of the desired sound source.
The microphone can accurately reproduce even the most subtle sound because it is extremely quiet self-noise (a noise level of just 16 dB), so nothing will prevent you get pure sound. It has no distortion, but strong output and low power consumption.
A 3.5mm stereo jack will provide zero-latency monitoring. The microphone comes with a shock mount's spider suspension that isolates the microphone from handling and floor noise. You will get clearer recordings with fewer unwanted low-frequency artifacts.
It comes with a pop filter too. Such features make it suited for vocals and audio drama productions in high definition as well as for demanding sample production and instrumental recordings, like acoustic guitars, acoustic pianos, and even strings.
It can be placed on any desktop, counter, or table with the included microphone stand. Note that it is suitable for all operating systems, PC, laptops, and smartphones. The quality is absolutely amazing, it will surpass your expectations!
7. Singing Machine SMM-205 Unidirectional Dynamic Microphone
Your parties will be more exciting than ever with this microphone! The microphone is simple, has a unidirectional dynamic design, and has no outstanding distinctive features, but it is perfect for karaoke.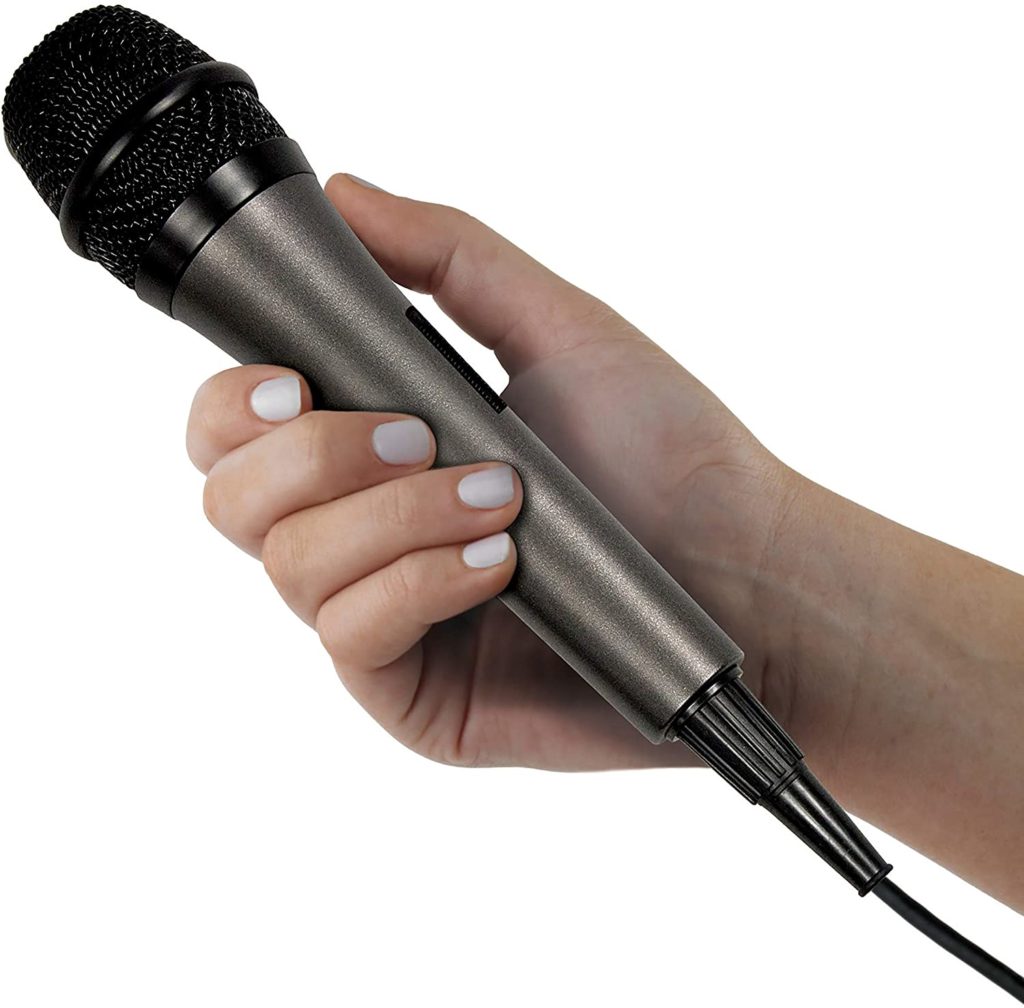 The microphones pick up sound with high gain from a specific site where you are singing. You will be thrilled! The package includes a dynamic wired microphone with an adapter.
All you need is to connect the microphone to an available microphone jack on your karaoke machine.
It features a wide frequency response and high sensitivity to add power to your power-house performances. You will get a loud and clear sound.
The microphone fits perfectly in your hand, and has the optimal weight and size for your comfort. It has a very long wire with a length of 10.5 ft, so you can walk or stroll while singing songs.
You can buy additional wind covers, which will help control any pop and noise from wind and breathing. Due to its sturdy design, it has resistance to mechanical damage and provides long durability of operation.
Overall, the sound quality is very good and it is very well made, as well as being an awesome price! Definitely an affordable option if you are doing karaoke at home.
8. Condenser Microphone, Computer Microphone, SOONHUA
One more omnidirectional microphone in this list, which you will definitely like. Everyone will love the great quality of the reproducing sound because it has a high-quality condenser microphone chip.
It is aimed at increasing sensitivity and filtering out background noises for pure and louder sound.
It adopts noise reduction technology, which reduces unwanted noise and enhances sound clarity. You will get smooth audio without distortion.
The red windscreen outside and the built-in pop filters enable the microphone to pick up less noise and pop during recording vocals. The microphone is perfect for anyone who needs to talk a lot.
It is suited while an interview, a narration of a presentation, video conferences, online meetings for work, video blogging, and recording podcasts. It is compatible with PC, and laptops with operational systems Windows 7/8/10, MAC, tablets, and phones (IOS/Android).
It comes with a tripod that allows it to rotate in 180 degrees. It allows you to achieve better sound quality by adjusting the right angle of the microphone to the direction of the sound source.
The package is included a very long cord to provide a better connection with your device regardless of where it is located. And the split cable is included for the usage of your phone or laptop.
The microphone will stand firmly on your desk, although it is very compact and lightweight. You can put it in your bag and take it with you if you need to. This microphone is definitely a good choice!
You may also like: Best Voice Changing Microphones
9. Wired Lavalier Lapel Microphone with Clip-on
If you are tired of having horrible audio quality on your video recordings made on your device, this microphone is your choice! This little one is capable of a lot! The microphone has multi-layers anatomy to provide the best quality.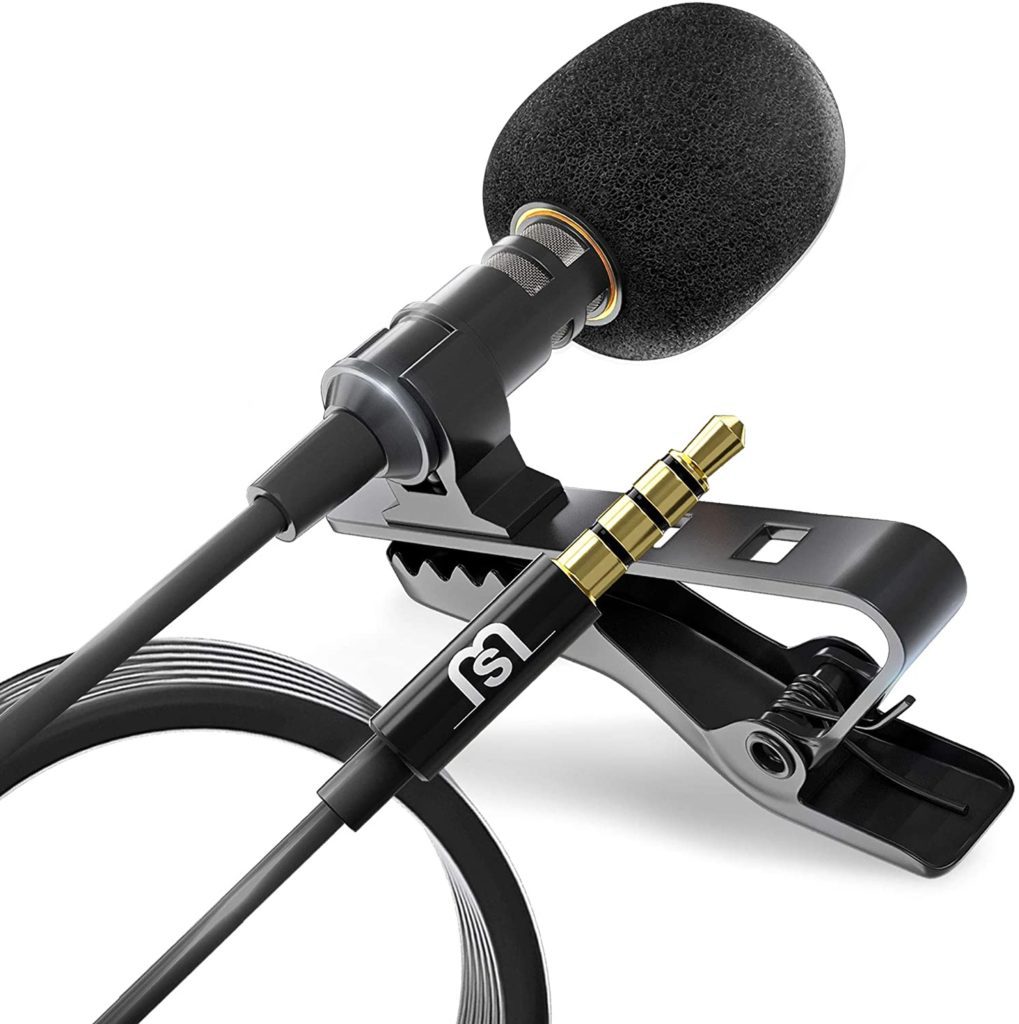 It perfectly captures the sound around you. It picks up sound from all directions, ensuring that every detail of the moment is recorded. Pop filter offers clear audio recording and reduces air blast and protect the microphone.
The most useful feature is the strong lapel clip. You can attach it to your clothes, close to your mouth then your speech will be even more distinct and loud. The clip will hold firmly, you do not need to worry that you will lose it.
Also, it comes with a cord of 1.5 m to offer you comfortable work. It is compatible with Apple iPhone, iPad, iPod Touch, Android, and Windows smartphones, and many more tablet and smartphone devices.
You just need to plug in and enjoy better sound in your new video. Its weight is quite insignificant, it comes with a portable case, and nothing will stop you from taking it with you on a trip to record the highest quality video or audio.
This is a great microphone for bloggers and vloggers. This microphone proves that you do not necessarily need the expensive cost of creating high-quality sound. Buy it, and you will be very impressed with how well this microphone works.

FAQ for 3.5 mm microphones buyers

1. What is the difference between dynamic microphones and condenser microphones?
Dynamic microphones are primarily designed to capture loud sounds in noisy environments. They are not very sensitive to high-frequency sounds. They are perfect for recording live performances.
The design of condenser microphones is a bit more complicated, capacitor plates instead of a coil and magnets are used.
Condenser microphones are generally considered to be more sensitive and accurate, as it can record quieter sounds with greater accuracy. They are more suitable for recording complex sounds with a wider frequency range. They are mainly used for recording in the sound booth.
2. What is sensitivity?
Sensitivity is the ability of the microphone to detect the quietest sound that the microphone can pick up. Pay attention to this indicator. If you need a very sensitive microphone, you'll need to find a smaller number. The lower the number, the quieter the sound can be captured and recorded.
3. How to choose the best microphone for streaming?
It is recommended to choose microphones with a wide frequency response range so that you can pick up sounds at low and high frequencies. It is also better to focus on the unidirectional Microphone variant with a cardioid pattern.
The cardioid is the most popular pattern, as it picks up sounds mainly from the front, and will provide the best reproduction of your speech. And also limit the audibility around, such as pressing the keyboard buttons.