So, what exactly should a good voiceover mic do? Of course, it should transmit your voice clearly at different volumes and not add extraneous noise, hum, and wheezing to the speech. Furthermore, we think it is perfect when the mic does not take up too much space and possesses sensitivity.
You would like to move around freely not worrying that the sound will disappear, right? In this article, we will review the top nine voiceover mics that will fulfill all the above-mentioned requirements. And if you also want to get a mic that allows you to move freely on the stage, we got the best wireless microphones for events article.
We highly recommend:
Our Top Pick

Avantone CV-12

For those who want to get the superior studio quality of their voiceover recordings and for those who are ready to invest in the highest quality - Avantone is the ultimate leader in the world of voiceover mics. 

See
Best
Price
Indeed, there is a built-in mic in the computers and laptops, however, very few people are satisfied with the result. Let's see what we have found for you.
Other great mics in this category:
| Item | Dimensions | Weight | Polar Pattern | Connector Type | |
| --- | --- | --- | --- | --- | --- |
| Blue 1967 Yeti Pro | 5.98 x 5.98 x 12.01 inches | 0.004 ounces | Multipattern | USB, XLR Connector | See Best Price |
| Focusrite Scarlett 2i2 | 20.7 x 14.3 x 7.6 inches | 8.31 pounds | Not Specified | Not Specified | See Best Price |
| PreSonus AudioBox | 9.8 x 3.54 x 6.69 inches | 2 pounds | Not Specified | Not Specified | See Best Price |
| Audio-Technica AT2020USB+ | 7.48 x 5.51 x 2.36 inches | 13.6 ounces | Cardioid | USB-type/XLR-type | See Best Price |
| Samson Technologies | 11 x 6 x 6 inches | 3.72 pounds |  Multi-pattern: Omnidirectional, Cardioid, Bidirectional | USB | See Best Price |
| MXL Mics 770 | 12 x 4 x 8 inches | 1 pounds | Unidirectional | AC | See Best Price |
| Blue Snowball iCE | 10.6 x 5.5 x 9.1 inches | 1.01 pounds | 1 Condenser | USB | See Best Price |
| TONOR | 9.25 x 4.13 x 5.59 inches | 14.1 ounces |  Unidirectional | USB | See Best Price |
1. Avantone Pro CV-12 Large Capsule Tube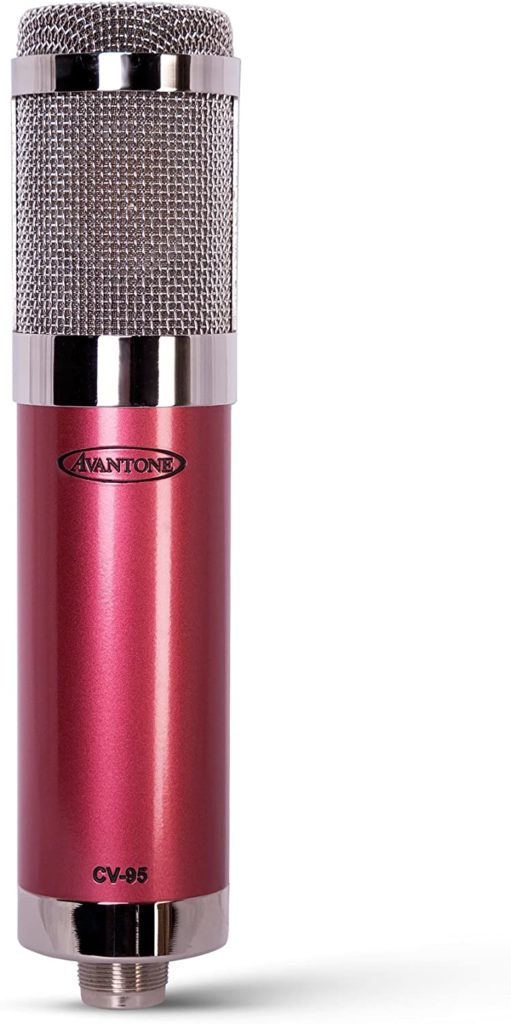 This voiceover mic combines a great sound and adds some vintage old-school touch to the recording. The Avanton Pro is a timeless beauty, and we just love it. It is a studio mic with an XLR connection, but inside it built more different than other regular tube mics. This is premium quality and you are guaranteed to have a great professional experience.
The mic comes in an aluminum suitcase with a formed foam rubber that tightly hugs all of the accessories. The provided shock mount is sturdy and solid, and the Avantone microphone is packed into a wooden hinged box for proper care. It comes with a long nine-pin cable that should accommodate any mic position. The output from the power supply is a standard three-pin XLR socket.
The Avantone device provides nine different polar patterns. They are located not on the mic but on the power supply and are perfect for any recording. The Custom Retro Shockmount allows precise positioning of the mic, and at the same time, it doesn't let any undesired vibrations come through.
The noise level is very low, so nothing will spoil your hard work. We also tested it on the music recordings and have to say that the vocals and guitar sound amazing with it.
The design is elegant and stunning. Very vintage, it features a Cabernet Wine-Red tone and a polished nickel trim. It is performed in the best traditions of the 1950s-1960s microphones. Excellent build and fantastic sound, the Avantone mic is a must-have.
You may also like: Best directional microphones
2. Blue 1967 Yeti Pro

Our first recommendation combines a stunning build, audio quality, and a relatively affordable price. Blue Yeti is one of the most legendary and well-known mics among professionals.
Blue Yeti Pro is perfect for the voiceovers since it provides both XLR and USB connectivity. XLR is a must-have for the artists as it gives certain flexibility because one can plug either in the audio interface or external preamp. This way, the sound will become better and stronger.
As for the specifications, the Yeti Pro delivers a fantastic audio resolution, a built-in A-D converter, and four adjustable pattern settings. They include cardioid, bidirectional, omnidirectional, and stereo options.
It means you can use this mic for multiple purposes, not just voiceovers. Besides, you also get a built-in headphone amplifier for zero-latency monitoring, and direct controls for mute, microphone gain, and a headphone volume.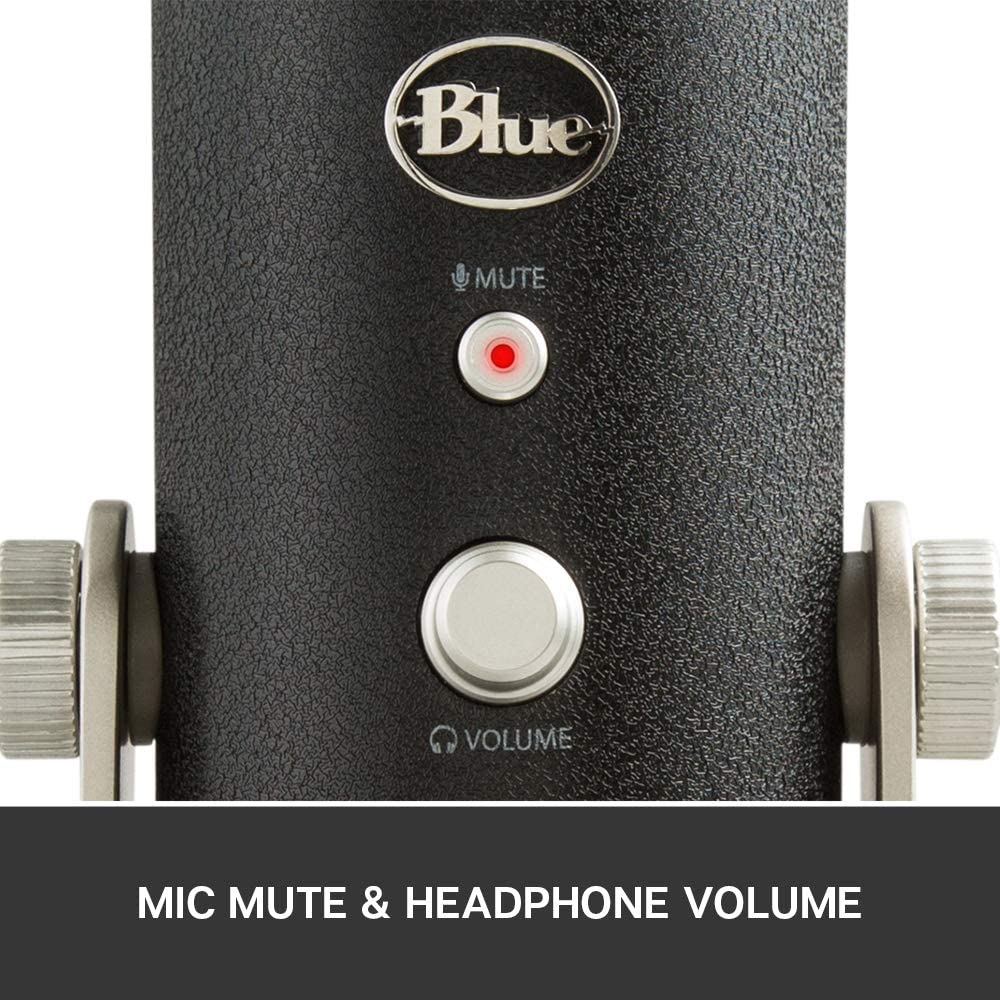 The sensitivity is extraordinary, and the sound quality is clean and clear. The audio quality sounds like it was recorded in a professional studio. You will be pleasantly surprised at how beautiful Blue Yeti Pro is.
The design is also incredible, looks very stylish and classy. It is not heavy, but at the same time very sturdy. One of the amazing features it offers is iZotope Nectar Elements. It will add a rich and deep effect to your voice. The controls are designed to regulate room noise, pitch problems, and volume levels.
The Grammy-award winning engineers certainly knew what they were doing. This voiceover mic is one of the best ones on the market right now. We insist you try Blue Yeti Pro.
You may also like: Best Microphones for Voice Recordings
3. Focusrite Scarlett 2i2 Studio
This is a slightly new take on a good old voiceover mic due to including much more than just one device. But we assure you, this will save your money and time, you will not have to search for any additional gear and tools.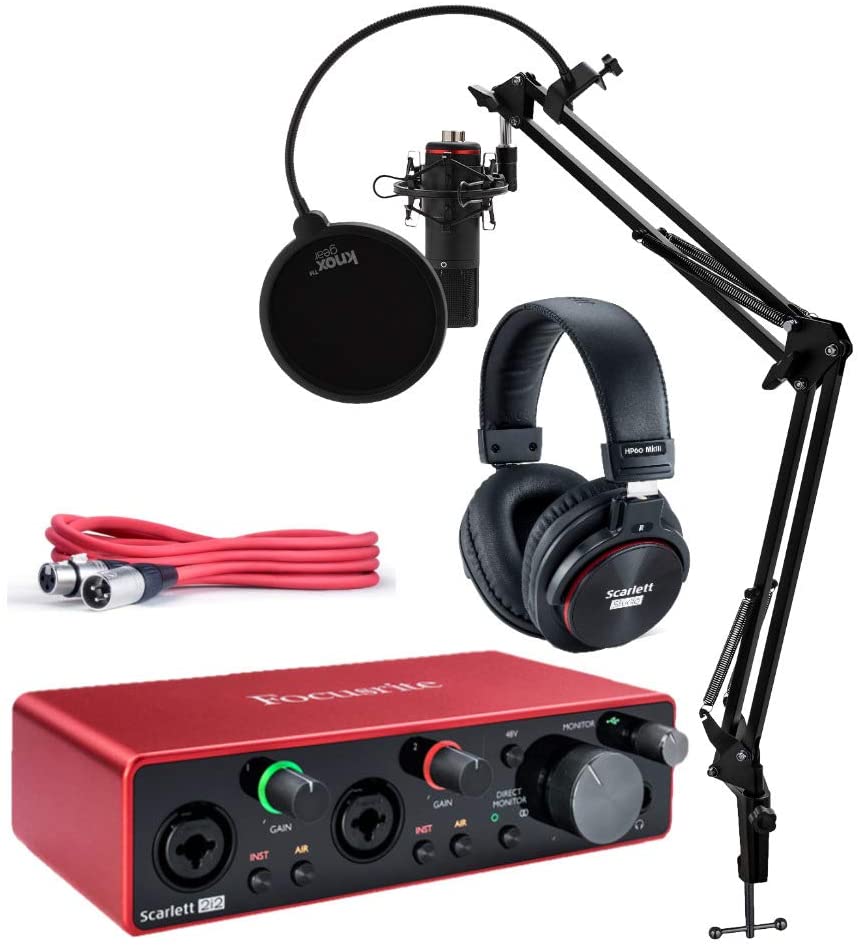 The main focus in this set belongs to the audio-system called Focusrite Scarlett. It is one of the easiest systems we have ever come across with. It is totally beginner-friendly. What it actually does is converting audio at 192 kHz and 24-bit, and in addition to this, it provides two inputs for microphones.
You will find it very useful when doing a voiceover with somebody else. Also, there is a separate monitor and headphones on the system interface. There is a special knob for these things, so you will not have to search for them all over the place.
The microphone is superb and steady and will add a great touch to the professional atmosphere. The headphones HP60 are great for sound isolation and highly recommended to use during recording. You will not hear any sound leaks or disruptions when using them.
The design is also stunning. As you might have guessed from the name, it is executed in scarlet red and just looks amazing. The audio system Focusrite Scarlett 2i2 Studio 40 includes many things, but all of them are top quality and highly recommended by us.
4. PreSonus AudioBox Studio
We would like to recommend this voiceover package to everyone. It includes an XLR microphone, an audio interface, the HD7 studio monitoring headphones, the desktop stand, and the necessary cables like XLR and USB.
All you need is just a computer to start enjoying this system. It is compatible with most recording software for Mac and Windows. The Presonus AudioBox Studio is equipped with high-performance microphone amplifiers and converters.
The mic is of great quality and we were amazed by the clear and hiss-free sound. To set up the studio, you will have to follow the particular instructions. It is pretty easy if you read the manual carefully. And it will take you only twenty minutes, including all the upgrades and add-ons.
The PreSonus Studio includes the Studio One Artist Software. It lets you work efficiently and stay concentrated on your inspiration. Furthermore, it provides unlimited plug-ins and tracks, and there are features you will not find in any other audio system.
The headphones are extremely comfortable and do their job pretty well. They provide sound isolation, nothing will distract you from recording. The Studio Monitors are pretty compact, you can fit them in anywhere. But at the same time, they guarantee a high-quality powerful sound.
It is a bit cheaper than the 2i2 Studio, so it is a good offer to save a couple of bucks. The PreSonus AudioBox Studio is suitable for beginner and intermediate voiceover artists. It will give you a high-definition sound experience.
5. Audio-Technica AT2020 USB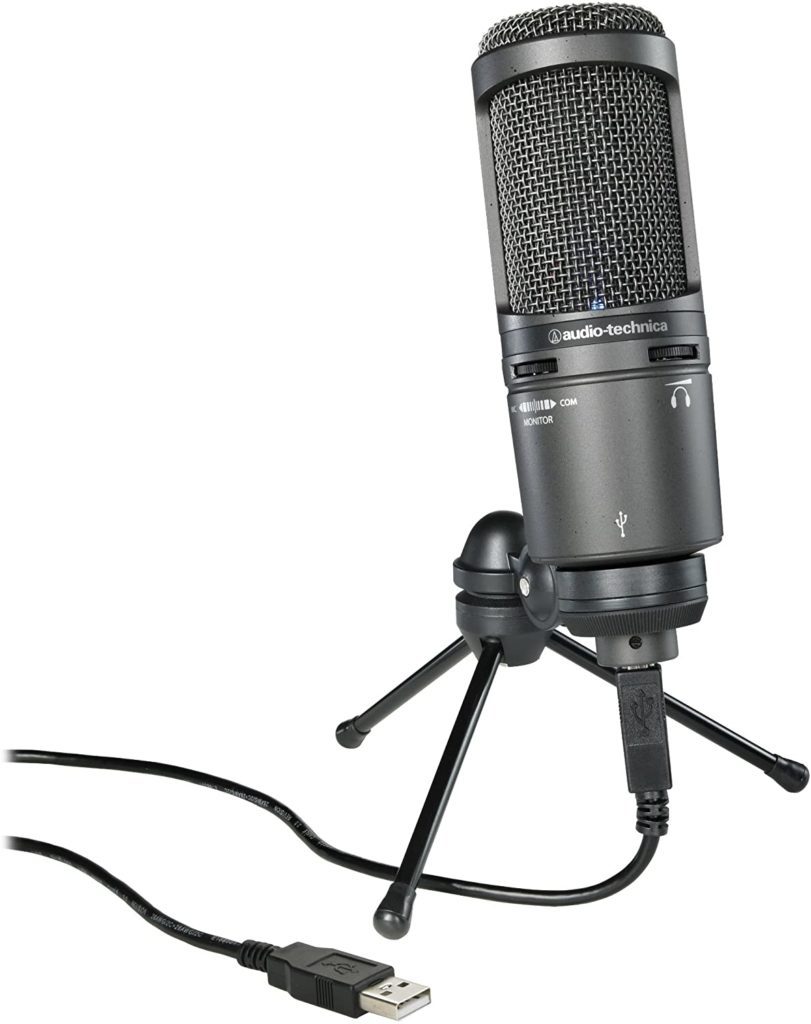 It is one of the most popular voiceover microphones at the moment. At the same time the Audio-Technica is slightly cheaper than the G-Track Pro and Yeti Pro, so if you want to save some money, go with it. You still will not be disappointed with the sound.
It has a lot of similar features with high-end brands like a built-in desktop, a headphone jack on the unit, and a mix and volume control. There are no drivers required for the plug-n-play capabilities. The mic comes with a tripod, which we must say, is of superior quality. It carries the weight of the device very well.
The audio resolution is superb and hits up to 16-bit/48 kHz. The Audio-Technica mic has a built-in A/D converter, which is just great for the voiceovers. It is compatible with Windows Seven, Vista, XP, and Mac OS X. You can use it with pretty much any laptop.
If you have an Apple system, you shall not require any drivers. In the case of Windows, the drivers will be downloaded automatically, as soon as the mic is connected to the computer.

This voiceover mic is powered directly by a USB cable, where the connector takes the place of the previous XLR sockets. It has a self-noise figure of twenty decibels, and it is pretty low for the studio applications.
Headphones can be plugged into the phono jack socket on the side of the mic. In addition to this, there are two thumbwheels on the front of the device. With their help, you can control the headphone volume and the balance between the computer stereo output and the mic signal.
Everything is perfect in this mic from the packaging to the setup. Suitable for amateurs and professionals, it is a great choice.
You may also like: Best Microphones for Publish Speaking Big Audience
6. Samson G-Tech Pro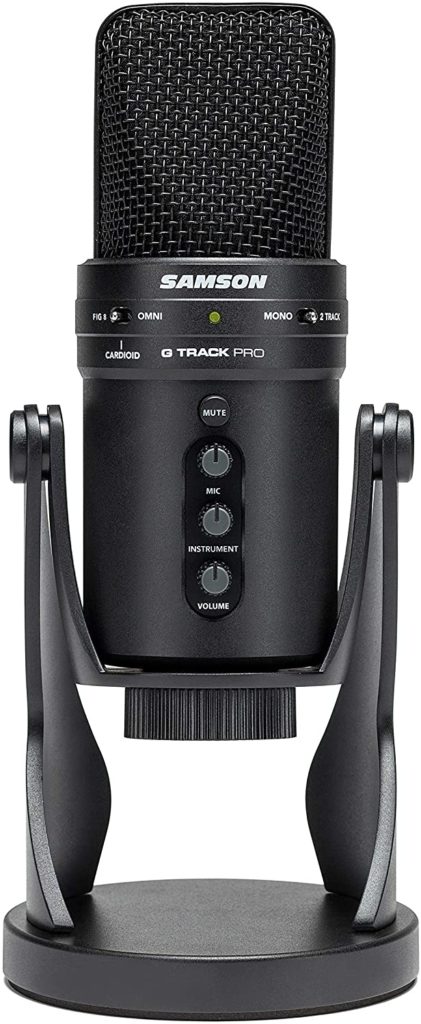 This mic is a competitor of the Blue Yeti, both of them are just incredible. However, Samson G-Tech is slightly cheaper, so if you are on a strict budget, you should consider this mic. The quality is still amazing as a high-end product.
If you happen to do voiceovers at the desk often, then Samson is your way to go. It provides a built-in desktop stand (also removable) with the controls on the mic too. The settings include a recording select switch, instrument volume, mic volume, a headphone volume knob, a master switch, and a polar pattern switch button.
The sound resolution is 24-bit/96 kHz, just what you need for a clear recording. The Samson mic can easily rival against the professional condenser mics. There is a built-in audio interface, very helpful if you like to go directly to the computer through the mic.
The Samson G-Tech offers dual condenser capsules, an instrument input for the guitar or line-level devices, and a stereo headphone output for zero-latency monitoring. The pickup patterns are cardioid, bidirectional, and omnidirectional. You can use this mic for voiceovers, podcasts, music recordings, etc.
The sound of the mic is amazing. Furthermore, it connects with any drivers and the sensitivity is perfect. It is very easy and manageable to set it up. You will not have to search for any specific gear or figure out those XLR inputs and external power sources. Just grab this mic and do your job.
7. MXL Mics 770 Cardioid Condenser Microphone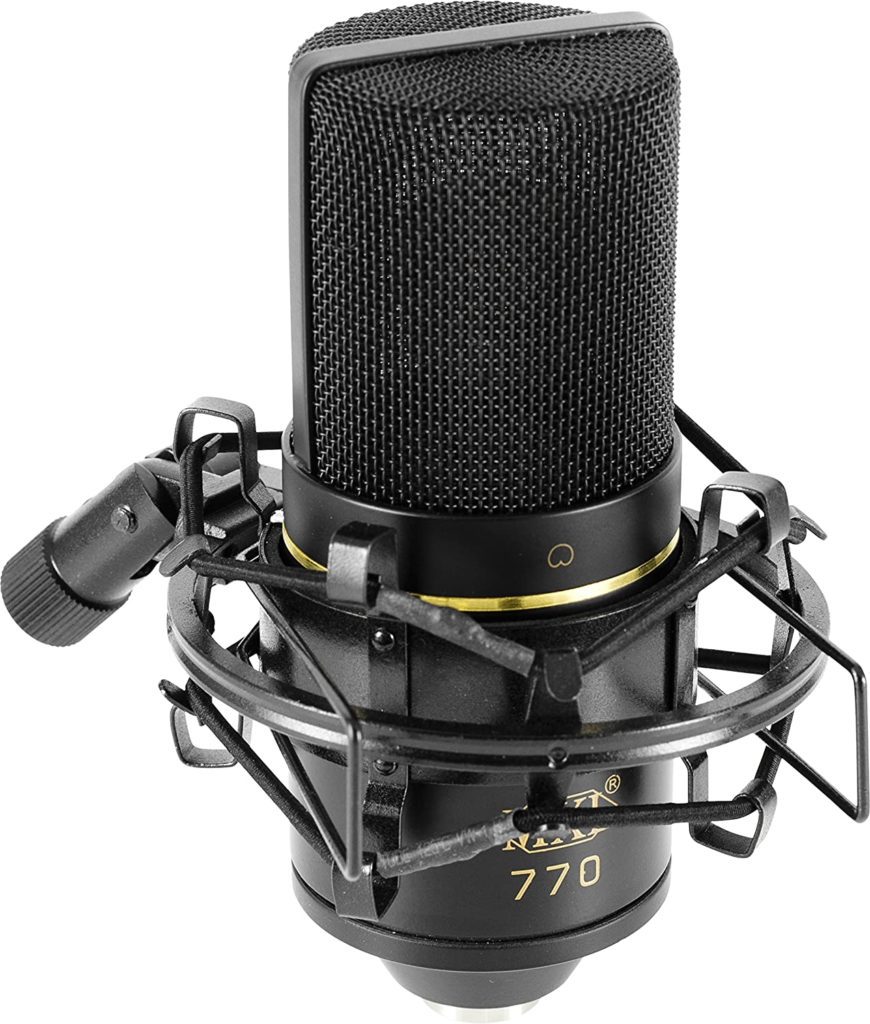 This voiceover mic is more-budget friendly than the previous companions. We think that it is a smart solution for those who want a cheaper mic but still having the flexibility of an XLR connection.
This way, the interface or a preamp can still be used. The microphone is suitable for the voiceovers and music recordings due to the low noise FET preamp with a balanced output.
There is a small high-quality diaphragm and cardioid polar pattern. The sound in the MXL mic is very balanced and actually exceeds the expectations. You would not think to find something like this in the low price range. This microphone features a bass frequency roll-off switch and a -10dB attenuation switch. These options come in very helpful when you need to add some rich tone and depth to your voice.

This microphone is really great and comes with a lot of accessories including a shock mount and a sturdy hard case. The quality is just fantastic, especially for this price. It will make you sound great, we promise.
The only suggestion we would make is to buy a windscreen or a pop filter to reduce the noise of the background. The mic comes without those tools. There is also a manual that will tell you precisely how to use this mic. It is not complicated at all.
It is designed in classy colors like black and golden, and looks very expensive and high-end. The MXL came as a true surprise to us.
8. Blue SnowBall iCE USB Mic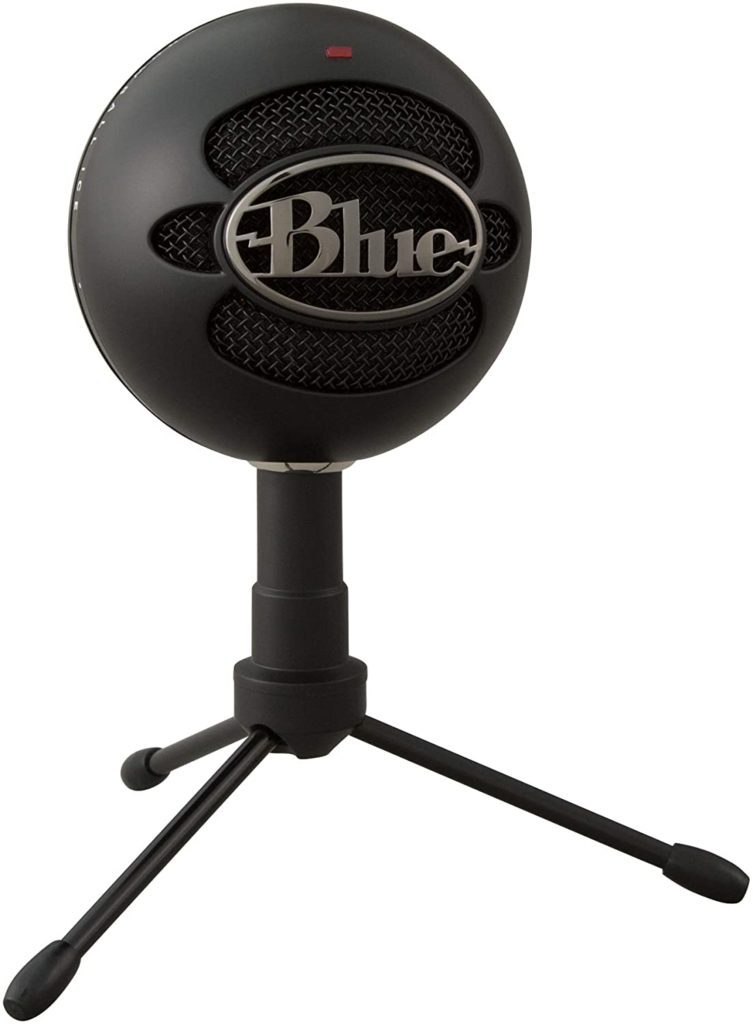 We think that this is the best voiceover mic you can buy on a budget. It has decent quality and comes with an adjustable mini-tripod. It is perfect for traveling as the Blue SnowBall iCE mic can fit into any bag or space.
The specifications include a mini custom condenser capsule with a cardioid polar pattern and a 16-bit sound resolution. This voiceover mic is lightweight, however very sturdy at the same time.
So, the tripod stand is stable and has rubberized feet, so it will not scratch your table. The legs are made of steel and the body is made from very thick plastic. The snowball can easily be disassembled. If you want, you can screw it onto a boom stick. You can unplug the mic very easily after using it. You have to remember that the Blue SnowBall iCE mic is a USB-only device.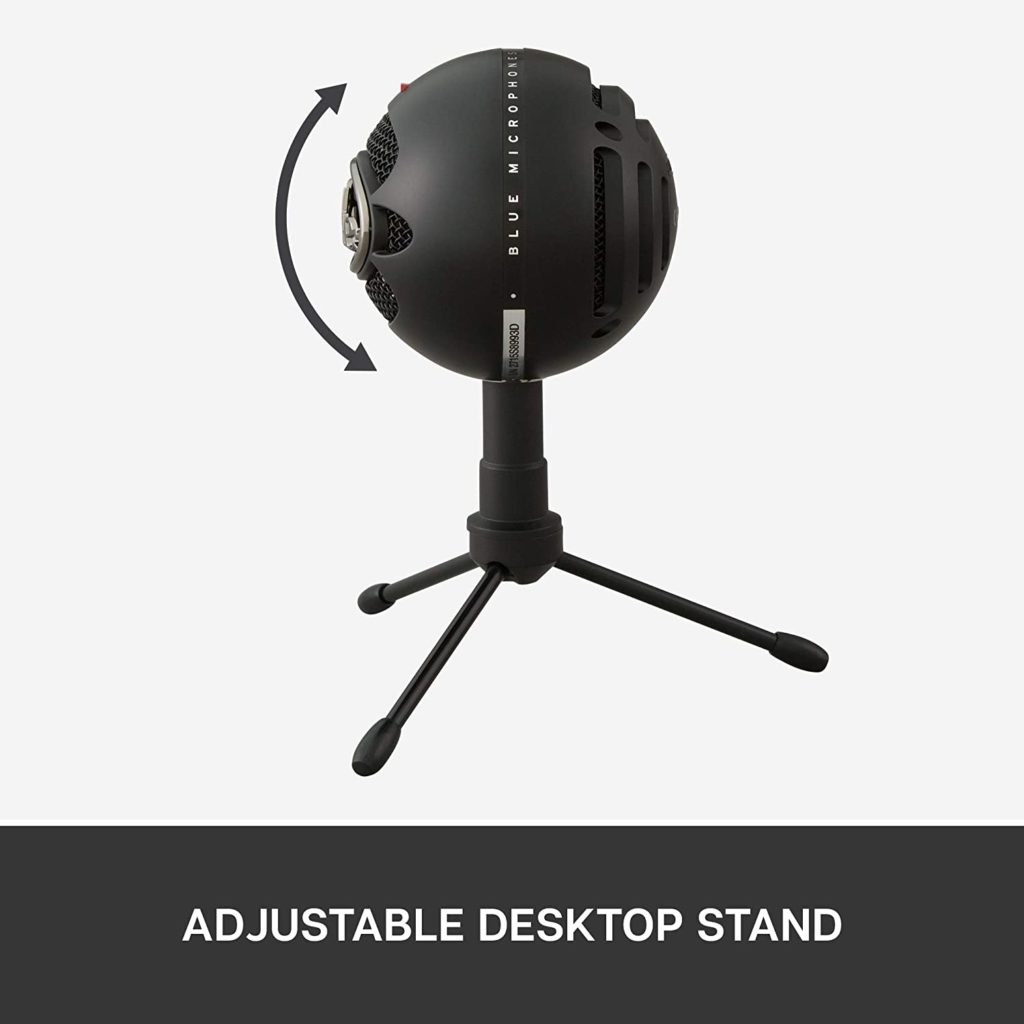 It does not pick up much background noise and actually sounds with a crisp tone. It will catch everything you say, and will exclude all the extraneous humming or wheezing.
Nobody from another side will hear keyboard typing, mouse-clicking, or doors opening and closing. It will also sound good with the laptop fan running and AC in the background.
Thanks to the Blues custom condenser capsule, the sound is extremely clear. The built-in mic of the computer just cannot beat that. And you can transform your workplace into something cosmic using a Compact broadcast boom arm and Ringer shock mount.
We loved using this microphone, it is very stylish with a superb sound and a lot of useful features.
9. TONOR USB Microphone
This mic is very reasonably priced and still of pretty impressive quality. It has a fantastic sound quality and is very easy to use.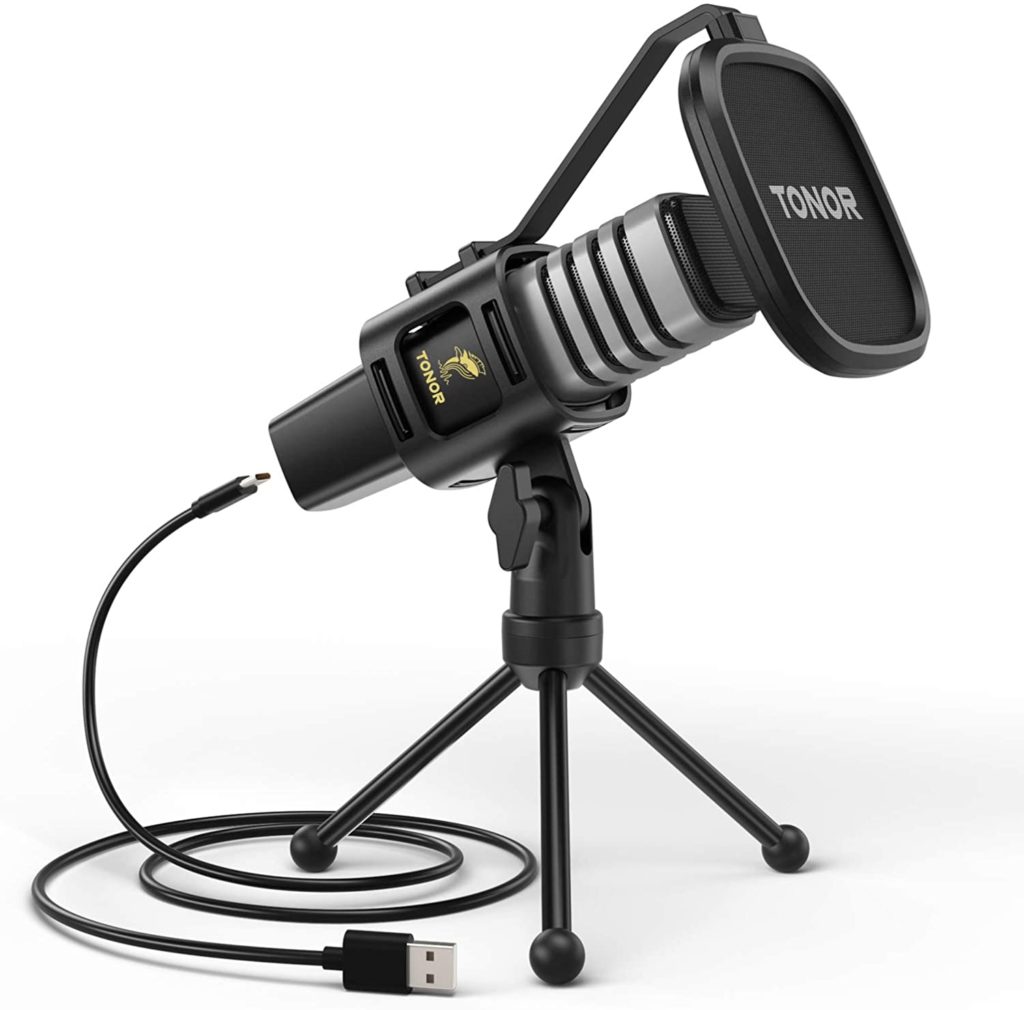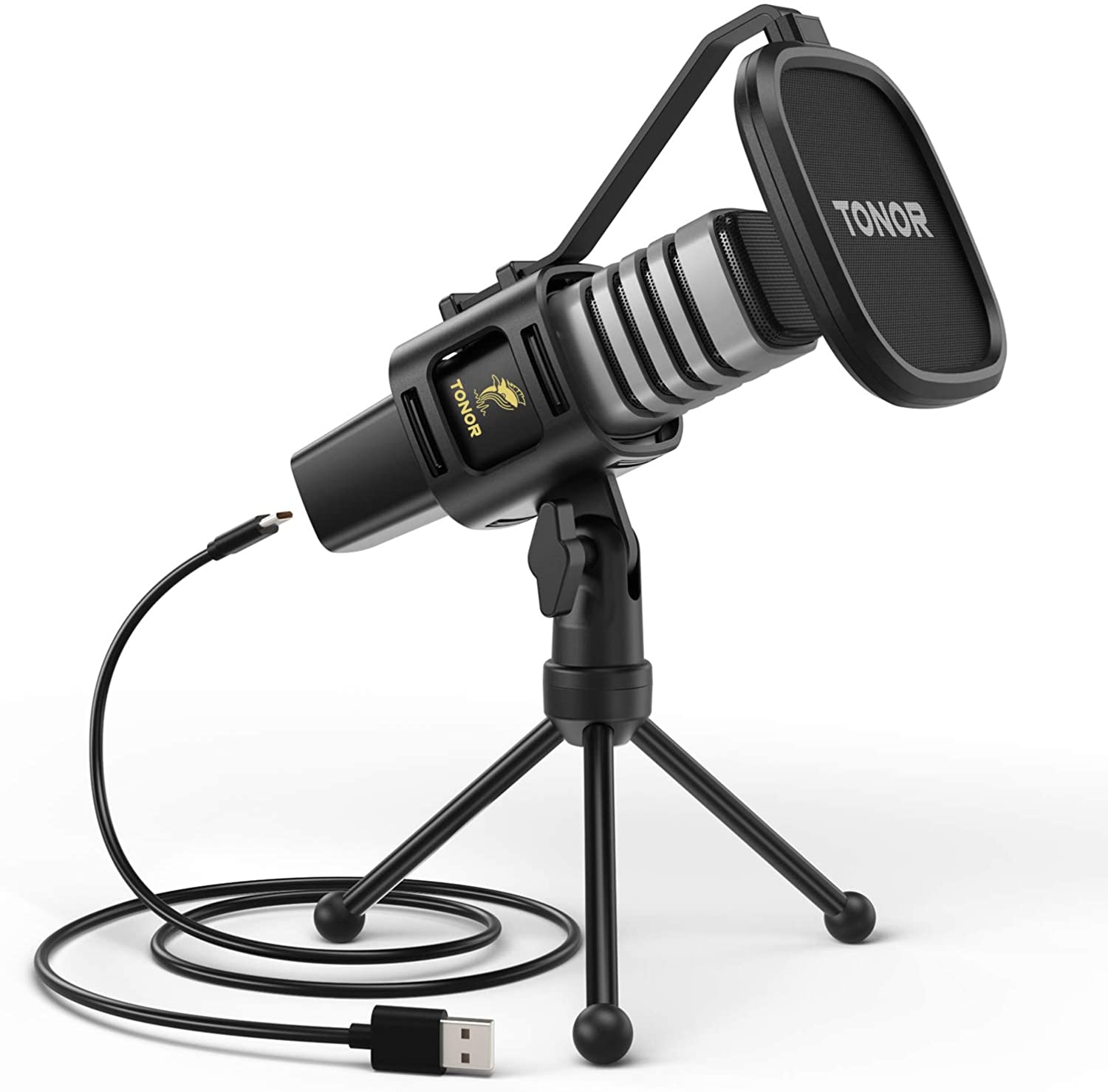 The only thing you have to do is plug it into the USB port. We promise, there will be no droning background, muffling voice, crackling, and skipping recordings. And no additional software is needed.
It comes in a classic white box with golden lettering. The box is very firm, and that is how you know the contents will not be damaged or jostled around. There is also grey foam which holds the mic in place and protects it. Everything is thought out from A to Z in the TONOR Mic.
The reproduction is spot-on, you will be very surprised by the clarity of the sound. It records at a great level, no need to do any post-production work on the sound. And if you compare the TONOR Mic and the more expensive product, you will hardly notice any difference.
You do not get just a microphone, but also a shock mount, a tripod, and a pop filter. It means that you will have everything you need to get the device running. The build quality is solid and it sounds just right.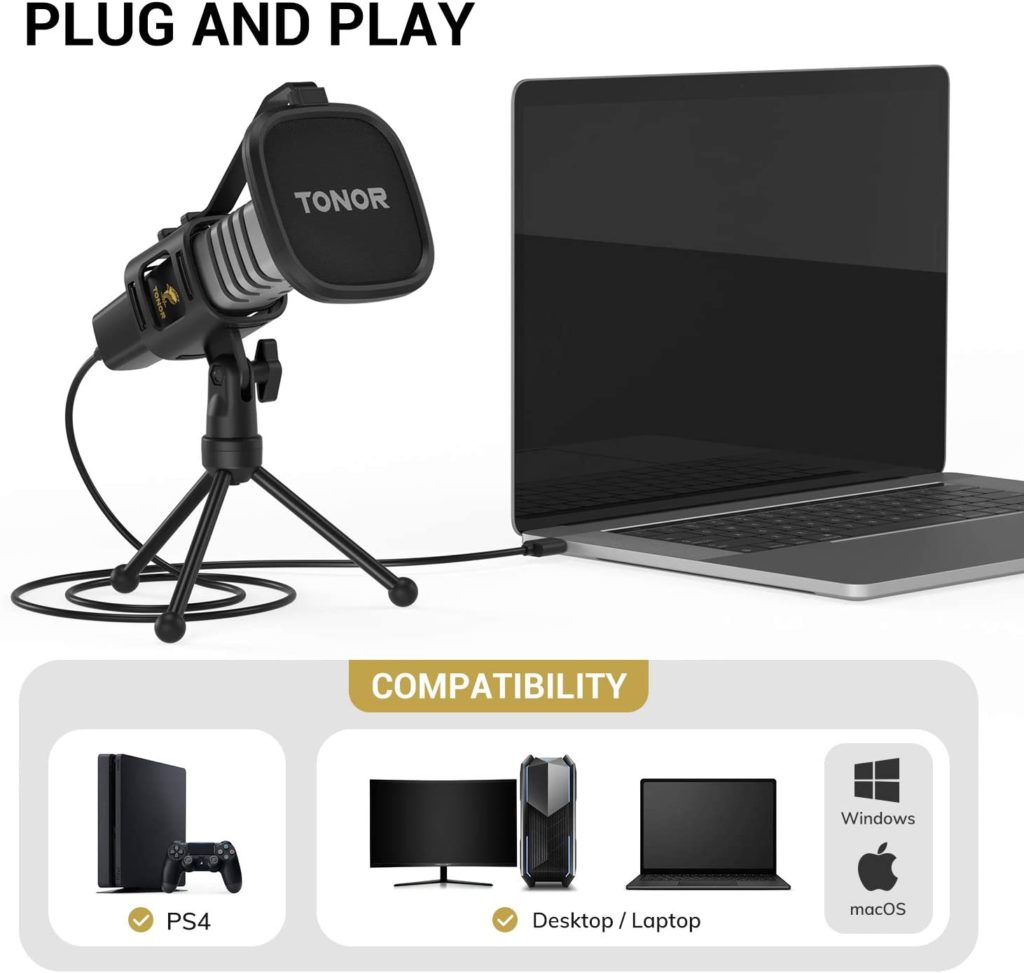 The low and middle sounds are well-balanced and the high sounds are rich and full. It also provides a cardioid polar pattern. Furthermore, the connector is USB Type C. You have to admit that this mic is pretty universal.
As for the tripod, it can be unscrewed to reveal a 5/8 inch thread, which means you can use this mic on a boom arm. It is very stable and steady.
The pop filter and shock mount decrease any unwanted noise in the background, and it makes the device even more usable for vocal recording. The mic is quite small, so it does not take too much space at your workplace.
Due to the high sensitivity of the TONOR Microphone, we highly recommend to use it with a low input level. It comes with a two-year warranty which is extremely long for the mic of this price range.
This mic surprised us with an affordable price and astonishing quality. Not so often you can find these two qualities in one product.
FAQ for voiceover microphones buyers
1. Is the sound of XLR and USB connection the same?
The volume will depend on the microphone preamp that you are collecting into. If you have a decent USB interface and preamp, the XLR output should easily exceed the internal USB codec. It is much better if your mic has both of these outputs. That way you can compare and decide for yourself.
2. How does the voiceover mic plug into the computer?
Most of the voiceover microphones plug into the computer via a USB port. All the power the mic need comes from a USB. If you decide to connect with analog, you will need phantom power.
3. Can voiceover mics be used with musical instruments?
Of course, an audio connector can be used on a computer and on an audio system as well. As such, it can work on any instrument or voice.
Technically speaking, any mic will work for any audio source. However, we advise investing in the mic exactly for these purposes, as the quality of the sound will differ.
4. Do I need an interface to control the sensitivity of the voiceover mic and the stereo recording?
The microphone has a knob allowing you to customize its sensitivity directly on the device itself. It always records a stereo signal over USB and defaults to two channels. However, you can adjust the directions using a built-in switch.
5. How well does the cardioid mode work with the voiceover condenser mic?
A condenser is a technology for sound capture. Cardioid is a capture pattern. The two of them are both important considerations, but they are not directly related or limited to each other. You can have a condenser mic that records in multiple patterns or that is limited to one pattern.