Are you fond of singing? Want to have fun and try something new? We offer you to try a karaoke microphone with voice changing function. You will be delighted!
Product
Details


KM770 Magic Voice

the microphone is not too heavy and can be handled by a child;

the speaker is surprisingly loud ;

the quality of the sound is a lot above average;

you can adjut the volume and echo. With the main button, it can change our voice to kids voice;

this is great for karaoke, recording, interviewing, or just playing around with a rap or a beatbox;

 

MOSOTECH 2019

 

you can connect this with smart TV or a Bluetooth speaker for great sound;

well-constructed microphone;

has a surprisingly powerful built-in speaker with a fun voice modulator;

the sound is not distorted and the eco feature is great;


Kidzlane Kids voice changer microphone




the Bluetooth feature is great - you can project any song you want through it;

the volume is great, the sound is clear;

many amazing features along with cute nursery rhymes booklet;

crazy easy to operate;
Karaoke Microphone KM770 Magic Voice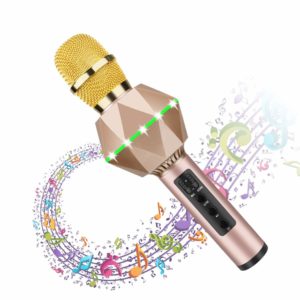 This wireless karaoke microphone is a unique model with loud stereo sound, flesh LED, amazing design and the ability to change your voice.
Lightweight, conveniently controlled microphone connects quickly and easily to any phone via Bluetooth.
The distinctive features of the mic:
A high-end, stylish diamond design.
Seven Colors flash LED lights.
Five voice changing options are available: original sound, little devil voice, robot sound, man voice, old man voice.
Diamond design fitting your hand perfectly.
6-8 hours of long working time without charging.
Why we liked it – The most important and coolest feature of this microphone is a voice change function at the touch of a button. You can change your voice to any desired: from a little devil voice to old man voice.
Thanks to it, you can have fun, sing your favorite songs in different interpretations or simply communicate with different voices in a friendly company.
Check price at Amazon
MOSOTECH 2019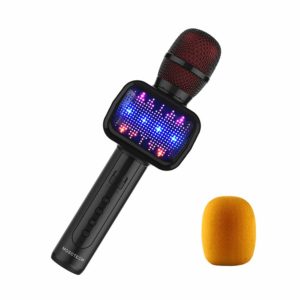 This microphone stands out among others for its unusual positive appearance and stunning KTV live-sound. The functional buttons complement the original design.
The distinctive features of the mic:
4 in 1 karaoke mic: Singing Recorder, Microphone, Voice Changer, Speaker.
The compact and fairly lightweight microphone fits easily into a small bag.
Colorful shining water wave LED lights.
There are four funny voices changing modes.
You can try Child Voice, Tough Voice, Male Voice, or Honey Voice.
Why we liked it – Portable, durable and lightweight, the MOSOTECH 2019 wireless karaoke microphone is comfortable to carry around. It's compatible with most mobile phones and tablets. Suitable for trips, picnics, parties, family entertainment, singing in karaoke, etc.
Check price at Amazon
Wireless Bluetooth Karaoke Microphone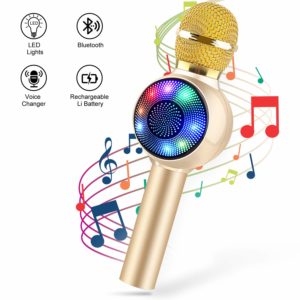 The incredibly cool microphone in a brilliant golden housing makes a strong impression on everyone around you, and it gives you a lot of pleasure while singing the songs.
The distinctive features of the mic:
Voice changer function: male voice, female voice, kid voice, girl's voice.
Adjustable LED light (seven colors).
The battery lasts for six hours of active use.
A wide range of applications: for a picnic, trips, parties, family entertainment, lectures, guide, singing in karaoke, etc.
According to customers reviews, the quality of sound is not the best, but if you're going to use it just as a voice changer, it's more than enough.
Why we liked it – Most of all, I like the stunning design of this mic. A smart little gadget that makes you feel like a real star! A great gift for karaoke lovers, as well as for those who want to try themselves as a performer of a modern song. And of course for young aspiring artists who will have to take the first steps on the stage.
Check price at Amazon
Mugig Karaoke Microphone
Mugig Karaoke Microphone is a multi-functional device. Nice and fun for kids and adults. With this device, a good holiday is undoubtedly guaranteed. And the children (and not only) will simply be crazy about such a gift!
The distinctive features of the mic:
Funny voice changing experience.
This microphone can play music while you're singing.
Accompaniment Generating function.
Wireless Bluetooth connection.
Simple and elegant design.
The mic is made of safe and harmless materials.
Why we liked it – I like its not frilly design and the combination of useful and entertaining features. This original wireless karaoke microphone guarantees you a great mood and fun pastime in any company.
Check price at Amazon
Kidzlane Kids Karaoke Microphone 
Thanks to this wonderful microphone, the child will be able to feel like a star and arrange a real karaoke concert for parents and relatives. The microphone is equipped with built-in Nursery Rhymes. Thanks to a variety of functions, you can find any melody for singing and play it.
Your child's dream of becoming a superstar will come true with Kidzlane karaoke microphone!
The distinctive features of the mic:
Solo and duet play are available.
Suitable for both girls and boys.
Voice changing technology.
Adjustable volume.
Recording function.
Bright design.
It can be connected to any device through Bluetooth.
Why we liked it – The microphone will allow your child to demonstrate his talent. Or you can just have a fun time together!
Check price at Amazon
BONAOK Kids Microphone
Children are always very interested in the microphone, so this toy will not be left unattended by the kids. They will be happy to sing using the voice change function.
The distinctive features of the mic:
A built-in louder speaker.
LED lights are organized in such a way that the mic looks like a robot.
Voice changing: Prince, Princess, Duke, Robot voice.
The toy is made of certified plastic.
Why we liked it – The microphone will not only raise the mood of the child but also allow him to show artistry and vocal, improve musical ear and sense of rhythm.
Check price at Amazon
KaraoKing Microphone for Kids
This is a popular microphone for the smallest singers in the form of a funny bear.
The distinctive features of the mic:
The microphone with Bluetooth, very funny and designed primarily for children aged about 3 to 5 years.
Made of plastic colorful colors.
Equally connects to both smartphones and tablets regardless of the operating system.
Include voice changing modes: woman, child, old man or robot.
Why we liked it – You can always take it with you, as it's very light, designed for children's hands. This is an awesome voice changing device for kids!
Check price at Amazon
---
FAQ
How to choose a microphone for karaoke at home?
To begin, let's talk about the banal. Before you start looking for a microphone, decide how you prefer to sing. It will be difficult to find the perfect option if you don't know what you are looking for.
For example, if you like to sing a duet, you will need two microphones – or even a few if you have a mini-choir with your friends. Then it's better to buy several microphones cheaper. If everyone will sing in turns, it's better to invest in one, but a very good one.
How does a wireless karaoke microphone differ from the usual?
Usually, the microphone is connected to the karaoke system via a 6.5 mm jack or 3.5 mini-jack connectors. However, many karaoke systems manufacturers love exotic connectors.
Wireless microphones for karaoke use different versions of Bluetooth to connect.
Which mic is suitable for karaoke: dynamic, condenser or electret?
Again, stop on the last option, despite the fact that its price is slightly higher than other models. This microphone has a built-in amplifier that improves sound quality. However, the dynamic version is also worthy of attention, if you want to save a little. Least of all a condenser microphone is suitable for karaoke, as it picks up not only the voice of the performer but all the extraneous noises.
Top Microphone Manufacturers?
As the many years of experience of karaoke fans and clear good sound shows, when choosing a microphone, it's better to choose from such well-known brands as AKG, Shure, Sennheiser. And this is not advertising at all, but only the opinion of consumers.
Of course, you can buy a cheap fake, but it's unlikely it will be able to please you as much as a well-made reliable brand thing. After all, you see, situations are different. There is no guarantee that someone will accidentally drop it. A cheap thing can easily be broken, while a branded microphone will not even change its sound.
---
Conclusion
Make your outdoor recreation, birthday or just a weekend more lively and exciting! Why go to a karaoke club, if you can just buy a microphone and enjoy your favorite songs without leaving the house. Moreover, with these karaoke microphones, you can change your voice beyond recognition. So, just have fun!