Often, the built-in microphone is not enough to get high-quality sound. To create a sound recording you need an excellent sound, respectively, a good microphone. Fortunately, there are many external microphones available to the modern user.
And before you start we also offer you to explore the best microphones compatible with Xbox. 
Product
Details


Shure MV88




versatile, programmable mic with great sound quality;

the sounds is supler clean and neat;

a compact format with a very nice and handy carrying case;

the software is easy, the microphone unobstrusive;


BOYA BY-PVM50

the sound quality is good, stereo panorama, overall surround sound transmission;
the vibro-suspension really works;
low noise processing;
makes it possible to shoot anything around, provides super sound for presentations and audio-video recorders;


Saramonic Mini SmartMic 

 

picks up natural sounds with no echo;

cuts a bit of background noise and makes the voice crisper;
easy to carry around and directly plugging into the cell;
---
External Microphones for Smartphones
Shure MV88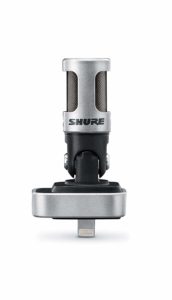 Shure MV88 digital condenser stereo microphone is designed for recording using Apple phones and tablets. Especially for this, the microphone is equipped with a Lightning connector. Thanks to it the connection is extremely simple and fast.
Features and Performance
The MV88 condenser microphone directly connects to any device on the iOS platform, while providing a high-quality sound recording. This is due to Shure's innovative technology.
The recording element itself is firmly attached to the base, which provides a rotation of 90 degrees. This makes it possible to direct the microphone directly to the sound source. Using the free ShurePlus MOTIV app, device users can choose from 5 ready-made presets, adjust the sensitivity of the microphone, and make EQ settings.
The directional pattern of the microphone can be adjusted automatically or manually. The all-metal construction allows you to work confidently in the most extreme conditions.
To sum up
According to the manufacturer, the MV88 model is ideal for recording video (for example, live concerts or clips). It is also noted that carefully selected capsules along with Mid-Side technology provide clear and detailed stereo sound.
Check price at Amazon
You may also like: 11 Best Directional Microphones
Saramonic Mini SmartMic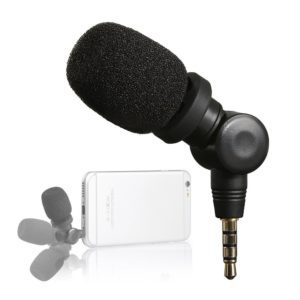 The Saramonic compact directional microphone has a simple design and only one miniJack 3.5 TRRS plug. The model is ideal for connecting to smartphones and tablets.
Also, SmartMic is perfect for working with stabilizers, because it doesnэt require additional mounting and installation space, and the weight of just 21 grams will not overload.
Features and Performance
The device is compatible with Apple products such as the iPhone, iPad, iPod Touch and Android phones. Compact directional microphone for smartphones with 3.5 mm headset input. Cardioid directivity allows you to cut off extraneous sounds coming from the rear hemisphere, thereby improving the quality of the sound recording.
The microphone rotates freely in the connector and also bends, which makes it possible to direct it in the right place. When using a fur windscreen (sold separately), you can get rid of the wind noise when recording outdoors.
To sum up
An external microphone will significantly improve the quality of the recorded sound. SmartMic is an indispensable thing if you shoot a video blog or even a mobile movie.
Check price at Amazon
Aputure A.lav ez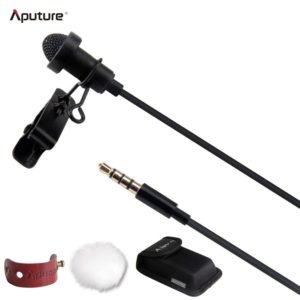 Aputure A.lav ez – high-quality lavalier omnidirectional microphone, ideal for recording sound when shooting video, ideal for use with smartphones, DSLR cameras, camcorders, etc. The microphone has a 3-meter high-strength wire, reinforced with Kevlar.
Features and Performance
If you want to use this microphone with a photo or video camera, you will need a DSLR adapter cable with 3.5mm jack female 4-pin for 3.5mm jack male 3-pin.
You can also try it for better sound recording on your YouTube channel. And it's designed for high-quality sound recording on the devices you have. Such as a phone or tablet, or, in general, any device capable of recording through 3.5 input.
This lavalier mic was created to record on iPad Pro 9.7 for iPhone 6 s Plus, as follows from the description of the seller, but fits almost any phone model that has a headset input and is capable of recording sound. But the phone must supply power to the microphone since the microphone is condenser and needs to be charged.
To sum up
The microphone has a foam and fur windscreens and durable mounting clip that can be removed. I really liked the sound quality of this microphone. I didn't find any special disadvantages here. Well, the impressions of its use are only positive.
Check price at Amazon
External Microphones for Photo and Video Cameras
BOYA BY-PVM50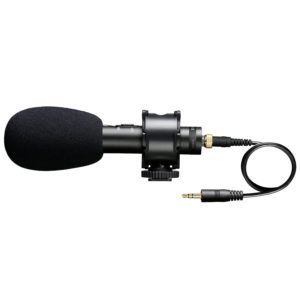 The compact and lightweight stereo condenser microphone BOYA BY-PVM50 is designed for use on DSLR cameras, digital recorders and camcorders.
Features and Performance
The microphone Boya BY-PVM50 is equipped with an anti-vibration mount with the ability to be installed in the camera's hot shoe. The standard elements of the LR44 are used for power, and the power button is placed on the body.
The microphone is connected to the camera using a 3.5mm cable. The Boya BY-PVM50 microphone has a compact size (153x50x56 mm). The small weight, equal to 80 g, allows you to comfortably use it with any camera without weighing it down.
The cable with 3.5 mm jack connectors included in the kit has a special screw fixation, which prevents an accidental pulling out. The model is equipped with foam and fur windscreens.
To sum up
For your money, this is a great microphone. Top quality compared to other budget options.
Check price at Amazon
Aputure V-Mic D1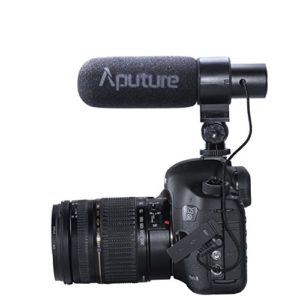 Microphone V-Mic D1 has a super-cardioid pattern and its characteristics close to the hyper-cardioid. This allows the microphone to act directionally and recognize the sound source necessary for recording.
Features and Performance
The V-Mic D1 uses a shockproof structure made of silica gel to prevent noise interference from the camera and lens. As well as a professional shock absorbing device design. This allows you to effectively suppress unnecessary sounds from the camera and lens.
The microphone is equipped with a background filter to suppress extraneous sound with a frequency below 80Hz, such as wind noise, camera focusing sound, car traffic, etc. A foam windshield and fur wind cover are supplied with the V-Mic D1. Foam windshield protects against breath sounds, fan noise. Fur will effectively eliminate wind blowing and improve sound quality outdoors.
The microphone detects the battery level and informs you when the battery level is low using a red LED.
Aputure V-Mic D1 is equipped with a filter to protect against radio interference, such as phones, Wi-Fi signal sources, and other sources. The V-Mic D1 has a hot shoe mount for mounting on most video cameras, as well as a 1/4 inch screw mount for attaching to racks and tripods.
To sum up
V-Mic D1 uses excellent electronic elements to suppress noise. It can capture the voice more cleanly, with minimal interference. The design of the V-Mic D1 allows you to direct it 180 degrees up or down vertically and rotate 360 ​​degrees horizontally.
Check price at Amazon
BOYA BY-VM600
The Boya BY-VM600 condenser-type microphone has a cardio directionality and is intended for mounting on the camera during video recording.
Features and Performance
The device is controlled manually. The model operates in the frequency range 35-18000 Hz with a sensitivity of -38 dB. The connection between the microphone and the camera is through a wire.
The device weighing 95 g is protected from wind, so it can be used for shooting outdoors without the risk of sound distortion. A Boya BY-VM600 microphone is supplied with a case, foam and fur windscreens and a cable.
To sum up
A convenient hand-operated microphone allows you to quickly adjust the necessary sound recording parameters on the back of the microphone using switches.
The premium microphone capsule provides clear sound when recording even with high background noise, and a working design ensures maximum compatibility and sound quality. The built-in shock absorber in the Boya BY-VM600 minimizes unwanted vibrations.
Check price at Amazon
Commlite CVM-V30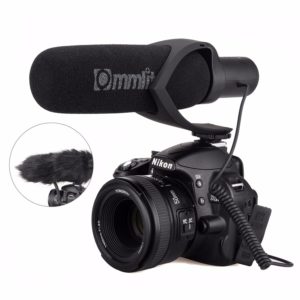 Commlite CVM-V30 external condenser professional microphone is designed for use with video and DSLR cameras, as well as with professional voice recorders.
Features and Performance
The solid construction and high quality of the materials used ensure a trouble-free operation of the device throughout the entire period of operation.
On the back of the microphone, there is the control panel. The on/off button is also the sensitivity adjustment button (in the middle position), with which you can choose an increase of + 10dB.
The microphone is fully compatible with any video cameras, digital compact and SLR cameras that have a standard microphone input, a MIC connector (3.5mm jack), as well as a standard cold or hot shoe for attaching external devices.
If the camera doesn't have a shoe, it's possible to install a microphone on any of the supports, which can be mounted in the hole in the bottom of the camera. If the camera has a shoe, but not a standard one, it's possible to install an adapter on a standard shoe.
To sum up
Designed to record sound when shooting video, it can be installed in a hot shoe, and remotely on the stand.
The microphone guarantees not only ease-of-use but high-quality sound even in the most difficult conditions.
Check price at Amazon
You may also like: 11 Best Choir Microphones
Pixel MC-50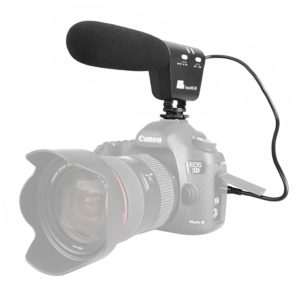 Pixel Voical MC-50 microphone is designed for professional use with digital SLR cameras and video cameras. Among the advantages of the model are shockproof high-strength body, high-quality sound recording, three degrees of intensity of the recorded sound, cardioid directivity and a low-cut filter.
Features and Performance
The 3-position switch provides the convenience of turning on/off both the microphone and the low-cut filter, and two LED indicators signal that the microphone is turned on (green) and the recording mode (red).
The use of a windshield made of high quality imported sponge material can significantly reduce the level of noise and provides a high and clear sound quality.
An integrated damper effectively suppresses vibrations and noise arising in the process of shooting. The versatility of using a microphone when shooting various scenes indoors and outdoors allows you to get high-quality sound in any conditions: during interviews, during club events, press conferences, weddings and traveling.
Despite its lightweight and compact dimensions, the Voical MS-50 provides a professional level of recording due to its supercardioid polar pattern and bipolar output FET buffer.
A universal cable with a standard 3.5 mm mini stereo plug ensures compatibility with all modern photo and video cameras, a shock resistant mount significantly reduces the noise between the microphone and the recording device in the process of photo and video shooting.
To sum up
The elegant black color and sophisticated design indicate that the microphone belongs to a professional brand, and the high-quality lightweight body material makes it easy to use the microphone indoors and outdoors, fully satisfying the user's need for high-quality recording.
Check price at Amazon
Universal Microphones Compatible with DSLR Cameras, Camcorders, Smartphones, Tablets, & Laptops
BOYA BY-MM1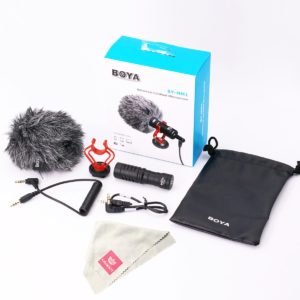 A compact microphone in a rugged aluminum housing is suitable for recording high-quality sound when shooting video and recording audio. Since it's lightweight, it can be used with any types of cameras, camcorders, smartphones of another kind of recorders.
Features and Performance
Connecting the microphone to the devices is easy, as the kit includes two TRS and TRRS cables with a standard 3.5mm audio jack. To connect the microphone to the smartphone, it's enough to connect it to a regular headphone jack with a TTRS cable (4 pins).
A special mount will help to conveniently fix the microphone to the camera, with which the microphone is fixed on the camera's hot shoe. To fix the microphone on your smartphone you will need to purchase a special rig mount.
For audio recording on the street, when a strong wind blows, you should use a windshield that comes with your microphone. It reduces noise and unnecessary sounds that will interfere with the quality of the recording. A special anti-vibration microphone mount reduces unwanted shaking and mechanical vibrations.
A significant advantage of the BY-MM1 microphone is that it doesn't need phantom or additional power (battery), which makes it possible to work with a wide choice of recorders.
To sum up
The microphone has excellent amplitude-frequency characteristics, covering the range of sounds with a frequency of 35-18 kHz. The device provides high-quality voice and sound recording without distortion.
Check price at Amazon
Aputure A.lav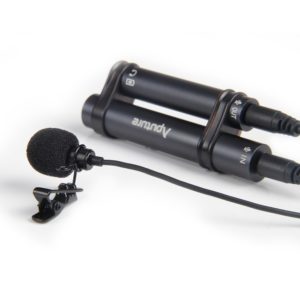 The Aputure A.lav Omnidirectional Condenser Lavalier Microphone is designed for DSLR and video cameras, audio recorders, phones, and tablets.
The microphone has excellent characteristics, including signal-to-noise ratio, wide dynamic range, and smooth frequency response. All this allows you to record a clean, bright, natural sound of a professional level in almost any situation.
Features and Performance
It's active and can be used with almost any recording device. Operating time from the built-in battery is about 200 hours. A unique LED status indicator will inform the user about the battery level.
A feature of the microphone Aputure A.lav is a built-in port for connecting headphones, which allows you to monitor the recorded signal in real time.
* The function works only with some models of smartphones.
The microphone has good sensitivity characteristics, signal-to-noise ratio (65 dB SPL), dynamic (114 dB) and frequency (50 – 20,000 Hz) ranges. All this gives an accurate audio signal with minimal distortion (THD up to 1%). As a result, you get professional-quality audio recordings with clear sound.
The microphone has a maximum sound pressure (SPL) above 100 dB, which means that your voice will sound clearly and evenly in the conditions of extraneous background noise. For example, the loud car signal at a distance of 5-7 m will muffle the recording, the voice will be clearly audible even in the conditions of a blacksmith shop or a noisy factory.
Thanks to the standard audio input and output, you can connect any device to it: a mobile phone, tablet, camera, voice recorder.
There is a connector for charging and monitor. The kit also includes adapters, including micro USB, allowing you to charge the device using a regular charger. A full battery charge lasts for 200 hours of work.
To sum up
The microphone can be used in a variety of situations that require high-quality sound recording — lectures, voice acting, public speaking and interviews, sound recording for video blogging and many other situations.
The small and compact size of the Aputure A.lav microphone makes it almost an ideal solution for most applications.
Check price at Amazon
FAQ
Q: What kinds of external microphones are there?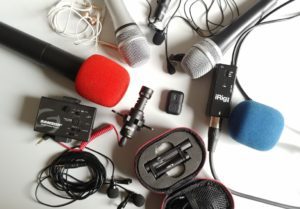 Based on the design features and appearance, microphones can be classified into 3 categories:
Lavalier. A lapel microphone is ideal for working during interviews, video reviews, broadcasting or master classes. The lapel mic is attached to the clothes, and the distance from the microphone to the speaker's mouth should not be long enough to capture the sound. By the way, the closer the microphone is to the sound source, the lower the noise level will be. There are wired and wireless lavalier microphones.
Lapel microphones have drawbacks. These mics, as a rule, are non-directional, and therefore extraneous noises on the recording are heard as clearly as the useful signal (that is, the voice). In addition, the lavalier mic isn't suitable for recording music due to the limited frequency range.
Shotgun. Such devices create a directional sound recording. Thanks to the built-in special screens, the received sound is filtered from various extraneous noises, and the models are used in cases when primary importance is given to the high-quality audio.
Shotgun mics are also not suitable for recording songs – precisely because of the focus. Microphones of this type don't record reverberation and echo, and in fact, it's sound reflections that make the music "live".
Stereo. Such equipment is required by musicians. A stereo microphone captures the sound throughout the room, which means it captures the useful reflections that are so important for the vividness of the composition.
Q: Who needs an external microphone for a smartphone?
Potential users of external microphones are:
Journalists/interviewers. Interviewing can take place in a noisy place (on the street or in a cafe) – the built-in microphone of the gadget will not exactly suitable in such conditions.
Musicians. For musicians, it's extremely important to be able to "catch the muse by the tail" – fix a melody that suddenly sounded in the head.
Students. Thanks to the external microphone, you can record a lecture on audio.
Bloggers. It doesn't matter whether the blogger shoots technical reviews or just funny videos – if the sound quality is low his videos will not become popular.
Q: What microphones are used for video systems?
On the market, such gadgets are presented in a wide range. They are divided to:
The first type is the most popular. But its use doesn't allow to get clear sound since the device has a wide directional pattern. This feature leads to recording not only human speech but everything that happens around, from trills of birds and meowing of cats to the roar of transport.
External microphones for video surveillance systems are usually located outside the camera. They are wired, plug-in to equipment and wireless. Microphones of this class give better sound because they can be located only a short distance from the object being monitored. However, when recording at a distance, the sound quality doesn't change.
Q: Microphone for the camera system – how to choose?
Specialists advise choosing external microphones for use in security systems. This is explained very simply. Places for mounting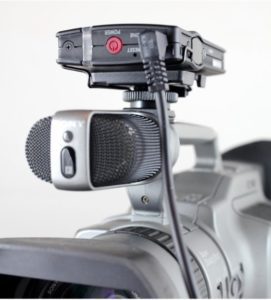 the camcorder and microphone are usually fundamentally different.
Usually, video equipment should be located at a sufficiently large distance from the object of observation.
Indoors, they are placed on walls or directly on the ceiling. When the camera is equipped with a built-in microphone for observation at such an arrangement, it falls into an area where sounds from various equipment located in the controlled area are also recorded.
Therefore, the audio quality will be poor and will require complex processing. At the same time, directional systems should not be used either, since they are quite large in size and also high in cost.
It's better to choose an external microphone and place it as close as possible to the object. It's good if it's an active device, as it is equipped with a preamp to reduce distortion and interference.
Q: How to choose an external microphone for a smartphone?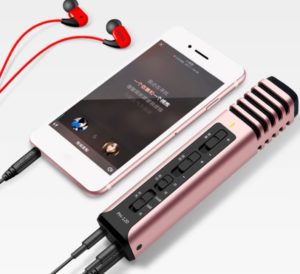 When choosing an external microphone, it's necessary to take into account the purpose of using the equipment. Obviously, the "indoor" blogger, professional interviewer and musician will have different requirements for the recording device. If a user buys a microphone to record voices and conversations, he should pay attention to the following:
Cable length. This indicator is important for lavalier microphones. 1.5 meters will be quite enough for convenient operation of the equipment. There are microphones with cables of 6 meters or more in the set.
The size of the microphone. The larger the microphone, the higher the recording quality. Video bloggers, for which only readability is important, a lavalier mic of a small size will suit – like Rode SmartLav +. Professional interviewers usually prefer directional shotguns.
Equipment. If we are talking about a lavalier, then in addition to the cable, there must be a clip for attaching to clothing and windscreen. Both elements seem very insignificant, but if they are absent, the user will understand how important they are.
Compatibility with devices. Unfortunately, some shotguns are able to work only with Apple gadgets. Therefore, if the equipment is purchased for Android, you should immediately tell the store's consultant about this. Lavalier mics are compatible with all Android, but only with a special adapter.
---
Conclusion
The quality of sound depends on many factors. And it's desirable to take them into account in order to get the best possible result.
In the modern market of mobile accessories, you can find recording equipment that can meet the requirements of even the most demanding audiophile. However, buying a microphone, the characteristics of which promise the highest sound quality, irrespective of the purpose of using this equipment is wrong. The user runs the risk of overpaying for benefits that are meaningless for the kind of activity that he is going to do.
Therefore, carefully choose an external microphone, weighing all the pros and cons.