Speaking before a small audience might be just as daunting as speaking before a large audience. Most of the time you don't need a microphone to reach an auditory of 20-30 people, especially if your venue has good acoustics. If it doesn't, however, then you might think of buying a microphone in order to highlight the voice of the speaker. If you are looking for a bigger audience – check this article.
What type of microphone is better to buy though? We suppose that lavalier microphones or lapel microphones are the best for speaking in front of a limited number of people. There are several reasons why:
Lavalier microphones are unnoticeable, which means that they won't distract you or your audience during a presentation;
You don't need to hold a lapel microphone, which gives you freedom of movement and gestures. And body language is an important part of communication!
There are no wires in which you can be entangled, so there's no need to worry about falling down or having other unpleasant incidents.
Below, we review 5 best lavalier microphones that are perfectly suitable for public speaking – quality gear first, cheap alternatives last!
Product
Details


Rode RodeLink Filmmaker Kit

small compact size;

pretty long battery life;

fantastic solution for recording video interviews with semi-pro camcorders and DSLRs;

fantastic sound - rich bass for nice chest tone;

picks up pleasant high-end sibilance from collar region;



Audio-Technica

versatile and provides high-quality sound;

made of sturdy materials resistant to strikes;

operation time is 8 hours;

the item is very lightweight and easy to carry around;



Shure CVL Centraverse Clip-On Condenser Microphone

great microphone capturing a good cone of voice all round the speakers head;

great sensitivity;

good sound quality for Conference Room, House of Worship applications;

the wire length is just perfect;

1. Rode RodeLink FM Digital Wireless Filmmaker System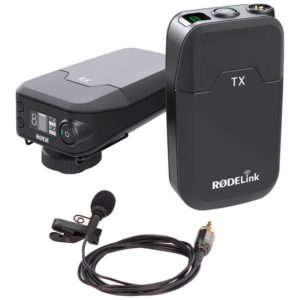 Price: $$$
RodeLink FM is a wireless system that has three components in it – a transmitter, a receiver, and an omnidirectional lavalier microphone.
This system costs quite a bit but what you get is semi-professional hardware so you won't spend your money in vain.
A transmitter is usually attached to a belt or put in a pocket – it should be located somewhere lower than your chest.
A receiver can be attached to a camera if you are filming something. If you are not, just make sure that the distance between the transmitter and the receiver is no longer than one hundred meters. I guess, no small venue has more than one hundred meters in it so there is no need to worry about the distance.
The system has an amazing ability to hop between the frequencies in order to get the best sound. The receiver has a display that shows battery status and some other details.
You can use either a couple of AA batteries or a micro USB in order to keep the device charged. All in all, this is a great choice for those who want to get good quality for a rather affordable price. There are cheaper versions, of course, but this one is a real hit!
Just one drawback – you won't be able to use several microphones with this system. It is designed in a way so that there were one transmitter, one receiver, and one microphone. If this is not what you need, keep searching!
Key features:
up to 100 meters range;
omnidirectional polar pattern;
can be powered by two AA batteries or microUSB;

series II, 2.4 GHz digital transmission.
2. Audio-Technica Wireless Microphone System (ATW2129BI)
Price: $$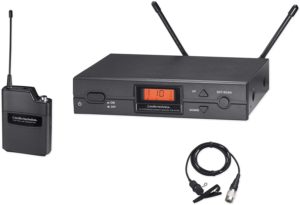 Audio-Technica Wireless Microphone System is suitable for any occasion – public speaking, performances, concerts, business meetings, and so on.
Spend your event in the most pleasurable way! This model is extremely lightweight – you can take it anywhere you want!
The manufacturer stands firmly behind the product quality and insists on using only high-grade materials. The materials are resistant to strikes and it offers stability and a long period of use.
This wireless microphone system features automatic frequency scanning, which allows you to set the most appropriate frequency.
It is equipped with an LCD screen, which guarantees easy and convenient battery checking. No need to worry about battery charging all the time.
This wireless microphone system can operate for more than 8 hours. It comes with a compact and easy-to-use microphone, which you can wear on the clothing.
It ensures ideal sound and confident speaking. The manufacturer underlines that you will not have any frequency coordination problems while working with this wireless microphone system. Ultimate protection! Make your performance, public speaking, or office presentation enjoyable and convenient!
Clear sound, sturdy construction, and easy use – the main characteristics of this model. If you are looking for the appropriate wireless microphone system at an affordable price, try this variant – it will totally suit you. Highly recommended!
Key features:
Frequency-agile UHF system
10 selectable channels
Compact design
Comes with the automatic frequency scanning
Includes reversible belt clip and fixation captive battery door
Reasonable price
Incorporated LCD display
Lightweight
Provided over 8 hours of functioning
Detachable antennas
Quality and high-impact materials
3. Sennheiser EW 112P G3-A omni-directional EW system
Price: $$$
Sennheiser EW 112P G3-A is one more two-channel wireless system. There are two lavalier microphones that can be used simultaneously.
Apart from the microphones, there is also a bodypack transmitter, a digital receiver, and some accessories needed for the whole system to function.
The mic is not so different from the previous option, however, its price is higher. This might be explained by the fact that the receiver here is pretty cool. What's more, the Sennheiser brand is renowned for its high-quality products. There are even batteries in the package so you can see how everything is thought through.
Apart from the batteries, the shipping package includes cables, windscreens, and a cool carrying back that can be filled with all of that.
The windscreens are very convenient – they are light and at the same time protect the recordings from noise very well. So, this is another great option for those who would like to have the opportunity to plug in two mics at the same time.
Key features:
two channels;
audio effects: equalizer, de-esser, automatic gain control;
interference prevention.
4. ZOWEETEK 10W Portable Mini Voice Amplifier With Wired Microphone
Price: $
This portable microphone is very convenient for speaking to a small audience. This is a lightweight device that is easy to attach to the chest and continues your work without any inconvenience.
You can be sure that your voice will be clear enough for other people to hear your speech. The microphone is equipped with a horn with double magnets, which is why you will be perfectly audible in a large room.
The microphone has a built-in lithium battery that can be recharged. This feature allows you to use microphones throughout the day without recharging. It is very convenient when you do not have the opportunity to take a break and find an outlet.
Moreover, the device can be used as a speaker. Sometimes it is important not only to talk to the crowd but also to let them listen to the audio recording. In this case, just connect the microphone to another gadget. The device supports 3.5mm AUX input.
The device has a small size and a special belt is included. You can fix the microphone on your chest or waist, hang it on your shoulder or fasten it on your belt.
Key features:
The microphone keeps the charge for a long time.
This is a compact device.
It can be used as a speaker.
High sound quality.
With constant and long-term use, the microphone can quickly come into disrepair.
5. Movo WMIC50 2.4GHz Wireless Lavalier Microphone System
Price: $
This one-hundred dollars wireless system is also something that is worth consideration. The price is rather low for such a system and yet it can do a good job.
Some users though complain that the included lavalier mic is quite noisy, so if you want a wireless system and you want it to be cheap, you can buy this Move combo and then add to that a new mic. So, just buy a mic separately and the problem is solved!
The shipping package is rather unusual. It includes a transmitter, a receiver that can be attached to a camera, a couple of belt clips, a lavalier microphone, and a couple of headphones.
Why would you need headphones? Apparently, for communication. In order to tell somebody who is managing the receiver, you can say a couple of words to your headphone mic.
The person 'on the other side will hear you and even will be able to answer you. This is very convenient in case there is something wrong. You can solve the problem quickly and without distracting the audience. Or you can also pretend as if you are a spy.
The distance between the receiver and the transmitter, by the way, can be up to 50 meters, which is pretty long.
If you do everything as written in the instructions (now, come on, who read the instructions!), then you'll get a wireless lavalier mic without paying an arm and a leg for it.
Definitely consider this option! Especially if the quality is not that important to you. I mean it is alright but the first models are better.
Key features:
cheap;
up to 50 meters transmission range;
audio input;
powered by two AAA batteries;
operation time: up to 4 hours.
6. Shure CVL Centraverse Clip-On Lavalier Condenser Microphone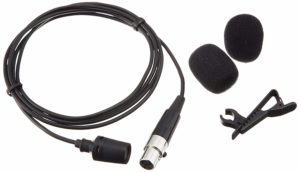 Price: $
If you are wondering whether lavalier microphones are sold separately from wireless systems, they are. This model, for example, is compatible with all the Shure wireless systems and yet it is sold separately. There can be many reasons why you would want to buy a mic without the system. The most obvious one is that the one you have is broken, damaged or incapable of producing high-quality sound.
Shure CVL is made especially for presentations. Of course, it can be used in many other situations, but the initial idea was to create an ideal microphone for public speaking. So, this is exactly what we need. The polar pattern of the mic is a unidirectional cardioid, which means it won't pick up background noise from the audience. Instead, it will focus just on your voice. The frequency response is tailored. It is also optimized for speech.
The shipping package of this one includes a microphone itself, a couple of wind muffs, and a clip for easy attaching. This is not unnoticeable, however, the sound quality of it is excellent. If you are looking for a Shure lavalier microphone to connect to your wireless system, you have found one!
Key features:
for use with Shure wireless systems;
features TA4F (TQG) connector;
cardioid polar pattern;

frequency response optimized for speaking and presentations.
7. Bietrun UHF Wireless Microphone Headset
Price: $
If you often have to work with the public for a long time, then this microphone is a good choice to purchase.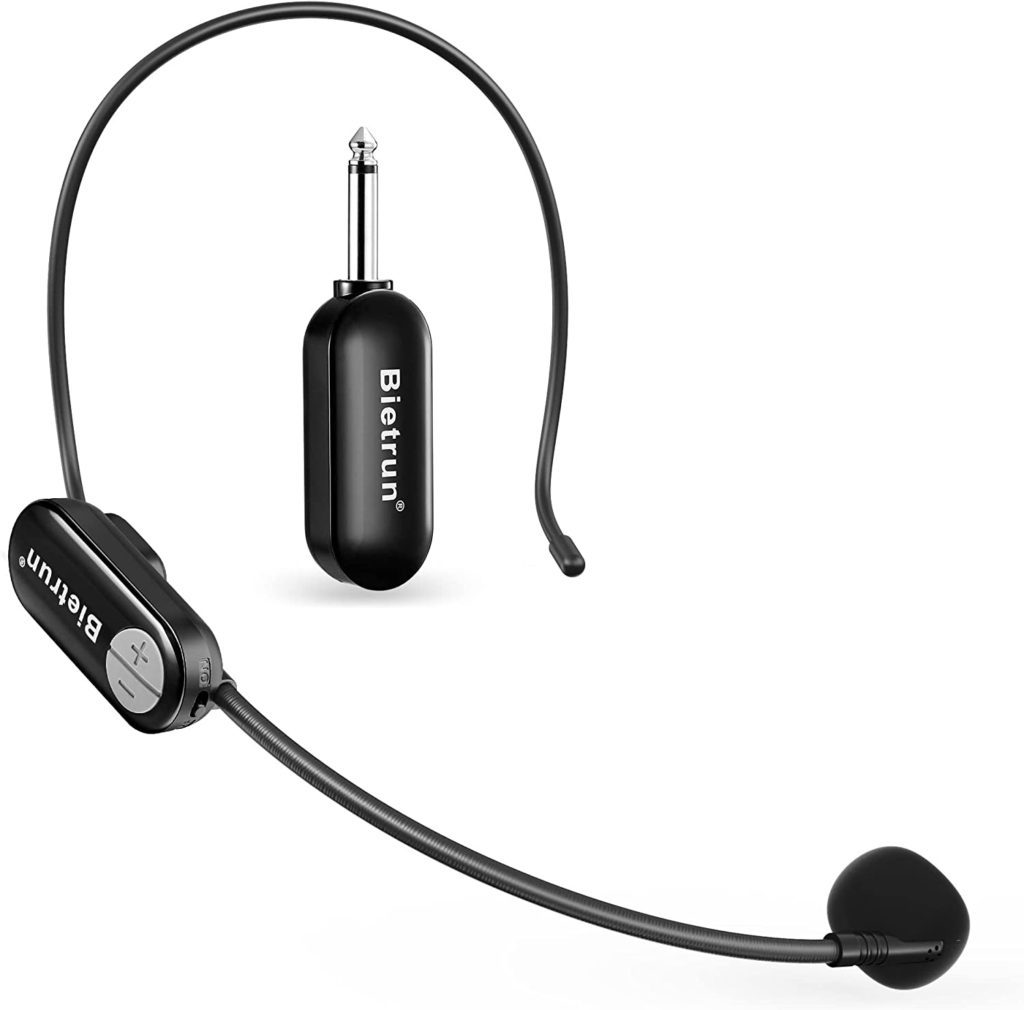 The device perfectly copes with its task and plays sound without interference and delays.
The microphone is provided with a lithium-ion battery that can be charged using a USB wire. Charging takes only 2.5 hours, while the long-term operation of the device is 6 hours.
The device has a useful feature. This is a transformer microphone. You can use it by putting it on your head, in which case your hands are completely free.
However, it is also possible to turn the microphone into a handheld with just a few movements.
The microphone can operate at a distance of 160 feet. This allows you to move freely around the room without worrying that the connection may be interrupted and no one will hear you.
The device can only be connected via the microphone jack. The AUX plug will not work, keep this in mind when buying.
Key features:
The wireless microphone supports a long working distance.
The sound quality is great.
There are headset and handheld modes.
---
Tips on how to speak in front of a small audience
Sometimes even the best microphone can't save you. If you have trouble talking to an audience, first you need to overcome your fear and learn a few tips on how to deliver a speech, a lecture, or any other kind of presentation flawlessly.
1) It is necessary to be prepared. If you don't know what to say, often forget the needed words or the necessary information, your speech will be rather clumsy. If you can, try to learn the speech by heart or at least repeat it to yourself several times.
It makes sense not to use notes very often – it gives you a conversationalist style, which is always pleasant to listen to.
2) Once you've got yourself prepared, think of some other small details like whether you can take a walk in front of an audience when necessary or drink water in those awkward moments of silence. Everything must look natural but there is nothing wrong with preparing ahead for what's important.
If you can, take time for visiting the venue in which you are going to speak before the actual event. It will help you to feel more relaxed, once you've been handed a microphone.
3) Mind your posture! Don't think much about your body language – it will do its job anyway. It is more important not to lean much. Make sure you are present and everybody can see you and hear you.
4) If you are afraid of talking to several people, imagine as if you were talking to one person – a friend or a colleague. You don't need to change your voice or use unnatural words in your speech.
It is always better to keep your integrity and authenticity. After all, what is the difference between one person and 20-30 people? Each one first and foremost perceives you as a communicator.
5) While having a conversationalist style is important, engaging your audience all the time in what you are saying can be annoying. You can ask a couple of questions or ask people to raise their hands but make sure you don't do it all the time.
After all, it is a speech, don't make it too interactive.
6) Communication means eye contact. Instead of staring at your notes all the time, take a look at your audience. I promise it is not that scary. Once, you've looked at someone, you can redirect your gaze at someone else.
This way, you will make everyone believe as if you were talking directly to them. This is quite a nice feeling. Just make sure it all looks natural. As they say, the practice creates the master.
7) Keep your eyes on the ball. In other words, eye contact and other details may be important, but not as important as the goal of your speech. It is vital to stick to your topic. Focus on one particular idea that is in one way or another connected with everything else that you are saying.
Not only will it make your speech more memorable, but it will also help you to organize the information more carefully. Digressions can be useful sometimes and can help to entertain an audience but don't let them lead you astray. In fact, ideally even digressions should complement your goal.
8) Finally, don't speak too fast. But also don't speak too slow. Choose a normal speed for delivering your speech so that, on the one hand, everybody could catch up with you and, on the other hand, nobody would think you are boring or sleepy.
You can also think about your tone, pitch, timbre, and prosody. While these are all very important, the most important and difficult task is just to be yourself. Don't try too hard!
---
Conclusion
Hopefully, this article has helped you to find the microphone you were looking for. Maybe it has also given you ideas on what kind of preparation you can do before making a speech. After all, the size of the audience doesn't really matter.
What matters is your message and genuine efforts to deliver it. Buying a proper microphone is a great way to start!