You must agree that the choice of a vocal microphone is especially individual: what suits one person may not suit another person at all. To make a decent choice, you need to know the features of the performance of this or that type of microphone.
Below I have provided an overview of the best studio microphones for live vocals. Let's figure it out!
Product
Details


Audio-Technica AT2010

super clear without being harsh;

has a very good proximity response;

the sound is rich and full, 

nice open top end;

has a tighter polar pattern that will easily reject sound form the sides and back of the microphone;

Audix VX5

 

very warm and super clear;

has great gain without feedback;

picks up the nuances of a good singer and isn't overwhelmed by a powerful singer;

the sound signature is clear, warm, not harsh at all, make sure to engage that roll off though;


Shure Super 55 Deluxe

the sound is rich and full;

the mic cage is well constructed of stainless steel, very solid and sturdy;

excellent gain before feedback allows for this mic to be close to stage monitors and gain cranked without any worries;

works perfect as a vocal or speech microphone for live events, podcasts, or broadcast;
You may also like: Best vocal recording microphones
---
Audio-Technica AT2010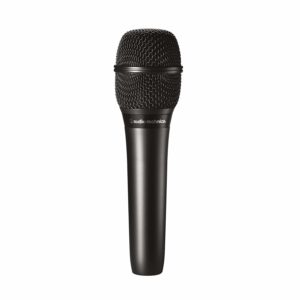 The AT2010 is a great microphone with crystal clear sound for recording vocals in a professional studio, or for live performances on stage. It has a powerful sound, good noise reduction, a clear sound transmission even when the distance from the sound source is changed and is perfect for professional vocalists or sound producers.
Features and Performance
Enhanced frequency response provides a smooth, natural sound;
Copes with a high sound level;
Wide frequency range;
The cardioid pattern cuts off third-party sounds from the back and sides, isolating the main frontal signal;
Special safety grille protects against explosive sounds and hissing while maintaining clear high frequencies;
Robust metal construction.
Technical characteristics:
Polar Pattern -Cardioid
Frequency Response – 40-20,000 Hz
Impedance – 100 Ohm
Maximum SPL – 136 dB
Phantom Power Requirements – 48V 
Sensitivity – 48 dB
To sum up: Audio-Technica AT2010 – representative of the famous series of 20 microphones from Audio-Technica. It is designed to bring intelligibility, articulation, and crystal clarity to the vocal transmission, typical of high-quality studio microphones, to the stage.

Check price at Amazon
You may also like: 12 Best Voice Over Microphones
Shure Beta 58A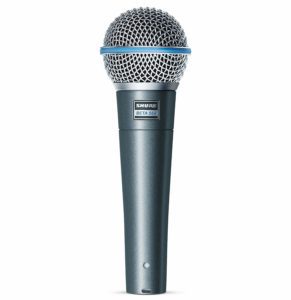 Looking for a reliable vocal microphone with great sound for all occasions? Try Beta 58A! It's great for live performances, it's strong enough, and its super-cardioid polar pattern cuts off all the surrounding sounds except your vocals.
Features and Performance
The Beta 58 has a very high-frequency response, so it sounds great with any type of voice. If you prefer a clear, transparent and detailed sound, this microphone is made for you!
In addition, the microphone belongs to the low-impedance, having a resistance of only 150 Ohms. This allows you to work with the switching of any length, without fear of distortion.
For a person looking for a proven vocal stage microphone, Shure Beta 58A will be an excellent companion of performances and will perform well in terms of recording.
Technical characteristics:
Polar Pattern – Super – cardioid
Frequency Response – 50-16,000 Hz
Impedance – 150 Ohm
Phantom Power Requirements – 48V 
Sensitivity – 94 Db
To sum up: Over the years of its existence, the model has become one of the most popular among vocalists around the world, as it provides excellent sound quality and isolation from extraneous noise. Beta 58A is renowned as a professional supercardioid dynamic microphone that performs well on stages and in studios around the world.
Check price at Amazon
Audix VX5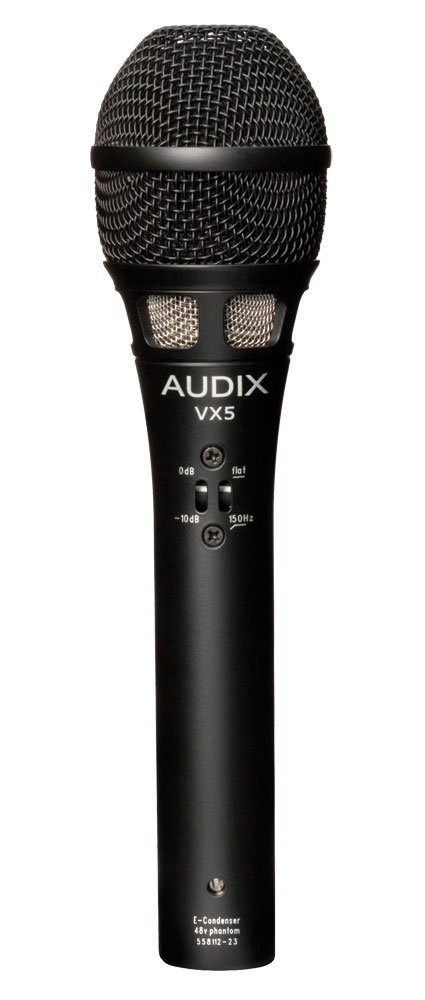 Audix VX5 is a multi-purpose, professional vocal condenser microphone designed for live performances, studio work, and broadcast applications. VX5 is characterized by a smooth amplitude-frequency response, resistance to acoustic feedback and the ability to work with a very high sound pressure level without distortion.
Features and Performance
The universal condenser microphone with super-cardioid directivity is distinguished by clear and precise sound. Ideal for both vocals and speech, as well as can be used for sounding musical instruments.
It has a low feedback level and high intelligibility and shows itself well at high sound pressure levels without distortion of the signal.
The wide frequency response allows you to transfer the smallest nuances and subtleties of voice when performing without loss of quality that will expand the capabilities of the performer.
The durable and lightweight construction reliably protects the capsule from falls and unwanted dirt and dust, and its low weight makes it convenient for frequent use at rehearsals, performances and when traveling.
It's worth noting that the microphone will be an excellent choice for anyone who is interested in purchasing a reliable product that can satisfy the needs of both a beginner and a professional performer.
Technical characteristics:
Polar Pattern -Cardioid
Frequency Response – 40-16,000 Hz
Impedance – 150 Ohm
Maximum SPL – 140 dB
Phantom Power Requirements – 48V 
Sensitivity – 6.9 mV
To sum up: VX5 is a versatile vocal condenser microphone created by professionals for professionals. Buying a vocal microphone Audix VX5, you get a durable and reliable product that has an excellent design, lightweight and decent sound. The microphone has a high build quality and fully justifies its cost. Suitable for professional performers and not only. Recommended!
Check price at Amazon
You may also like: Best microphones for computer recordings
Audio-Technica AE5400
We present you another popular vocal microphone – Audio-Technica AE5400 with a large diaphragm. This microphone has established itself as one of the most successful and reliable.
Features and Performance
This condenser microphone with a cardioid directivity is characterized by a low noise level and an excellent rich, bright and authentic sound. Its feature is the ability to work with minimal feedback, and its excellent sound is distinguishable in any mix.
Well suited for vocals and backing vocals, as well as for speech, or it can be used for miking other musical instruments.
The microphone is able to satisfy the demands of professional performers and musicians seeking the highest quality sound.
Technical characteristics:
Polar Pattern -Cardioid
Frequency Response – 20-20,000 Hz
Impedance – 150 Ohm
Maximum SPL – 147 dB
To sum up:  Audio-Technica AE5400 works well during live performances as well as studio recordings.
Check price at Amazon
You may also like: 7 Top Microphones for Public Speaking (small audience)
Blue enCore 300

Blue enCORE 300 is a condenser microphone, which is well suited for both the stage and the studio, the flagship of the enCORE series.
Features and Performance
Blue's engineers have specially developed phantom power that provides fast and powerful sound, perfect for strong vocals. Reinforced chassis design captures the capsule for optimal performance and isolation from mechanical noise while protecting the Aria Condenser capsule, giving you exciting performances over the years!
Technical characteristics:
Polar Pattern -Cardioid
Frequency Response – 40-20,000 Hz
Maximum SPL – 146 dB
Phantom Power Requirements – 48V 
Sensitivity – 11 mV
To sum up: EnCore 300 meets the highest quality standards and is equipped with a heavy metal base, reinforced grille, and a massive metal coating, ensuring that your microphone will work properly for a very long time. Blue – the creators of one of the best and unique studio microphones.
The EnCore microphone series continues the tradition of innovation and the highest quality of microphones for live performances. With Blue specials and manually selected capsules, the EnCore 300 guarantees clean and clear studio sound.
Check price at Amazon
Sennheiser E835 Dynamic Microphone
The Sennheiser E835 is a pocket dynamic vocal microphone that delivers incredible performance and reliability at an equally incredible price!
Features and Performance
The microphone is capable of processing high levels of sound pressure in excess of 150 dB. Add to this its modern design and its incredibly durable construction, and you get an affordable stage microphone created with the latest technology!
It doesn't matter if you use this microphone for a solo performance at a coffee shop or set up multiple microphones for a performance in a concert hall, the Sennheiser E835 is an excellent microphone that will never let you down.
The model has excellent noise resistance characteristics and allows you to make high-quality recordings in any situation. In addition, it has a robust metal body.
Technical characteristics:
Polar Pattern – Cardioid
Frequency Response – 40-16,000 Hz
Impedance – 350 Ohm
Sensitivity – 2.7 dB/Pa
To sum up: This microphone has a wide frequency range of 40 Hz to 16 kHz and a heroic dynamic range that can easily withstand a sound pressure level in excess of 150 dB – exactly what you need for various live applications.
Although the device is incredibly sensitive to sounds, its advanced shockmount design reduces handling noise.
Shure Super 55 Deluxe Vocal Microphone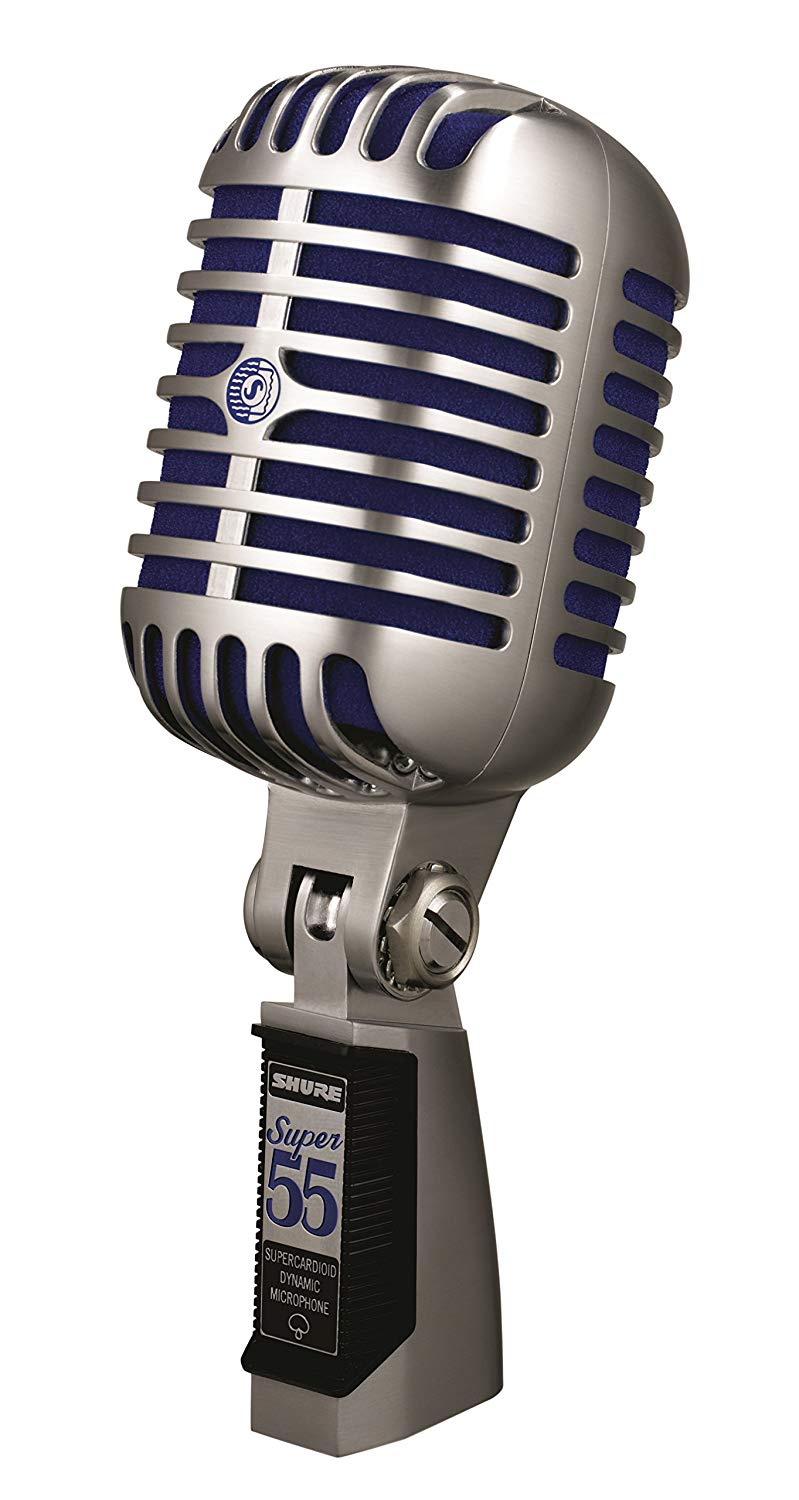 The surprisingly laconic retro design of Shure Super 55 Deluxe Vocal Microphone is attractive to many musicians. This dynamic microphone combines a vintage look and modern reliability and quality of work – in short, this is a smart looking microphone that sounds great.  The microphone is manufactured by Shure, a leader in the music market of acoustic equipment. Let's take a closer look at it.
Features and Performance
The vocal dynamic microphone ShureSuper 55 Deluxe is made in retro style with a unique cast chrome body and vibrant blue color additions.
Supercardioid polar pattern and increased sensitivity allow you to gain professional studio sound, with reliable voice articulation. The design of the microphone provides a high level of feedback suppression.
The design minimizes noise during operation and the robust cast chrome body ensures reliability in all conditions. Swivel mount allows you to tilt the microphone 45 ° forward and 80 ° backward.
Technical characteristics:
Polar Pattern -Cardioid
Frequency Response – 60-17,000 Hz
Impedance – 150 Ohm
Sensitivity – 53.0 dBV/Pa
To sum up: A classic microphone with a "nostalgic" appearance at the same time has a durable body. It's great for reproducing excellent vocal qualities.
Check price at Amazon
---
FAQ
Q: What is the difference between a condenser microphone and a dynamic one?
– Condenser microphones, as a rule, have a wider frequency range than dynamic ones. However, there are exceptions.
– Condenser microphones more often unidirectional, which is not the case with dynamic microphones.
– Unlike dynamic, condenser microphones need additional power, the role of which is usually performed by a battery or phantom power.
– The structure of condenser microphones allows even the smallest devices to be produced, while the mechanisms of a dynamic microphone impose significant restrictions on its size.
– Dynamic microphones have a higher overload capability, and therefore are commonly used for stage applications, as well as working with guitar amps and drums.
– Condenser microphones are well suited for acoustic instruments and studio vocal processing.
Q: What type of microphone should I use for live vocals?
Your decision on the choice of a condenser or dynamic microphone can be made by you not only depending on the sound source and sound amplification system but on the physical conditions of your microphone.
From a practical point of view, if the microphone will be used in such harsh conditions as outdoors, dynamic microphones will be your best choice. In a softer and more favorable environment for most sound sources, it is better to use condenser microphones, especially if you need to achieve the high-quality sound.
Q: How to test the microphone for singing?
You need to define the following properties:
1. Which of the tested samples most accurately conveys the timbre of your voice;
2. Understand how much the microphone changes the timbre of your voice during its removal from the mouth, changing its position when turning to the left – right or up – down;
3. How sensitive is the microphone for singing at close distance;
4. How much it is able to withstand sound when loudly singing, or how much distance it should be taken from the mouth and how this changes the timbre of your voice;
5. Does the microphone design have a silent switch that when you turn off the microphone doesn't create clicks in the line? This can be useful when you want to clear your throat in the intervals between singing, or take a deep breath, making it imperceptible to the viewer.
Q: So, in your plans – buy the best microphone for vocals. What parameters should be taken as a basis?
– Dynamic range. It is about the ability to catch faint sounds and not to "get lost" in loud ones.
– Sensitivity. The higher it is – the better, the ideal option – models equipped with a sensitivity switch.
– Frequency response. This criterion is especially important in cases where the device is selected to record the voice of a particular person.
– Directional specifications. Depending on this, microphones are non-directional, unidirectional and bidirectional. The first option is best suited for recording a group, the second is preferable for a duet, the third is used to work in difficult acoustic conditions.
Q: I don't understand anything in microphones. I want to buy a budget option. What to look for?
The first thing we pay attention to is frequency. As you know, there are low, medium and high frequencies. Buying a microphone is always driven by the genre you sing. An inexpensive vocal model doesn't cover all frequencies, so we focus on our own voice.
Those who sing in a high voice (for example, opera singers, female vocals) need to look at the models that cover the HF. In this case, the bass will not fall into the microphone. Accordingly, if you have a low baritone, pay attention to the low-frequency vocal microphones.
Check also: Best voice changing microphones
---
Conclusion
Today the market offers a huge number of vocal microphones of different types and different price categories.
Of course, the choice of a particular model depends on the capabilities and personal preferences of the musician, but don't forget about some of the recommendations that were outlined above.