Vlogging, YouTube, making videos, creating content, uploading new ones every week… Wait, wait, there are other keywords I wanted to include in this piece! That's not how I intended to start the article but it has already begun and I can't do anything about it now. Of course, I am here not for using as many keywords as possible and not for attracting new followers or subscribers. I am here to help you learn about what microphones you can use for making videos.
However, doesn't it scare you how many people these days are seeking fame on the internet? Every second person on the street is a blogger! Just imagine how many bites of information will be stored globally by the end of this century. 
You may also like: How to start a podcast fast & cheap
That is not to say that vlogging is a negative trend. It is just that the amount of information we have to deal with is overwhelming. And what is the best way to separate the wheat from the chaff? My answer would be quality. Good quality videos are more pleasant to look at and easier to comprehend.
There is so much hardware available these days to make the content better and with a style. Yet, not everyone is aware of that – or, at least, it seems so.
It doesn't matter whether you are a beginner or a professional – the microphones below will help you make videos with a crisp and clear sound.
Don't worry if you are just starting out and don't have a clue about what you need. Below, we'll try to figure out together what gear will turn you into a better vlogger.
You may also like: Best lavalier microphones
---
The first five microphones on this list are shotgun camera-mounted microphones. These can be attached to your camera which is very convenient both in making on-the-go videos and recording sit-down talks.
If you already own a camera, make sure that the mic you're buying is compatible with it. If you haven't bought a camera yet, you can discover many different options and choose the one that suits you best.
Some shotgun microphones are compatible with smartphones as well, so if you plan to record your first videos with a smartphone camera, you can still try to improve audio quality.
Product
Details


Sennheiser MKE 400 

great mic for YouTube content creators, both for sit-down videos and even vlogging style;

stereo separation;

excellent sound and dynamic range;

has a high-sensitivity setting for very quiet environments;


Deity V-Mic D3 Pro

crisp sound;

directly compatible with a lot of devices;

s

turdy mount and perfect to directly put in on top of the camera;


Audio-Technica ATR-3350IS

the metal battery box is of very good quality;

the sound is clear with no static or distortions of any kind;

consistent recording quality/volume;

easy setup;

the long cord;
1. Sennheiser MKE 400 Shotgun Microphone
Sennheiser MKE 400 is a great microphone compatible with all the cameras that have a standard hot shoe mount. It looks big in the picture, but in reality, the microphone is rather small. The compact size allows you to take it with you wherever you go.
The mic has a metal construction which is said to be durable and a stable shock mount which blocks the handling noise. What is remarkable is that you can change the sensitivity of this mic, making it more suitable for this or that environment. The polar pattern is, of course, directional – all the shotgun microphones have a directional polar pattern, be it cardioid or supercardioid. The directional polar pattern captures only the needed sour source, excluding all the off-axis noises.
Sennheiser MKE 400 is able to produce high-quality mono output which is exactly what's needed for good vlogs. One AAA-type battery can provide you with 300 hours of operating time and it's about how many vlogs? Lots of them! In a nutshell, this is a solid model that is definitely worth further consideration.
2. Deity V-Mic D3 Pro Super-Cardioid Directional Shotgun Microphone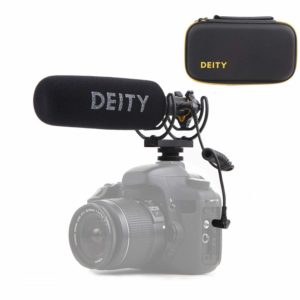 Deity is a new model that appeared in 2018. This mic is said to be better than the Rode VideoMic microphone which has remained the most famous model among vloggers for a long time. We'll talk about Rode hardware later. For now, let's review this Deity D3 mic.
The microphone represents a rather long tube which can be covered with a windshield. The windshield comes with the microphone. So does a carrying case, a cleaning kit, a Rycote Lyre cold shoe shock mount, and a TRRS to TRRS cable. Thanks to the fact that this mic connects through a TRRS cable, it is compatible with basically all the devices. All you'll need to connect it to the devices with a TRS input is a TRS/TRRS adapter. DSLR, GoPro, camcorders, smartphones, tablets, laptops – you can connect this mic to anything you've got.
The sound quality is amazing. With this mic, your videos will sound crisp and clear. Thanks to two low-cut filters, there is not so much volume in the sound which makes it sharper and more discernible. The shock mount of this mic is also designed in a way that allows the minimization of handling noise. The operating time is 50 hours which is ensured by a rechargeable lithium battery. You can use a USB cable to recharge it. All in all, this is an excellent camera microphone that can considerably improve the quality of your content.
3. Rode VideoMic Pro+ Compact Directional On-Camera Shotgun Condenser Microphone  TOP PICK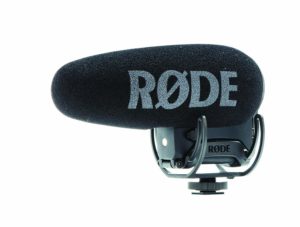 This mic is 100 bucks more expensive than the first two models. Why is that? What is so special about it? Let's find out. First of all, the Rode VideoMic has already become a golden standard among the video microphones. Rode VideoMic Pro+ is an update that comes with several new features and a slightly different interface (yes, there is an interface). So, here's a little lifehack – if you don't have enough money for Rode VideoMic Pro+, you can buy Rode VideoMic Pro which would be a very similar model that produces the sound of practically the same quality.
This mic has a supercardioid polar pattern which rejects side noises and takes in only what is in front of it. The high-pass filter allows you to cut the lows to avoid traffic noise or other unclear ambient sounds. The Rycote Lyre shock mount makes sure that the handling noise will be out of the recording too. As a result, we get pretty clear audio. The wide frequency range (20 – 20 000 Hz) makes it smooth and natural.
There are three ways of how you can power Rode VideoMic+ – the rechargeable lithium battery, two AA batteries, and a Micro USB cable. The last one is especially convenient for YouTube bloggers. If your rechargeable lithium battery has been drained, you can connect the microphone with it to some power source and continue to make videos. Taking everything into consideration, this mic deserves its fame. It is really one of the best microphones to use with cameras.
4. Rode VideoMicro Compact On-Camera Microphone
If the size of the microphones above bothers you, which is a normal thing, nobody wants to deal with balky equipment – then you might want to look for the models that are smaller in size. One of them is Rode VideoMicro.
This microphone is designed for entry-level cameras but it is compatible with most devices out there. The body of the mic is made of aluminum which ensures durability and RF rejection. There is also that Rycote Lyre suspension shock mount which prevents the handling noise from entering audio.
In general, this microphone is slightly better than your camera's embedded mic. It creates directionality which sometimes can considerably increase the quality of recordings. If you are a beginner then this microphone will be great for you. The price is low so there will be no regrets if the quality turns out to be worse than you expected. Most reviews are positive though so you can sure that you're buying a quality product.
5. Shure VP83F LensHopper Camera-Mounted Condenser Microphone
Shure LensHopper is definitely one fo the best microphones when it comes to video recording. It comes in two versions – with and without flash recording. What does flash recording even mean? It means that you can record audio on a MicroSD, for which there is an input in the microphone. Having this kind of back-up is safe and secure and that's why there are only benefits from having the flash recording.
Among other cool features of this model is an LCD screen that shows battery status and some other details. The mic, by the way, is powered by two AA microphone. For many people, this is the best way to power a device since AA-type batteries can be found practically everywhere (just don't forget to take care of the environment and drop them after the usage in a special place).
Besides the LCD screen, the mic also has control which makes you regulate the recording quick and easy. There is also a headphone jack for monitoring the recording in real time. This feature is especially great in case you are filming something other than yourself.
As for the sound quality, here it is truly amazing. The combination of a low-cut filter and wide frequency response allows for the production of pristine and natural sounds. If you ask me, I would definitely consider this mic as a possible purchase.
The two microphones below are lavalier. You can also call them lapel or clip-on. These mics are very small. They are attached to clothing somewhere below your chin. If you film yourself most of the time, you may consider a lavalier microphone as a viable option. Lavs are designed to capture the voice of one particular speaker so in case you're planning to hold interviews, order a couple of them. 
6. MXL Mics MM-165GP Lavalier Microphone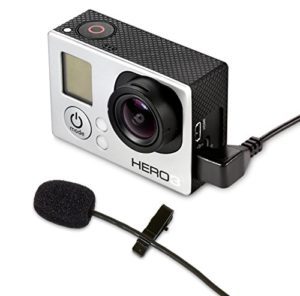 This MXL lavalier microphone is designed for GoPro camera. So if you are a GoPro user, rejoice! This option is for you. The microphone has an omnidirectional polar pattern which is very frequent among lapel mics. There is a special clip on its 5 ft cable so that you could attach the microphone to your clothes.
Unlike some other lavalier microphones, this one can be directly connected to a GoPro camera. You don't need to buy any adapters to make it compatible. It just works – plug and play.
The mic comes with a couple of windscreens that protect the recordings from wind, noise, and plosives. You can try it with other cameras as well. In general, if the idea of getting a lavalier mic seems great to you, this is the option you certainly need to check out.
To explore other microphones for GoPro cameras, visit this article.
7. Audio-Technica ATR-3350IS Omnidirectional Condenser Lavalier Mic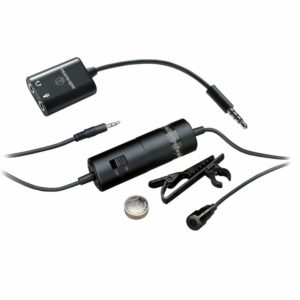 This lavalier microphone works with DSLR, camcorders, audio recorders, and more. It has a 1/8 output plug and therefore can be easily connected to all these devices. You can use a smartphone adapter to make the mic compatible with your smartphone as well.
The mic also has an omnidirectional pick-up pattern. Its head is rather small – it is hard to notice it at first sight. The sound quality is satisfactory. It is far from perfect but the developers tried to make it noise-resistant and all of that. It is not to say that they failed. For a starting YouTube channel, this is a great device, far better than the microphone incorporated in your phone or computer.
There are several items that you'll get with this mic – LR44 battery, a clip, a windscreen, and a cable. In sum, the mic is excellent for the beginners. By the way, all the lavalier mics that are connected directly to cameras or smartphones are quite cheap. It is the wireless systems that can cost you a fortune. That's why trying out these mics is less risky than the shotgun microphones, for example.
If you are interested in other lavalier models, you can check out this article.
The next three options are USB desktop microphones. These are used for sit-down videos. If you record your videos with creature comforts or, in other words, at home, then getting a USB mic might be the most convenient option for you. USB microphones don't require batteries, preamps, or any other additional units. Most work on a plug and play principle – you just plug a microphone into your computer and start recording. 
8. Rode NT-USB Versatile Studio-Quality USB Cardioid Condenser Microphone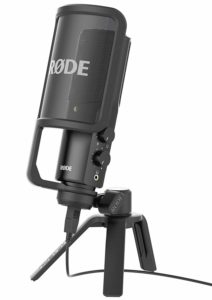 Rode NT-USB microphone is a great choice if you want a simple and smart solution. The mic is suitable for recording vocals, podcasts and, of course, YouTube videos. It is extremely easy to use. Just unpack your the box, set the microphone on its tripod stand and connect it to a computer through a USB cable. That's it – you can start the recording. Of course, it not best to use a camera and a mic separately, but sometimes it works out. Besides, you can always merge video with audio.
The microphone has a cardioid pick-up pattern and a wide frequency range. The sounds you get with this mic are crisp and clear. The pop shield, which you can see in the picture, protects it from plosives and other sharp sounds. This ends up in even clearer audio. On the side of the microphone, there is a headphone jack for real-time monitoring. There are also control buttons which let you regulate the recording process without referring to the computer.
All in all, the mic is great for home recording. If you are looking for a versatile microphone that can be used in many different situations, then Rode NT is exactly what you need.
9. Blue Yeti USB Microphone
Blue Yeti is another great USB mic that connects directly to your computer. The sound quality you'll get from it is amazing. The mic has the ability to respond to many frequencies or, in simpler terms, it has a wide frequency response. What is so cool and special about this model is that it has four polar patterns. So you are not presented just with a cardioid one, which is usually the case – you also get to use an omnidirectional polar pattern, a stereo one, and a figure eight (the one that captures the sound from two opposite sides and the one that is great for interviews).
The interface of this mic is awesome too. There are two buttons – mute and volume adjustment. There is also a headphone jack on the bottom of the mic. You can use it for real-time monitoring without any delays. The mic comes in several colors, it is not just silver and black – there are also platinum, red, midnight blue, Aztec copper, and many others.
The only drawback of this model is that it is rather big. If you want to speak in this microphone while recording a YouTube video, you'll have to deal with the fact that the mic will be in the frame. However, if your YouTube experience is connected with streaming, narration, voice-overs, then Blue Yeti is a great choice.
10. Blue Snowball USB Microphone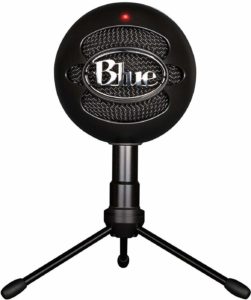 If you kind of want a simple solution but don't want to spend lots of cash on it, then this Blue Snowball microphone might be the one for you. The Blue microphones, in general, are not that expensive and yet they manage to provide you with high-quality audio.
This one features the award-winning dual-capsule and circuit design. It has two polar patterns – cardioid and omnidirectional. Technically, there is the third polar pattern, which is cardioid with -10 dB attenuation. This one is used in recording loud sounds. It helps you to reach high-fidelity even under the increased pressure.
The mic comes with a tripod stand, however, you can also use it with a standard microphone stand. This, by the way, also applies to the model above. On the mic, you can see a LED light indicating the mic's status – whether it is ready to record or not. The customers who have been using this mic for a long time leave positive feedback, writing that the microphone's longevity is above all expectations. So, if you need a durable cheap versatile microphone, Blue Snowball is what you should definitely check out. If you are a YouTuber who's under the age of 18-21, you can even ask your parents to buy it for you. The price is rather affordable, so it won't be too bold.
There are many other types of microphones you can try for vlogging. Some of them are rather unusual. For example, binaural microphones can produce a 3D sound which differs from what we are used to hearing in YouTube videos. If you want your content to stand out from the crowd, you can always try innovative sound solutions. One of them is described down below. 
11. Sennheiser AMBEO Smart Headset
If you want to have the most unique headset in the world, check out this device. Sennheiser AMBEO smart headset has three modes – headset, transparent hearing and microphone. As a headset, it works amazingly – you can listen to your favorite songs or explore new rhythms. The headset will deliver the sound to your ears in the most accurate manner.
Then there is the transparent hearing mode. This mode does not equal bad soundproofing – far from that. Because of the fact that this device is both the headset and the microphone, it first records the sounds around you and then conveys them to your ears. It all happens instantly, without any delays. Some people are amazed at how many different sound sources they haven't noticed before. This mode is probably great for hearing-impaired people, although it is worth consulting a specialist before using it.
Finally, the third mode is the microphone. There are two small microphones located on the other sides of earphones. These mics are special. Their work is based on the so-called binaural technology which aims at reaching high fidelity. In a nutshell, binaural mics try to reproduce the sounds as they are in real life, minding the distance between different sound sources and other subtle details. This results in immersive audio recordings which will transform any video.
Unfortunately, today this Sennheiser model is only compatible with iOS devices. If you own an Android smartphone or, better, want to use a binaural microphone with a camera, then you are welcome to check these options. Amaze your subscribers with the 3D audio experience! The technology is especially useful for those who film documentaries, nature, and other interesting settings.
---
Conclusion
As we can see, YouTube videos can be filmed with a bunch of different microphones. Some of them are more common than others. By buying a high-quality video mic, you get an opportunity to take your game to the next level – get more views, more likes and more subscribers. If the popularity is not your goal, then you can still transform your YouTube experience, even if it just for yourself. I wish you to create lots of awesome vlogs and have fun doing it. Choose mics wisely & stay creative!